Presented in conjunction with the Fitbit Charge 2 last summer, Fitbit Flex continues to stand out within the Fitbit range for a simple reason: it is their first and only waterproof model so far.
Yes, strangely enough, of the rest of Fitbit's products, none can withstand immersion in water (or other liquids you are used to getting into). In fact, it is the only device of the brand that records swimming data, which will be another of the points to be analyzed.
As it happens in many occasions, the Fitbit Flex 2 you will see below has been temporarily loaned by Fitbit, and after completing the test it will go back to where it came from. Remember that there is no remuneration of any kind from manufacturers, neither economic nor in terms of product. This is what allows me to perform all the tests with total freedom in my opinion.
If you like the tests I perform and you want to show your gratitude and help support the page with my work, you can buy the bracelet (or any other item) through the links provided at the bottom of the testI will receive a small commission for every purchase you make without you having to pay anything at all. Everyone wins. Don't forget that I have mouths to feed too :-).
Without further ado, let's go over all the details of the Fitbit Flex 2. Ready?
Fitbit Flex 2, the hardware
The Flex 2 wristband is the smallest device of the American brand. All the information it offers is very minimalist, through five small LEDs on the front. There is no OLED display as we are used to see in other devices of Fitbit.
These LEDs are colour coded, with four white and one green, each representing a 20% of your activity. You can find out how you are doing in relation to your target by tapping twice on the bracelet. If three LEDs are lit, you are between 60% and 80%.
So if your daily goal is 10,000 steps (a goal you can customize through the application), it means you've already walked at least 6,000 of them.
Those same lighting elements will inform you of all other events occurring on the wristband; such as reminders to move, silent alarms, notifications or confirmation that you have reached 100% of daily activity.
All the information received is combined with the vibration emitted by the bracelet. There are no sounds of any kind.
However, given the small size of the bracelet and its lightness, the vibration it produces is quite powerful.
In reality, although I am always talking about "bracelet", this is nothing more than the accessory where the device is inserted and that is what is included when you buy it.
Fitbit Flex 2 is a kind of "bean" that is inserted into the various accessories that Fitbit (and other brands) have to poder track your activity.
In fact, two wristbands, one small and one large, are included in the Flex 2 package, along with the device and charger.
To charge Flex 2 you must remove the device from the silicone strap and insert it into the charger, which is a USB cable about 10cm long.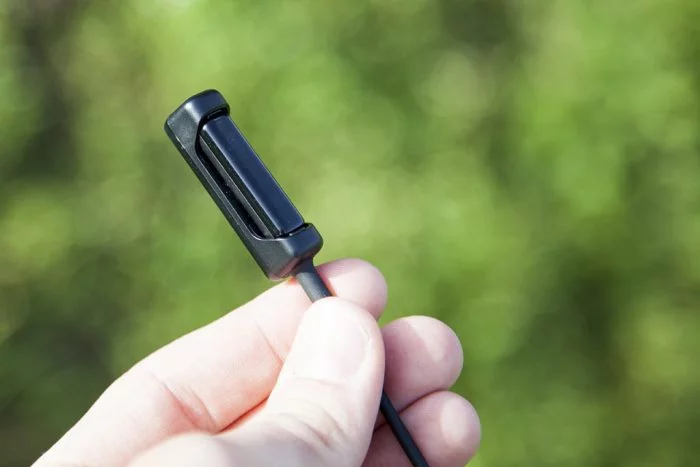 But as I say, what makes Flex 2 stand out from the rest of the Fitbit range is that, inexplicably, it is the only device that is truly waterproof (inexplicable by the rest of the gain, not Flex 2).
So you'll be able to shower with your Fitbit Flex 2 (well, I've never really taken my Fitbit devices off when I shower, but don't tell them that they don't lend anymore anyway), but mainly it means you won't have any problems even if you use the wristband in the water.
Because the Flex 2 is the only Fitbit wristband that tracks swimming, including number of strokes, duration of exercise and calories consumed while in the pool.
Monitoring of the activity
Fitbit Flex 2 is the easiest gateway to enter the Fitbit ecosystem. Flex 2 does not stand out as a product, in fact as such it is quite simple (you could even say limited), but it provides all the data that feeds the huge Fitbit universe, which is where the real treasure is.
Therefore, the 60-70 euros you spend when you buy a Flex 2 is not to have a great state-of-the-art device, but to have the support of one of the best platforms for activity monitoring like Fitbit.
This activity monitoring is done in two different ways: on the one hand, the steps you walk as part of your daily tasks, and on the other hand, the sports activities you do.
Since Flex 2 does not have any kind of screen or control button, there is no way to start activities manually, so everything depends on the automatic activity detection that Fitbit calls SmartTrack.
In theory SmartTrack is able to detect high movement and impact activities such as walking, running, elliptical, outdoor cycling or swimming (exclusively with the Flex 2). No gym activities, and the truth is that of all the cycling workouts I have done, not one has been detected.
However, during my walks or training sessions I have not had any major problem, although the information it offers after synchronization is exactly the same as the device: simple, without flashes and minimalist.
The only thing it will give you will be calories consumed (along with the average calories per minute) and steps taken.
But you won't even have data on approximate distance, pace, or anything else like it. It's so simple, it's even too data sparse.
And of course don't expect information when you're doing the activity, because there's no way to show it.
Swimming with Fitbit Flex 2
The possibility of recording swimming data is where Fitbit Flex 2 stands out most from other devices of the brand, and also from other activity monitors, as there are not many that offer the possibility of doing this monitoring.
There are not many differences from what you saw in the previous section on activity tracking. Again the bracelet (because in this case it will have to be placed on the wrist) should detect the activity automatically through SmartTrack.
I find it annoying that the swim detection function is not activated by default. In my opinion, this is absurd, because activating this option does not mean losing anything with respect to other functions, nor does it increase battery consumption or anything similar.
Another thing I find annoying is that, in theory, Flex 2 is able to show total rhythms and distances after synchronizing the exercise, as long as you set the length of the pool. Well, it's something I've done and it shows up in the activity, but it doesn't translate into a calculation of distance or show swimming rhythms.
Nor does it separate activity independently by detecting rest periods. It is simply total time of activity and total sum of the lengths of time spent. Therefore, the information offered goes little further than what you have seen before.
Apart from the scarcity of information, how is the record of the activity? Well, I will put two trainings for you to compare, like this one made on January 20th. Firstly, the record made with a Garmin Fenix 3.
2,250 meters the registered ones, which includes 50 meters of technique exercises that I have registered manually. What has been Fitbit's record?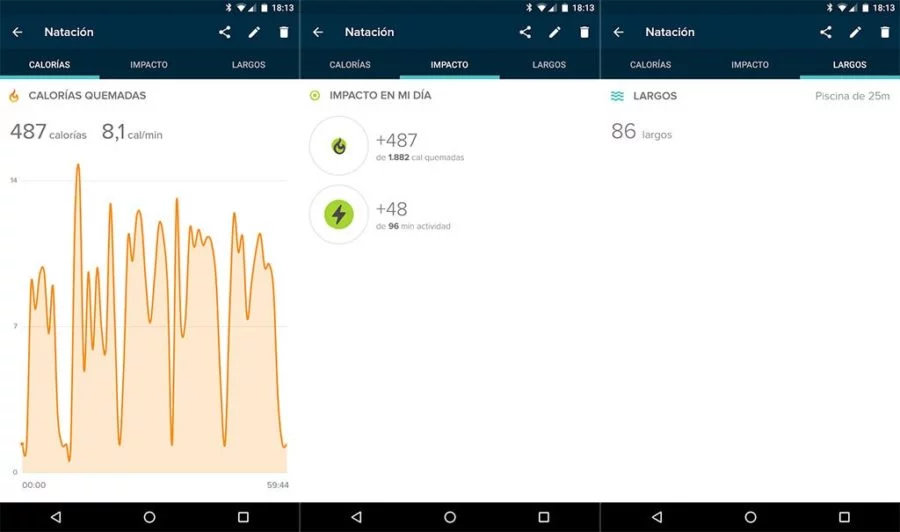 86 lengths of 25 meters, making a total of 2,150 meters. Taking into account that there is no possibility of recording the technique exercises (as the arm movements are not the usual ones) there is a final difference of 50 meters.
Let's go with the second example.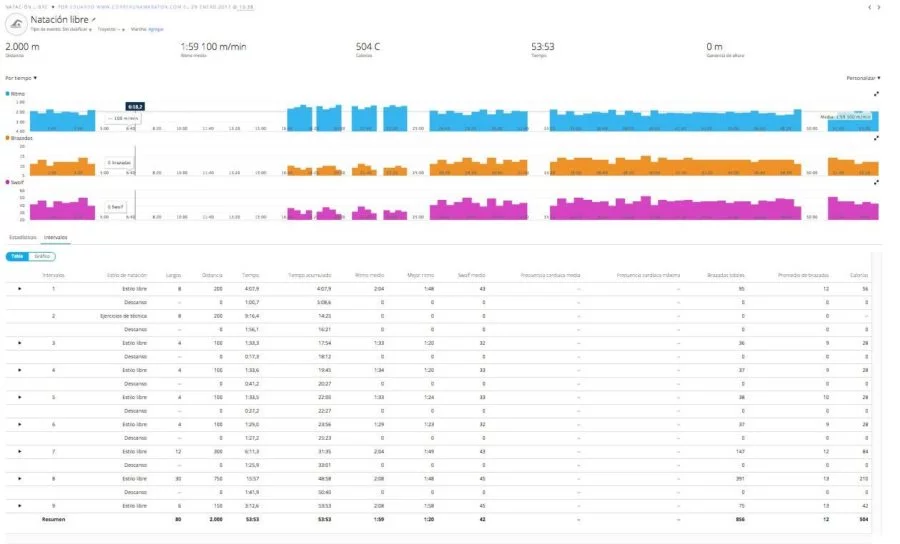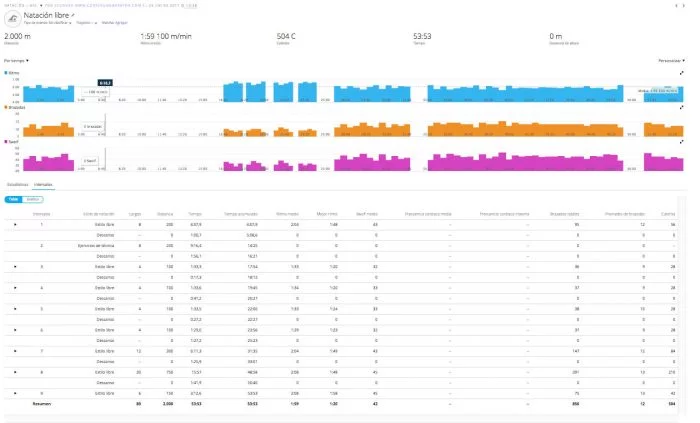 2,000 meters recorded by the Fenix 3, including 200 meters of technique exercises. As for Fitbit.
70 lengths of 25 meters, giving a total of 1,750 meters. But let's remember that we have 200 meters "lost" in technique exercises.
In short, a quite adequate record according to reality, but failing again in the same section as in the rest of the activity, the information it provides is practically useless due to the lack of detail. There is no record of the number of strokes, rhythms or anything similar, so little analysis capacity will be offered, beyond knowing the caloric consumption.
Fitbit application, undoubtedly the best of the device
So far we have seen that Fitbit Flex 2 is a rather limited device in terms of the information it provides.
Limited in the information it provides when you are practicing any type of physical activity and limited in the information it provides after finishing the activity and synchronizing it with the platform.
It is in the application, and therefore in the Fitbit platform, where most of the interest in Flex 2 as a product lies - not so much for information, but because it is one of the most mature and best thought-out applications for this type of use.
Fitbit is very clear about who its customer is and what kind of activity it performs, so it can fully focus its application on that use.
For example, for Garmin it is much more difficult, since among their clients you can find triathletes capable of losing 10 hours in Ironman; as well as people who are trying to lose a few kilos to improve their figure. Two very different profiles but all managed through the same application.
The development of the Fitbit app has evolved over time to what it is today.
As soon as you open it, the first thing you will find is the general activity panel, where there will be different mosaics of quick statistics of daily activity. You can modify the appearance of this panel at your convenience.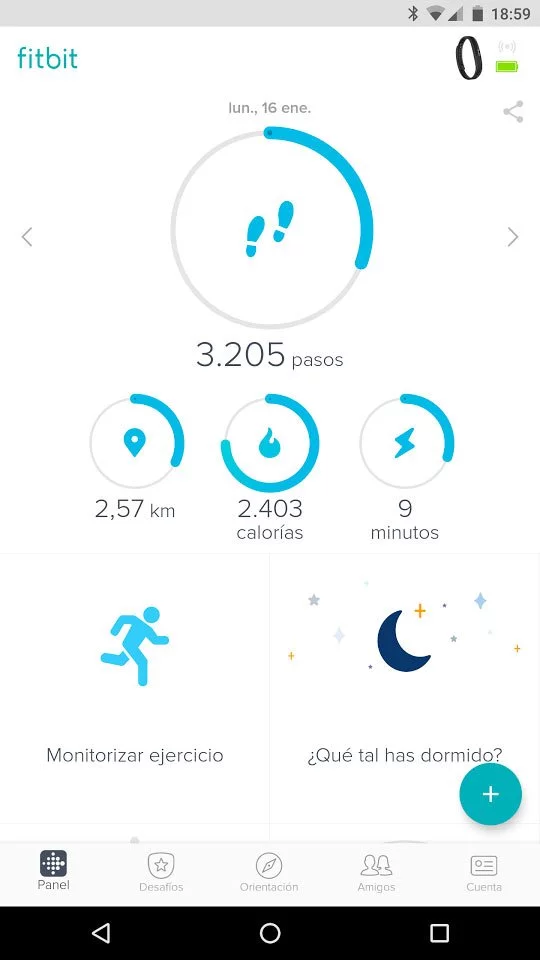 One of the last options added are the adventures that you can find in the Challenges tab. These are virtual routes that you can take to special places. As you walk you will discover hidden secrets. In short, you will be rewarded for keeping up a high level of activity.
It's a smart way to take you a step further and is a step up from the classic "you're 800 steps short of your goal, go for a walk".
The social function is also very marked in the application, and if you form a large group in the application you can make competitions or compare between you the different medals achieved, or even compare your weekly steps and see which of you has been the most active, or send messages between you.
My opinion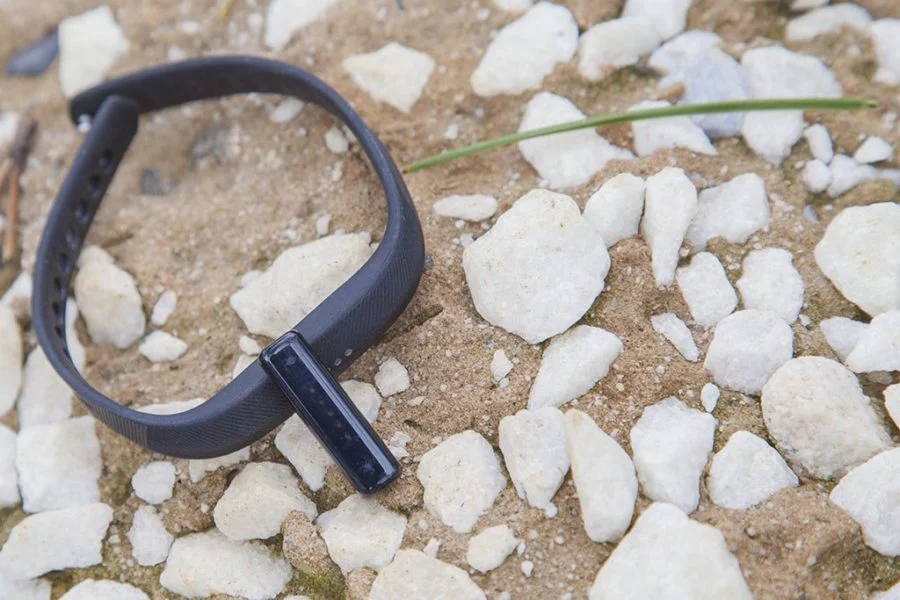 Fitbit Flex 2 is a simple product, maybe too much. Apart from offering a calculation of calories consumed throughout the day and trying to motivate you to stay active, it doesn't offer much more. And even considering that its strong point is offering those calories, without having a heart rate record the estimate will be anything but accurateIt doesn't mean that there aren't users who fit it as a product, but it will be an overwhelming majority.
Still, Flex 2 still makes sense as a product. That's because the Fitbit platform is one of the best platforms for helping you maintain active lifestyles, especially if you have friends or family already on the platform. For example, if you're in the Fitbit ecosystem and you want your mom or dad to be more active, but you know that metrics don't bother them at all, Flex 2 is one of the best choices. The social aspect of the platform, challenges that will help you stay on track with activity goals, and FitStar options are all interesting features on the platform.
You may have a certain profile audience, but unless you are a bit more demanding you will probably need something else. Within the same platform you can find the Fitbit Charge 2The new "Water resistant" designation and the possibility of using it in the swimming pool are lost.
And if you want an activity monitor that, even if it doesn't follow swimming, you can still get it wet, the Garmin Vivosmart HR continues to be one of the most complete options, which although it has a less pleasant platform of use is much better at showing notifications and integrating with your mobile phone.
Thank you for reading, and especially for supporting the page!