UPDATE - Edge 1030 sold out, but watch for discount on Edge 1030 Plus
The announcement of the Garmin Edge 1030 Plus means one thing, Garmin has to do a clearance of the stock of Garmin Edge 1030. And how do you do that? Easy, with irresistible offers.
And now you can get a whole Garmin Edge 1030 at almost half the price. I've never been this cheap before.

Garmin Edge 1030: Get it before the end of the clearance sale
A 36% discount that leaves it at 383€. You can check the offers at other sellers to confirm that it is indeed a really good deal.
Update November 13, 2021
The Garmin Edge 1030 is no longer in stock, but what is now on offer is the replacement model, the Edge 1030 Plus with advanced navigation features and training suggestions.
Garmin Edge 1030 Plus Analysis
As for the Garmin Edge 1030, it is the highest end model Garmin has for cycling. It stands out for its huge screen that makes route navigation a delight.
It includes all the navigation features of the Garmin range, including Trendline route creation. With this function you simply tell the Edge 1030 where you want to go and the bike computer will calculate the best route for you. but using roads or paths best suited for cycling. And how does it know? Because it's based on the workouts that other users have uploaded before, so you know what are the popular routes for cyclist are in the area.
So it will send you on roads with little traffic or good asphalt (in theory...), because it is the most used by cyclists who ride around the area.
After this model, Garmin released the Edge 530 and 830, which came loaded with new features that we had never seen before on Garmin's bike computers.
MTB-specific metrics. It tracks distance and duration of your jumps, the difficulty of the route and the fluidity of the descent
Complete maps for road and mountain including data on Trailforks with information about the trails we're riding on
When you make navigation routes and stop at a fork in the road, the display shows different options, which are presented below. This function is called ForkSight
ClimbPro, a function we first saw in the Fenix 5 Plus that separate the climbs individually, indicating the distance and elevation remaining to complete each one of them. It's a unique view of the climb we're suffering at that exact moment, not the overall route
Dynamic Performance Monitoring, Now, given the heat, humidity and altitude for recovery and performance metrics
Nutrition and hydration alerts are also dynamic. When you navigate a route and based on different values, the Edge will recommend how much you should be eating and drinking. It will also record what you have taken and you will be able to see it later in the Garmin Connect
Find my edge, in case the edge is dropped, it will be marked at what point you lost the connection with your phone, to try to find it when you know where it could be taken down
Function of Alarm Once the function has been activated, and thanks to the internal accelerometers, an alarm will sound in case the bike moves. Ideal for when you stop at a bar or gas station to rehydrate
Critical power curve, something similar to what you'll find in apps like TrainingPeaks, Golden Cheetah or similar
You know the best of all? That all these features, except for ForkSight, have been added to Edge 1030. And as I explained in the Edge 830 review, is not too important because that function depends on an external service that is not barely developed in Europe (we prefer to use Wikiloc here).
Find the best offer
Garmin Edge 1030
In addition to everything it allows at software level, we must not forget other things that stand out at the device level, offering up to 20 hours of battery life and, if that falls short (who rides for more than 20 hours straight?) , we have support for the Garmin external battery that is placed under the mount.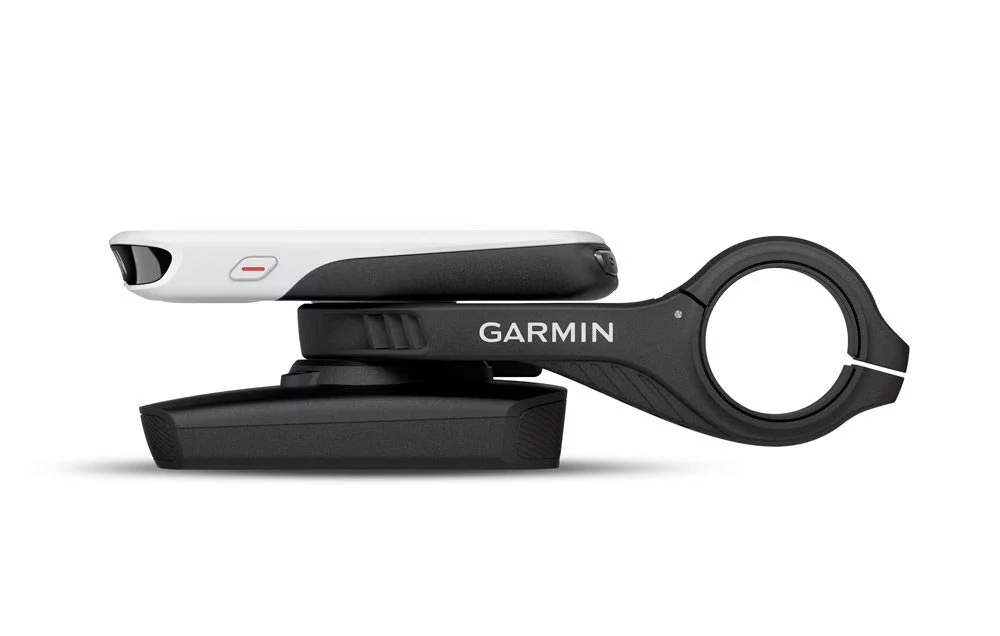 The Edge 1030 has 16GB of memory for storing maps. It comes standard with Garmin European maps, but you also have the possibility to install other maps based on the Openmap standard, such as TopoHispania.
The 16GB falls short? Well, we can also put a microSD to expand the memory. Or leave the internal memory intact and install the additional maps on the card.
Differences between Garmin Edge 1030 and Garmin Edge 1030 Plus
Naturally, with the arrival of the "new" model, your question will surely be... isn't it better to buy the Plus instead of the "old" one? Well, it all depends... and in this case and costing almost half the price, the new features of the Plus do not justify the price difference.
These are the features offered by the Plus model above the Edge 1030 of the offer:
Daily workouts suggestions, based on your 7 days training load and your VO2max
New quick setupprocedure. Now it imports profiles and sensors from your older Garmin
World maps
Possibility to pause navigation and continue it later (so we do not receive constant warnings that we are not on the right track), or perform a route recalculation
Livetrack now allows you to share the route , if you send someone your session via Livetrack and have a loaded navigation route, they can see where you are and where you are going
TrailForks integration, which was already present before, but now includes Forksightto choose any route halfway, something that did not reach Edge 1030 for licensing reasons but is present in the Plus
Sony GPS chipset for extended battery life. Up to 24 hours (instead of 20), or double if we use the external battery accessory. Which doesn't look like a lot increasing 4 hours more... but ultimately it's an additional 20%
New faster processor, which will help calculate routes and above all recalculate them
32GB of storage (instead of 16GB of Edge 1030). But in return it loses the microSD card reader
New color, now it's totally black (to match your carbon handlebar), just like that custom Bontrager Edge 1030 that was released a few months ago
Slight interface changes with redesigned icons
Summary: different color, workouts suggestions (for which it is necessary to have a power meter) world maps, faster processor and more memory but losing the microSD slot. Is that worth almost 300€? I'd say no.
In short, it's a great piece of harware at a price that is hardly repeatable. Its only drawback can be the size; obviously if you want a big screen you have to make a big device. It's 114mm long, which more than one can find it to be too much, but if you already have a rather tired eyes you will certainly appreciate the large size of the data and maps on your screen.
Don't forget to take a look at the Edge 1030 to know everything it offers, as well as the Edge 830 review so you understand what are the new software features that were added recently. Just don't take too long to make your decision because the offer probably won't last long...
And with that... thanks for reading!