Hoy Nike da comienzo a las rebajas a través de la página web. Y lo hace con un código de descuento que permite aplicar un 30% de descuento adicional a los productos que ya estaban rebajados. Es decir, oferta encima de otra oferta.
Eso sí, no todos los productos están promocionados, el descuento adicional se aplica sobre los que aparecen en este listado. Zapatillas para hombre y mujer, pantalones, camisetas, chaquetas, cortavientos…
¿Cómo se aplica el descuento? Simplemente añade a la cesta el artículo o artículos que quieres comprar y, donde te pregunta si tienes un código promocional, introducir SUMMER30.
Eso si entras con el móvil, si lo haces desde el ordenador, lo encontrarás a la derecha de la pantalla.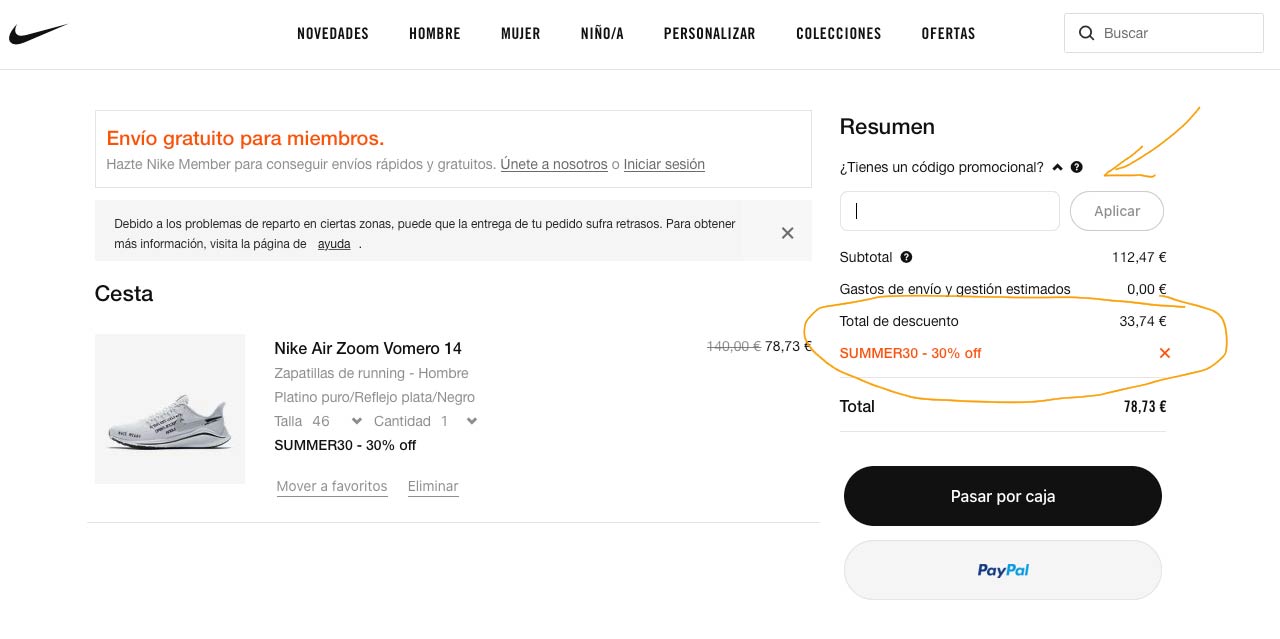 Así que recuerda, los precios que ves en la sección de ofertas no incluyen el descuento adicional, éste sólo aparece en el carrito tras introducir el código SUMMER30. ¡Y los gastos de envío son gratuitos!
Enlace directo a los artículos que permiten un 30% de descuento adicional
El periodo de rebajas comienza hoy y estará vigente hasta el 17 de julio. Pero mi recomendación es que si encuentras algo que te encaje, no esperes. En mi experiencia los productos y tallas vuelan, por lo que puede ocurrir que cuando te termines de decidir, eso que te interesaba ya esté agotado.
Nike: 30% extra on all Nike with discount code APRIL30
El código de descuento APRIL30 allows you to apply 30% discount on already discounted products. So it's all a matter of finding something down and putting another discount on it. The current discounts are very variable, and there are some cases in which after applying the discount you will find that you have accumulated up to 60% discount compared to its retail price.
That means you can save a lot of money not only on running shoes, but also on shorts, t-shirts, windbreakers... Anything you find on the link you can apply an additional 30% discount.
Sounds great... huh? Here are some of the most interesting offers on sneakers, but remember that you can complete your order with all kinds of clothing or shoes for other sports.
---
Nike Pegasus 35 Turbo: From 88,50€ in different colors with APRIL30
The Nike Pegasus 35 Turbo gives you the same ZoomX reactive foam that you can find on the Vaporfly, except that they don't have the carbon plate.
They are available in lots of sizes and in assorted colours. For 88,50€ is a fantastic opportunity to try these shoes.
---
Nike Zoom Vomero 14: less than 70€ with discount code APRIL30
The Nike Vomero is the neutral top shoe of the "Swoosh" brand. Similar to the Pegasus, but with greater cushioning and without greatly increasing the overall weight of it. Also with React foam and Air, but designed for higher weights or longer runs.
They are one of the best options for high-end neutral shoes that with the discount code APRIL30 you can get at half price (from 140€ to only 68€).
---
Nike Epic React Flyknit 2: For a little more than 50€, with the discount code APRIL30
Reactive shoes that feel like a glove thanks to the use of the Flyknit. Use the code APRIL30 to buy them.
They use React foam, providing a little reactivity to the set. Not that they are Vaporfly, but for 50€ it is a very comfortable option for all types of workouts. I bought them the last time they were on sale (more expensive than they are now) and truth told is that I really like them.
---
Nike Zoom Pegasus 36: Less than 60€ with discount code APRIL30
The mythical Pegasus, in their last iteration. With React foam and designed for fast paces and low or medium weights of those needing a neutral shoe. Perfect for fast or interval workouts, or even for races if you have a medium-high weight.
Using the code APRIL30 you get them for less than 60€, a real GIFT. They are available in a lot of colours and sizes, so you can find your own without any problem.
---
Nike Zoom Fly SP Fast: 30% additional discount with discount code APRIL30
Remember those sneakers that were worn by all the runners who accompanied Kipchoge during the Nike Breaking 2 event? Well, it was these, the Nike Zoom Fly SP Fast.
They hav a nylon plate that propels you in each step (instead of Vaporfly carbon), combined with React foam.
The model in the picture is the London Marathon special edition, but there are also available in other colours.
---
Nike AeroLoft Jacket: Reduced to 75€ (retail price 180€) using APRIL30
The Nike AeroLoft jacket is composed of two pieces. It is a lightweight and waterproof vest, in addition to being breathable. When the weather gets better, you can the jacket take off and store it on the back of the vest.
Using the discount code APRIL30 you get an additional 30%, staying at only €75 for a high-end garment that cost €180. That's a reduction of almost 60%!
---
RunningWarehouse: Use the code FLASH20 for an additional 20% discount
RunningWarehouse has different selections of products in promotion right now, to which you can add another 20% discount with the code FLASH20.
See offer in Running Warehouse
---
Wiggle: Up to 60% off Easter offers
Wiggle has just launched an offer with discounts up to 60% on clothing and footwear, but also on cycling components.
By the way... the Garmin Edge 1030 offer is back (and remain those for new Garmin Edge)!
---
There you go, lots of offers for you to prepare your closet for the end of confinement and do it by practicing social distancing. Because there are two possibilities:
All your current clothes won't fit, because it "shrunk". It's what you get when you are at home all day with a full fridge, you have no other choice but to empty it.
You've taken the #TrainAtHome so seriously that you now weigh 5 kilos less, and what used to be your training shirt will fit two like you. Well, maybe you'll be able to use it in Halloween...
I hope you stay well and in good health!