Ya tenemos encima la nueva temporada, empiezan a llegar las ansiadas carreras y competiciones, las rutas, las salidas al aire libre… Así que si tienes un ciclocomputador que ya está pidiendo una jubilación (o simplemente quieres darte un capricho post-encierro), atento a las ofertas que te traigo hoy. Ofertas con precios MINIMOS en Garmin Edge 530, Garmin Edge 830 y Garmin Edge 1030.
Garmin Edge 530 deal
I remember when I reviewed the Garmin Edge 530 and I gave you my opinion and said that, for the first time, Garmin released a new product that I could even consider cheap for what it has to offer. And that is considering its retail price!
In fact, Garmin has placed it almost on par with its bigger brother, the Edge 830. The features offered by both models are almost the same, but the price of the Edge 530 is certainly much more interesting.
Garmin Edge 530: Best price ever
If at the RRP price at its launch I considered it to be a good option, when they give a discount of more than 70€ you can imagine what I think... a true CHOLLAZO.
También es interesante la oferta del pack con sensores de frecuencia cardíaca, velocidad y cadencia.
If it's not your first Garmin and you've already been using one of its bike computers (for example, the Edge 520), the first thing you're going to realize is that it's much faster . The processing power is much higher than the model it replaces and is noticeable in all operations we do with it.
Of course we must remember that we now have full map navigation. While the Edge 520 had no map (the Edge 520 Plus does have it, but the lack of a processing power makes it an unpleasant experience) and only has trailcrumb navigation, on the Edge 530 you can see roads and paths that will tell you where to go, including turn by turn navigation suach as take the third exit on the roundabout, or turn right on Main Street.
The screen is larger without the device having overgrown. It still has a compact size and appearance thanks to its rounded shapes, but now you can see the data on the screen more clearly.
It's not the only thing it has over the Edge 520. The Edge 530 now also has WiFi, ambient light sensor to change the screen backlight automatically and supports Bluetooth sensors. None of these things were present in the Edge 520 as they were reserved only for the more expensive models.
The battery life has increased significantly thanks to the Sony GNSS chipset, the same that all brands are now using on their devices.
The software also received a lot of improvements. The one you will use most will be ClimbPro, a feature that separates the climbs individually and indicates distance and elevation remaining for each one of them. A quick view of the hill or pass you are currently on, and not the total of the route.
But there are many other features that I'm going to detail quickly and, if you want to know them in more detail, you can see them in the full Garmin Edge 530 review.
MTB specific metrics
Full road and mountain maps, with Trailforks function for trails
ForkSight
Dynamic performance control considering heat, humidity and altitude acclimation
Smart nutrition and hydration alerts
Critical power curve
Find my Edge
Bike alarm feature
It is, in short, a great device that you will love to have on your handlebar. The only thing that didn't convince me on my test unit was the touch feedback of the buttons. The other objections were software issues that Garmin has been polishing to a greater or lesser extent.
If the question is whether the Garmin Edge 530 is recommended, my answer can be none other than: yes, totally recommended.
Garmin Edge 830 deal
If the Garmin Edge 530 is a piece of device, the Garmin Edge 830 is not left behind at any time. However, in this generation it lives in the shadow of the former, because the differences between the two are smaller than those we found between the Edge 520 and Edge 820.
Garmin Edge 830: Buena oferta con más de 10% de descuento
The Garmin Edge 830 was never so cheap. It's €80 off for a bike computer that, right now, has the most software features (even slightly above the Edge 1030).
The differences between the Edge 530 and Edge 830 are very small in this generation. Or, at least, much less than what was in the previous one.
Beyond the price difference between the two, there are only a handful of things that differentiate them:
How you control them: While in the Garmin Edge 830 we control it thanks to the touch screen with a pretty good response, in the Edge 530 we do it through 7 buttons that I personally did not like much in their touch feedback (it is my only objection to the Edge 530)
Navigation: Although both have full route maps navigation, on the Edge 830 we can enter our destination directly by street name or POI. On the Edge 530 you have to load the route in advance, although the mobile app is quite useful in that respect. When it comes to navigating and recalculating routes, both offer the same functionality
Route altitud profile scaleOn the Edge 830 we can change the scale, but not on the Edge 530
Is it worth the extra payout? It depends on each and what their particular use will be. If you are going to navigate routes frequently, the touch screen will be of great help, both when creating the route and to make queries about it halfway through the exit. It's a much faster control method.
Similarly, if you want to check out different aspects and information halfway through the road, the use of the buttons can become uncomfortable.
On the other hand, if you're not going to navigate that much and once you start pedaling you don't need to change screens, the feedback of the buttons is not going to be very important because you won't use them too much.
How about the rest of the software features? Exactly the same, both Edge 530 and Edge 830 have ClimbPro, MTB dynamics, dynamic performance control, nutrition and hydration smart alerts, etc.
Garmin Edge 1030 deal
It has already been on sale for about a month or so, with a 40% discount. Yeah, you read right, 40% off. The Garmin Edge 1030 was never so cheap.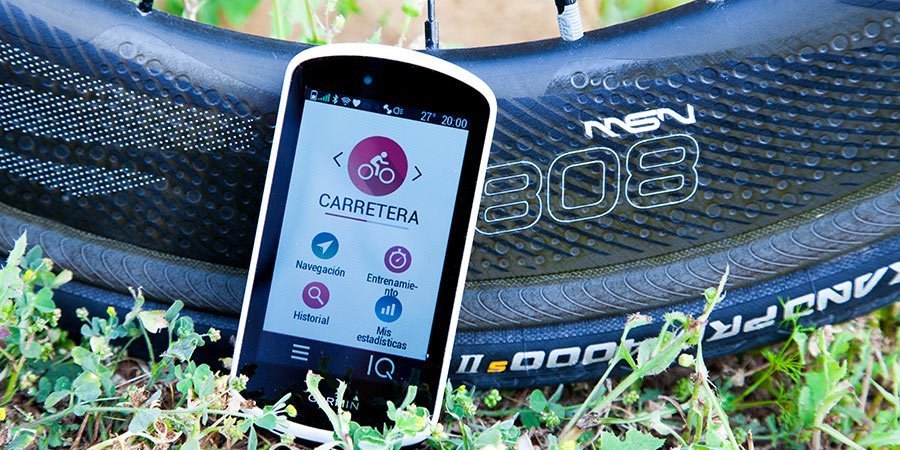 Garmin Edge 1030: Oferta de liquidación
A 39% discount that leaves it at 360€. You can check the offers at other sellers to confirm that it is indeed a really good deal.
➡ Garmin Edge 1030 full review
Its features are almost the same as those we find on the Edge 830 (except that the Edge 1030 does not have the ForkSight feature, exclusive to the Edge 530 and Edge 830), so the only difference is the huge screen it has. The truth is that navigation is a delight on that large screen.
But if the size of its screen is its greatest virtue, it is also its biggest flaw. Naturally, if you want a large screen, you have no choice but to make a big device. Its 114mm length can make you feel that it's too bulky on your handlebar.
Eso sí, si ya tienes «una edad» y tienes algo de dificultad con la vista, no te quepa duda que vas a agradecer esas pulgadas extra de pantalla con respecto al Edge 830. El Garmin Edge 1030 tiene 3,5″ de pantalla, mientras que la del Edge 830 baja hasta 2,6″.
There is another difference with the Edge 830. Both have 16GB of internal memory to store maps (the Edge 530 too), but in the case of the Edge 1030 we can expand the memory with a microSD card.
This memory expansion can be useful for installing additional maps without erasing Garmin's own, such as those from TopoHispania.
—
Don't forget to check the full reviews of the different models to see what exactly each of them can offer you, and also how its overall performance actually looks like. Here are the direct links:
Eso sí, que tu decisión no se demore demasiado, porque las ofertas no van a durar mucho tiempo. De hecho el Edge 530 está a su precio y mínimo y el Edge 1030 ya ha agotado stock en varias ocasiones.
And with that... thanks for reading!