One Nike promotion just ended and we're getting into another one. I'm not going to complain, when they let me buy things cheaper... The discount code I'm bringing you today will allow you to save you 25% on everything (well... almost everything) the web catalog. And as always in Nike, all orders with free shipping.
What are the differences between the previous promotion and the new one? In the one that just ended we had an additional 30% on discounted items. Today's promotion gives us a little less, 25%but about the ENTIRE catalog. Unfortunately, some of the most desirable shoes are left out (Alphafly, Vaporfly...). This means that if you didn't make it to the last days you can still accumulate a 25% discount on the already discounted items.
The promotion starts today November 24, so if you're quick you'll still find plenty of products and sizes available. And it's going to last until December 1 at 7:30, but more than the time the promotion lasts what you should be worried about is the stock of products and sizes available. Because if you've been following the other promotions (like the one that just ended) the problem hasn't been the time but that the entire stock has flown out. Literally.
I always use Black Friday and Cyber Monday promotions to fill my closet for the whole year, and I renew from year to year. Moreover, if I see that there is a shoe that I will use more often and I do not think it will last two years, I order two pairs directly. You have to take advantage, because the prices of these days are not usually repeated throughout the year.
The promotion procedure is very simple. You simply search for the item you are interested in, add it to the cart and before paying you enter the promotional code SHINE2020 in the corresponding box.
Here is the direct access to the products of the promotionBut if you want, here are some of the most interesting offers, especially in sneakers.
REMEMBER TO USE THE CODE SHINE2020 BEFORE CHECKOUT TO GET A 25% DISCOUNT.
EL CORTE INGLES HAS A 30% FOR CYBER MONDAY THROUGH THEIR WEBSITE. THERE ARE SOME LOWER PRICES THAN ON NIKE'S WEBSITE AND SPECIFIC MODELS ON SALE (LIKE VAPORFLY NEXT% OR TEMPO NEXT%).
Nike running shoes on sale
These are all Nike shoes on sale.
Let's go through a quick list of my favorites from this promotion:
Don't miss out on Cyber Monday deals for sports technology from Garmin, Polar and Suunto.
That's my list, but if there isn't one in your size or you want to see if you can find something that better suits your characteristics, you can check out the complete list in this link. Here are some of them:
Nike Air Zoom Tempo NEXT%: 25% discount
(Note, in theory this shoe is not included in the SHINE2020 promotion... but there is a color that is not marked as "Excluded from the promotion", so buy fast and don't tell anyone...)
The Nike Tempo NEXT% inherits a very similar design to the Alphafly, but they are designed for training and are somewhat more durable, as the ZoomX foam in the heel area has been replaced by React.
It also has an inner plate, but instead of carbon it is made of nylon. They are slightly heavier than the Alphafly and without being as pointy.
Personally I consider that, besides being a good training shoe for the faster runners, it can be a good competition shoe for those of us who do not reach the paces demanded by the Alphafly.
Yesterday I did the first series training with them and I couldn't be happier with the result: I did the intervals 10s faster than I should have done without noticing the extra effort.
---
Nike Zoom Pegasus Turbo 2: 25% discount
They're a nugget of a shoe that sits immediately below the Alphafly, in fact it shares the ZoomX foam of the Alphafly and the Vaporfly.
They don't have a carbon plate, but they're a more durable shoe than those top-of-the-line shoes, so you can use them for everything without crying every time you take them out on the street.
---
Nike Zoom Fly 3: 25% discount
Remember those shoes worn by all the runners accompanying Kipchoge during Nike's Breaking 2 event? Well, they were the Zoom Fly SP, with a nylon plate instead of carbon that allowed you to propel yourself with every stride.
Well, those shoes have grown up and now we have the Nike Zoom Fly 3, also using a carbon square in the same way we have in the Vaporfly.
This carbon plate is also combined with the React foam, offering a comfortable, but above all very reactive assembly.
---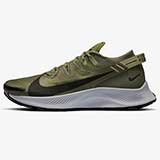 Nike Pegasus Trail 2: 25% discount
One of the best trail shoes of the moment. It is the renewal of last year's Pegasus 36 trail, adapting the React as cushioning. A soft yet reactive feel.
It is perfect for kilometers and kilometers of training or long competitions, with good protection for the foot.
---
Nike React Infinity Run Flyknit: 25% additional discount
The Nike Infinity Run is a maximalist shoe, designed to train for miles and miles without any discomfort in the legs or feet.
They use React foam to offer a very cushioned, but also very stable shoe. It's probably the best Nike shoe to ride easy on those long weekend runs. And my choice for today's offering as I was looking for a replacement for my Vomero 14s.
---
Nike Terra Kiger 6: 25% additional discount
Another great option and a brand new model this year. The Terra Kiger 6 is a fairly fast trail shoe, or at least faster than the previous Nike Pegasus Trail 2.
In this case it makes use of Zoom foam (in addition to the inner tube), and makes a somewhat lighter package.
---
Nike Zoom Pegasus 37: 25% discount
The mythical Pegasus, in their last iteration. With React foam and designed for fast paces and low or medium weights of those needing a neutral shoe. Perfect for fast or interval workouts, or even for races if you have a medium-high weight.
It's no longer the bargain it was a few days ago in some colors, but at least here we have many more sizes and color options available.
---
Nike Wildhorse 6: 25% discount
One of Nike's latest trail shoes with React cushioning.
They use a lugged sole focused on pure mountain terrain and perfect for muddy areas. With a semi-sock that protects from the entry of stones and other uncomfortable elements.
---
Discounted Nike apparel
But we don't live by sneakers alone. We also need clothes and textiles. Pants, t-shirts, tracksuits, sweatshirts... If there's one good thing about Nike, it's that they make so many things in so many price ranges.
I won't keep you any longer and I'll let you shop in peace. Just remember that you have to add the products to the cart and apply the discount code SHINE2020You must be logged into your user account for the discount code to be applied.
And with that... thanks for reading!