The day has finally arrived when Nike's Cyber Monday promotion is activated. One of the most anticipated days of the year because it allows you to refill your closet with sneakers, t-shirts and pants that you are going to wear throughout the year.
The discount code that I bring you today will allow you to save you 25% on everything (well... almost everything) the web catalog. And as always in Nike, all orders with free shipping for the simple fact of being Nike Member (which is free).
The promotion starts today November 24, so if you're quick you'll still find plenty of products and sizes available. And it's going to last until November 29 at 8am, but more than the time the promotion lasts what you should be worried about is the stock of products and sizes available. Normally the problem is not the time the promotion lasts but how long it takes to empty the warehouse (usually not long).
The promotion procedure is very simple. You simply search for the item you are interested in, add it to the cart and before paying you enter the promotional code GOBIG22 in the corresponding box.
Here is the direct access to the products of the promotionBut if you want, here are some of the most interesting offers, especially in sneakers.
REMEMBER TO USE THE CODE GOBIG22 BEFORE CHECKOUT TO GET A 25% DISCOUNT.
Cyber Monday for Nike running shoes
These are all Nike shoes on sale. It is possible that through this link you will find colors that are not in the links below, because they are not all grouped within the same model. And then there may also be Shield, GoreTex, etc. versions.
Let's go through a quick list of my favorites from this promotion:
Don't miss out on Cyber Monday deals for sports technology from Garmin, Polar and Suunto.
That's my list, but if there isn't one in your size or you want to see if you can find something that better suits your characteristics, you can check out the complete list in this link. Here are some of them:
Nike Vaporfly NEXT%2
It's the offer everyone is talking about today. For only 112€, with sizes available and four colors you can choose from to which you can apply code GOBIG22 to leave them at that price.
You know, top racing shoe with real ZoomX and carbon plate. Little more I can tell you about them, because you will know them more than enough.
If you are hesitating... I don't know why you are hesitating. If only to give you a taste of the feeling, it's well worth the purchase.
If you want to know what the differences are with respect to the Alphafly, here you can see the video I made about it.
---
Nike Air Zoom Alphafly NEXT%
The jewel in the crown. It's Nike's fastest shoe, the most special and certainly the most eye-catching. It has a huge midsole of ZoomX, Nike's highly reactive foam, and carries a carbon plate inside for stability and some extra propulsion. The icing on the cake is the air chambers in the forefoot.
---
Nike ZoomX Invincible Run 2
There are not many differences with respect to the original model, only in the upper. But the magic, which is in the midsole, remains intact. Here is the analysis of this model in text, y if you want to see it in video, click here.
They stand out for their huge midsole with ZoomX foam. It is the same material that podemos find in the Vaporfly, Alphafly or Tempo NEXT%. Very soft, with a lot of energy return, very comfortable and despite not having a plate with sufficient stability.
---
Nike Air Zoom Pegasus 39
It is the training shoe by antonomasia within Nike's offer. In fact, it's already 39 years of the model, so they must have something good... Perfect for medium or a little bit fast runs or long series work.
And if they cost a little more than 50€... a must buy if only to have a multipurpose shoe in your closet.
---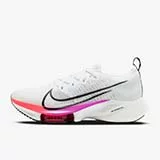 Nike Air Zoom Tempo NEXT%
The Tempo NEXT% is one of my favorite shoes on the market. Yes, there are the Alphafly or Vaporfly, but these are shoes meant to be treated with care and reserved for race day.
The Tempo NEXT% however are a training shoe. The feel they have is very similar, but they don't give so much respect to wear them out.
It also has an inner plate, but instead of carbon it is made of nylon. They are slightly heavier than the Alphafly and without being as pointy. You have all the details in the analysis.
---
Nike Zoom Fly 4
The Zoom Fly 4 is Nike's benchmark carbon plate training shoe. And in my opinion, a better option than the Zoom Fly 5, which I didn't like.
They are the successors of the Zoom Fly 3, with which they share midsole and outsole but with a redesigned upper, which was the most criticized aspect of this model.
The foam they use is React, harder and less reactive than ZoomX. Personally, I find the Tempo NEXT% more interesting, but it's a matter of taste...
---
ATTENTION: THIS ITEM IS EXCLUSIVE WITH NIKE OFFERS. WANT TO SEE THE REST OF THE OFFERS? HERE YOU HAVE THE REST OF SNEAKERS AND TEXTILE.
Cyber Monday Nike in apparel
But we don't live by sneakers alone. We also need clothes and textiles. Pants, t-shirts, tracksuits, sweatshirts... If there's one good thing about Nike, it's that they make so many things in so many price ranges.
Free shipping and 60 days return
When you create your Nike account and become a Member you will have free shipping costs.
Not only that, if when you receive the order and for whatever reason it does not fit what you expected (size error, you do not find it comfortable or you have changed your mind) podrás request the return of the order for free, no questions asked and no objections. You prepare the package, request the return and that's it.
—
I won't keep you any longer and I'll let you shop in peace. Just remember that you have to add the products to the cart and apply the discount code GOBIG22You must be logged into your user account for the discount code to be applied.
And with that... thanks for reading!