Update: 29 November 11:00 - Y final
Here we are for another year, another Cyber Monday looking for the best offers for Garmin, Polar, Suunto and any other training devices. This year the previous weeks have been more leisurely, so this week should be a big week.
First of all remind you to join the Telegram channel (especially today with possible flash offers)There, the offers are published immediately, not only during this week but throughout the year. In addition, I am already preparing another raffle for channel subscribers, so get ready....
As happens every year, from this moment on I start scouring the Internet (and beyond) in search of the best deals in sports technology, along with other interesting offers that will also be posted here and on Telegram.
And as is our trademark, every offer will be accompanied by some small indication or advice. This is not going to be a Persian market or an obligation for you to buy anything.
In each of these offers you will also have a direct link to the full test of that device, so that if you still have any doubts you can solve them in the detailed analysis that I usually do here.
Remind you that when you buy through any of the links I provide you will generate a small commissionThis is what helps pay for the website and the work I do in testing, and it won't cost you a penny more. It's your way of thanking me for the work I do. Although not everyone is an affiliate link, if I don't have an affiliation with the store and the offer is good I'll include it as well.
Do you have doubts or need help beyond what I indicate in the article? Below are the comments. This Cyber Monday I'm going to spend it in front of the screens of the different computers I have prepared, so podré will answer your questions almost instantly.
Remember, this article will be constantly updated with the latest offers that will be located among all sellers.
I won't roll over anymore. I'll leave you with the best offers from all over Europe served up on a silver platter.
In the top menu podrás find the different categories in which I have been dividing the offers, so you can see all the offers one after another or jump directly to the section that interests you.
OUTSTANDING OFFERS
These are the most outstanding offers at the moment

Cyber Monday GARMIN
Garmin Fenix 6X Pro and Solar
The 6X Pro has a large 1.4″ display, along with a longer battery life. Consequently, it's also a larger watch, so you'll need to be sure it won't feel too big on your wrist.
There is also the option of the Garmin Fenix 6X Pro Solar, with solar-charged glass, at a very significant discount.
See offer Garmin Fenix 6X Pro Sapphire on Lepape
See offer Garmin Fenix 6X Pro Solar Titanium in i-Run
---
Garmin Fenix 6 Pro
One of the most complete Garmin watches (with permission of the new batch of Fenix 7 at twice the price), with the full pack of the "advantages-Garmin": music playback (including platforms such as Spotify), navigation with maps and wireless payments.
You also have an option with sapphire crystal, little difference with respect to the others.
See offer Garmin Fenix 6 Sapphire
---
Garmin Fenix 7S Solar
Same features as the Fenix 7 Solar but with slightly less battery. It remains at minimum price for only 581€.
Garmin Fenix 7S Solar Analysis
---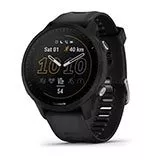 Garmin Forerunner 955
For value for money the new Forerunner 955 is the best option for quality / price of both Garmin and the entire market. In terms of features it has the same as the higher ranges, has released features such as training predisposition, has touch screen for maps, power estimation in race directly from the wrist and will have the same updates as the Fenix 7 range.
It is, quite simply, a rounded purchase.
 Garmin Forerunner 955 Analysis
View offer Garmin Forerunner 955 Solar on PowerPlanet
---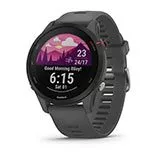 Garmin Forerunner 255
Another master purchase is the Forerunner 255. It's moved up a bunch of steps (it actually takes the Forerunner 745's slot), and gets a lot of the features of the 955. There are some things it doesn't have like maps or touchscreen, but if they're features you don't need it's money you save.
 Analysis Garmin Forerunner 255
View offer Garmin Forerunner 255 on PowerPlanet
---
Garmin Forerunner 945
Bargain for the Garmin Forerunner 945! Only 275€. Prestaionally it is the same as the Garmin Fenix 6 Pro (it has some small difference in navigation options), but it is thinner and lighter. That makes it more comfortable to wear with a neoprene. It has the maps/music/WiFi/wireless payments package.
 Analysis Garmin Forerunner 945
---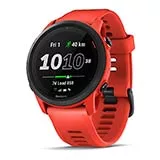 Garmin Forerunner 745
If you don't need all the features of the 945 (basically maps) and don't want to pay for them, the 745 at this price is another good bargain. For only 222€ it's a bit more expensive than the 245; but in exchange you get a triathlon watch, capable of open water swimming, with Garmin Pay, barometric altimeter...
 Analysis Garmin Forerunner 745
---
Garmin Forerunner 245 Music
Little I can say about the Forerunner 245 that has not already been said ... Totally recommended if you are looking for something complete as well as lightweight and at a good price.
For 10€ difference, definitely go for the 245 Music option (the normal one is sold out anyway).
 Review Garmin Forerunner 245 Music
See offer FR245 Music on Amazon
---
Garmin Venu 2 Plus
The Venu 2 Plus is the latest evolution of the high-end part of the Venu. Compared to the regular Venu 2, it adds a speaker and microphone, which allows you to use voice assistants and even receive phone calls and talk on the watch, as long as you have a connection to your cell phone.
---
Garmin Enduro Solar Titanium
The Garmin Enduro is a watch that comes from the Fenix 6 family, but to which Garmin has made a series of improvements to increase (even more) its autonomy.
Solar charging, up to 80 hours of autonomy, 1.4″ screen and only 58 grams in this titanium version. A downgrade from the 50% makes it a frankly interesting option, even though it does not have maps for navigation, which is its main point against.
---
Garmin Instinct 2 / Instinct 2S
Note that this is the first time we see the Instinct 2 at an interesting price. The qualitative leap of the Instinct 2 with respect to the original model is enormous. It is basically a "disguised" Forerunner, as it has all its functions.
More screen resolution, all sport profiles (including multisport), training load and status, training suggestions, new heart rate sensor... If you like the Instinct aesthetics, it's a price to seriously consider.
See Instinct 2S offer on Amazon France
---
Garmin Forerunner 55
Updated Forerunner 45 with track running profile, workout suggestions, PacePro, etc. Although for the price difference, I'd recommend the FR245 above for its better screen with higher resolution.
---
Other Cyber Monday Deals Garmin
Garmin Index S2 - The latest Garmin scale model, which is NEVER discounted. Well this Cyber Monday it is with a 30% discount. If you don't want to buy it in Germany, you have a more expensive national option.
Garmin Forerunner 45 - For 99€ and as an access version, it is an interesting option for those who want to buy a Garmin as cheap as possible, but not too basic a model.
Garmin Instinct - A good watch if you want something tough for mountaineering with altimeter and compass.
Cyber Monday POLAR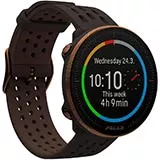 Polar Vantage M2
Compared to the Vantage M below, in addition to a more aesthetically pleasing look and higher quality strap, we have some of the new features of Polar: FuelWise, new widgets, heart rate sharing and music controls.
Option only if you want to save as much as possible. If you don't mind spending a little more, buy the Polar Pacer Pro.
---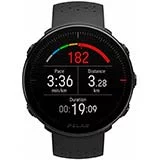 Polar Vantage M
Yes, it is a model already surpassed, especially by the Pacer Pro above. But if you are looking for something economical, for 169€ it can be a good candidate not only as a running watch, but also for triathlon.
---
Polar Grit X
It was Polar's first entry into the mountain world with new features such as Hill Splitter, FuelWise and route navigation with turn warning.
But unless the aesthetics make you tremendously in love, the Polar Pacer Pro is a better choice.
---
Cyber Monday on the official Polar website
This year in addition to having offers on the different websites around the Internet, Polar is also making offers of Cyber Monday on their own website, in what they call Cyber Week..
What discounts will you get?
The rest of the web: -20%* (Except Polar Pacer Pro and Polar Pacer)
These are not the cheapest prices on all watches (although some of the offers are exclusive), but I know that many of you are more comfortable buying from the manufacturer's official website than from third-party sellers, so it's another option available to you.
Cyber Monday SUUNTO
Suunto 9 Peak
It is the previous Suunto 9 Peak, not the one just released. At the time it was undoubtedly the best watch made by Suunto, although at the moment it lives in the shadow of the newly arrived Suunto 9 Peak Pro.
The price is fine given its characteristics, especially in terms of construction. But I think it would be more interesting to spend a little more and get directly the Suunto 9 Peak Pro, because it is better in everything and it is also more prepared for future updates.
---
Suunto 5 Peak
The little one from Suunto can be an interesting option if you are looking for a small watch. Its main advantage is that in such a small size (and weight) it offers the same as the rest of the Suunto range.
It is a model that I quite like to use for testing because it offers good performance and weighs really little. Its only handicap is that it does not have a barometric altimeter, so perhaps it is more oriented to use on asphalt.
---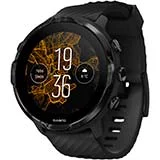 Suunto 7
The Suunto 7 is not an ordinary Suunto. It is a smart watch but with a clear sports use. It stands out for its AMOLED screen on which it displays very good quality maps that, although they are not routeable, are full of details.
It is an interesting option if you are looking for something for your daily life and want to go beyond simply receiving smart notifications on your wrist, as is the case with other sports watches. It is a good mix between smartwatch and sports watch, in my opinion the one that best combines both facets.
But that makes it neither the best smartwatch, nor the best sports watch. It's up to you to decide what exactly you're looking for.
And for a little more, you have available the titanium version that improves it in materials, weight and aesthetics.
---

Cyber Monday GARMIN
Garmin Edge 530
It will be one of the most sought after on Cyber Monday... and for good reason. The Garmin Edge 530 is a favorite among both road and mountain bikers. Sufficient screen size, clear display, full route navigation with turn warning and a contained price.
---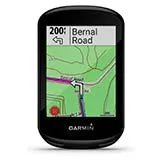 Garmin Edge 830
If you are going to make extensive use of navigation with the Edge 830 you will be more comfortable. The touch screen will help you to prepare routes, enter addresses on the device or simply, direct you to any selected point on the map.
The difference with the Edge 530 is that, the touch screen and the possibilities it offers at the software level.
---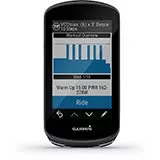 Garmin Edge 1030 Plus
The Garmin Edge 1030 has been one of the historically best selling models at this time of year. It is no longer in stock but has been replaced by the Edge 1030 Plus.
Same great display features, but the Plus benefits from the Garmin workout suggestion function and more navigation functions, better GPS, faster processor...
Garmin Edge 1030 Plus Analysis
---
Garmin Edge 130 Plus
The smallest Garmin model was recently updated with some of the most important Garmin cycling features. For example ClimbPro, which will guide us on each of the climbs we have on our route.
Also with guided workouts, which 1TP10You can create from Garmin or download through Garmin Connect. And now it even allows us to control a smart roller.
See Edge 130 Plus offer on Amazon
See Edge 130 Plus offer on Amazon Italy
See offer Edge 130 Plus plus sensor at Amazon Germany
---
Garmin Varia RTL515
There are three things I don't leave behind in cycling training. The bike, the helmet and the Garmin radar.
There are two types of cyclists: those who haven't tried the Garmin radar and don't understand spending so much on a light, and those who have tried it and can't live without it. Have I made that clear?
Garmin Varia Radar RTL515 Analysis
---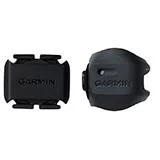 Garmin cadence and speed sensors
This is the latest version of the Garmin cadence and speed sensors. They transmit via ANT+ and Bluetooth.
They do not need magnets as they work through their internal accelerometers, making their installation even easier.
---
Garmin cadence sensor
If you only want to have the cadence data you have this second option to buy only this device. Although for the price difference, my recommendation is to buy the previous pack (unless you already have an integrated speed sensor on your bike).
---
Cyber Monday WAHOO
Wahoo ELEMNT BOLT v2
The latest BOLT from Wahoo. One of the cyclocomputers I use the most and the one I have mounted on my road bike (I have the Edge 830 on my gravel bike).
Very easy to use and with a good color display, it is a fantastic choice especially for those who want a device for training, and for navigation it is not bad at all.
---
Wahoo ELEMNT ROAM v1
This is the original version of the ELEMNT ROAM. It is not quite up to date with the wonders of the new ROAM v2, but it has not been left behind. For example it has recently received the Summit segment upgrade (Wahoo's ClimbPro) as well as other features. And a €150 rebate is no small feat.
---
Wahoo KICKR SMART v5
High-end direct drive trainer. 400€ off for a smart roller that poder use with Zwift or any other training application, for poder make quality workouts much better than on the street.
---
Watch out because this is a real bargain. Yes, it's €2,500 for home training, but if you're a regular indoor trainer there's nothing similar on the market at this price. If you're thinking of spending money on a trainer and want to have something even more dedicated for those quality workouts... think again.
The new model goes up to €4,000, and the only thing it can offer compared to the KICKR Bike v1 is WiFi connectivity.
---
Cyber Monday CYCLING
Magene L508
I will never tire of repeating that Prime Day or Cyber Monday are the days that cyclists should take advantage of to get a bike radar.
For me it is a must on bike rides, first because it acts differently when a car is approaching and will make you more visible, and second because you can see when a car is coming and be aware to get on the right, especially if it is a road without a lot of traffic.
This Magene L508 is a direct competitor to the RTL515 from Garmin. In essence it offers the same: light and vehicle detection. But additionally it has some advantages over the Garmin model:
USB-C
Some additional light mode, such as brake light simulation
But otherwise, same product at a cheaper price.
---
Assioma Duo
Favero's potentiometer pedals. Easy to install, very reliable and totally accurate. They're the ones I use, so I guess that tells you everything...
Exclusive Cyber Monday offer that leaves them at a price they have never been before.
---
Cyber Monday PULSE SENSORS
Garmin HRM-Pro Plus
The HRM-Pro Plus is the latest chest pulse sensor released by Garmin. With all the features of Garmin's high-end sensors: i.e. it has the same capabilities: advanced running metrics, allows you to use it for Garmin Running PowerIt stores heart rate during ski touring and stores heart rate during swimming for synchronization after the end of the activity.
It also has Bluetooth connectivity (dual connection) and can also record data intensity, steps, calories and heart rate without using the watch. With respect to the normal HRM-Pro, the cover system changes, which now has no screws and is more reliable at each battery change to prevent any type of liquid from entering.
---
Garmin HRM-Dual
The HRM-Dual is a basic sensor (no accelerometer so no running metrics), but offers dual communication via ANT+ and Bluetooth, and can receive heart rate data on devices using both technologies.
For example, you can train on the bike trainer by sending the data to Zwift and to your watch. Or train in the gym in the same way.
---
Polar Verity Sense
The Polar Verity Sense is one of the best external optical pulse sensors out there. It has memory so you can record activity without relying on anything else, or instantly transmit data to any Bluetooth compatible device.
Unlike the sensors built into watches, the poder being placed on the upper arm allows the heart rate reading in a much more suitable area. Personally it has worked well for me even on the bike.
One of my reference sensors in the analysis of different devices.
---
Polar H9
Similar to the Garmin HRM-Dual sensor above, but it does not have two Bluetooth channels for simultaneous use. The H9 stays at ANT+ plus Bluetooth to a single device. In return it is compatible with devices via the 5kHz analog band.
---
Cyber Monday HEADPHONES
Jabra Elite 4 Active / Jabra Elite 7 Active
Both are sweat and water resistant, so they will serve you perfectly for running, gym, etc.
Both have a very similar design, active noise cancellation and good sound quality.
For the price difference, the Elite 7 Active offers in addition a smaller wireless charging box (and longer battery life), MyFit function to scan the ears to improve the sound (which works fine...), customization of the controls, MySound function to apply an automatic equalizer and a little more quality for calls.
For price, the interesting option is the Jabra Elite 4 Active. If you want maximum performance and do not mind paying a little more, Jabra Elite 7 Active.
See Jabra Elite 4 Active offer on Amazon
See Jabra Elite 7 Active offer on Amazon
---
Bone conduction headphones
If instead of a sports headset you prefer to have your ears completely uncovered so you don't miss anything around you, bone conduction headphones are a very good option.
Of course, they don't have the sound quality of traditional headphones, but if you're worried about missing out on what's going on around you, they're the best choice.
See Shokz headphones offer on Amazon
---
Cyber Monday SPORTS TECHNOLOGY
Normatec 3 pressure therapy boots
High range of compression boots with a discount of 150 €. They are the new model with a new control unit.
---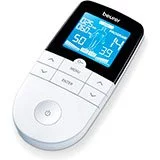 Electrostimulator Beurer EM49/EM59
If you don't feel like paying what a Compex is worth, how about this Beurer model? It doesn't have as many modes of use as the more expensive versions, but it's perfect for getting those tired muscles back.
The Beurer EM49 offers two electrodes, while the EM59 offers four.
See offer on Beurer EM49 Amazon
See offer on Beurer EM59 Amazon
---
Cyber Monday in other interesting articles
I keep looking and updating... stay tuned!
Thank you for reading and above all, for collaborating with the site!