Although Craft is best known for its high-quality technical clothing (especially for cyclists), the Swedish firm's footwear is rather less well known, even though it has designed good quality products in the past, and especially with special concepts such as the Craft CTM Ultra Carbon.
But you should stay tuned to this brand because they are still determined to make noise, and good proof of this are these Craft PRO Endur Distance for which Craft has designed a foam very similar to PEBAX, called Px Foam, but developed in-house.
PEBAX is the type of material used by the fastest shoes on the market because it offers lightness, high energy return and maximum cushioning. It is usually a material that is combined with carbon plates (Nike Vaporfly) or nylon (Saucony Endorphin Speed 2, Nike Tempo NEXT%), but in the case of the Craft there is no plate of any kind.
Contrary to popular belief, the plates are not there to make the shoe faster. It is true that in some cases they offer a certain leverage effect that can "launch" the runner, but that is the mission of the new supercritical foams. This plate is more focused on providing stability to the shoe, as PEBA-type foams tend to sink quite a bit in the tread.
In the case of the Craft, stability comes from the base width. It is an externally wide shoe. It is also wide in terms of last, but not excessively so. There is space in the forefoot area so that, as we go through the miles and the foot swells, we don't have problems with the feeling of being tight. The "Distance" in the name is for a reason...
Craft PRO Endur Distance - the good stuff
Buy Craft PRO Endur Distance
I will start with what I like most about the Craft PRO Endurance. Undoubtedly the first thing to highlight is the Px Foam. As I have already mentioned, it is a TPE compound very similar to PEBAX, which is now on everyone's lips.
Until a few years ago the most common midsole material was EVA foam. It had cushioning, durability, but did not excel in weight or energy return. The new supercritical foams offer more cushioning, similar durability, lower weight and higher energy return. So in concept it's a much better technology than the old one, but then you have to use it around a geometry that works.
For comparison, an EVA foam has a typical energy return of about 50%. Craft says that Px Foam has a return of 72%. There are foams with higher rebound, such as ZoomX (85% return according to Nike), but the secret of the PRO Endur Distance is in the balance between energy return and stability. They also use a "green" technology.
As for the feel, it reminds me of the Saucony Endorphin Speed 2, but since it does not have a plate, it is not as rigid and we do not impact on the tread against a harder element, which is the source of my problems with the Endorphin Speed 2.
The foam is not the only thing that stands out, the insole also stands out. It is not an ordinary insole, it has a design with hexagonal perforations that help that feeling of comfort that the Craft have.
The upper is a single piece of mesh, lightweight and well ventilated. It has a curious construction because, to give rigidity and support to this upper, Craft uses 3D printing lines along the entire length of the shoe.
Another point to highlight is its versatility. The first feeling this shoe can offer is that it is designed to be a comfortable shoe where you can put in recovery miles at light paces. With its 36mm heel height and 9mm drop it gives the impression of being a comfortable maximilist but it will not be at ease at fast paces.
Nothing could be further from the truth. Yes, at light paces it is a comfortable shoe to wear, but if we want to do tempo workouts (around 4:00 min/km for me) it will respond just as well. In fact, given its versatility, it is the shoe that I took to the Ironman Austrianot for the race but for the training sessions of the previous days in which one day 1TP7You could be riding at 6:15 and another doing blocks at 4:15.
As for the outsole, I have not tested it in the wet (where its performance can be improved, as in almost all of them), but I have run with them in the dry and on loose terrain where, despite being quite smooth, I have not had any traction problems.
One last detail to comment is the weight, quite reasonable for a shoe with a 36mm stack and focused on training. In my size 46 it weighs 300 grams. For example the Nike Invincible Run are 345 grams when they step on the scales, another shoe with PEBAX midsole and no internal plate.
Craft PRO Endur Distance - to be improved
The main problem I've had with the Craft has been foam rubbing, which calls into question the durability of the midsole, at least aesthetically.
Although it must be said that this is not exclusive to Craft, it has already happened to me with other shoes in which the base is wide, I rub the inner side of one with the other. In this case the rubbing occurs in the midsole, but in other models it is in another area. For example the Invincible Run are very worn on the upper inner collar area. With the Nike Alphafly I have had rubbing on the inner ankle area.
I may be wrong, but the "wear and tear" is noticeable for the approximately 80 kilometers that they have on them. It's an aesthetic thing, but everyone likes to wear clean and shiny shoes.
The tongue is a bit thin. I would appreciate a little more padding in that area because after several hours of use the laces end up digging into the top of the foot. As I say this comes after hours with the shoes on, but given that it is a shoe to put many kilometers a little more coating in that area would not be bad.
On some occasions the discomfort has even been caused by bending the tongue when putting the shoe on, precisely because it is so thin and lacks consistency.
And that also brings me to another "problem" that I have suffered, and that is that it is not a shoe in which the foot enters easily. Maybe it's because of the lacing (I haven't changed the one that comes from the factory) or because of the size of the eyelets that doesn't allow the laces to slide easily, but the truth is that putting on these shoes takes a little more time than any other model.
It is necessary to loosen the first two or three rows of eyelets, and then retighten row by row because the laces do not slide easily.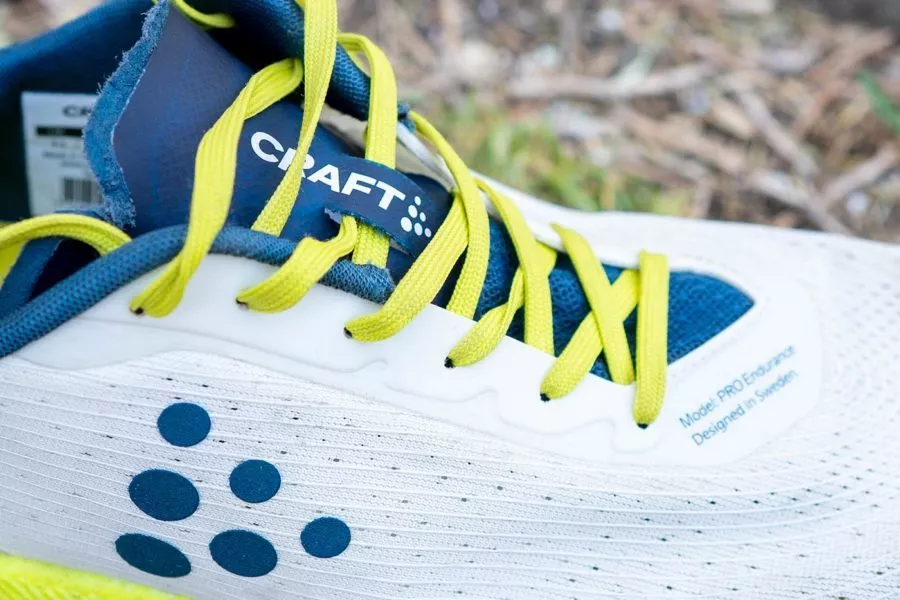 And if I had to ask, perhaps the upper with its mesh construction and 3D printing is a bit lacking in support, especially in the front area of the shoe, where it does not quite hug the metatarsal area and there are pockets in the mesh.
Want to help the web? Buy here your Craft PRO Endur Distance
I hope that this in-depth review has helped you to decide if it is a valid device for you or not. All the work I do you can consult it without any cost, but if you want to support the page and by doing so the work I do, the best way to do that is to buy your shoes through the links I provide .
And if you don't buy today, remember to stop by when you do! Through these links, you'll not only get a competitive price and the best customer care, but also I will receive a small percentage at no additional cost to you. That's what allows me to keep offering you reviews like the one on this page.
Buy Craft PRO Endur Distance
Review Craft PRO Endur Distance
Keep an eye out for Craft. These PRO Endurance, despite not being a product of one of the big brands, is one of those shoes that is worth having in the closet because it works very well. Light weight, great versatility and good build quality. All this for a frankly reasonable price that also makes it a good value for money.
If you're looking for an everyday shoe that won't weigh you down and will allow you to do slow or fast runs comfortably, the Craft PRO Endur Distance is what you're looking for.
I think the midsole has the perfect feel for long runs in which also allows us to raise the pace without being penalized at any time. Obviously it would not be my choice for very fast series or for competition (although I seriously considered them for the Ironman marathon instead of the Alphafly...), but they are perfect for all other uses. Without a doubt, this is a model that will be in my shoe rotation for a long time, even if the midsole gets ugly.
And with that... thanks for reading!