The Craft CTM Ultra Trail is one of the latest batch that Craft has released for late 2022 and early 2023. 
The name says it all about the shoe. It is a model intended for trail, to cover long distances. So it is designed more for comfort and mileage accumulation than for speed or flying through very technical areas.
They are not to be confused with other Crafts that have already passed through this page and are also called "Ultra". The Craft CTM Ultra Carbon are also ultradistance shoes, they can also be used in the mountains, but they are focused on ultras on trails/asphalt/easy roads. 
These Craft Ultra Trail are the "mountain version" of those Ultra Carbon that left such a good taste in my mouth.
---
Plus
Very comfortable
Laces run very well in the eyelets
Plenty of space in the toe box area
Great height without compromising stability
Very resistant upper
Minus
No Vibram sole in spite of its price
High weight
Buy Craft CTM Ultra Trail
Craft CTM Ultra Trail, what to expect from them
These are typical Craft sneakers, with everything that the Swedish house brings in terms of quality materials and always wanting to have that little bit different. There is always something special, there is always a "premium" touch. 
Its name says it all. It is an ultra distance model for trail. OBVIOUS.
Within this typical design of Craft in the Ultra Trail we will find a wide front area, with plenty of room for the fingers. It is normal that as you accumulate kilometers the toe and metatarsal area will gradually swell, and Craft wants to ensure that you will not have space problems or that they will be uncomfortable for hours after wearing them. Something similar to what Altra does in their models.
We have a 10 drop: 25 mm in the forefoot and 35 mm in the heel area. The midsole is firm and hard, with Craft's UD Foam. But the secret that Craft has used in this shoe (and in other models) is to use an insole that Craft calls Ultra Rebound.
It is made of a softer material than the midsole, and has more energy return than the midsole. It is like putting an additional layer of foam of different density, but in this case instead of gluing it to the midsole itself, it is placed on top of it.
Thanks to this design we have a firm and cushioned base that protects the foot from rocks without a specific plate (due to the density of the material and the height of the midsole), which is sufficiently stable and not uncomfortable -despite its firmness- thanks to the thick insole.
The upper is tough. It is not rigid, but it will perfectly withstand all the reasons that we give to the Craft Ultra Trail either on rocks, brambles and the like. In fact it is made of nylon thread and it is light and resistant.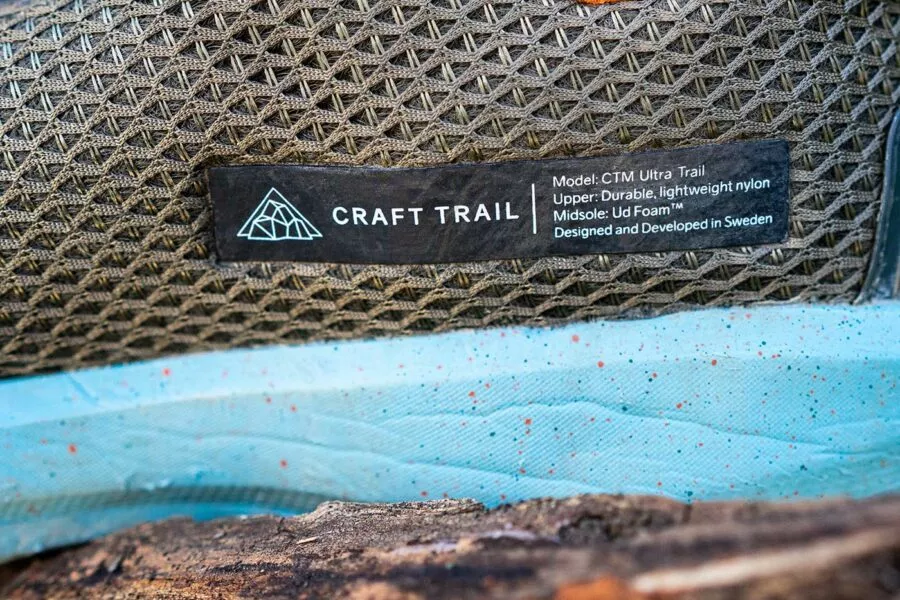 On the front side there is a thermosealed, protective toenail.
A rigid plastic piece is used at the back to provide stability in the heel, in this case with classic stitching.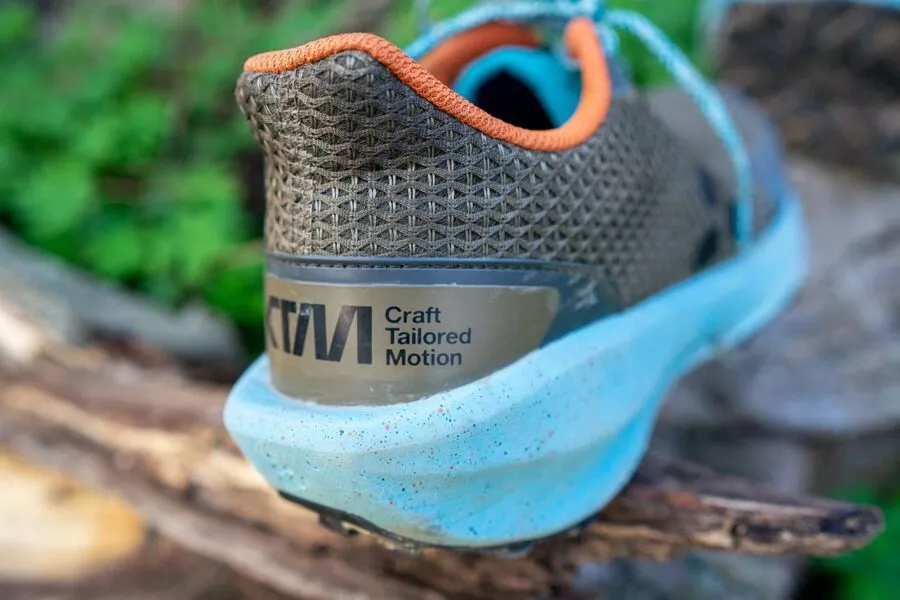 They are easy to put on. There are only four eyelets and the laces run nicely between them, so you can open the shoe wide and then it's very easy to find the right fit without having to fiddle around with tightening by zones.
The tongue stands out for being quite thin. But I find it perfect, with just the right amount of padding and totally elastic. It does not bend when you put your foot in and it is not difficult to wear it straight (something that happens to me with the Craft Pro Endurance). It is attached to the upper part of the midsole, so it helps support the foot perfectly. 
Ventilation and water evacuation is good. In fact in one outing we ended up having to go out through a creek and soon after going out on firm ground there was no water left inside the shoe. Obviously the socks were wet, but I didn't have the typical "chof-chof" feeling with every step that is very common in asphalt shoes after going through puddles.
The collar has just the right amount of padding, it is comfortable but does not block movement and does not overwhelm at any time.
The sole does not stand out for anything special. It is separated into two pieces and has an oversized lug. They are not hollowed out and here Craft 1TP7I could have saved some weight, something in which these shoes do not stand out as they are 375 grams in my size 45 and 3/4 (a 46 in use).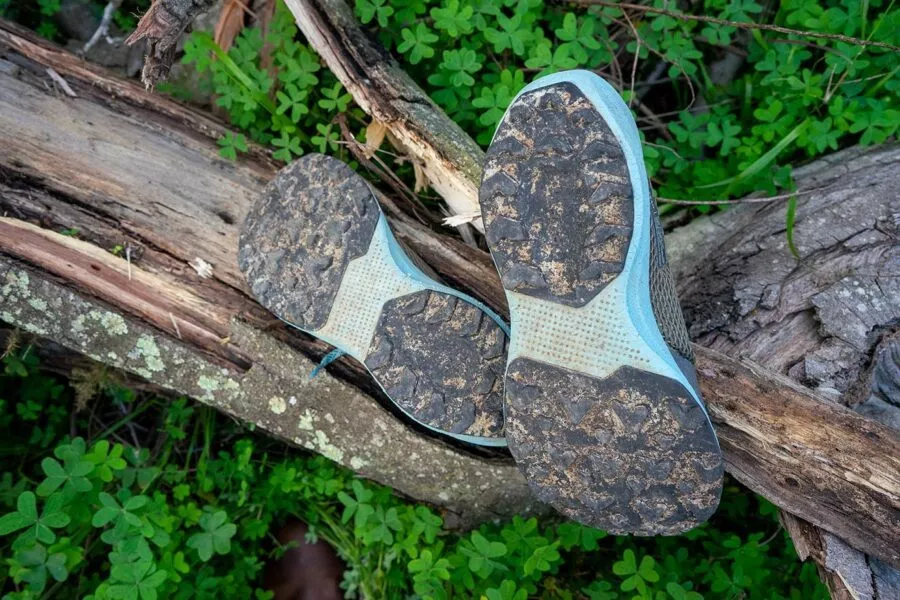 No complaints on hard terrain and loose rocks. Traction is good, both uphill and downhill. I have not had a chance to test it in mud. It is a shoe focused on making very long runs comfortable and not 1TP7We fly through technical terrain.
Not that it has put me in extreme difficulties, but it has solved the passage of any complicated climb or descent, including firebreaks and water ruts.
Despite having exposed foam, I have not noticed any wear or breakage in the midsole, at least during the outings I have done with them so far. An advantage of this sole division is that it does not hinder the flexion of the foot, and helps the transition of the footprint.
If we were to ask and considering the price of the shoe -and what the competition offers at these prices-, it would be interesting to see a Vibram sole as we see in its big sister, the Craft CTM Ultra Carbon Trail which, as you can guess, has a carbon plate (in addition to the Vibram sole already mentioned).
Want to help the web? Buy here your Craft CTM Ultra Trail
I hope this full review has helped you decide if these shoes will fit your wear. All the work I do is without any cost to you, but if you want to support the page and by doing so the work I do, the best way to do that is to buy these shoes through the links that I provide .
And if you don't buy them today, remember to stop by when you're going to! Through these links you will not only get a competitive price and the best customer care, but also I will receive a small percentage at no additional cost to you. That's what allows me to keep offering you reviews like the one on this page.
By the way, you have an additional 5% discount on Top4Running using the exclusive code C1M5.
If you have any questions, remember that you have the comments section at the bottom, where I will try to answer all your questions.
Craft CTM Ultra Trail Review
The Craft Ultra Trail is a shoe to be comfortable during the many hours you are going to spend in the field. They are focused on that long distance where it is a good option and they shine because they take care of the foot. They will hurt a lot, but the foot probably won't be something you should give too much importance to.
But in shorter distances or more technical terrain they look out of place. They can be heavy and the sole is not aggressive at all, it has enough traction and grip but if you want to go down the most complicated terrain it is possible that you are going to fall short.
Craft CTM Ultra Trail | Analysis, features and opinion - Correr una Maratón - Review of Garmin, Polar, Suunto, COROS...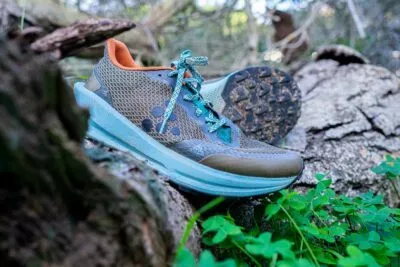 The Craft CTM Ultra Trail is one of the latest batch that Craft has released for late 2022 and early 2023. 
Product Brand: Craft
Product Currency: EUR
Product Price: 90
Price Valid Until: 2026-02-22
Product In-Stock: InStock