Craft is an unknown brand to the general public. Far from having the fame of brands like Nike, Adidas or New Balance; this Swedish brand is perhaps better known among cyclists where the reputation for quality and attention to detail is more widespread.
Craft is best known as a textile producer. In fact, at first it started producing base layers and later on it started producing other types of fabrics.
So... do you also manufacture sneakers? Well, yes, they also make slippers, in fact. on its website you can find almost 100 different footwear models.. Not bad for a brand that many of you have just discovered as a sneaker manufacturer.
But you are not alone. I didn't know it either until Craft offered me to try one of their latest models. I did know the brand as such (which I must say I love for the quality of the product), but I had no idea that they also made sneakers.
The Craft CTM Ultra Carbon is a very different shoe from the usual. They are not asphalt shoes, but they are not trail shoes either. They are not a fast shoe, but they have a carbon plate.
They are a mix of a lot of things and that allows them to be floating between different categories. However, stay with one part of their name: "Ultra".
---
Plus
Stability
Energy return
Specifically designed for ultradistance
Aggressive and different design
Minus
Perhaps overly broad
High price
Nike Vaporfly 2 video review
If you prefer to watch the video analysis you can click here or watch it below. It is not a substitute, but the video provides information that is not available in the written analysis and vice versa.
Craft CTM Ultra Carbon M, where are they actually located?
It's not possible to fit this shoe into a specific segment because there simply isn't a generic segment to fit it into. We have a carbon plate inside the shoe, but it's not a shoe designed to fly on asphalt. And if we look at it from underneath that thought will totally leave our head.
We have a lugged outsole, but it is not overly aggressive. It's not a pure trail shoe either because the outsole wouldn't support it and it lacks any other kind of protection. So it's not a road shoe, but it's not a mountain shoe either.
Let's see where 1TP11We can find a niche for this model... Craft sponsors Tommy Rivs, a famous ultradistance runner who helped design these shoes with his knowledge and experience.
Buy Craft CTM Ultra Carbon
Does the name "Ultra" that we can read on the podemos shoes already fit you? Indeed, these shoes are designed for ultra-distance running. They combine good grip on trails, snow, water and asphalt. The midsole provides stability and comfort, even as the kilometers go by. Also energy return that, without having a "Vaporfly" type feel, is noticeable as we increase the pace.
The terrain that best suits them is the ultra-distance races that combine asphalt with little technical terrain. I have not done any ultra, but I have done some very varied outings with these shoes.
Days in which I have run on asphalt and ended up running down a firebreak to return to the asphalt at fast paces. Fast series combining asphalt, dirt and wood. Outings of 2 hours of little technical mountain running down to 3:45min/km. In short, a little bit of everything without anything special.
Upper and fit of the Craft Ultra Carbon
Everything about this shoe is special in both construction and design. Everywhere I look I see things that are there for a specific reason. It makes me want to start talking about the carbon plate and the midsole, or the mixed sole, or the upper and how it fits... Since I can't decide to give more importance to one thing than another, I'll start at the top and work my way down.
The upper of the Craft Ultra Carbon I have tested consists of several pieces thermosealed together. In the front we have two pieces of mesh, one in yellow or pink (different in each foot) and another zebra type. The upper and heel are made of TPU leather.
The highly elastic tongue is stitched to the bottom of the shoe to help support the midfoot.
The lacing system is uniquely shaped with alternating eyelets for a customized fit depending on which part of the lace you tighten the most.
But perhaps what is most striking is the heel part. There is no piece that provides rigidity to the whole and it is possible to bend it simply by pressing with your finger.
At first I was a bit reluctant to this solution, but I certainly didn't need that area to be stiffer and it obviously contributes to a very light upper. The heel has only two pads that help to fix the foot.
In terms of fit, what stands out the most is the roominess in the forefoot area. It is something that Craft advertises as "Anatomic Racing Fit", offering a precise fit around the foot and plenty of room for the toes. And it certainly lives up to those expectations, in fact you can see how the shoe is much, much wider in the forefoot area than in the heel area.
This configuration makes it very comfortable, but the downside is that it is not the safest when the terrain gets complicated. It is not something that worries me because the CTM Ultra Carbon are not shoes designed to face with maximum guarantees that type of terrain. That is, even if you have podido down a firewall with guarantees, it is not what they are intended for.
Midsole
As in any shoe with a carbon plate inside, the midsole of the shoe has a lot of work and design inside.
Starting with the insole, which is also special, and ending with the connection to the sole, everything has a reason in this shoe.
Craft calls this template "hyper-springy popcorn-foamed Ultra Insole™.". It is not a typical insole but is made as if it were a midsole and may even remind the "corkopan" of the Adidas Ultraboost.
Underneath the insole is a thin layer of the foam that Craft uses, called Vault Foam. This foam is a chemically modified EVA for lightweight and energy return. The feel reminds me a bit of Nike's React, although I find the Craft's to be more changeable as we vary the pace. Stiffer when running slower and softer as we pick up the pace.
The carbon plate is of the forked type and is not there to give pure performance but to give stability and rigidity to the whole. It should be remembered that this is a shoe that has heights of 40mm in the rear and 30mm in the front, not the most usual for a shoe that is intended to leave the asphalt even if it is not for technical terrain.
The whole set works flawlessly and do what it should do: propel you forward without excessively punishing the legs, thinking that you will be running for a long time. The feel is very special. At first the feeling is firm, but when running it becomes somewhat more pleasant, becoming softer when we put some speed.
The sole of the Craft CTM Ultra Carbon
The outsole is another striking feature of this shoe. Made in three pieces of different sizes and design, it complements well the mixed use of the shoe.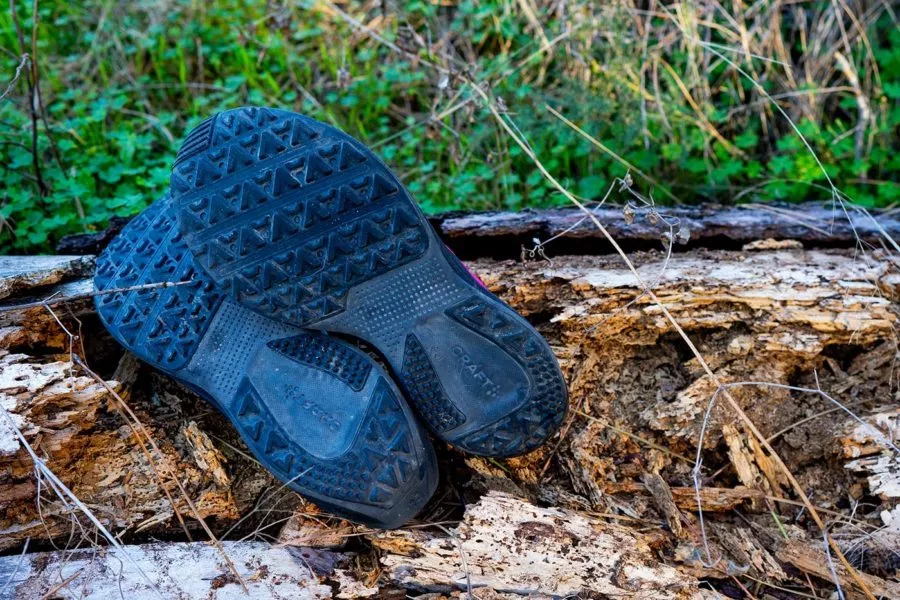 Each of these parts has a different function, providing stability in foot support and efficiency when launching the stride. 
On asphalt it is a sole that works properly offering sufficient traction. Also on trails or paths that are not excessively complicated. But if the trail becomes complicated then the sole of the Craft CTM Ultra Carbon will fall a little short. But that's to be expected, this is not a trail-specific shoe. But it will do better than a shoe purely focused on asphalt.
Want to help the web? Buy here your Craft CTM Ultra Carbon
I hope this full review has helped you decide if these shoes will fit your wear. All the work I do is without any cost to you, but if you want to support the page and by doing so the work I do, the best way to do that is to buy these shoes through the links that I provide .
And if you don't buy them today, remember to stop by when you're going to! Through these links you will not only get a competitive price and the best customer care, but also I will receive a small percentage at no additional cost to you. That's what allows me to keep offering you reviews like the one on this page.
By the way, you get an additional 10% off at RunningWarehouse by using the exclusive code CUMAR10.
Buy Craft CTM Ultra Carbon
If you have any questions, remember that you have the comments section at the bottom, where I will try to answer all your questions.
Opinion of the Craft CTM Ultra Carbon
The Craft Ultra Carbon is a special shoe in a special category. But it is not a shoe for everyone.
To begin with, we have to talk about the elephant in the room, which is the price. 250€ RRP is a very high price for a shoe that, although it has many things done that make it special, they do not complete a totally groundbreaking set. Of course, you have to understand that buying Craft we are buying a premium product, and that is also part of the price tag.
The CTM Ultra Carbon can be a good choice for those who compete or train long distances but on surfaces that are not too technical. It performs well on trails, roads and asphalt; and that is its best asset. It is a comfortable shoe that performs well at a wide range of paces and can be used as a daily training shoe, although it will be an expensive choice.
The overall quality of the product, the attention to detail that have all its components and the design of the shoe makes these Craft CTM Ultra Carbon in a very special model in its category, but unfortunately not everyone will enjoy poder unless we find a good offer to get a few without hurting our pocket.