The PACE 3 CHORUS comes three years after the PACE 2 burst onto the market setting a line of what a €199 watch should offer. The new model marks another line, that of functions that should be offered in exchange for the €249 that the new watch costs (since it has gone up in price).
The recipe is the same: offer an inexpensive watch with inexpensive materials, but loaded with features. For this new version COROS adds things like dual band satellite reception, WiFi, touch screen or music playback.
After a few weeks of testing I can already tell you all the good things about the COROS PACE 3, but also those things where it should improve. Because this is a totally independent review and there is no compensation of any kind from the brand, so I have total freedom to tell you everything good and what should be improved in the PACE 3.
So if you like the work I do in these tests and you want to collaborate with the website, you can do it through the published links. And don't forget to join the Telegram channel I post a lot of bargains there on a regular basis, thanks for your support!
PACE 3 CHORUS
Overall - 9
Training possibilities - 9
Platform and applications - 7.5
Battery life - 8
Finish and comfort - 7.5
Price/performance ratio - 9
8.3
TOTAL
Despite the price increase, the COROS PACE 3 continues to be one of the best value for money proposals.
---
The good
The cheapest with dual band
Revamped user interface, improved aesthetics and functionality
With music, WiFi, route navigation
The touch screen works well and brings things to the table. And if you don't like it you can change its behavior
Only 31 grams of weight
The bad
No specific button for illumination
Perception of cheap materials, especially in the control wheel
Music only through files and too simple player
If you already have a PACE 2, there may not be much reason to buy the PACE 3.
Buy COROS PACE 3
News and specifications COROS PACE 3
The COROS PACE 3 is not a watch that brings great new features to the market. It is not its mission, nor is it what is expected. But there are numerous changes with respect to the PACE 2, the model it replaces.
Is it worth buying a PACE 3 if you already have a PACE 2? Possibly not worth it, at least at this time. But we should not forget how upgrades have been historically at COROS so it is quite possible that more features will end up being added to this list.
COROS PACE 3 vs COROS PACE 2
New GNSS chipset with dual band and support for use of all constellations simultaneously
New optical pulse sensor (that of the APEX 2/APEX 2 Pro) including blood oxygen saturation estimation
Transflective display renewed for a higher quality one, and now offers touch control. Same 1.2″ size
Same size (or close to it, 41.9mm of PACE 3 for 42mm of PACE 2)
Reduced thickness (13mm of PACE 3 to 13.6mm of PACE 2)
Virtually identical weight: With nylon strap 30g (29g PACE 2) and with silicone 38g (36g PACE 2)
22mm wide strap with Quick Fit system (20mm on PACE 2)
Adds WiFi connectivity
Loses ANT+ connectivity
4GB of internal memory
Supports music playback via Bluetooth
More autonomy: 38 hours in GPS-only mode and up to 24 days in watch mode (30 hours/20 days in PACE 2). Additionally 25 hours in all systems and 15 hours in dual mode.
Route navigation with turn warning (recently added to PACE 2)
Add more sport profiles (trail running, hiking, skiing, snowboarding, cross-country skiing (coming to PACE 2 before the end of the year).
Available in white or black with choice of nylon or silicone strap; or red with nylon strap (track edition)
Price 249€.
To all this can be added everything that the PACE 2 already had which, for a watch of its price, at the time had quite an interesting offer:
Running power estimation, not only for displaying or recording but also for interval training
A complete COROS platform that has evolved considerably over the years.
Guided training plans and access to COROS coaches
Multisport watch with support for triathlon, open water, etc.
Barometric altimeter
The price has gone up by 50€. But in exchange we get dual band satellite reception, a pulse sensor with oxygen saturation estimation, WiFi, more autonomy and 4GB of memory for music playback. Doesn't sound like a bad deal, does it?
On the downside, the COROS PACE 3 has lost ANT+ connectivity. But this is to be expected, as it is something that has happened in the rest of the COROS range.
But something that many of you have asked me is... with the arrival of PACE 3 and all the things that it incorporates, what about the APEX 2Is it still worth buying or is it better to go with the cheaper option? Let me compare them and tell you the differences between the two.
COROS PACE 3 vs COROS APEX 2
COROS APEX 2 is titanium with sapphire glass (PACE 3 plastic with mineral glass).
Maps for route navigation (PACE 3 has navigation, but no maps)
APEX 2 does not have dual-band satellite reception, PACE 3 does
APEX 2 has 8GB of internal memory instead of the PACE 3's 4GB.
APEX 2 has more sport profiles (profiles such as climbing, windsurfing, rowing, still water...).
APEX 2 has a longer battery life except when used as a watch only.
APEX 2 has ECG-based pulse variability monitoring
APEX 2 has a specific button for illumination (PACE 3 does not).
APEX 2 costs 150€ more
But well, let's take a quick look at PACE 3.
A quick look at COROS PACE 3
In the handling of the watch, the crown on the side of the watch, which has already become a hallmark of COROS watches, continues to stand out. But to this crown is now added the touchscreen, one of the novelties that have come to this PACE 3 and that was present in all other models in the range.
Touch control has been improved. One of the "strange things" that COROS had is that 1TP7You could move through the different menus using the touch screen, but it forced you to use the main button to select any option. Now the selection can be made by tapping on the screen, as any touch screen user would expect.
As for the operation of the touch screen, I have no complaints about it. It is easy to move through the various menus and enter or exit them directly using the screen (press to enter, swipe left to right to exit).
Everything is intuitive and responds quite well, the only thing that can sometimes happen is that by sliding more options than desired, but it has a very similar operation to the touch screens of any other brand.
And if you don't like the idea of the touch screen it is possible to change when it is active: only during route navigation, during navigation and activity screens or always active.
The user interface has been updated with respect to that of PACE 2, adopting that of the top models. At least as far as widgets are concerned, which are now smaller and allow three widgets to be displayed per screen instead of one by one as was the case in PACE 2.
These widgets are on a single screen that you can scroll through. And likewise, scrolling through the menu is also somewhat smoother than in the previous model.
The main activity selection menu has also changed.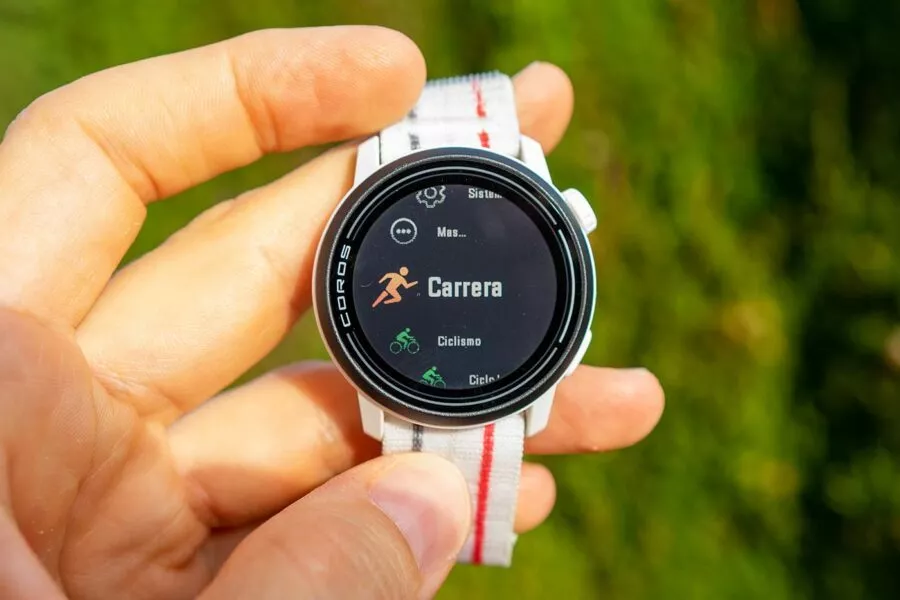 However what COROS has not taken advantage of to update is the addition of a specific button for lighting. It was certainly what bothered me the most about PACE 2 and COROS has not taken advantage of the update to add it.
Therefore, we are left with only the crown - which is also the main button - and a button to go back in the menus that serves to mark laps during the activity.
By pressing this lower button we access a menu of shortcuts.
On the back we find the same updated optical pulse sensor that we have in the APEX 2 and APEX 2 Pro. Around it we find a series of LEDs and photodetectors.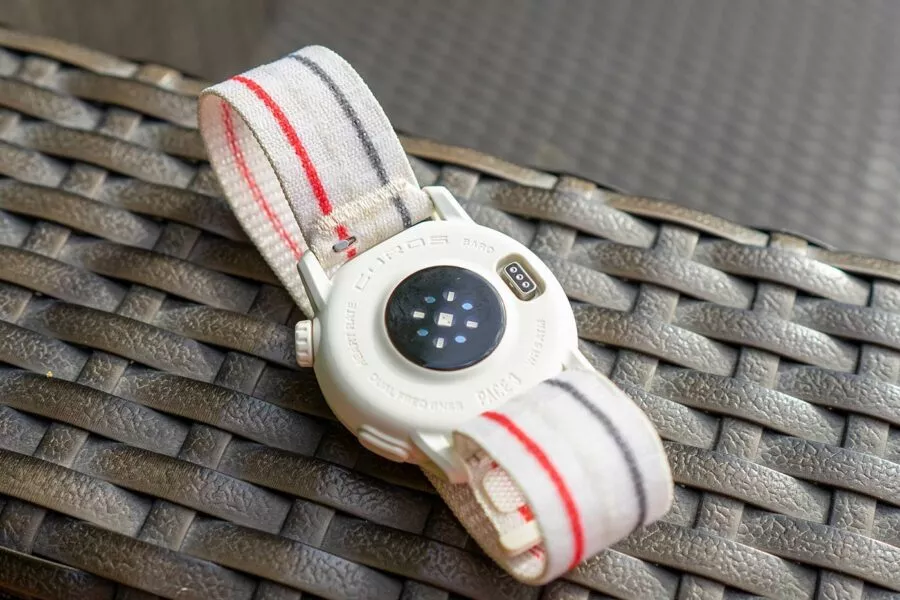 But despite inheriting the same pulse sensor as its big brothers, the PACE 3 does not have additional functions such as pulse variability monitoring via ECG, which is available in the more expensive models.
In these models the ECG and pulse variability measurement is done by touching the metal part of the watch, obviously in the PACE 3 there is nothing metal, so it cannot record it.
However, what you will find is the oxygen saturation estimation.
The strap has increased in size, going from 20mm wide to 22mm. That is, it is now compatible with APEX 2 and APEX 2 Pro straps (and any other 22mm strap, it is standard), but not with the PACE 2 strap.
The watch can be purchased with two different types of straps: silicone or nylon. The silicone strap is the standard strap, while the nylon strap, which is the one I have on the watch in the review, is similar to other COROS straps but with a different design.
Personally, I prefer the nylon strap. Lighter, it allows a much more personalized adjustment and I find it more aesthetic in both white and black (special mention to the Track Edition version, in red).

The concerns 1TP7You may have regarding this strap may be in terms of durability, ease of staining and how long it may take to dry. All three of these things may be of concern.
DurabilityNylon is a really resistant material, personally I wouldn't worry about it wearing out. Except for a snag you shouldn't have a problem.
Stains and hygieneThe white strap is the most important thing to keep in mind. If it gets too dirty it is very easy to remove it from the watch and put it in the washing machine (do not put it together with the watch!).
DryingThe only problem you should be concerned about, especially when thinking about winter and a long sleeve right out of the shower.
COROS PACE 3 comes with more sport profiles, some of them very important ones that were not present in PACE 2. This is the case of the Trail Run and Hiking profiles.
The first one is very important because, after last week's last update, if we want to use the training with ascent target it has to be precisely with that sport profile, it is not possible to do it with the race profile.
Those two are not the only ones to be added, snow sports such as skiing, snowboarding or cross-country skiing are also added.
But I have good news for COROS PACE 2 users: both snow sports and Trail Run and Hiking will be coming to your watch before the end of the year.

We can configure the list of sports available in the watch, in case you do not want to show the complete list and have more accessible those that you are going to use more frequently.
Profiles will still be available on the watch, but under a submenu so it will not fill the main menu with all available options.
The sport profiles are configured directly in the application, being able to choose how many screens we are going to have in the watch and the data fields of each one of them.
With respect to compatible sensors the PACE 3, as happened with the VERTIX 2 first and APEX 2 / APEX 2 Pro later, have lost compatibility with ANT + sensors. Only podemos use Bluetooth sensors, being compatible all types available. And 1TP7We can have synchronized several sensors of the same type without having to "step on" the previous one.
And speaking of sensors, one of the possibilities offered by the PACE 3 is to transmit heart rate data to any device as if it were an external pulse sensor, or heart rate and rhythm for use with applications.
The first option is available in the quick access menu, once activated you simply need to search for Bluetooth sensors on the other device and select the COROS watch as the external pulse sensor.
The other option is a bit more hidden. You will have to activate the virtual running profile within the indoor running profile. Doing so will poder send, in addition to heart rate, pace information to poder use apps like Zwift Run when running on a treadmill.
With the PACE 3 I still have the same problem I had with the APEX 2 / APEX 2 Pro. If we activate the automatic lighting with gesture recognition (something practically mandatory in this watch that has no physical button for lighting), in theory the screen will turn on when turning the wrist from 1 hour before sunset to 1 hour after sunrise, deactivating during the sleep period.
The problem is that it does not respect this last point. Wearing the watch at night (necessary if you want to keep track of sleep), you will notice that indeed from the time of sleep the screen does not turn on when you turn your wrist.
Until it decides to do it totally randomly and you will realize that at 4, 5 or 6 o'clock in the morning there is a beacon in your bed. And it's not just the fact that it wakes you and your partner up if you don't sleep alone, it's that the light is so intense that you have Batman coming to your bed every night. And I'm sure Batman has more important things to do.
Functions as a smart watch
In the section as a watch for daily use we have the notifications. The COROS PACE 3 allows you to display all notifications that arrive on the phone, or edit the list of applications that will display notifications on the watch.
However a bug that continues dragging is that it does not show emojis of any type. It is something that in the year 2023 should be already more than solved, and if I have criticized Suunto for not having it COROS was not going to be less.
Although it does have icons for some of the applications it displays notifications for.
Speaking of smart functions, it's time to talk about the possibility of playing music. The COROS PACE 3 adds this function just like the rest of the COROS range, but it continues to be through the playback of MP3 files so you have to have those files, connect the watch to the computer through the cable and upload them manually.
Is it the ideal situation? Not at all, it's very 20th century. But it's not something to blame COROS for, it's the streaming platforms that should allow other devices to be able to sync with them, and despite COROS trying the Spotifys, Amazons and so on haven't let them have the keys to the castle.
In any case, it has 4GB of internal memory that podrás can use for these purposes. The procedure is very simple, as is the watch's music playback interface. Perhaps too simple, although it fulfills the task at hand, which is simply to play music while running, nothing more.
There are a couple of things that may be missing:
We do not 1TP7Navigate through a folder of files, we only 1TP7Go to the next or previous song.
We can't go forward or backward in a song, just start from the beginning or go to the next one. This is a problem for example if you want to listen to podcasts while running.
As I said, it meets the minimum requirements but nothing more.
Route navigation is not something totally new for this PACE 3, because the PACE 2 recently received an update that included it in a watch that did not have it among its specifications when it arrived on the market. A rather important new feature for owners of the PACE 2 and one that really speaks well of how COROS takes care of its users.
Obviously PACE 3 also has route navigation. Simple routes without any type of map, although recently also added the option of turn warning.. Of course, it is in beta mode and although PACE 3 announces it NOW, the truth is that it is still not available, or at least I have not been able to get it to work.
This is a much needed function in navigation, since until now in COROS there was no warning of any kind during navigation other than to warn you if you went off the route.
Yes, there were watches with maps, but when we reached a turning point you had to be totally alert because the watch would not warn you.
The COROS PACE 3 will receive the turn warning on routes in the coming months, when everything comes out of the beta version that is currently in place. Compared to the top models it should be remembered that the PACE 3 navigation is point to point and does not have a base map.
Although I have a theory... COROS doesn't miss a beat. When the APEX Pro and VERTIX hit the market they did so with touch screen and internal memory. But nothing was said about it. Later when they created the map solution, both models received the update.
Was it a coincidence that they both had the hardware necessary for poder to use them? Evidently not, COROS knew very well what they were doing.
What hardware was that? Mainly an internal memory where poder download maps, and a touch screen that makes it easy to scroll through them. And the COROS PACE 3 has both of these things.
Could PACE 3 receive maps for navigation in the medium term? I wouldn't rule it out at all. COROS hasn't made any reference to it and it's all my guess, knowing how the brand behaves regarding updates. Mind you, do not buy the COROS PACE 3 thinking that it will have maps for navigation.may never make an appearance.
When could 1TP7 become a reality? When the brand launches a replacement for its APEX 2 and APEX 2 Pro, right now having maps on the PACE 3 would mean a significant reduction in sales for the APEX 2 and would not make sense.
But back to what PACE 3 does have, it is the management and creation of routes through its own application, updated a few months ago and that you can see in this video.
Autonomy COROS PACE 3
The battery life of the COROS PACE 3 has increased compared to the PACE 2. First of all because the battery size has grown slightly (there are 16mAh more in the PACE 3), but this is not the main reason for the increase in battery life.
Naturally in the three years since the launch of PACE 2 both processors and satellite chipsets have improved their efficiency and have lower power demands, so battery performance has improved accordingly.
What is the data that you should take into account? Well, unless you usually run in areas with difficult reception, with the configuration of all satellites (which is activated by default) we have 25 hours of autonomy.
It is a good compromise between good satellite reception and a more than correct battery life. Even 1TP7We can "play" to have more battery or more precision, depending on the needs you have at each moment.
We can make the selection at the system level (e.g. default to GPS only for all profiles) and then configure each of the profiles with the settings you prefer. This allows you to set up for example cycling with "GPS Only" (more than enough if you do road cycling) and "Dual Frequency" for trail activities if you are going to be running between mountains and through forests.
Either way the battery offered by the COROS PACE 3 is good considering its size, weight and segment. Naturally, we can't consider podemos to have a "stellar" autonomy, but it is a watch of only 42mm in diameter and 31 grams in weight. With these data the watch can offer up to 24 days in watch mode.
GPS and optical heart rate sensor
Among the main new features present in the COROS PACE 3 is dual-band satellite reception. This is the option that consumes the most autonomy, but also the one that should offer the best performance. We have three options:
GPS only - Battery saving, but performance may be compromised in unusual situations. Perfectly valid if you run in open fields or areas without reception problems.
All systems - In this mode the watch allows to receive signal from all satellite constellations. More satellites to triangulate the position equals a more reliable record, especially in areas of complicated coverage where relying on GPS alone can leave us with few satellites available. This is the option that is enabled by default
Dual frequency - It activates all systems as well as multiband reception. By using dual band, it is possible to filter out erroneous signals produced by signal bounces from buildings, mountains, etc. It is the most reliable option but also the one that consumes the most battery power.
All tests I have performed with the dual frequency configuration, pitting it against other watches with the same dual configuration.
But before that, the usual "disclaimer" of this section in all analyses (I proceed to copy and paste).
As with the optical sensor tests, the GPS comparisons are done in the same way: with the watches accompanying me on my regular workouts. Wearing both the COROS PACE 3 and other models, and checking where the problems appear.
I do not have any defined path to establish a score for the simple reason that there are other external factors that we should never forget. Things like clouds, leaves on the trees or simply the position of the satellite can alter the GPS results from one day to the next.
This is why I prefer to make this type of comparison instead of having a predefined route and assess it from this one.
As for the optical sensor, you should keep in mind that a wrist heart rate monitor does not work the same way on every body. We are all different, and if we add into the equation things like skin tone, tattoos, body hair... the difference from person to person can be quite large.
In my tests it is not that the spectrum of users is very broad: it is me, myself and I. So what works well for me might not do it for someone else, or it might be better.
But the most important thing to keep in mind is that you have to follow some guidelines to wear the sensor. It should be tight (but not cut off your circulation), enough to keep the watch from moving freely on your wrist, leaving a separation of approximately one finger from the wrist bone. By following these details you will ensure that you get the best results that your conditions can offer.
Yes, it's the usual, but it is necessary to clarify it for those who are not regulars of the web. Now yes, let's go with the comparisons, and you know that I will try to be very brief.
I'll start with this training session in which I tried to tickle the various watches I wore, especially in an urban environment. In all the tests I wore, in addition to the COROS PACE 3, a Garmin Forerunner 965 and a Suunto Vertical.
He had not used the Suunto for some time and possibly took too long to triangulate position. However, that was not what I was looking at at that point, but the passage under the highway bridge. Forgetting the Vertical track, both the PACE 3 and the 965 do the entrance and exit of the tunnel perfectly, even a little better the COROS.
Further on, I enter urban terrain, weaving between buildings and making some pretty sharp turns, as in the picture below. A small slip on the part of the Suunto, but nothing more to note.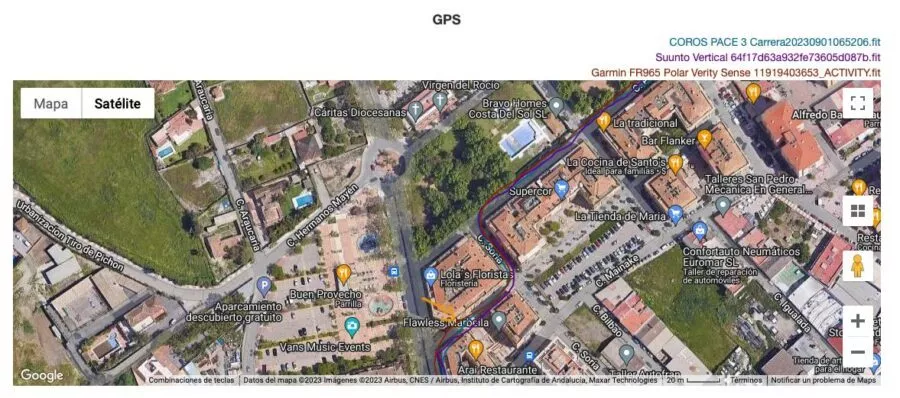 A little further on it is the Garmin that has a small slip. But again the COROS has no major problem.
However, in the pure street driving in narrow village streets, all of them had problems. In these conditions it doesn't matter if multiband, dual frequency or whatever, in this case the performance was not good in any of the three cases.
Further on, in more open terrain, no problem.
In terms of heart rate, it was a gentle workout, with no problems to report.
Let's go with another easy training
However, on this occasion the COROS PACE 3 has had some additional problems that did not exist in the Suunto Vertical or in the Suunto Vertical. Polar Verity Sense paired with the Garmin FR965.
What about satellite reception? No problem this time on any of the three watches, all three have marked a perfect track.
Let's go for a few series and see how the optical sensor performs now.

Absolutely perfect, as were the other two optical sensors I was wearing (Suunto Vertical and Polar Verity Sense).
In fact there is a graph that is very irregular, and it is the one that corresponds to the Polar H10 sensor. A very humid day, a lot of sweat that made it uncomfortable with the sensor on the chest and it moved constantly. In fact I still have the scuff marks from that day. As you can see, not always the chest sensor is the one that has the best performance...
The training was simply out and back on the Senda Litoral in Estepona.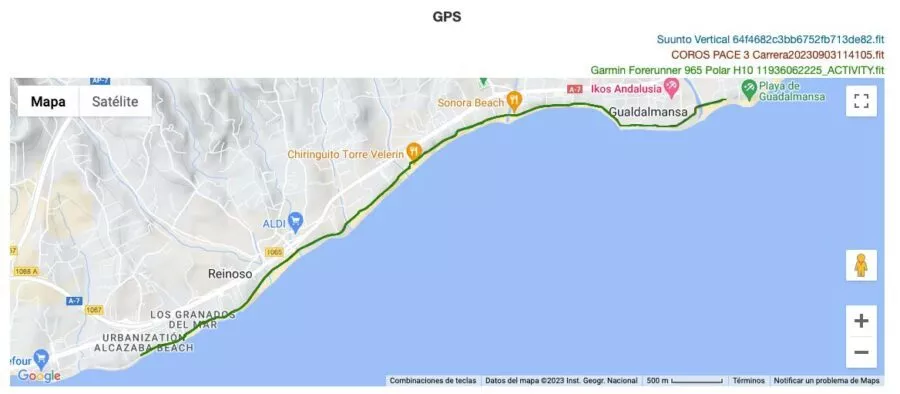 Zooming in you can't even see a single error on the part of any of the three devices, at all times the graph has been mounted one on top of the other making a totally perfect thick line.
But well, it was to be expected, the visibility of the sky is full and there are no obstacles at any time.
I could really 1TP7I could spend the day putting different examples with similar results....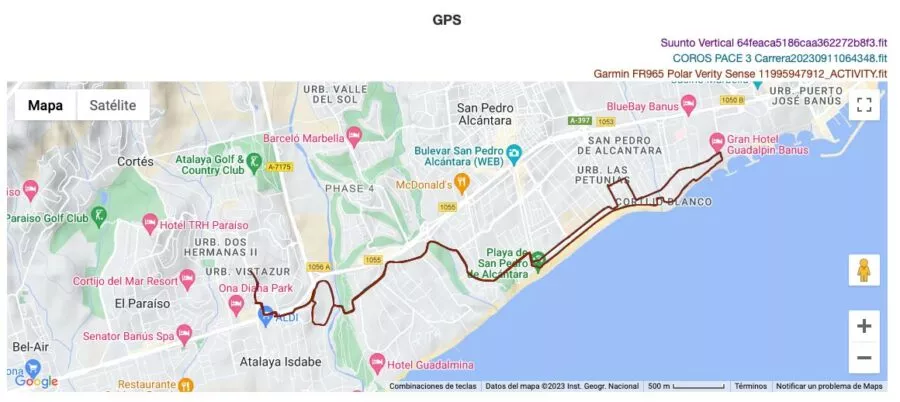 Only here 1TP7We can see a slight trimming at this point which I quite like to measure the performance, by making a double change of direction in a very short space of time.
The COROS PACE 3 cuts the corner a bit, but that's the only place it does. For the rest of the workout there is nothing of note, either from the COROS or either of the other two watches.
In this case the one that has had some occasional problems with the optical pulse sensor has been the Suunto Vertical, possibly because it is slightly loose on the wrist. I remember tightening a point on the strap in the middle of training.

But in the COROS PACE 3 there are no incidents to highlight on this occasion.
It is different if we are going to ride a bike, in this case a fairly bumpy gravel ride. Frankly bad, in fact if there is any coincidence in the graph is a product of chance. On a bike we will need to use an external sensor, as I usually emphasize in all reviews of any watch.
Although on this occasion the one that surprised me positively was the Garmin Forerunner 965, which matched the 100% throughout the training.
But in a situation where there are no vibrations involved, such as when rolling, there are no problems to report in PACE 3.
Finally, and to refer to the barometric altimeter, it also works perfectly.
The satellite performance of the COROS PACE 3 has been very good during all my training sessions, on a par with other leading satellite reception watches such as the Suunto Vertical or the latest Garmin models.
In fact the performance has been better than expected, as with the APEX 2 and APEX 2 Pro I had slightly lower performance. It is evident that COROS has continued to work on satellite reception, now obtaining results on par with the best.
It is becoming a common trend that there are no great things to review in these reviews, certainly nothing to do with how it was not too long ago. And the same can be said of the optical pulse sensor.
Obviously in both cases there will always be some moments when the performance is not 100% perfect, but each time these errors are practically disappearing.
Do you want to help the web? Buy COROS PACE 3
I hope that this in-depth review has helped you to decide if it is a valid device for you or not. All the work I do you can consult it without any cost, but if you want to support the page and by doing so the work I do, the best way to do that is to buy your new device through the links I provide .
And if you don't buy it today, remember to stop by when you do! Through these links you will not only get a competitive price and the best customer care, but also I will receive a small percentage at no additional cost to you. That's what allows me to keep offering you reviews like the one on this page.
Buy COROS PACE 3
Opinion COROS PACE 3
This COROS PACE 3 is a modest upgrade over the previous model for two main reasons: the aesthetics barely change and COROS has been upgrading the PACE 2 so much over the last 3 years that we are really only going to find hardware upgrades in the PACE 3.
This PACE 3 is possibly the most important product in the history of COROS. A watch that when we start to deduct taxes, costs and other amounts possibly not too much profit for the manufacturer (at least for now), but that is destined to be a bestseller and to continue to make the brand known among the general public.
Because perhaps that is the big problem of COROS, those of you who are used to the analysis and news published in this and other pages already know COROS, but it remains a fairly unknown brand for those who do not look much Internet, although it is true that the sponsorships of athletes like Kipchoge or Kilian have accelerated this recognition.
The PACE 3 represents what COROS does best: an alternative to other brands offering a number of features. Without going any further, it is the cheapest watch on the market with dual band satellite reception.
Obviously it's not perfect. Things like music playback is very basic (though enough to check off the box in the spec list), navigation has yet to incorporate turn warning, it doesn't display emoticons in notifications, it sometimes turns on lighting at night, it has removed ANT+ connectivity, it has no dedicated lighting button, and it more than obviously doesn't offer the finest materials.
But it is a 249€ watch with dual band satellite reception, a fairly reliable optical pulse sensor, a fast and simple user interface, allows you to load navigation routes, has barometric altimeter, power estimation in running, compatible with all types of sensors, good autonomy and much more. And all in just over 30 grams (with nylon strap).
If what it offers meets your needs, it is certainly an option to consider, especially if you are a beginner.
And with that... thanks for reading!