Finally, five months after its official presentation, I can publish a review of the COROS PACE 2. COROS introduced it, sold a few, and since then it's been missing. The units that were leaving the factory were sold exclusively through their website, and still the website showed deliveries in up to 5 or 6 weeks.
COVID issues aside, the general demand from the public has been (and remains) very high. The reason? It has a great price given the amount of features it has to offer.
It is not just a running watch, it supports a lot of sports profiles. Logically running is one of them; but also rowing, paddle surf or multisport as triathlon. And although it does not have any exclusive feature it did premiere some of the new ones that COROS presented for its entire range and that is not common to see in watches at this price point. And among them what stands out is the estimation of running power without any external accessories.
But I won't spoil any more details, you can read everything about the COROS PACE 2 in the review below. Shall we begin?
PACE 2 CHORUS
Overall operation - 8.5
Training possibilities - 9
Platform and applications - 7.5
Battery life - 9.5
Finishes and comfort - 7
Price/performance ratio - 10
8.6
TOTAL
One of the best options within the mid-range. Lightweight, with a multitude of features including running power, training plans from various platforms and even a triathlon sport profile. You can't for much more from a watch that cost less than 200€.
---
The good
Features far higher than what the price suggests
Comfortable and lightweight
It allows to download workouts from Training Peaks
Running power 
Extremely lightweight
The bad
I haven't got good HR readings with the nylon strap
Very basic construction and cheap feeling
Unreliable training load
COROS PACE 2 specifications
Find the best offer
PACE 2 CHORUS
If you like, let's go first with a complete list of features so you can take a complete look at everything it offers, and then go into all the details that I want to highlight about this new model.
42mm diameter. Quite smaller than the original COROS PACE which had 47mm.
1.2″ and 240×240 pixel display, which means reduced frames. The lens comes with Gorilla Glass.
Only 29 grams of weight with nylon strap.
30 hours of battery life, with the ability to reach up to 60 hours with UltraMax mode (reducing GPS accuracy).
Up to 20 days using optical heart rate sensor.
Faster processor than the original model (COROS says 1.5X) and with more memory space (from 16MB to 64MB).
Compatible with GPS, GLONASS and BEIDOU. Later it could be compatible with Galileo via software update.
Adopts the digital dial control system, like all other models in the range.
Barometric altimeter.
Magnetic compass.
Thermometer.
ANT+ and Bluetooth sensor compatibility.
Redesigned charging cable, no longer using a clamp but with COROS proprietary connector.
Running power estimation without the need for external sensors
Native Stryd integration with all its specific metrics
Compatible with COROS or Training Peaks training plans
New Night Mode
This is not a high-end model, so it does not have "important features" to show off. Although it is true that with the introduction of the PACE 2, some of the features it includes also reached more models in the range through a firmware update such as running power estimation, Stryd compatibility or training plans.
Compared to other COROS devices, in the PACE 2 we won't find specific outdoor profiles for trail running and the likes, route navigation and the quality of the materials used is inferior. But it offers the same features in every other way.
But let's not get ahead of ourself and let's begin with the review because that's what you came for.
COROS PACE 2 basics
Before going going into specifics about everything that the COROS PACE 2 has to offer in sports, it's time to talk a little bit about the watch itself.
Unlike the original PACE, COROS have opted for a side crown on the PACE 2. In addition to allowing us to scroll through the different screens, that crown also acts as the main button to select different options, or to start or pause a workout. 
Below it we find a second button, whose only purpose is for laps or go back to exit a menu.
The screen is not touch enabled, which is to be appreciated on a watch intended for sports. Now that we are talking buttons, the only thing I would ask for is a specific button for light, although it is more customary than necessity because the watch responds quite well to the wrist turn, or simply to the press of any other button.
That crown has already become a symbol of identity for COROS, so the user interface is pretty well designed to use with it. Is it convenient to use? In the end it depends on how you get used to its use. At first it costs a little to catch the dynamics, but after a few days it does not represent a major problem. Neither better nor worse than classic buttons.
To enter the main menu we can press the crown and access all sport profiles.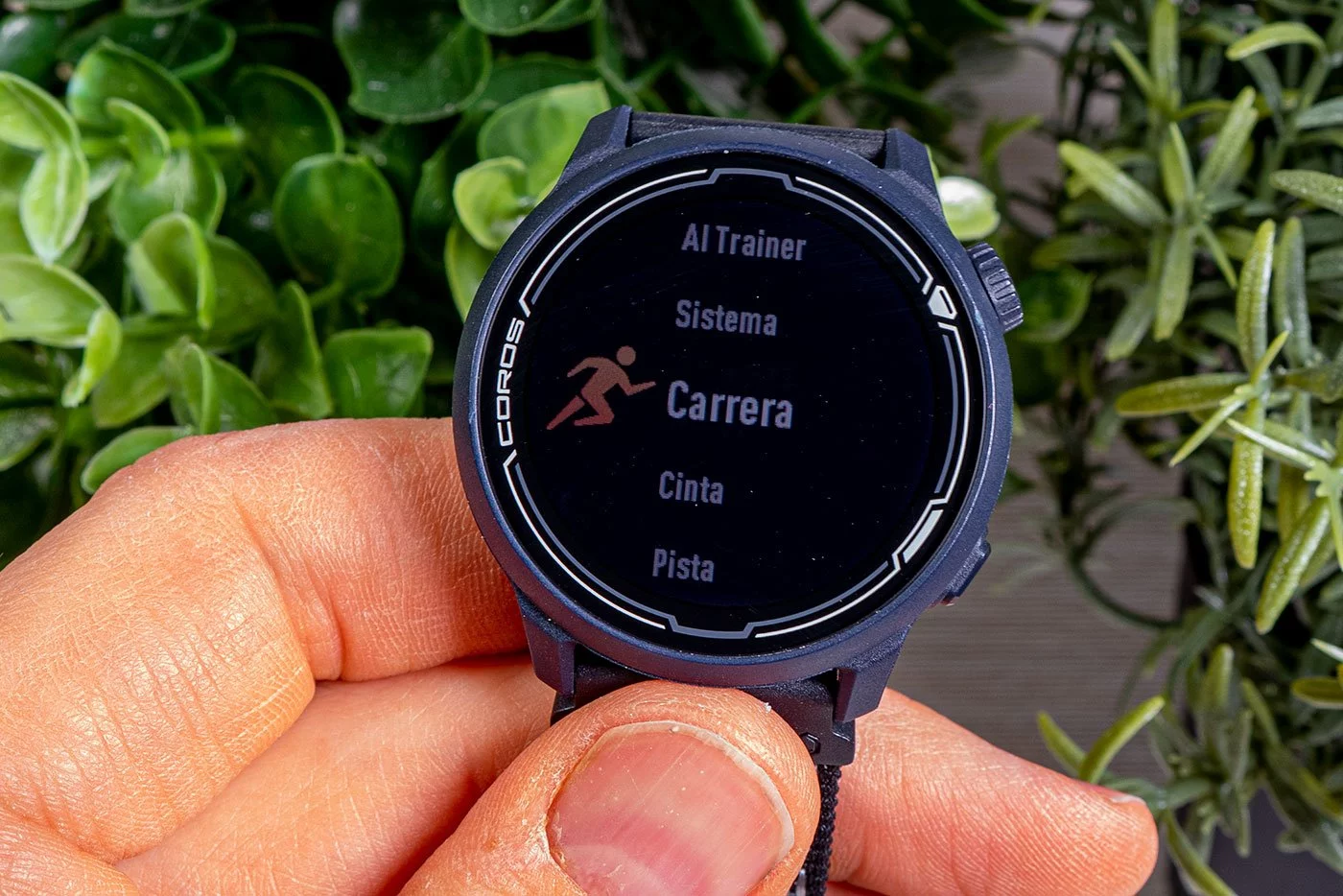 Additionally we have a quick access menu that can be reached by holding down the bottom button.
Both menus are customizable and from the phone app we can select what to see and in what order.
The COROS PACE 2 is available in two colours (black or white), but we also have the possibility to choose the material of the strap. We have the classic silicone strap or we can opt for a new nylon strap that is much lighter.
The materials that COROS has chosen for the PACE 2 are basic, so the watch has a cheap feeling on it. Which is not criticable, because it is certainly a cheap watch. But it is equally true that a Garmin FR245, which is also entirely made of plastic, offers a better look.
Back to the watch and its menu, if we turn the crown from the main screen we can access the different widget screens that are present on the watch: our workout schedule, metrics of the day, HR, altitude, barometer, temperature, sunset and sunrise information and notifications.
In the case of graphical widgets, pressing and rotating the crown allows us to see data from past hours.
Of course, and as with all other brands, all that data goes into the app. As soon as we open it we find the main panel with all the details and graphs.
To expand details of each of these graphs we can click on them and it will expand to full screen, where you can swipe your finger to check specific data. This one you see below, for example, is the sleep graph.
In general, sleep and wake times are somewhat correct, although I can't ensure about the different phases of sleep as I have no way to verify that it is correct.
It's the same with the rest of the data. Here you can see the heart rate. In which by the way, although the watch keeps the sensor on 24/7 there is not too much definition on the HR graph, simply showing 30-minute blocks with minimum and maximum during that time. Although I guess if there's no heart condition, we don't need much more either.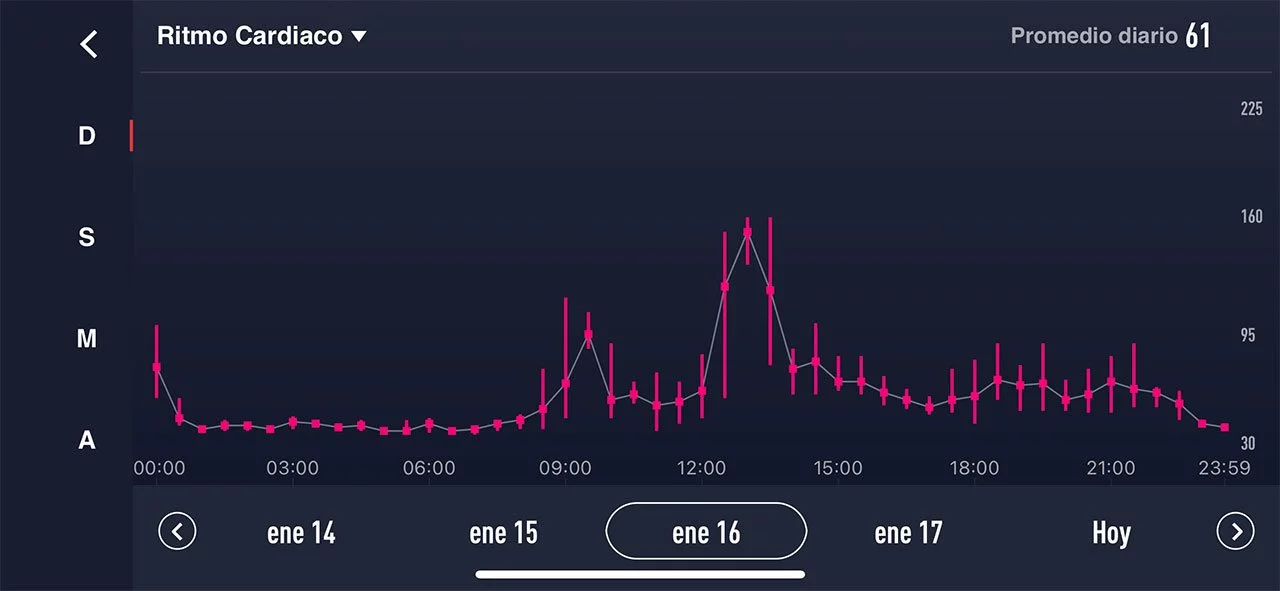 If you look at the left column, we're looking at the graph for the day. If we click on any of the other options we can see week, month or year. Here is the weekly chart for the sleep period.
Back to the watch, we can choose the dial of the time from among many of the ones that COROS offers us. In the watch we can have up to five dials stored, and you can choose from dozens of them in the app.
And it is in the quick menu where we can access those dials we chose from the entire catalog.
Since we are talking about the quick menu, I want to highlight a few functions that we can find in it. You can access this menu both from the home screen or when doing a workout.
It is a new mode present in COROS watches. When you turn it on, the display illumination will be permanently on (with the brightness set to the minimum). It will be disabled when you finish the next workout or at the next sunrise.
It allows you to activate a metronome for your running technique workouts. For example, if you want to do exercises of 180 steps per minute, selecting it in this option the watch will beep and vibrate 180 times per minute.
The COROS PACE 2 will broadcast the heart rate of the optical sensor and can be received on nearby devices via ANT+.
This is a fun option, COROS is the only manufacturer that offers something like this. Just like mobile phones you can see which resources have used the most energy since the last charge.
By enabling this mode you can reach up to 60 hours of battery life. It works like this: Every 2 minutes, the GPS is enabled for 30 seconds. The remaining 90 seconds the watch will make measurements thanks to the compass and internal accelerometers of the watch.
It's great to have this option available although thanks to the huge battery life you will rarely need to use it.
¿Quieres ver la constelación de satélites que te rodea? Entra dentro de esta opción y podrás ver todos los satélites que tienes encima.
Well, enough about the basics. Shall we go straight into sports?
COROS PACE 2 for running and sports
Obviously beyond all the details of activity tracking or day-to-day notifications, what interests us most is the use while doing sports: as a watch for running, cycling, swimming, going to the gym or whatever you want to practice.
COROS has made some cuts in terms of the profiles we can have in PACE 2, which does not mean that it is a watch short of possibilities. These are all the profiles it offers.
Run (outside and on treadmill)
COROS Track run mode
Cycling (outdoor and indoor)
Swimming in a pool
Open water swimming
Rowing (outdoor and indoor)
Calm water rowing (paddle surf)
Cardio (indoor or outdoor)
Strenght
Triathlon (or multisport, we can choose up to three sport profiles to go one after the other)
Among these profiles there are some that premiered with the COROS PACE 2 and that have also reached the rest of the range; but others added to the rest of the range are not present in the PACE 2, and there are other profile omissions that were already on other watches and have not made their appearance in the new model.
Those that were already on other watches and do not appear in the PACE 2 are mainly those related to mountain (trail, mountaineering, hiking, snow sports), because the focus that COROS wants to give to this watch is road running. We also do not have a secondary profile of multisport different from triathlon (which I do not consider too important).
And from those who have reached other top models and are not in the PACE 2 we have speedwinsurf, windsurfing, rowing in whitewater. 
In this image you can see the configuration options for PACE 2 (left) or APEX Pro (right).
It doesn't mean, for example, you can't trail running. Of course you can (and I've done it assiduously), what you can't have is a specific profile configured differently than road running. 
Not that it is something too important, however the most important omission is that in PACE 2 we do not have navigation, which can be an impediment to its use in the great outdoors.
In any case, the COROS PACE 2 offers more than enough features for a watch at its price. Not only that, I can say that it has features that exceed its price range like support for for all kinds of ANT+ and Bluetooth sensors, including cycling powermeters or full support for all Stryd metrics (something exclusive to COROS watches).
What are we not going to find in the PACE 2 (nor in the rest of the watches in the range) that we have in high-end models from other brands? Things like Garmin ClimbPro (shows the different uploads we are going to find), Polar's Hill Splitter (separating the different uploads automatically for later analysis) or the different functions of SuuntoPlus. 
But that is not so bad, these are interesting features, but it does not represent any kind of impediment to the traditional use of a GPS watch.
Back to the different profiles, each of them allows to be configured independently. All settings are made from the phone, while on the watch we have access to small settings.
This is so for better or worse. Setting up screens in the phone app is a much more comfortable, faster and enjoyable experience. But if you want to make a change in the middle of a workout to add a specific field, you won't be able to do it without carrying the phone with you.
Each sport profile allows us to configure up to 6 data screens, being able to display in each of them two, three, four or six data.
On the watch you can simply set different alerts (pace, distance, cadence, HR) or auto pause.
During the workout we will have access to the screens we have created, being able to alternate between them simply by turning the crown.
With the bottom button you can mark laps individually, or entrust everything to the auto laps if you chose it in the menu.
Once the workout is finished, you can see the summary of all the details on the watch screen itself. The information is quite standard but it is true that everything is shown in a more visual way, especially compared to Garmin.
After you sync your watch with your phone, you can also see all the workout details in the app (and if you've set it up, it will be sent to third-party apps like Strava).
It's also quite standard. Of course, we must emphasize that COROS does not have, at least for the moment, a web version where you can review the workouts, so everything is limited to what you can see in the phone app.
All this I have explained is for running, but it would be exactly the same for any other sport you had selected (whether cycling, swimming in the pool, open water, etc.). 
Do not forget that we also have the run mode on athletics track. I'll explain it briefly and if you want to read more details and see the different tracks I encourage you to take a look at the COROS APEX Pro review, which is where I tried it with great detail.
It's the way you should use when you're going to run to a track. The watch identifies the street you are running on (which you have had to indicate before), making the layout and measurement exclusively on that street.
In this mode the watch uses GPS data and through an algorithm it will place us correctly on the 400m track providing not only a beautiful track, but also accurate pace and distance data. Here you can see an image of the APEX Pro review (right now getting into a running track is almost as difficult as going to a pool...).
Finally, before we talk about the two functions we had not seen before in COROS (and to which I have reserved their specific sections), it is worth a little comment about sensors.
All watches from the brand have supported all kinds of sensors. There are no limitations, nor technology used for transmission (we can use Bluetooth Smart and ANT+ sensors without problems) or of the type. That includes power meters, something that is not common in watches in this price range.
Many little things as you can see... Let me talk in more detail about the workout plans first and later on about running power.
Training plans and interval workouts
Another feature that have arrived with the COROS PACE 2 (and of course the rest of the range except the original PACE) are the training plans. This includes creating a complete training plan or simply some one-off session of an interval training.
You can create a full training plan from the phone app, receive it from a third party (for example a coach) or more recently, by downloading the plan you have on Training Peaks (which will be the used option by most).
By this I don't mean that when we finish a workout it is automatically sent to other platforms, call it Training Peaks or Strava (this was already done before), but if we have our training plan created in Training Peaks, it will be automatically downloaded to the watch every day enabling the watch to guide us through the different phases of it, whether it's an interval workout or a simple long run.
In fact, it will ask you if you want to start the scheduled session when you want to start your workout.
Within the menu there is also an option for the training plan, whether it is the one from COROS or Training Peaks, where you can see the workouts for each day.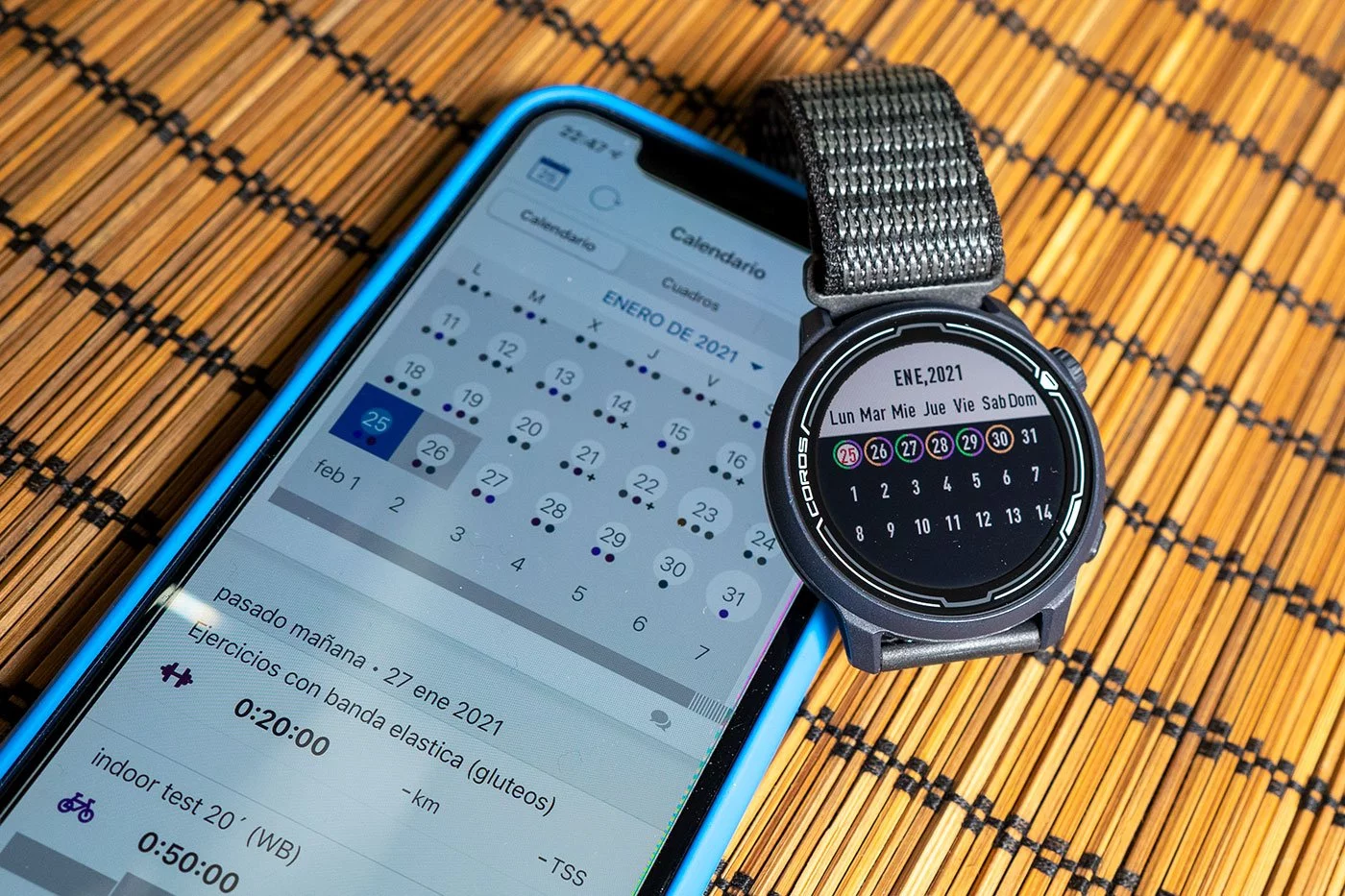 As for the Training Peaks workout download it works exactly like a Garmin watch. The overall experience is satisfactory, although when it comes to training I find things that should be polished. For example it is not able to correctly identify the number of remaining intervals and always shows 1/1 for the current interval. Garmin does interpret it correctly.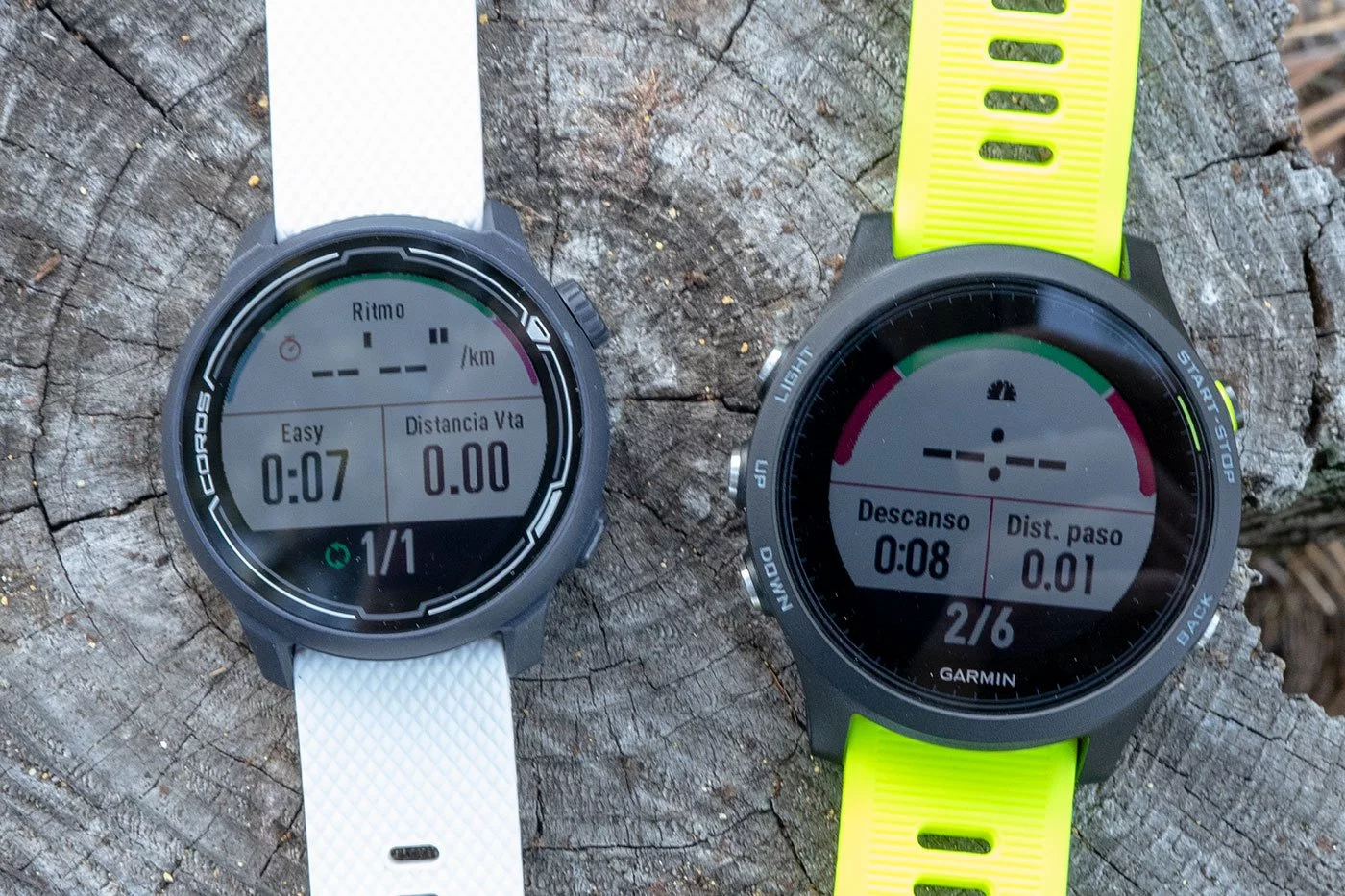 In the image above both watches are in the same interval (rest section of the second of six). Garmin does correctly indicate what is left of workout ahead, but with the COROS we have no idea how many we have left.
However, if the training plan is done with the COROS app none of this happens, therefore it is simply an issue of interpretation of the downloaded data.
Another thing that I find somewhat annoying is that when the scheduled workout comes to an end, the watch stops the activity automatically. The theory says that's how it should be done, but... what if I want to continue running for the five minutes I have left until I get home? What if I decide to extend the long run two more kilometers?
The watch will force us to start a new activity and have it separately (or use third-party tools to join the file), when it would be more reasonable that the watch asked us if we want to stop or continue.
It also does not allow you to do an interval workout on a treadmill (only on specific GPS profiles such as running or cycling, and after the latest update also on track). Well, these are small objections to a function that has just disembarked on COROS, it doesn't mean they still can't improve it or fix these little things.
Back to the COROS training plans, if you do not work with a coach you can always turn to the COROS workout library. You have different plans from beginner to a sub 3:15 marathon.
In any case, adding one of the COROS training plans simply requires that we open one of them from your phone and select Open in the app.
By adding it, you simply need to select a start date from the plan, and from that moment you will have the calendar on your watch.
This works exactly the same either for the COROS calendar or the Training Peaks calendar. On the watch you can open the Training Plan option.
And you will see the calendar, where the different days will be marked each with their corresponding workout.
You can select any of those days with the crown, you will be able to see what exercises you need to perform and choose it to start that activity.
From there it's just a matter of start suffering.
However on the watch we can also configure basic intervals, selecting the number of intervals and setting time or distance for each of them. What we can't do is set a goal for pace, heart rate or power.
Regardless of the things that still have to be polished, this is a feature that many of you will appreciate a lot, especially if you are regular to training plans or use Training Peaks. The implementation is mostly successful and everything is easy and intuitive to perform. It even allows you to be able to create a training plan and then share it with a third person.
Running power
The estimation of running power is another big reason why the COROS PACE 2 is a very interesting model. But before we continue, I would like to stress that at all times I am talking about estimating power. It is not a direct measure, data is being estimated from other metrics.
Not all running power meters offer the same data as there is no universal algorithm used by all companies. Each one performs the development independently and weights the values as you think best fit. Right now, beyond the number itself we should care more about the consistency that a device has in different workouts.
This is not the first time that COROS enters the world of running power. It already tinkered with it through the COROS pod, but in the review I did of the COROS APEX Pro the results I obtained were not good, as there were multiple inconsistencies in the information shown.
But now that has changed. It is no longer necessary to use an external sensor for power calculation, the watch is able to estimate it directly with its own sensors (accelerometer, barometric altimeter, GPS...). They have also changed the algorithm used and it no longer has anything to do with what I found when I tested the COROS APEX Pro.
It wasn't the only thing COROS has done about power. They also added native support for Stryd offering all their metrics. From leg stiffness to vertical power, through air resistance. And of course all advanced running dynamic metrics such as ground contact time or vertical oscillation 
They have looked so much at Stryd when it comes to developing the new possibilities to be able to run with power, that even the algorithm is very similar. I've actually come to think that COROS and Stryd use the same (something that have been denied by Stryd).
Examples? Ask and you will be granted. Here are a few examples, starting with this interval workout.
As you can see the warm up is very similar, offering very similar power numbers. In the intervals part there are some more variations, but again it is in the same power ranges. 
I reiterate that there is no direct measurement, so we cannot expect total similarity. In fact, we wouldn't even get the same data if using a Stryd on each foot.
Here's another interval workout on a totally different day.


Same results, the estimation made by COROS and Stryd is very similar, although in this case the COROS has shown somewhat higher powers in the intervals.
Trail running? Well, I've got some of that, too.
I've made the comparison exclusively against Stryd, ignoring data from other devices (such as Polar or Garmin). It doesn't mean that Stryd is the most accurate, but they are the ones who have done the most about running with power. And the fact that COROS and Stryd match their numbers is something to stand out.
All the workouts that I've done have led me to the same conclusion: there are no obvious differences between the power measured by Stryd of the power measured by COROS. Not even on slightly higher windy days (something that the last Stryd can measure), although it is true that I have not had extreme windy days either.
In the end it has led me to think one thing... It is true that in the case of Stryd there are more metrics, it gives access to the PowerCenter (Stryd's platform) with additional information. But in the end what interests the vast majority is training with power, because the average Joe does not understand what you can achieve with other metrics such as leg stiffness or vertical power.
Stryd costs 229€. The COROS PACE 2 costs 199€. And unless you really want to make use of Stryd's platform, both will offer you the same thing and the COROS costs 30€ less. And let's not forget that it's also a GPS watch that serves a lot of other things.
If despite all that you still want to use Stryd for the additional features it offers, you don't have to worry either. COROS natively supports everything Stryd has to offer.
GPS Performance
Like the optical sensor tests you'll see in the next section, GPS comparisons are done in the same way: with the watches accompanying me in my usual workouts. Wearing both the COROS PACE 2 and other watches and checking where the problems appear.
I don't have a defined path to establish a score for the simple reason that there are other external factors that we should never forget. Things like clouds, leaves on the trees or simply the position of the satellite can alter the GPS results from one day to the next. 
So once the methodology is clarified, let's look at some examples of workouts to check the performance of the PACE 2. I will start with this route in which I was also accompanied by the Garmin Forerunner 945 and the COROS APEX Pro .
One of the things I wanted to try was the different GPS settings. While GPS+GLONASS was selected in PACE 2, APEX Pro was set to GPS+Beidou. It wasn't a good day because it was raining, which always makes it difficult to receive a signal.
Reviewing the track it has certainly been a complicated day when all devices have had light and shadows... The first thing I want to highlight is that the PACE 2 was on the left wrist, the APEX Pro on the right wrist and the Garmin on my left hand. I make this clarification because it will be common to see the APEX Pro route always separate from the other two, and that's because there were really that separation.
In this image below I marked the actual route. Both PACE 2 and APEX Pro play a good role, while Garmin is somewhat lost both before and after performing the turn.
This turn occurs after passing under a row of fairly leafy trees, which joins the already complicated situation. I'll do the same thing again and I mark the real route. 
Here the APEX Pro cuts the turn quite a bit and the FR945 goes long again, with PACE 2 being the best performer on this part.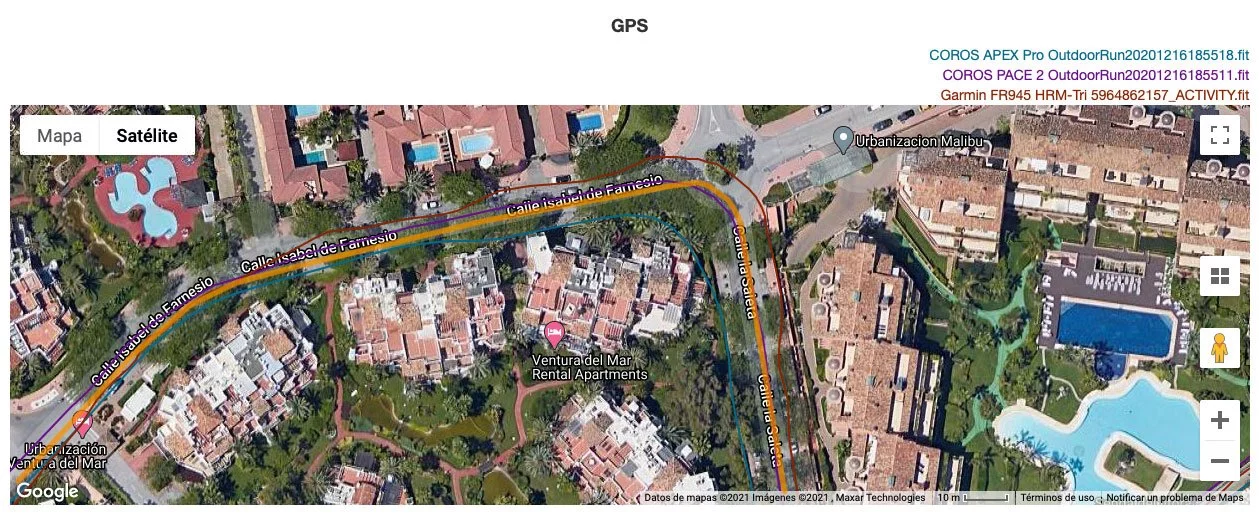 Later the situation is quite similar in this closed turn, being the COROS PACE 2 the best without being an excellent performance either.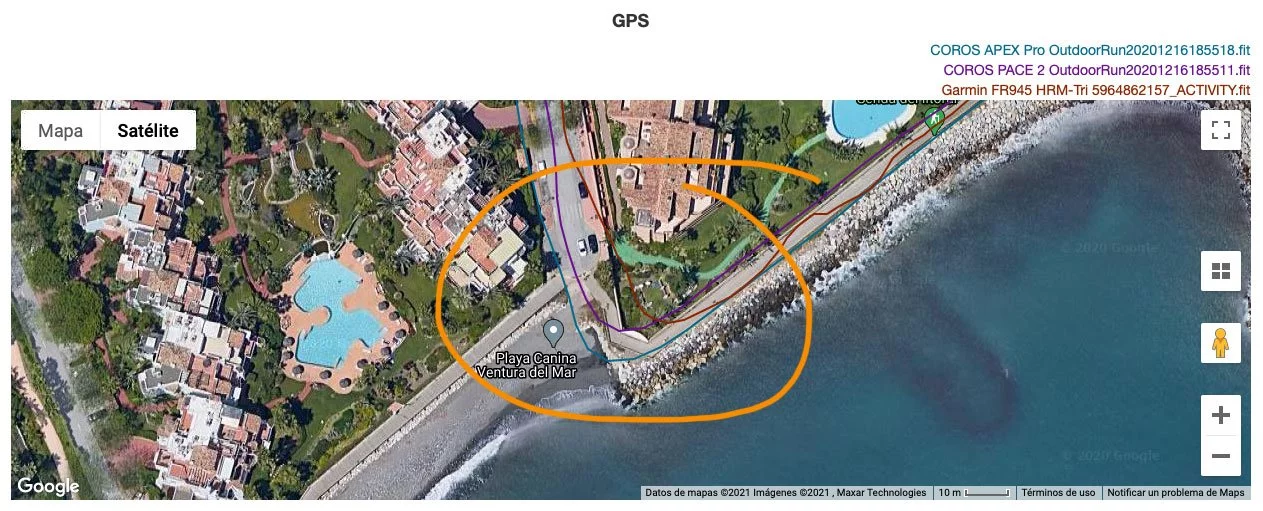 On the way back and running down a street with buildings not too high (4-6 floors, wide avenue), the APEX Pro is totally lost while the other two keep up.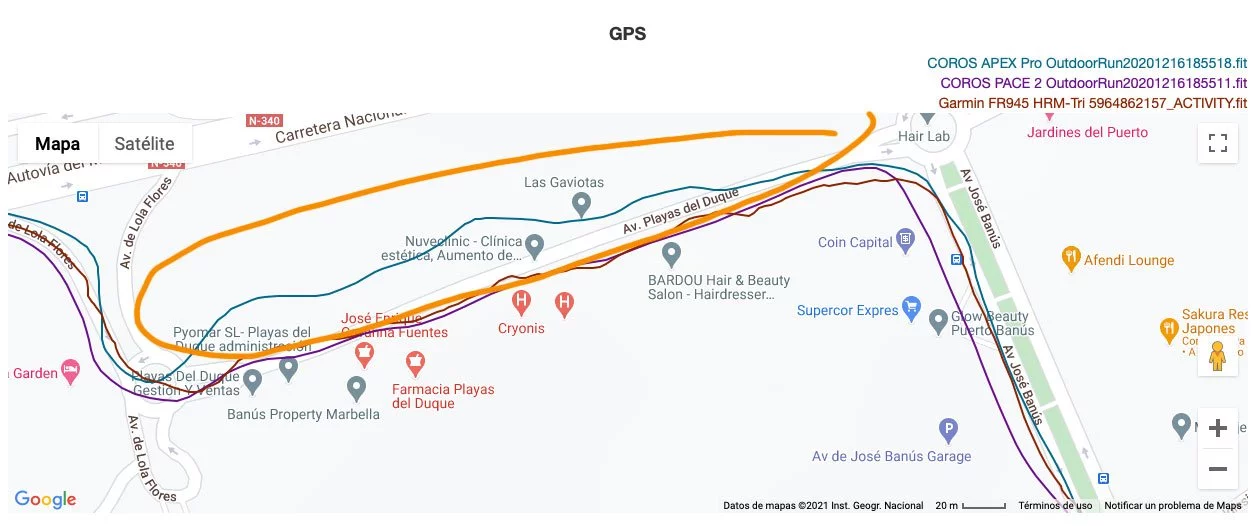 Not that this is a workout that gives many keys about general operation, but it does let me see that I prefer the GPS + GLONASS configuration for COROS as the output was better.
Totally different workout, a long run to the village of Benahavís. A magnificent cloudless day with the sun shining, perfect conditions for signal reception. For this occasion I replaced the COROS APEX Pro with the Polar Vantage V2.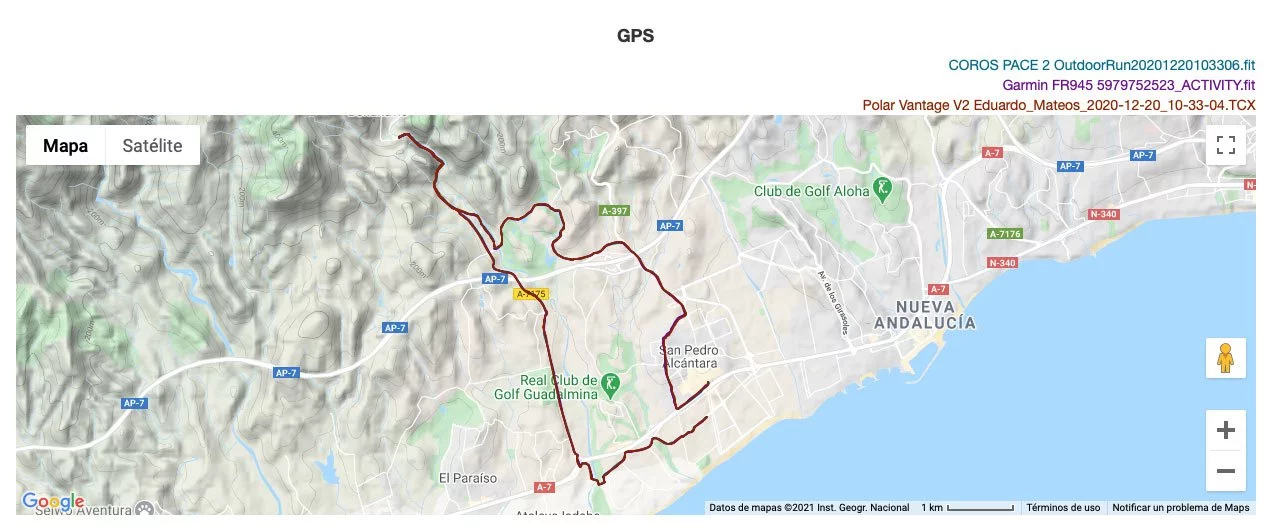 This is how most of the track has been, with all three devices perfectly aligned
Which doesn't mean everything was perfect. In this area, a little harder when running down a hillside, there are some complications. Where the arrow is marked with a 1, it is the Garmin FR945 that does not make the path correctly. Both the COROS and the Polar trace the track perfectly (in fact the trail is seen in the satellite image).
On the other hand, in the arrow with number 2, the COROS has deviated from the correct route about 3 or 4 meters. At that point there are not too many signal reception difficulties, so that shouldn't have happened.
On the downhill route I had to cross a couple of tunnels in which the watches lose GPS signal irretrievably. Good opportunity to check its operation when something like that happens...
I marked in orange the point where I cross under the highway. At the exit both the Vantage V2 and the FR945 are slightly dizzy, while the PACE 2 remains undisturbed. Of course, while crossing under the road none of the three has made strange movements.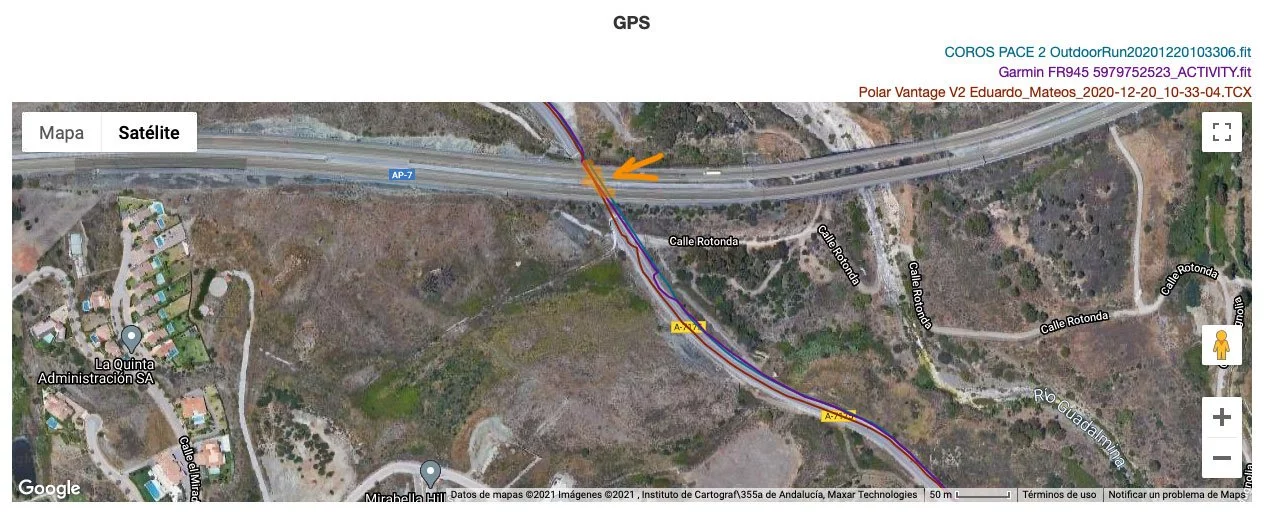 This is the second tunnel, very similar to the previous one. Here the behavior has been quite good by the three of them, because they have recovered the signal very quickly (I make a left turn right out of the tunnel). The Polar has shifted a little to the right, but there is no major error.
Let's see a trail run now.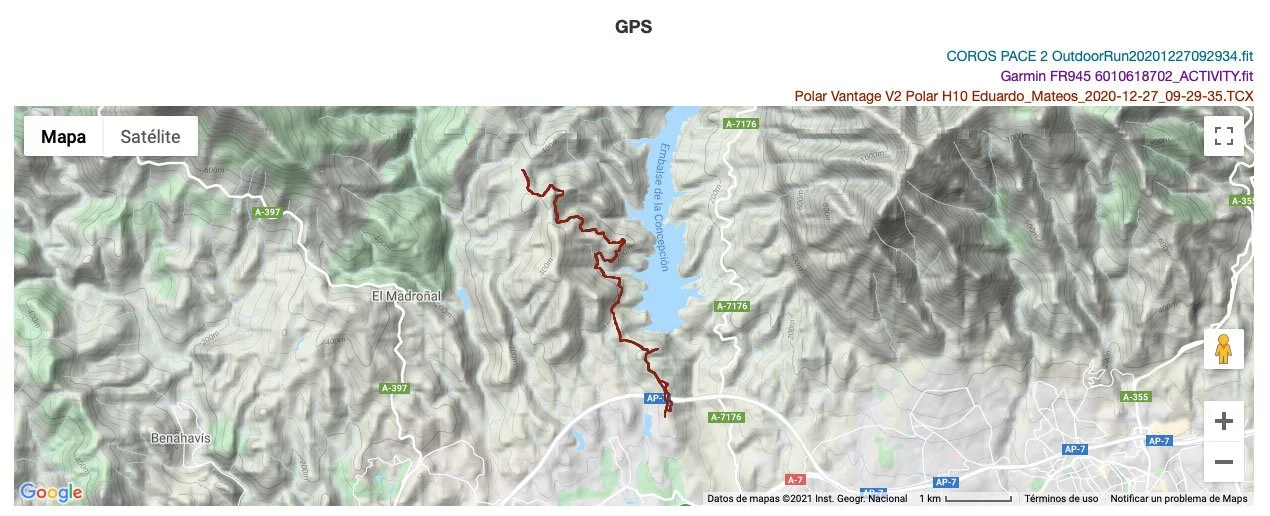 Again a sunny day (I'm in Marbella...), but somewhat slower paces being in constant unevenness. That makes it difficult for the tracks to be "pretty" because there are not much separation between the recorded points.
Despite that there are no issues in the track recorded at any point, nor in the exit...
Nor halfway when I run down the mountain.
Finally here's a bike ride. In this case mountain biking.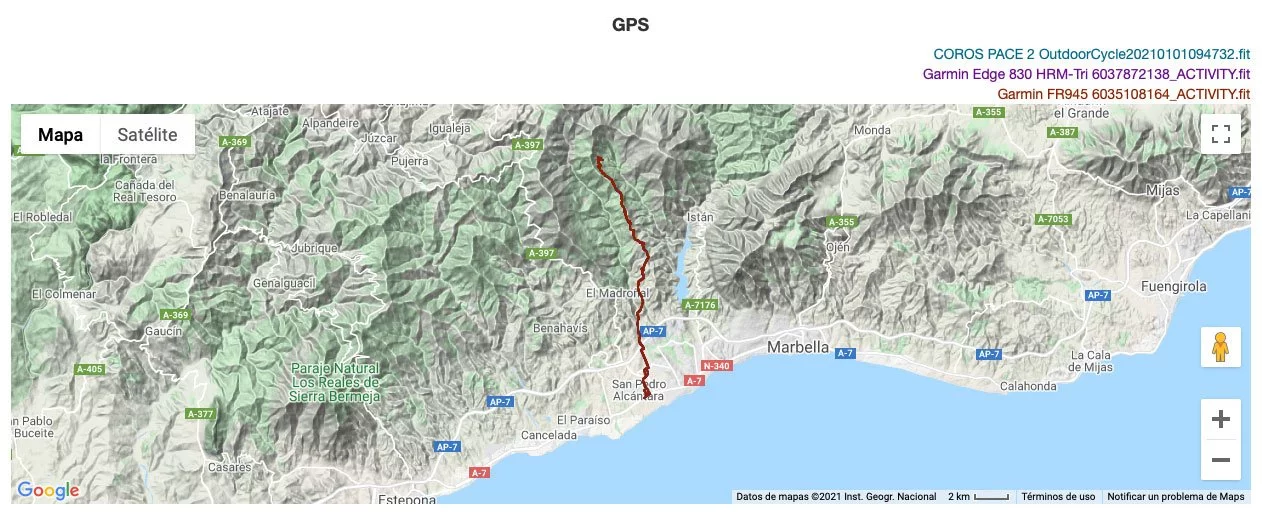 Same as before in the trail run, zero incidences along the route, not even in the most complicated areas.
In short, except for the first example where the reception was truly complicated and that affected all the watches, in the rest of the workouts there has been no major issues to review. 
That doesn't mean everything was absolutely perfect. No, a GPS is not a precision instrument and will never offer us 100% perfect operation, but the performance has been very good as long as there was no rain or heavy clouds in the sky.
Optical heart rate sensor
Now it's time to talk about the optical heart rate sensor. The PACE 2 has a sensor with a fairly basic design, simply the optical sensor itself accompanied by two green LEDs. Therefore it is far from much more complex designs that we can see now with greater number of LEDs or using different colors.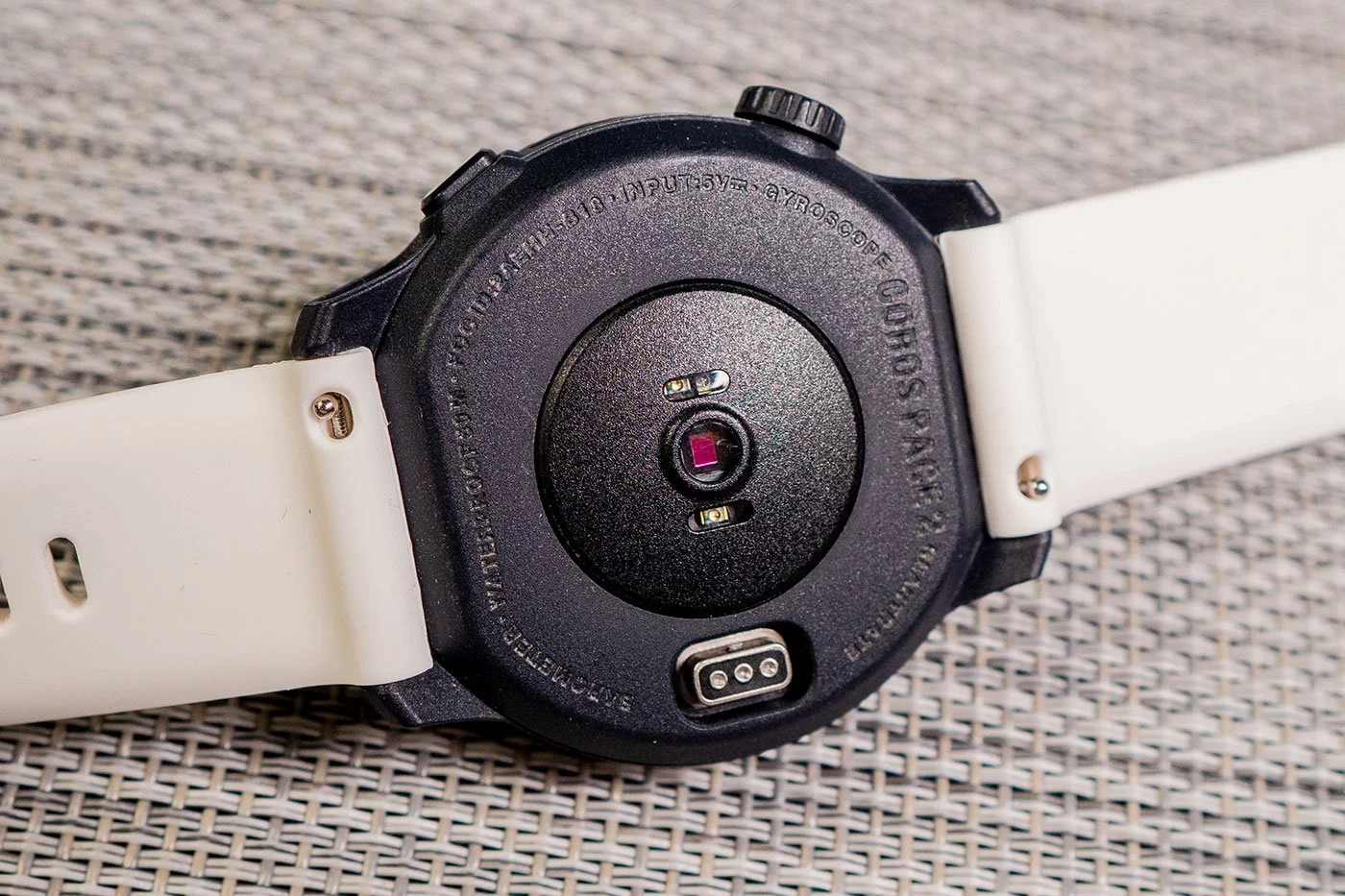 But that doesn't mean it's bad, that's what the tests we'll see next is for. But before I show you comparisons of different sensors, I'd like to remember some basics of optical sensors.
Keep in mind that a wrist heart rate monitor does not work the same way on all bodies. We're all different, and if we put things in the equation like skin tone, tattoos, body hair... the difference from person to person can be quite big.
In my tests it is not that the spectrum of users is very broad: it is me, myself and I. So what works well for me might not do it for someone else, or it might be better.
But the most important thing to keep in mind is that you have to follow some guidelines to wear the sensor. It should be tight (but not cut off your circulation), enough to keep the watch from moving freely on your wrist, leaving a separation of approximately one finger from the wrist bone. By following these details you will ensure that you get the best results that your conditions can offer.
It is also important that you understand that while a heart rate sensor on the chest performs effective measurement, the optical sensor estimates our pulsations. In this post I explain all this more broadly.
In the weeks I've been reviewing the COROS PACE 2 I've done it with two straps. First of all with the original nylon strap with which I received the watch.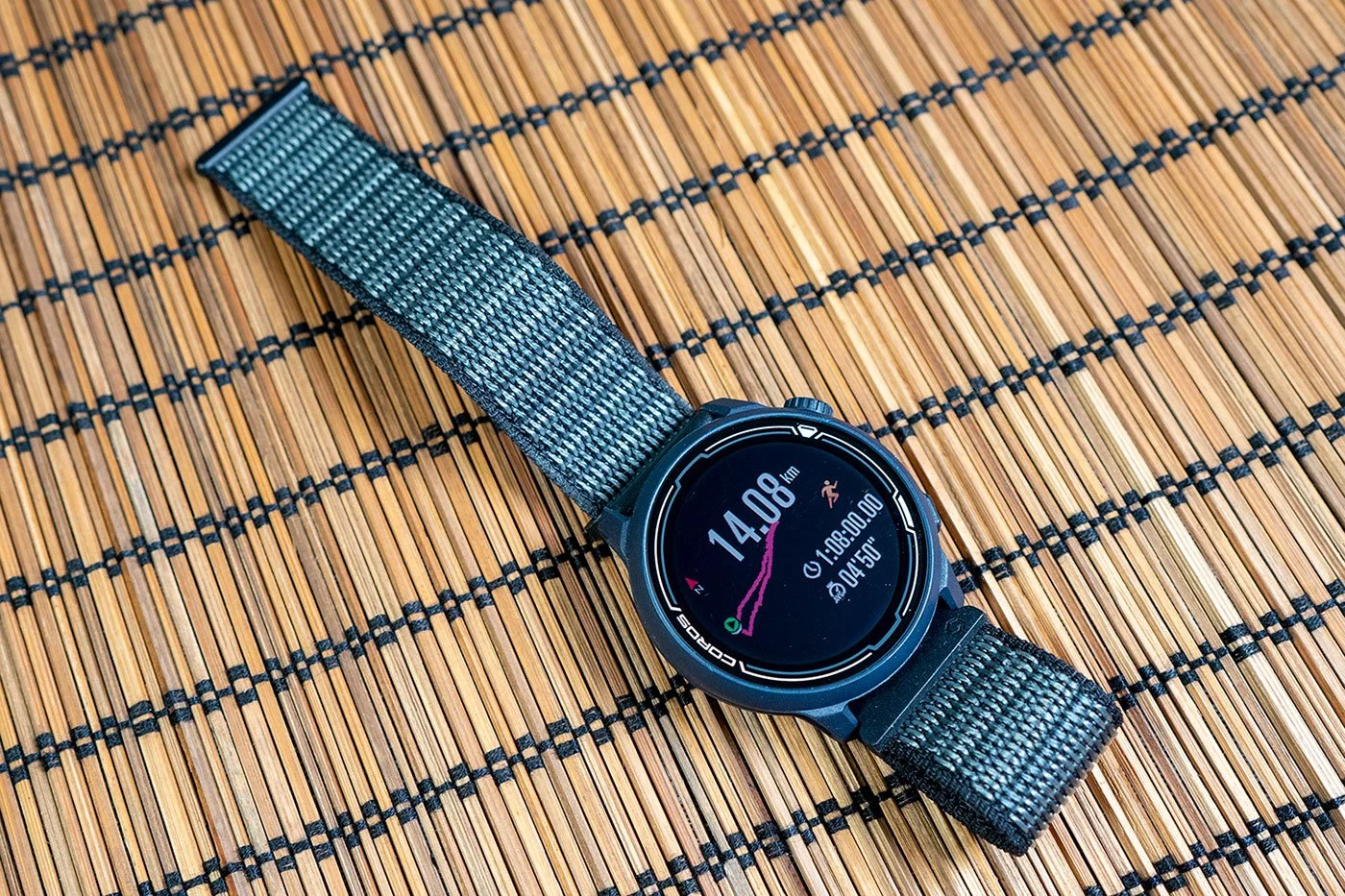 But apparently I didn't adapt too well to the strap and how it fastens, because I did not get good performance from the sensor. Even in spite of wearing the watch well positioned and tightly (and also considering that with this strap the weight is almost insignificant), in the tests I saw strange things. 
Here is a clear example of that erratic behavior. A heart rate peak in the 16th minute that could be considered normal if I didn't wear any other sensor.
That was an easy soft-paced workout ending with 20″ sprints. A type of workout that any heart rate sensor must record correctly. 
Here is another example, although this time doing an interval workout. Again with the nylon strap. There is a small spike at the beginning that does not take long to recover, but I marked you the part I'm going to zoom in (the intervals).
There are two intervals that are performed correctly, but from the third on it all starts to go to the dumpster. 

The only explanation I can think of is that when the strap begins to get wet by the sweat, the watch will tend to move on the wrist causing these erroneous readings.
I know that other reviewers have not had issues with the sensor, so thinking about the strap and before I would consider that I had a watch with a faulty sensor, I changed the watch band with a silicone one.
With the new strap practically all my problems disappeared. Here is an example of a 4×2000 workout.
At first I have circled a problem with all the sensors. The Polar H10 was constantly moving and I had to stop to adjust the strap. Once done, problems with the chest sensor are over, at least up to the two small spikes that can be seen at the end.
As for the COROS PACE 2, the start was somewhat irregular until I started to warm up, when it regained the composure and then everything went perfect until the end. It simply shows a slight delay at the end of the intervals, which is common in all optical heart rate sensors.
Another example with the silicone strap? Here you go, this time from a trail run.

And here, except for a small scrap on the part of the Garmin FR945 around the minute 10 mark, there is total synchrony in all three graphs even despite being a workout with a lot of intensity variation.
Finally we have cycling with the expected result. Bad, as in the vast majority of optical heart rate sensors.
The summary is that I have seen two very different behaviors depending on the type of strap used. With the nylon strap I did not have a good result in workouts, with fairly frequent errors. 
But it is not a sensor issue, because when I used the watch with a traditional silicone strap with clasp, most of the errors were not present.
Wanna help the site? Buy your COROS PACE 2 here
I hope that this in-depth review has helped you to decide if it is a valid device for you or not. All the work I do you can consult it without any cost, but if you want to support the page and by doing so the work I do, the best way to do that is to buy your new device through the links I provide .
And if you don't buy it today, remember to stop by when you do! Through these links you will not only get a competitive price and the best customer care, but also I will receive a small percentage at no additional cost to you. That's what allows me to keep offering you reviews like the one on this page.
Find the best offer
PACE 2 CHORUS
You are not going to buy it, you already have it or Amazon is not an option; but you like the reviews I perform and you want to show your support for the site? Then consider signing up for a VIP membership. Above all you will be helping to support the site, but you will also enjoy unique benefits.
If you have any questions, remember that you have the comments section at the bottom, where I will try to answer all your questions.
COROS PACE 2 opinion
I've been using the COROS PACE 2 for a little more than a month, both in workouts and during the day to day. In all that time I have almost never missed the Garmin Forerunner 945, which is "my watch" when I'm not testing any other. I think it's quite descriptive as a summary of my opinion about the COROS PACE 2.
COROS has been fully successful with this model and what it offers. It is a cheap watch with a cheap feeling, but despite that it offers all the features we may need during our workouts. 
It doesn't mean it's perfect, there are things to polish like Training Peaks workouts, some translations or metrics that don't make too much sense (training load is useless). But as a whole, the PACE 2 is more than satisfactory. 
In addition, with this model COROS brings the general public the possibility of running with power, something that until now was relegated to users who were willing to spend more than €200 on an external sensor, or who bought high-end watches (Polar or Garmin that support the Connect IQ application). 
This is the path that COROS must take, to offer a watch that for its price is positioned below its most direct rivals with similar features (or even higher, such as running power). Make themselves known to the general public with an accessible model and good performance. That will be the customer who will then scale to more expensive models within the range of COROS; models that offer better finishes and/or more performance.
For 199€ there are not many watches on the market that offer a better commitment. Within the category we can find three models from other manufacturers: Garmin Forerunner 245, Polar Vantage M and Suunto 5.
The FR245 is more expensive, has no barometric altimeter or running power. Although in its favor it has route navigation and offers a version with music playback.
Practically the same can be said about the Polar Vantage M; without power, altimeter or Training Peaks workout download (although it does have its own platform), although it has good training load metrics for training, sleep and rest.
For its part, the Suunto 5 has a smaller screen with somewhat worse visibility. In its favor it has a higher quality materials, but again it lacks altimeter and does not even have the possibility to create slightly complex interval workouts.
What is clear is that the COROS PACE 2, within the mid-range is a full-fledged leader who has virtually nothing to envy to any model of another brand. A watch that should undoubtedly appear in the purchase recommendations guide.
I really think the COROS PACE 2 is the 2020 watch of the year, for the amount of features it includes and everything it offers for under 200€.
And with that... thanks for reading!