COROS announces today EvoLab, the next piece of the puzzle they are putting together. It is amazing the road that COROS is going through, a brand that started launching a smart helmet on Kickstarter and that five years later is knocking on the doors of leading GPS watch manufacturers.
COROS EvoLab is an update for its platform, focused on the scientific analysis of your workouts to be able to track fitness, fatigue and performance.
Today, COROS announces a public beta to which 1,000 users of the platform will be able to register (for COROS PACE 2/APEX/APEX PRO/VERTIX watches). If everything works as it should, EvoLab will reach all users around mid-June.
I've been testing the beta for a little over a week, and although it's not enough time to extract all the data and know the performance of the platform perfectly, it does allow me to be able to explain what is included in the update and what is to come.
What is COROS EvoLab
EvoLab is the new COROS platform to track training and fatigue to optimize performance. It is not a different application, it simply integrates into the current COROS app to give us more detailed information about how we are training.
COROS tries to provide the same information as other manufacturers provide. Garmin has its Training Status and everything that revolves around, Polar offers Training Load Pro and rest metrics, Suunto has just incorporated the TrainingPeaks algorithms into its platform...
That was a missing link on the COROS proposal, because until now it only had AI Trainer which, as you may remember from some of the COROS watches reviews I've published, left enough to be desired. EvoLab arrives to replace it by offering a more reliable metric and more data around your training.
Key metrics for general fitness in EvoLab
I'll start with the app changes, because that's where we're going to find the heart of EvoLab. The most visible change is on the profile page, which now adds both generic training metrics (1) and those focused on road running (2).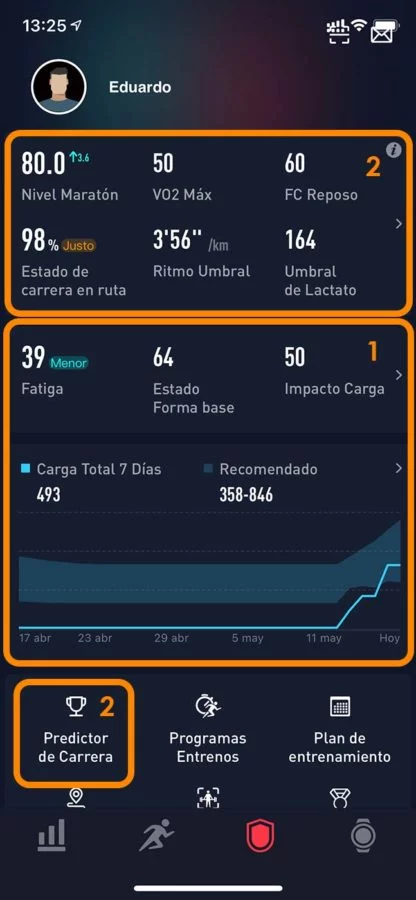 Table number 1 encompasses specific training load metrics. The total training load for 7 days is THE METRIC. That graph is what determines if you are putting the right load into your workouts. If we click on it we can see it enlarged.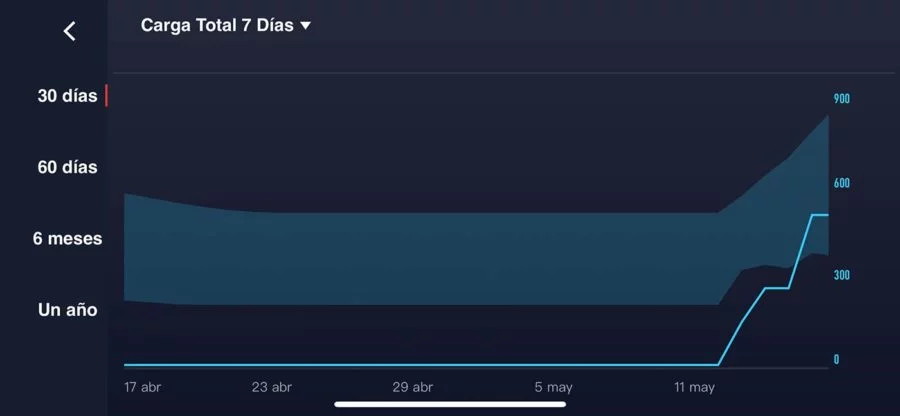 Any workout of any sport will allow add data, as it is based on TRIMP, a perfectly validated load quantification method.
We need a minimum amount of data on the platform, at least more than I have introduced these days. The goal is for us to keep our graph (light blue line) inside the value-range that marks the application (darker blue). If we pass it we run the risk of falling into overtraining, if we fall short our physical fitness and performance will drop.
For this metric to be reliable, you will have to record each and every one of your workouts, so that the entire load is correctly quantified.
Weekly load can also be seen on the watch, as the update also includes a firmware that provides more widgets with information.
Then we have the metrics of long-term load, short-term and fatigue. Those of you who are TrainingPeaks users are already more than familiar with them, because they are basically the same metrics.
Base Fitness (Fitness or CTL in TrainingPeaks)
This is the average daily load for the last 6 weeks. High values indicate that our workouts have been long and/or intense, and that we are prepared to perform such trainings. That value is the daily average of TRIMP for all our workouts. So if your base form says 180 (for example), be careful to frequently perform workouts of much higher load, because then something will break.
It is necessary to wait 42 days until you have real values. As you can see, in my case the value is very low because I have only been introducing values on the platform for a few days.
Load Impact (Fatigue or ATL in TrainingPeaks)
It measures the short-term training load for the last 7 days. It takes into account trainings that have recently been performed with the same TRIMP values.
Fatigue (Form or TSB in TrainingPeaks)
It's the difference between Base Fitness and Load Impact on a scale of 0 to 100. A low value indicates that we can do intense workouts, and on the contrary a high value will indicate that we should be cautious.
Remember that in the case of fatigue, the data is a percentage (or on the scale from 0 to 100), and not a direct subtraction as is the case with the TrainingPeaks Form.
This will also appear on the watch.
Where these metrics are important is when we look at graphs in the medium or long term. For this I'll use the one that COROS sent me with the more workouts synced on the platform.
You can see how the Base Fitness has an upward trend, showing that the athlete is increasing his/her physical shape. And also how impact and fatigue affects the training load.
Then there are more generic metrics, such as the 4-week intensity distribution chart.
Also the training effect in aerobic and anaerobic terms, as well as a recovery timer.
The examples we have seen in the previous section are valid for any type of training. It doesn't matter if you're a trail runner, if you're doing triathlon or if you're preparing a marathon. All the workouts we perform will have a TRIMP assessment based on the intensity of heart rate.
Here we find a difference in the proposal made by COROS and is that if it detects that the heart rate data are not correct, for example because the optical HR sensor does not seem reliable, then the algorithm will also take into account other values such as pace zones.
But within EvoLab there is also a specific section to give values about sports. At the moment it is only available for road running, although COROS says they will develop more algorithms and metrics specific to other sports in the future.
Key metrics for road running
I go back to the image I posted before about the new profile screen design. The specific metrics for road running are those that are within the sections I have framed with a number two.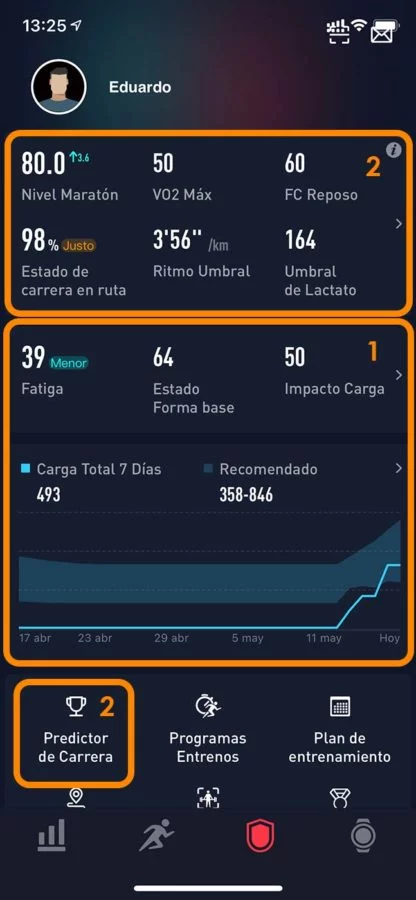 We have the following:
Marathon level: A metric that defines how prepared you are to run a flat road marathon based on things like workout history, VO2max, threshold zones, efficiency, etc. A high value will indicate the ability to run this distance in less time than if the value decreases.
Running VO2Max: Estimation of maximum oxygen consumption for running.
Running performance: This metric compares how good your last workout is compared to your Marathon Level, in a range of 80% to 120%. Valid for key workouts, if you have done a recovery workout the value will obviously be very low.
Threshold pace: Pace at which you can run without accumulating excessive lactate. The threshold pace is more demanding than a normal run, but lower than the usual pace for 5K/10K races.
Threshold heart rate- The same as before, but in heart rate values.
Race predictor: Race time situations for different distances.
Again, to have a clear picture of what would be your level of road running it is necessary to accumulate more workouts than I have been able to accumulate.
For example, COROS EvoLab estimates that my VO2max is 50, a value much lower than any other platform gives me. The reason is that for this estimate EvoLab uses the 15 minutes with the best average pace of a workout. I do a lot of interval workouts, and very occasionally I have long interval workouts with medium to high intensities. So until I do such a workout I won't see a real value.
And the same goes for all other metrics. Perhaps lately I've done more intense workouts than at an easy pace, so that may have confused the algorithms a little.
Among all of them I think that Marathon level is interesting, because it is perhaps the most innovative. From that value, EvoLab performs the estimation for the rest of distances.
Unlike other platforms, besides giving you an approximate time it also tells you what would be the average pace. Thanks COROS, because you avoid me having to calculate or looking for online calculators.
About my estimates... 5 and 10 kilometers may be slightly optimistic, although it would depend on the conditions of the day and how rested I could be to achieve those results. It could be feasible, and otherwise I don't think it would be too far off.
The half marathon seems more complicated to me, although if I did a very specific training for several weeks I could still get quite close.
Marathon? I find it VERY optimistic. But I repeat, all these data are based on little volume of workouts. The platform would need to be fed on more data for more days in order to be confident in the information it offers me.
Running performance is also a new metric. COROS defines it as follows:
"Running Performance measures how good your last workout was in comparison to your
Marathon level in a range of 80% to 120%. More than 105% means you are overachieving
and you're likely to reach your peak in the race."
That is, it compares the level of demand of the last workout with the values accumulated over time, regardless of whether you are training for marathon or any other distance. Constant values below 100% indicate that you are losing performance, and exceeding 100% in some workout will tell you that you are improving.
EvoLab compatible models
The platform update with the inclusion of EvoLab is for all COROS customers. Whether you purchased an APEX Pro for 500€ or a COROS PACE 2 for only €200, the upgrade is the same for the entire range. Which is to thank COROS.
The only difference is with the original COROS PACE which, due to hardware limitations, it won't have the different widgets you've been seeing throughout the post. But you will have access to all the information straight in the app.
Therefore, with the next COROS app update, there will also be an update for the COROS PACE 2, COROS APEX, COROS APEX Pro and COROS VERTIX that will include all these new features.
New Colors for COROS PACE 2 and a keychain charger
Taking advantage of the EvoLab presentation, COROS also announces three new colors for its latest model, the COROS PACE 2. These are part of a collection called COROS PACE 2 Speed Series and will be available as a limited run.
The new colors are red, green and gold/yellow. The price is the same as the first COROS PACE 2 .
Lastly, we have a new accessory, a keychain charging cable that you can store somewhere more practical than the cable that comes with the watch itself. Flat and small format that you can have in your keys or backpack, so you can charge the watch at any time without having to bring the original cable with you.
Summary
Undoubtedly the platform was the most neglected part of the COROS proposal, especially if we think about the higher-end models. A COROS PACE 2 had many reasons to stand out, even despite its platform, but an APEX Pro or VERTIX had it more complicated when compared to similar priced models, as it forced us to use third-party platforms if we wanted to keep an exhaustive control of the training load and our performance.
As I said at the beginning, EvoLab is a new piece of the puzzle COROS is making; and if manufacturers like Polar or Suunto don't wake up, it can be a new nail in their coffin.
The updates and news pace that COROS is following is very high. It's no longer that helmets manufacturer that launched the PACE, which was little more than a copy of Garmin. COROS is carving its own name in the industry by investing a lot of money in what many others had neglected: software and development.
They have had good devices for years, a very reliable hardware that offers very good results, but that pale slightly in software given they didn't have enough time on the market. And this is precisely what they're focusing on right now.
We finally have a training load tracking on the platform (valid for all sports), adding specific metrics for road running. COROS indicates that this is only the beginning and that there will be more similar features for other activities. I'm anxious to see what they're developing.
Remember, you can apply to join the beta if you are one of the first 1,000 to do so, if you don't you'll have to wait until mid-June for the final release.
Good times are coming... thanks for reading!