This week Garmin held its annual Connect IQ developer conference. This is an event similar to Google I/O or the Apple WWDC, geared toward business and small programmers rather than a final audience.
That's why, despite the fact that on other occasions we have seen new hardware (last year they took the opportunity to present the Garmin Edge 520 Plus and Garmin RTL510So we'll have to wait for the presentation of the new Forerunner 245 for at least another week.
The conference is attended by developers from all walks of life, mainly from the world of sports-oriented applications, but also from other fields. It is at this event that Garmin sets out guidelines on which direction it wants to take its development platform and what it wants to emphasise most in the early future.
Here I detail exclusively the most interesting of the competition, that which is more oriented to the end user and leaving aside more specific things of the programming environment that will surely bore most. And not everything is Connect IQ, the truth is that the most important has nothing to do with the application platform and reaches many more models.
New Connect IQ Application Store
I'll start with the most tangible things, as you can download them right away. Until now, downloading applications for your Garmin device was done from the Garmin Connect app. The option was pretty much hidden within the menu and you had to go around a few times before you could see the applications.
Besides, the navigation was not as good as one would expect from an app store in 2019. Slow loading, last century menus, few possibilities to find interesting apps... Of course it was something that did not invite the developers to launch their apps.
The new application (available for Android and for iOS in their respective application stores) is much more in line than we can expect from such an application in 2019.
There are more options, a much more complete menu, more possibilities when it comes to finding new applications... it's like night and day.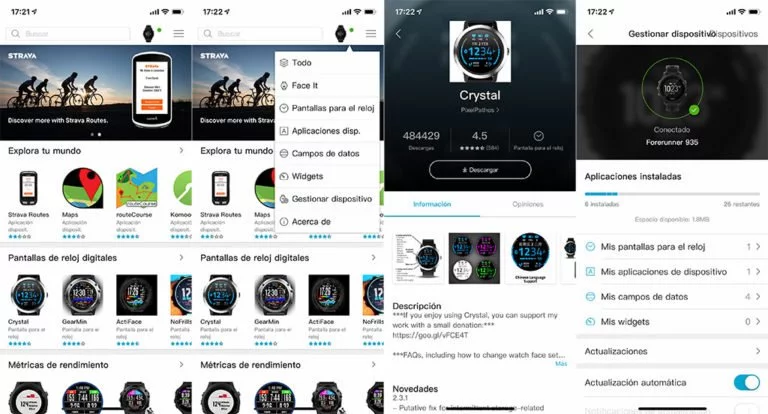 Not that it will completely change your relationship with the clock from now on, not at all. The applications available are still the same with the good and the bad, but it is true that developers are now offered a much more colorful platform to present their work.
I remember that it is available from today and you can download the application to your phone now to at least browse it. If you don't want another application on your phone, there is no problem either because you can continue to search for applications as before, through Garmin Connect.
Garmin opens its API to any developer
This is fantastic news, which even if we don't get performance right now, can be a big step forward in how we operate with our data synchronized to the platform.
This API will allow developers to create an application that can request access to your synchronized data on the platform for use on another platform or application.
Until now, only certain developers could do this because Garmin charged an API access fee of $5,000. Therefore, something that only the Stravas or TrainingPeaks in the industry could think of taking advantage of, leaving smaller companies or even mere amateurs out of the picture.
Garmin will offer access to both training data (your running, cycling, etc.) and health or day-to-day data (sleep, steps, HR, etc.).
As I say, it's not something you'll benefit from tomorrow, but you'll start to notice the advantages in the medium term. For example, applications like GoldenCheetah will allow you to download data directly from the platform, anyone could create a utility to export trainings to Dropbox or create applications such as Elevate Thomas Champagne based on the Garmin platform instead of Strava's limitations.
Of course, as is the case now, we will need your permission to accept any external application, so your data will remain safe.
New Training API
We continue with the APIs. In this case, Garmin has created a new API that will allow you to transfer workouts by phases directly to the Garmin platform, without having to go through any other application first.
This is a very important leap for developers of applications like TrainingPeaks because they won't have to worry about the need for an application to bridge the gap between the Garmin device and their platform (which is what they've had to do with Connect IQ up to now), but can do it directly by sending the training to the platform.
Your trainer can set your training in TrainingPekas (or Today's Plan, etc.) and you can download it to the clock. If there are any changes, they will be reflected in the device also after a new synchronization. Modifications such as changes of dates, training structure, etc.
And as I say this is backwards compatible, allowing virtually any Garmin device that supports advanced training to benefit from the new possibilities, regardless of what version of Connect IQ they have and even for those who don't even have support for this application platform.
Awards for the best applications in 2018
In addition, Garmin has given awards to applications that Garmin believes have stood out the most in 2018. This is a good opportunity to launch the new Connect IQ application by looking at the highlights of the past year.
Summary and view of the future
Connect IQ continues to grow but it still doesn't look like what you would expect from a large application store for a smart watch. What is offered in the sports application store is often quite interesting. To give you an example AppBuilderThe application that is essential for the Garmin Edge 130.
But the truth is that the platform lags a lot when we look for more generalist applications. There are few developers who have bet on Connect IQ. There's Spotify, Deezer, Uber... but no one else has tried to create anything new.
The quality of the screen and the possibilities it offers (for example, no videos, although this week they have announced support for GIF images), the power of the processor, not being able to sell an application directly in the store itself... All this means that it is still not a platform of interest to large developers, mainly because of the difficulty of monetizing the work.
I believe that the ultimate accolade for Connect IQ will come the day we can easily purchase an application through the store, just like the app store on our mobile phones. The foundation stone has already been laid with the new application they have launched, hopefully the next step will be announced by the 2020 conference.
And with that... thanks for reading!