If you are a regular mountain climber, you probably already know the brand CimAlp, a French manufacturer that has been creating products for the mountains since it was founded in 1964 by a mountaineer.
It is a family company based in the French Alps, obviously they must know something about mountains because they have it in their blood.
I already reviewed the T-shirt for you a few weeks ago. CimAlp Strategic Top 4a thermal undershirt that can be used as a first layer or as a single garment, and today it's time to tell you all the details about the CimAlp Storm Pro 3a waterproof trail running jacket that has incredible numbers at 20k/80k.
Features CimAlp Storm Pro 3
The CimAlp Storm Pro 3 is not a super light jacket, so it is not intended to be a rival in the high end of trail or mountain jackets. At 260 grams in size M (264 grams in my size L) it can be a bit bulky if you carry it in your backpack, at least compared to other top of the range jackets from other brands (at a much higher price, it must be said).
But you know what? I think that's a good thing. It's not a racing jacket that's looking to cut down to the smallest gram. But it is a versatile, quality jacket full of thoughtful little details. Everything is done for a specific reason.
It is made with a three-layer Ultrashell membrane, a CimAlp proprietary membrane that is waterproof, breathable and windproof.
It is necessary to talk about technical data, starting with waterproofness, which is usually the main criterion for choosing a jacket. It has 20,000 "Schmerber". What does this mean? It is a measure of homologation that is equivalent to a water column of 20,000mm applied to the jacket. In addition, the zippers are thermosealed.
To test this I took advantage of the fact that a few days ago we had a red alert for rain in Marbella. Any normal person would have stayed at home running on the treadmill. Since I'm not a normal person and I have to try things and then poder tell you about them, I put on the CimAlp Storm Pro 3 and went outside.
It was certainly raining quite a bit, but not enough for a "red alert" (which I think alerts are too happily issued). It was rainy and windy, but not cold that morning. The CimAlp Storm Pro 3 delivered on the waterproof aspect.
I won't tell you that I came home dry, the water ended up coming in, but I was running for quite some time in a heavy downpour without feeling my shirt wet. Of course, the jacket was only on the upper body, below the waist I wasn't wearing anything with an UltraShell membrane...
But it is a warm jacket. It's not a windbreaker or rain jacket, it's quite warm and that's something you need to be aware of. In terms of breathability, CimAlp puts it at 80,000mvp. That is, it allows to evacuate 80,000 grams per square meter per day. It is a very good figure but it is not a tank top, and if you are running in good temperature (over 15º) you will end up sweating like a chicken.
At least this is my case because I have a high perspiration rate, and whenever I have used it I end up wet inside. But this is a classic for me and it would happen to me even if I ran in a T-shirt at 0º.
In any case, its focus is more oriented to the mountain or high mountain, and not to run when the weather simply breaks down a little. That is why it is approved for use in ultratrails.
It's not all technical data. As I said the CimAlp Storm Pro 3 is loaded with details. We have a magnet in the hood and another in the lining of the jacket. When we do not have it on the head it will stay fixed on the back, avoiding the annoying bouncing of this with each stride.
The hood has an inner liner to help it stay in place, and a slightly stiffer visor to protect the eyes from rainwater.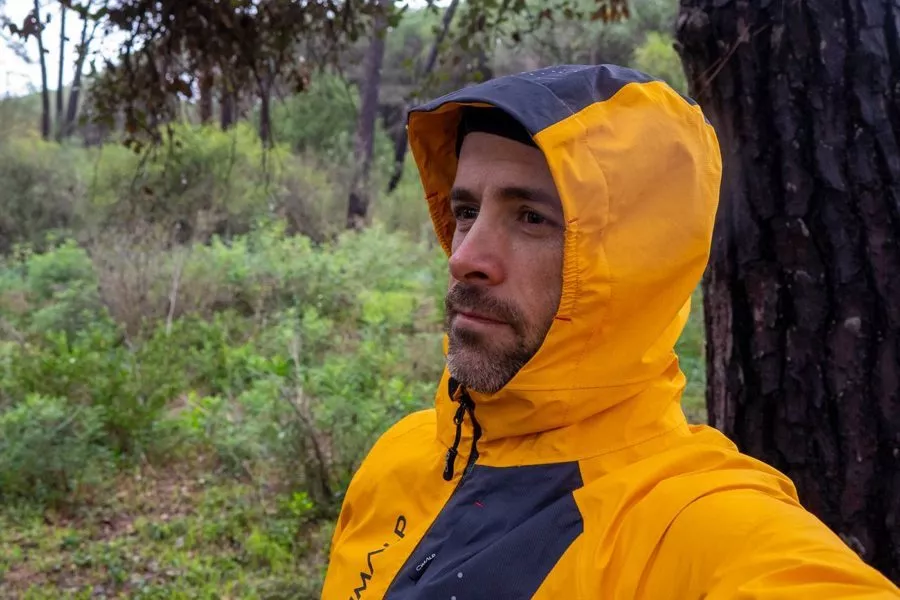 Of course, the hood is not adjustable so it becomes a "one size fits all". I have had no problems with the hood slipping off my head, but it is possible that depending on the shape of your shoulders, neck or head in your case it may not fit equally well.
A chest pocket that will allow us to carry objects. It is divided into two parts and is a good place to carry car keys on one side and a cell phone on the other. It is large and can accommodate a smartphone without problems, I have even podido insert my iPhone 13 Pro Max although it is already too big to be comfortable to wear.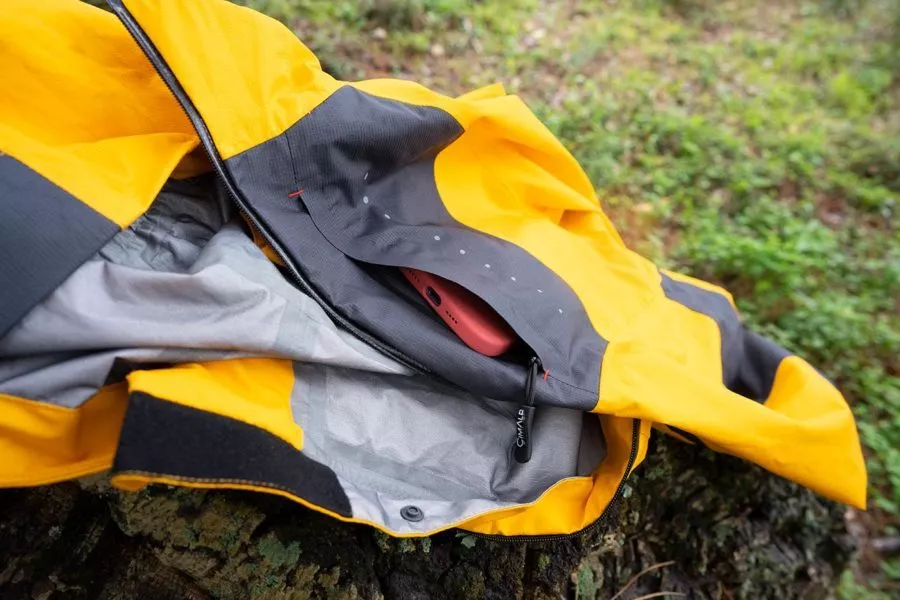 This same pocket allows the jacket to be stowed inside, leaving it in a compact size for poder to carry inside the backpack and use it when you really need it.
Yes, it is not one of the jackets that occupy less once folded, but there are many others that you just fold them and nothing else.
The pocket has a cable hole, so you can listen to music from that same phone even if you haven't gone wireless yet.
The main zipper is also waterproof so it will not be a water entry point.
The upper part of the collar is covered by a velvet-like fabric so that when the jacket is closed all the way up it does not bother the chin area.
And if we start to get hot when we're running and want to open the jacket to help with ventilation, there's a clip-on pin on the inside of the zipper. That way you can wear the zipper down but with the jacket held in place at the top, so it won't slide off your shoulders.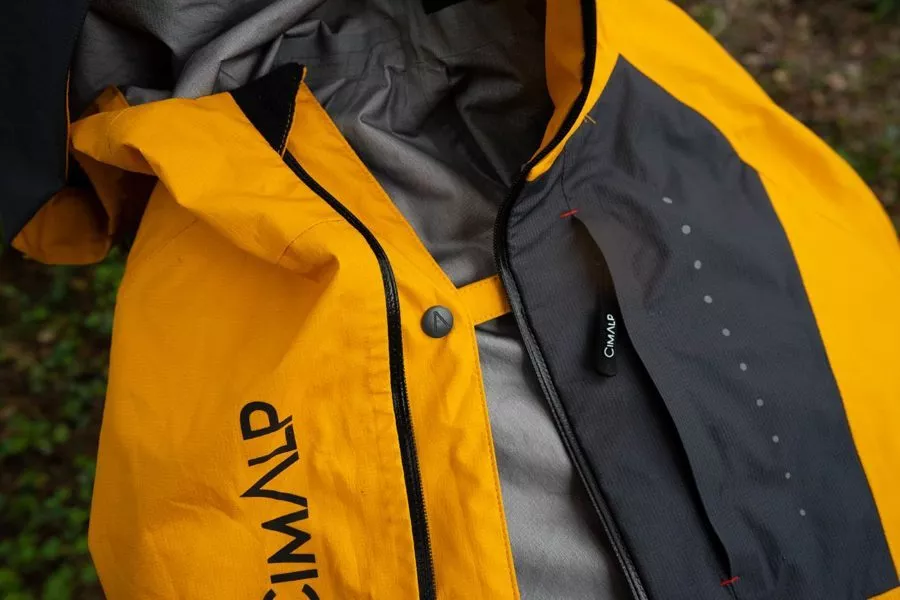 The sleeves have a thumb area, also made of a different material so that the hand does not rub against the Ultrashell fabric, which does not scratch but is not as comfortable.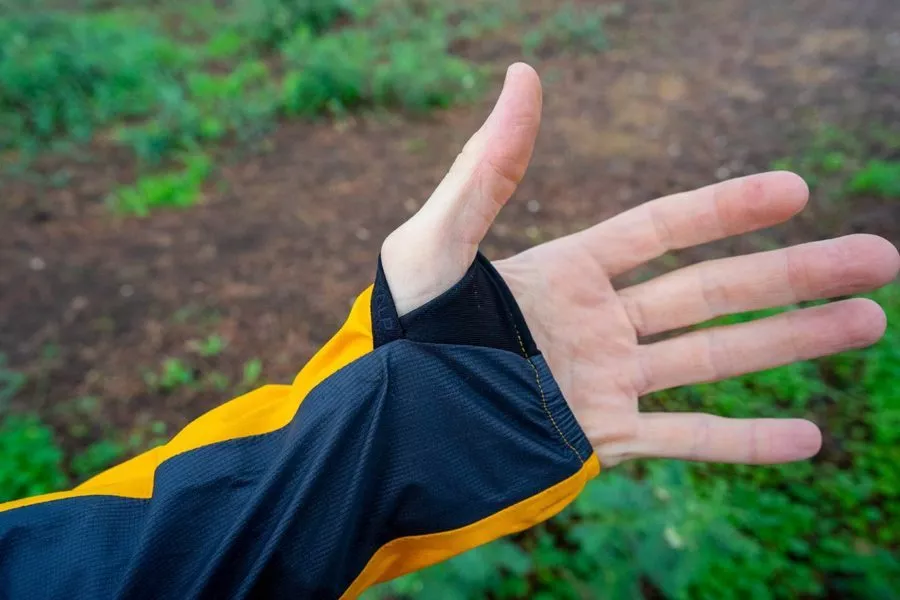 It has reflective prints on both the front and back, in the form of dots, which will allow us to be visible when there is little light.
As you can see it is full of details and solutions, all of them designed with a clear purpose. As I said at the beginning all this leads to an increase in weight, but it is still light and comfortable enough as a competition jacket and of course as a versatile jacket for all your training in more complicated conditions.
Review CimAlp Storm Pro 3
The great thing about the CimAlp Storm Pro 3 is that it's not just a trail or race jacket. It is a multi-purpose jacket that podrás use for hiking, skiing and, ultimately, any activity you do in the mountains.
The cut of the jacket is comfortable and allows you to run without any discomfort. The Ultrashell membrane is not elastic, so the patterning is especially important. This membrane, in addition to having a good performance in rain (with water repellent treatment), breathability and wind resistance, is also quite resistant. This will allow you to pass through areas with branches without fear of tearing the jacket.
It has an RRP of 219€, which already seems a reasonable price given the overall quality of the jacket and the amount of details it offers. But right now there is an offer directly on the CimAlp website which leaves it at 169€ and makes it even more interesting.
And with that... thanks for reading!