COROS announces today a new device, but this time it is not a watch. What we have this time is an external optical pulse sensor to wear on the arm.
This type of sensor has been gaining popularity over the years for its simplicity of use but especially for its convenience compared to the traditional pulse sensor on the chest.
It is still an optical pulse sensor that does not measure but estimates based on what it "reads" from the blood flow, but given the location in which we wear it it is much more reliable, in all respects, than the optical pulse sensor in the watch.
This is the COROS version of the Polar Verity Sense or of the COOSPO HW9 (which I am testing right now), but there are some differences with respect to these.
Before I go any further, this article is a presentation only and I have not yet had access to the pulse sensor to test it. On this occasion COROS has decided to launch the device today for China and the United States, and it will be available for the rest of the world throughout September.
Reasons? Possibly logistical and quantity of units manufactured. Component shortages continue to be a problem and sometimes not as many units are being manufactured as they would like.
But well, let's go with the specifications and then I'll tell you some difference with the external optical sensors that are on the market.
COROS Optical Pulse Sensor Specifications
In specifications the COROS pulse sensor is pretty standard, but there are a few things different from other devices and one big absence: it doesn't have ANT+.
Autonomy of 38 hours of transmission, 80 days in standby mode
Bluetooth-only connectivity, no ANT+ available
Up to 3 simultaneous connections
Automatic activation on sensor placement, no buttons of any kind
Range of use up to 120 meters
Remaining autonomy display on watch, app or LED to indicate when it needs to be recharged
Total weight 19 grams (9.7 grams sensor only)
Size: 42,5 x 28,4 x 9,9mm
Water resistant up to 3 atmospheres
Price 79€.
COROS optical sensor differential details
Until I try it I can tell you little more about the COROS optical sensor. It is a very simple device, so there is not much to tell you. You put it on, it sends heart rate data and that's it. There are no additional metrics of any kind.
Perhaps in this process is where we have the first novelty, and that is that the COROS optical pulse sensor has no buttons of any kind, it is activated when you start using it.
It turns on when it's on your arm and turns off when you take it off, simple as that.
It seems silly, but you can't imagine how many times I have found the Verity Sense without battery because it has stayed on after using it, or because I have pressed the button without realizing it. Good point for COROS because I guess it's something that has happened to their developers in the past as well.
Its use is totally and absolutely simple. Lacking buttons there is nothing to use and the only thing we have is a status LED that the only thing that will show us when it is time to put the sensor in charge.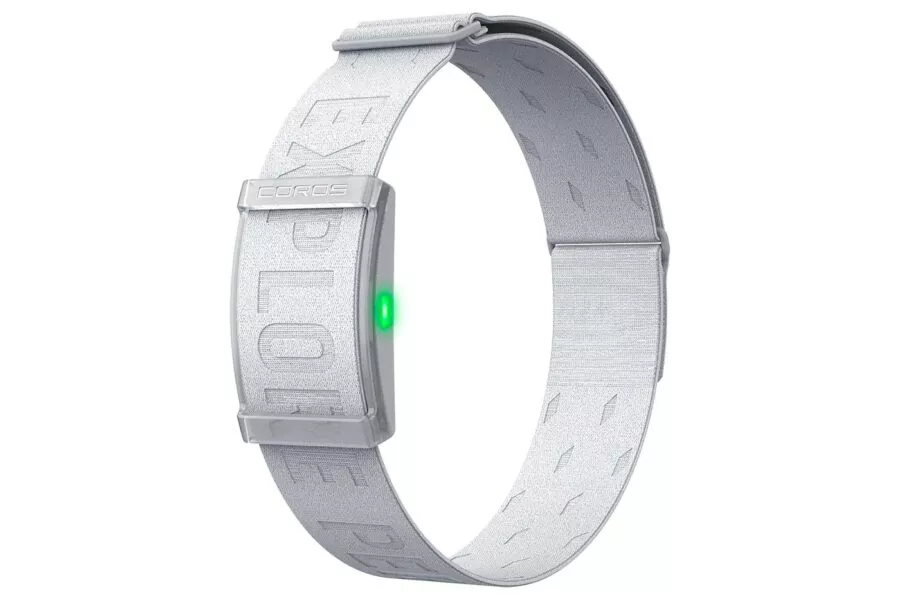 This charging is done through a magnetic cable, which is placed on the back of the sensor.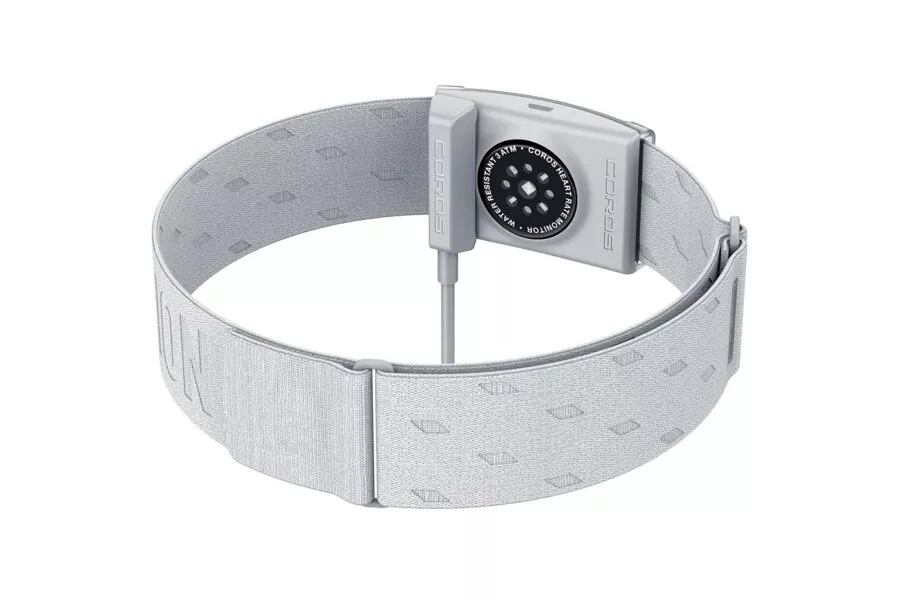 However we have a more or less important shortcoming, and that is that it does not offer ANT+ connectivity. If you use relatively modern devices you have nothing to worry about, they are all compatible with Bluetooth sensors (Garmin, Suunto, COROS, Polar, Wahoo, phones... all) and also the COROS sensor offers up to 3 simultaneous connections, so 1TP7You can have it paired with a watch, a cyclocomputer and an app like Zwift or similar. I think it meets as many requirements as I can think of for use.
COROS indicates that the Bluetooth chip used does not offer ANT+ connectivity, so it appears that it is not a decision not to enable it.
The chip in question was chosen because of its lower energy demand, which allows it to achieve up to 38 hours of autonomy. Or maybe it's an excuse... because the COOSPO HW9 achieves 35 hours of autonomy and does have ANT+ connectivity.
COROS advertises up to 120 meters of distance in signal transmission, which would allow for example to use it in a soccer match and have a device connected in the dugout, recording the heart rate data of the session.
What about its performance? Well, until I have a unit for poder to submit it to my tests I can tell you little about it, beyond showing you this graph that COROS has provided me in which they compare the data with respect to the Polar H10.
Possibilities for the future
What I have detailed above is what the COROS pulse sensor offers on the date of its launch (today for the United States and China, September for the rest of the world). That is an optical pulse sensor for use as an external sensor to any other device.
But there are some additional things in the roadmap. For example memory usage. The sensor has internal storage capable of recording an activity independently, but this is a feature that will not be available at launch.
Another possible improvement is to offer a specific mode for swimming. Something that will also not be available at launch but which the sensor is theoretically capable of.
COROS has not podold me to confirm any kind of timeframe in which 1TP7We will see these new features. Their initial plan was to offer swim mode at launch, but in their testing they have not been entirely sure of the heart rate data recorded during swimming, so they want to continue testing on this.
It is something normal, swimming is something totally different from any other sport because of the medium (water can get between skin and sensor), movement (the algorithm has to differentiate the movements of running, cycling, and in this case strokes), fixation on the arm (by increasing the speed or boosting in the flip the sensor can move)... Many variables and very different from all the others.
At launch the sensor will simply function as an external sensor for other devices, and will need to be paired with them.
But as much as possible, COROS wants to increase its functionality and these two are some of the things that are on the table.
Comparison with other sensors
COROS has been the latest to enter the external optical pulse sensor market, but it is a category that has quite a few entrants from the most diverse brands.
Possibly the first one that comes to your mind is the Polar Verity Sensethe best known of all. But there are others of the most diverse brands: Coospo HW9 that has just been launched on the market (and of which I am preparing a review), Scosche Rhythm+ 2.0, Wahoo TICKR FIT, the previous Polar OH1 and OH1+ that arrived before the Verity Sense...
Although the basic mission of all of them is the same, transmitting heart rate data to an external device, there are differences between the different models: connectivity, additional functions, size and of course price.
So I have prepared this small comparison with some basic features.
What does each of them excel at? For example, the COROS does so in simultaneous Bluetooth connections. It is the only one that does not offer ANT+ connectivity, but it makes up for it with this triple connection. Let's just say that these three simultaneous Bluetooth devices make me forgive it the absence of ANT+.
Both the COROS and the Coospo stand out for their autonomy. They are obviously the latest to hit the market, so they enjoy the most efficient processors and chipsets. It is normal for this to be the case.
The Polar meanwhile enjoys its launch of memory functions for independent workout recording, as well as a mode for swimming use. Two things that it is possible that the COROS sensor will eventually do but does not do at the moment.
If it is for price, the Coospo option is the most interesting, although what appears in the table are PVP prices, then it will depend on the specific offers that podamos see at any given time.
In short, options for all tastes and additional functions in which poder choose, beyond the basic function which is the transmission of heart rate to other devices.
More information when the device is ready for release in the rest of the world. Until then... thanks for reading!