COROS begins rolling out an update today that adds a handful of improvements to some of its models and also to the mobile app. These COROS updates are now becoming a regular feature, which is a good sign for the brand and especially for its users.
The update will arrive to your watches today if you have a VERTIX 1 or VERTIX 2, while if you have an APEX Pro or PACE 2 1TP11 After installing the update on the 19th. Of course, from now on the COROS updates will be phased, so you may not see the new version available in your application for a few days.
This is done so that if there is an error in the update, it can be detected and prevent it from affecting a large number of devices.
It's not a tremendously important list of changes, but they are small incremental improvements that are always welcome.
This is the complete list of functions coming to the watches:
Structured workouts for Treadmill and Roller modes (VERTIX/VERTIX 2/APEX Pro/PACE 2)
Effort perception and training logs(VERTIX/VERTIX 2/APEX Pro/PACE 2/KIPRUN500)
Enhanced REM sleep tracking (VERTIX/VERTIX 2/APEX Pro/PACE 2)
Pace set in Race Mode (VERTIX/VERTIX 2/APEX Pro/PACE 2)
Clock status indicator (COROS App)
New view in the training calendar (COROS App)
Find My Phone + Find My Watch (VERTIX/VERTIX 2/APEX Pro/PACE 2)
Manually deleting activities in the clock (VERTIX/VERTIX2/APEX Pro/PACE 2)
Data synchronization via Wi-Fi (VERTIX 2)
Map display optimization (VERTIX/VERTIX 2/APEX Pro)
Some of the functions are self-explanatory, others may need a little more information. So let's take a look at all of them:
Structured workouts for treadmill and roller modes
If you had a training in calendar for running or cycling only 1TP11You could do it in the corresponding outdoor profiles. With the new update it will also be possible to receive indications of each of the intervals in the indoor profiles.
In addition, for user-friendliness, if you select a workout to run on the treadmill, the watch will automatically "translate" the set min/km pace to km/h for poder to select on the treadmill. That way poder will see at what pace you have to set the treadmill to meet the target pace.
It's so simple that it's hard to believe that no other manufacturer has ever done it before.
Remember, though, that for training sessions, COROS watches do not have ANT+ FE-C or Bluetooth Smart Trainer Control, so it will simply display the target but you will have to act accordingly.
Effort perception and training annotations
At the end of a planned workout, you can now poder select the RPE (Rate of Perserved Exertion) on the watch display. Basically a face that expresses your feelings for poder to use as a reference for the trainer or simply for you to see progression in the feelings.
Additionally also 1TP11After selecting it in the application, as well as entering reference notes.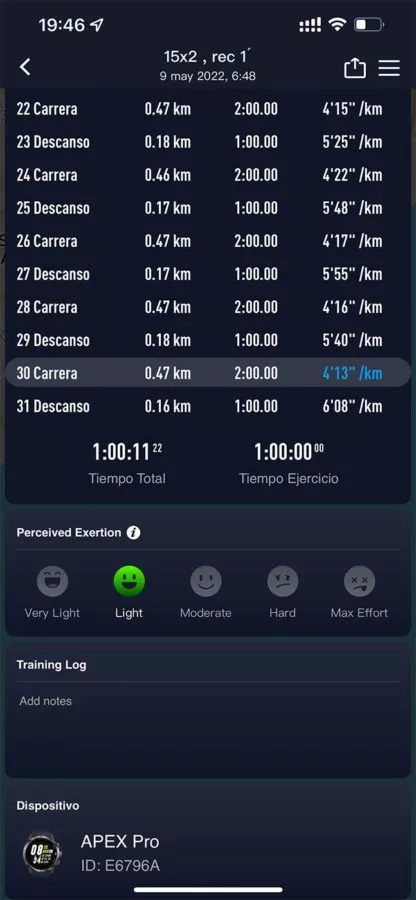 However, RPE is usually composed of sensation and rate of perceived exertion. Here we only have one metric, and it doesn't tell the whole story. You can have an RPE of 9 and a smiling face because even though the workout was hard you felt great, or an RPE of 6 and a sad face because you had a hard time getting through it because of fatigue.
An important detail is that this display will only appear on the watch if we are doing a planned workout, it does not appear for normal workouts.
Enhanced sleep tracking with REM phase
Changes in sleep detection, and also the REM phase is added to the overall sleep quality count. Light, deep, REM and awake time will now be displayed.
This is what 1TP11You can see in the app or on the watch, and other brands did it before. Anyway remember that all this is simply an estimate, and I also have no way of confirming whether or not what it shows is true, so we'll just have to take it for granted.
Pace adjusted in race mode
Something that is already present in other applications such as Strava or TrainingPeaks, the adjusted pace tries to convert the pace on climbs and descents to show it as if we had run on flat terrain. It's useful if you run on hilly areas when you're more used to running on flat terrain, to poder interpret whether or not you've gone fast on those areas.
Clock status indicator
An easy one. At the top of the application we now have an icon that shows whether the clock is connected, disconnected or synchronizing.
New view in the training calendar
Future workouts will be displayed without background and with a colored frame to indicate the type of workout. Completed ones will have a fixed color and a bottom bar indicating the completion rate.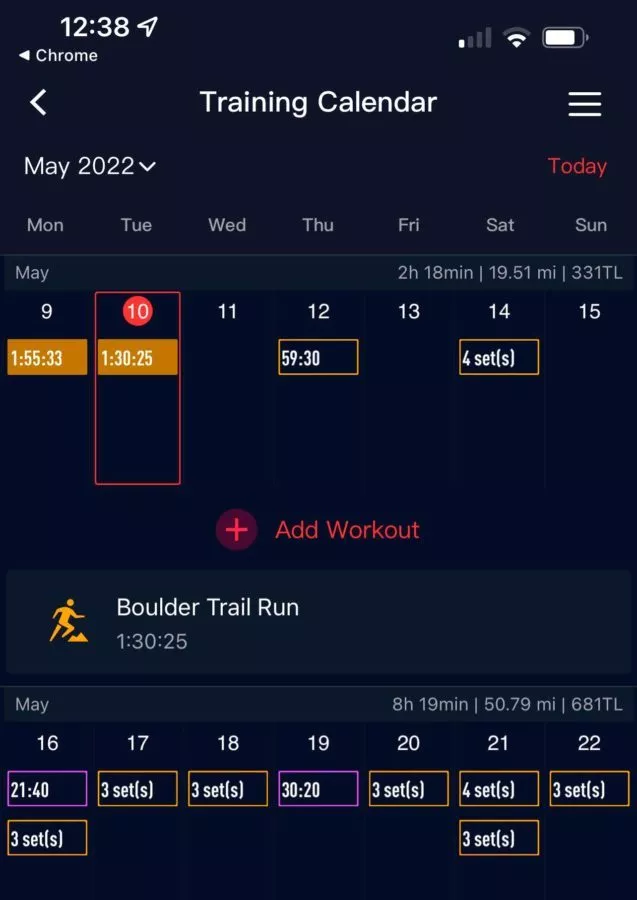 And it will also be displayed in the calendar view inside the clock.
And this is the color coding it uses.
Find my phone + Find my watch
We can search for the phone from the watch and vice versa. In the app it is inside the clock options, while in the watch it is in the quick access menu.
If we select the option, the opposite will emit sound, which is what we would expect from such a function.
Manually delete activities in the clock
There is a new option in the menu after finishing the activity (or entering to review an old activity). It allows us to delete the training if for whatever reason you do not want to have it saved.
Remember that if you delete the activity it will not be recovered, and that if you delete something in the watch it will also be deleted from the application.
Data synchronization via Wi-Fi
Option for the VERTIX 2, which is the one with WiFi, which will have an option in the quick menu to synchronize workouts and daily activity without having the phone on it.
Map display optimization
There is one small change, and that is that now the details of roads and highways will be displayed from the 200m scale onwards. Previously they were only available at 100m scale or less.
And that's all it adds in this update. As I said at the beginning there is nothing tremendously new, but it is good to see that COROS remains committed to continue releasing updates for the models that support it. The APEX and PACE 1 no longer have memory space to poder include more new features (although obviously their users will podran make use of the improvements that are in the application).
And with that... thanks for reading!