COROS has renewed its mid-range with two new models with practically the same features between them. These are the new COROS APEX 2 range, with the APEX 2 and APEX 2 Pro.
Changes that for the moment are focused on updating the hardware and preparing a base for future updates, these new models have brought hardly any new software or functions.
The basis of the two new models is the same: a more durable design, new GPS antenna, route navigation with maps in both cases, new optical pulse sensor with additional functions and much more autonomy than the previous models. The sizes change and what this entails: autonomy, screen size and antenna possibilities.
The GNSS chipset is also updated with the same one used by the VERTIX 2, but only in the COROS APEX 2 Pro it has support for multiband (along with the screen size it is its most notable difference). But if multiband is not used, there is the option of using all the satellite constellations simultaneously.
But they are practically identical in every other regard. From support for (non-routable) global maps, music playback, heart rate variability tracking, a PVD-coated titanium bezel…
I've been testing the two new COROS models for a few weeks now (along with other watches that have matched dates, a pretty full end of 2022), so I'm already in a position to tell you all the good things they bring, plus what COROS should improve on.
You know that there is no compensation of any kind from the brand, which allows me to do these reviews completely independently and tell you the good and the bad openly. So if you like the work I do in these tests and you want to collaborate with the website, you can do it through the published links. And be sure to join the Telegram channel I post a lot of bargains there on a regular basis, thanks for your support!
APEX 2 / APEX 2 Pro ChOROS
Overall - 9
Training possibilities - 8.5
Platform and applications - 7
Battery life - 9.5
Finishes and comfort - 9
Price/performance ratio - 7
8.3
TOTAL
The APEX range is being updated with two new high-quality models that fulfill the basic functions to a very high standard. A good basis to be completed by further development throughout their service life.
---
The good
Battery life
Route maps
Combined touch plus roulette navigation
Titanium and sapphire in both models
The bad
Clock light turns on during the night
Many added features, but some with no "depth"
No automatic pulse variability measurement (manual only)
Despite the maps, there are limitations in navigation.
Buy COROS APEX 2 Pro
Buy COROS APEX 2
COROS APEX 2 specs and what's new
I'll start by listing all the new features of the COROS APEX 2, which are obviously shared with the COROS APEX 2 Pro. I think this is the easiest way to start, giving you the specifications of the base model of the range and later I will detail what is specific to the COROS APEX 2 Pro that the regular APEX 2 does not have.
43mm diameter
1,2" touch screen display
Weight: 42 grams with nylon strap
Sapphire glass
Titanium bezel and cover, with PVD coating (aluminum in previous models)
New GNSS chipset with support for all constellations simultaneously
Satellite antenna redesigned for better performance
New optical heart rate sensor
Heart Rate Variability (HRV) measurement
Blood oxygen saturation estimation
Up to 45 hours using GPS 1 second (28 hours with all systems)
Up to 17 days in watch mode
Route navigation with map layers (geographic, topographic and hybrid)
MP3 music playback (streaming music in future firmware updates)
8GB of memory for maps and music
Insta360 and GoPro cameras support
Night mode to turn on the lighting at night and turn it off at dawn
New 20mm nylon strap, with Quick Fit system
Wi-Fi connectivity, Bluetooth 5.0
WR 50m (100m in the previous model)
With no ANT+ support
Price: 479€. Drops to 399€ with the april COROS update
Available in black, coral and grey
Both watches are very similar. The models I have received are both gray, and the truth is that from a distance it is difficult to distinguish which is which (even if there is a difference in size), but I have to look at some details to know if the one I'm taking is the APEX 2 or APEX 2 Pro.
For example in the aesthetics of the screen border. Although the one on the APEX 2 Pro is larger, it is not something that is noticeable from a distance, but the smaller APEX 2 has the COROS lettering on the edge while the APEX 2 Pro does not.
Let's take a look at the differences between the two APEX 2 models
COROS APEX 2 vs COROS APEX 2 Pro, what's different?
To put it quickly, the APEX 2 Pro is a bit "more" of everything. More autonomy, bigger screen, multiband, more memory... similar features but a step above in several aspects. So the APEX 2 Pro has everything you've seen above, with these differences
46.5mm diameter
1.3″ touch screen with higher resolution (the dpi ratio, which is the important thing, is the same)
Weight: 53 grams with nylon strap
Same GNSS chipset with support for all constellations simultaneously and also multiband support
Up to 75 hours using GPS 1 second (45 hours all systems, 25 hours with multiband)
Up to 30 days in watch mode
Multi-pitch climbing profile
32GB of memory for maps and music
Global maps
New 22mm nylon strap, with Quick Fit system
Price: 579€. Drops to 499€ with the april COROS update
Available in black, green and grey
In short, for 100€ more you will have a larger screen, multi-band satellite reception, more memory for maps or music and more battery life. It seems like a good deal.
Perhaps what strikes you most is the inclusion of multiband in the APEX 2 Pro and you directly think that this is the option you should go for. Don't jump to conclusions too quickly, we'll see why later.
COROS APEX 2 and APEX 2 Pro at a glance
I'm going to take a quick look at the COROS APEX 2, telling you a little about what it offers and what's new that 1TP7We can find, starting with the clock control that has changed slightly.
The crown that has always stood out in COROS is still present, to the joy of some and the sadness of others. The truth is that it is quite polarizing, there are people who like it and people who do not. I, once used to it, am indifferent. I have no problem using the watch with that crown, and when it comes to using maps it is quite comfortable to zoom in and out.
Like the COROS APEX Pro the screen is touchscreen, but in the new APEX 2 the use of touch extends to the rest of the operating system and not only in the maps. It has a somewhat peculiar behavior and is that 1TP7We can move through the operating system through the touch, but to confirm any option or enter the menus is not enough to press on the screen, we have to press the crown.
With respect to the original COROS APEX, the APEX 2 gains one more button. In addition to the crown already mentioned, we have two more buttons (which the COROS Apex Pro already had), the upper one to turn the screen on and off and the lower one to go back in menus or mark laps.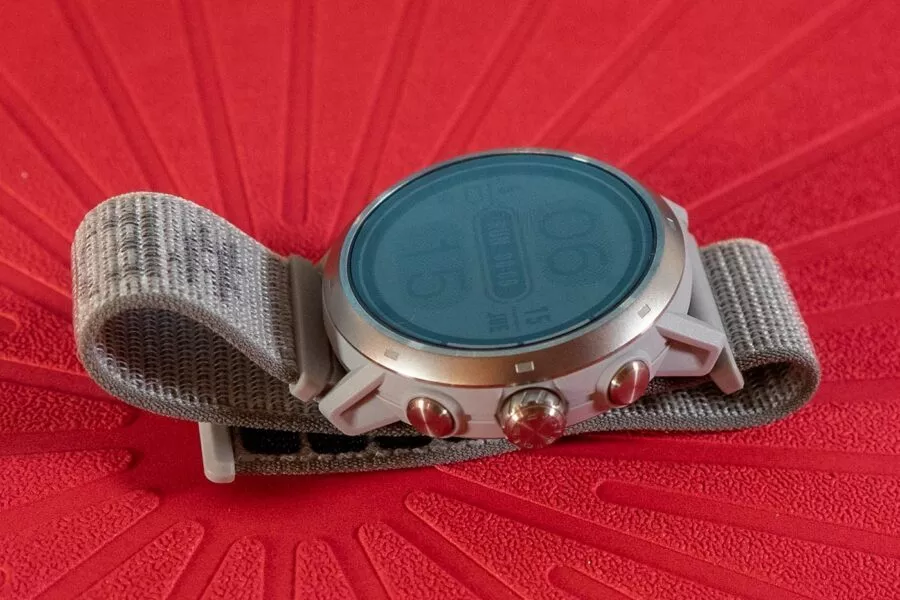 Press and hold down the lower 1TP7 button to open the quick access menu.
And additionally, 1TP7 can configure the top button to open another function when it is pressed and held.
The optical pulse sensor in the APEX 2 (both regular and Pro) is new. Surrounding the sensor are 8 LEDs, and above it is a scratch-resistant cover.
It is very similar to the one that came with the VERTIX 2. And then one of the new features that was announced was the inclusion of electrocardiogram. But that ECG sensor did not serve to make the function as such (as with the Apple Watch), but COROS uses it to make a measurement of pulse variability.
I asked COROS if there were plans to add more possibilities to this ECG sensor and they did not close the door to anything, but at the moment its purpose is the recording of HRV. The truth is that I did not expect any other kind of answer, it is a "neither yes, nor no, nor the opposite" manual.
Therefore COROS is also present among those devices that allow us to record the pulse variability to advise us on our level of rest. In this case the measurement is manual, and you must remember to do it every day at the same time if you want it to be useful. You can only compare pears with pears.
Ideally, a measurement should be taken every morning as soon as you get up. To take the reading, simply place your hand on the bezel and the crown and hold it for 1 minute, remaining at rest.
But it will not give us a data in milliseconds, but in a proper scale of CHOROS.
81-100: superior, relaxed
51-80: High, under minor physical or mental pressure
21-50: Medium, under medium physical or mental pressure
1-20: Low, under significant physical or mental pressure
The measurements are recorded in the application for poder see the trend as the days, weeks and months pass. It is useful within the COROS ecosystem itself, but it does not allow us to compare with the measurement of other devices that do give us the value in ms (Polar, Oura, Garmin...) And I am not sure that the scale is suitable for everyone, because HRV data are quite specific to each individual and what for one person may be a high rate, in another person may be low.
Regarding its use as a smartwatch, the COROS APEX 2 displays all notifications from the cell phone to which it is paired. It is possible to modify the applications that show notifications (in case you want to delete some that are too "heavy"), as well as choose whether you want it to vibrate, alert with a tone or both. The truth is that neither the tones nor the vibrations are too strong, which would be an aspect to improve.
We also have the possibility of music playback, but it does it in 20th century style, being necessary to connect the watch to the computer to add MP3 music/podcasts/audiobooks/etc files manually. Of course you must have those files already downloaded. There is 8GB of memory on the APEX 2 and 32GB of memory on the APEX 2 Pro.
Almost in the year 2023 that we are already in, this situation is anything but ideal. Music playback platforms have already been standardized and there are very few people who still have music files on their computers. COROS talks about music streaming services in the future, but this is just an open door with nothing concrete.
They are working on it and hope to launch something in 2023, but it is not known if it will become a reality or what platform or platforms we would be talking about. It seems to be one of their priorities right now, but given the number of COROS devices sold I don't think it's going to be easy to pull it off, at least with the major platforms.
And while we are talking about smart features and integrations with third parties, remember that COROS has control of GoPro and Insta360 cameras. Once paired camera and watch podrás take pictures or start recording videos controlling everything from the watch. Useful for example if you have the camera installed somewhere difficult to access.
Let's talk about sport, which in the end is what you want this watch for. We can configure the list of sports available in the watch, in case you don't want to show all of them in the list and avoid the ones you are not going to use. For example if you are not going to do windsurfing, you can save yourself from seeing it in the menu every time you enter to select something.
Both COROS APEX 2 and COROS APEX 2 Pro offer the same sports listing, with the exception I pointed out to you earlier: the multi-pitch climbing profile is only available on the COROS APEX 2 Pro.
The sport profiles are configured directly in the application, being able to choose how many screens we are going to have in the watch and the data fields of each one of them.
With respect to compatible sensors the APEX 2, as happened with the VERTIX 2, have lost compatibility with ANT+ sensors. Only 1TP7We can use Bluetooth sensors, being compatible with all available types. And 1TP7We can have synchronized several sensors of the same type without having to "step on" the previous one.
And speaking of sensors, one of the possibilities offered by the APEX 2 is to transmit heart rate data on the one hand, and heart rate and rhythm on the other.
The first is in the quick access menu. The second is by activating the virtual running profile within indoor running. It does this via Bluetooth, and can be used, for example, to transmit heart rate data to a cycling computer or app when running on a treadmill, or to use Zwift Run when running on a treadmill.
And before moving on to some specific functions I want to touch on what bothers me the most about the APEX 2 CHOROS, and that is the automatic illumination with gesture recognition. When we turn it on, in theory the display illumination will be activated by turning the wrist from 1 hour before sunset to 1 hour after sunrise. During sleep it is also deactivated.
The problem is that it does not respect this last point. Wearing the watch at night (necessary if you want to keep track of sleep), you will notice that indeed from the time of sleep the screen does not turn on when you turn your wrist.
Until it decides to do it totally randomly and you will realize that at 4, 5 or 6 o'clock in the morning there is a beacon in your bed. And it's not just the fact that it wakes you and your partner up if you don't sleep alone, it's that the light is so intense that you have Batman coming to your bed every night. And I'm sure Batman has more important things to do.
This is something that has happened to me with other COROS models in the past, and that the new APEX 2 still hasn't solved.
Maps
One of the highlights of the COROS watches are the maps. They are available in both the APEX 2 and APEX 2 Pro. The difference is that in the APEX 2 Pro the maps are already in memory, while in the APEX 2 you need to connect the watch to the computer and download them. But you can do it for free.
It should be remembered that the maps are not routable; this means that there is no turn-by-turn navigation, no possibility of navigating to a specific address or offering to return to the start of the route by the quickest route.
In COROS, the geographic or topographic maps are like an image layer on which a second layer is superimposed when loading a route. It is a sufficient solution, but not as complete as podemos have in other models on the market.
I must add that the map will only appear on the screen if we have loaded a route, it is not possible to have it configured by default. Although we can access it through the menu or with one of the quick access buttons, but I think it would be interesting to have the option to have it always visible. Many times we are going to resort to it even if we don't have a route loaded.
Although maps are available, the navigation experience can be improved. When navigating a route we will simply see it superimposed on the map, but there are no turn warnings. It will simply warn you if you have left the route, but it will do it when you are already out of the way you should follow.
I have navigated without problems with the COROS APEX 2 Pro, even if the map is not routable. But the lack of turn warning can be a problem because as I said before, neither the vibration nor the tones are too loud so that maybe when you want to realize that you have left the route it may have been 20 minutes ago, and you have to go back the same way back to find your route again. Having a turn warning is vital, and it is not necessary to have routeable maps for this.
Where there are still no changes is in the application. COROS still does not have a designer where to prepare routes and we have to rely on third party services to do it. It is not difficult, but we already depend on something else and we have to import the file to the COROS application, something that can be complicated for the most inexperienced users.
COROS has already shown that it is working on a new route planning feature for its app, but given the importance the brand places on the mountain I think it should have been available long ago.
Rate of effort
Now entering the realm of advanced metrics, a week before the announcement of the APEX 2 COROS we had the one for the POD 2 CHORUSThis was also accompanied by a specific metric for COROS: Ritmo esfuerzo.
Rather than a new metric, it is an evolution of Adjusted Pace. Adjusted pace is an estimate of what your running pace would be if we were running on completely flat terrain, combining your actual pace with changes in gradient. That set pace was faster than the actual pace if we were running uphill, and slower if we were running downhill.
COROS takes that tight pace and takes it a step further by integrating not only slope but also other variables such as stride and running dynamics.
In other words, it will provide information similar to that provided by the power estimation during the race, but translated into pace data.
COROS wants to move away from the power metric because they believe it has limitations. Specifically and in their own words:
Running power is not universal, and each manufacturer uses different algorithms. If you change platform you have to relearn your new power data, something that does not happen with cycling potentiometers (because they do measure, not estimate).
For the record, running power is more complicated for runners to understand. To some extent it is true, because cyclists and triathletes are perfectly accustomed to talking about watts, but it is a totally new concept for the runner that in some cases is difficult to understand.
These are statements that can be seen as true, but in my opinion are not without the same problems. Pace Effort is still just another estimated metric, and although it is more relatable to what the runner is already used to, it will still be different from what 1TP7We can find on other platforms.
Garmin has the pace adjusted to the slope, TrainingPeaks talks about NGP (Normalized Graded Pace), a metric that is also present in Suunto... In short, they are algorithms and as such each manufacturer will treat them in one way or another, so we will have the same problem if we jump between platforms as when we talk about power.
But it is true that for the standard runner, talking about watts is much more alien to them. And above all, when he sees power fields when setting up his watch, he has no idea what they are talking about and it is a field that he does not select because he does not know what it brings him, something that those of you who are reading these lines do know because you are more informed users.
In that sense it can be an interesting metric for the general public. And also I remind you that Pace Effort does not replace power, but replaces Adjusted Pace. If you want to continue working with power (from the clock or from Stryd) podrast continue to do so without any problem. The main difference is that Effort Rhythm will be more reliable than Adjusted Rhythm because it processes more data (especially if you combine it with the COROS POD 2).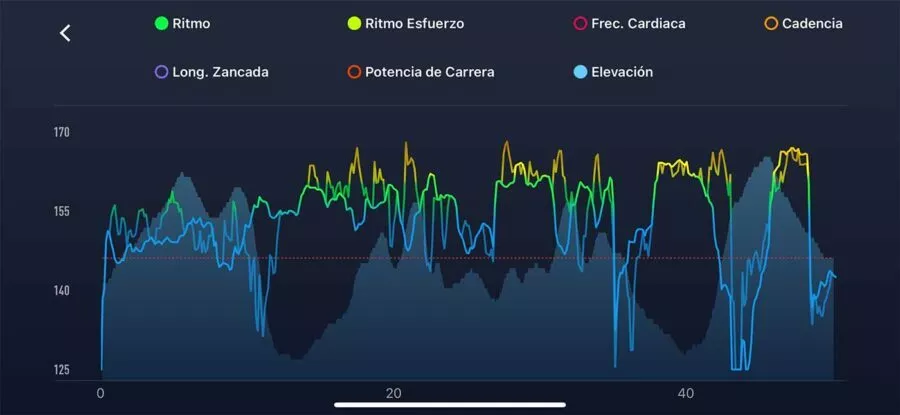 In this graph you can see Pace, Pace Effort and Elevation superimposed. At minute 40 you can see how the pace plummets because the elevation rises drastically (queston). However, the effort pace rises above the previous pace, which was also slightly downhill. That is Effort Pace, "translating" the pace taking into account the slope.
With the latest update, Effort Pace is now personalized, using historical training data to create a data pattern unique to each user, learning from how you perform on climbs and descents, so that you can customize the effort pace it displays to be more realistic for each type of user. This data can also be used in interval training, interesting if you train in hilly terrain.
Regarding training load metrics, one of the shortcomings of COROS is that it is absolutely runner-centric. This is EvoLab, part of the COROS platform (I have already written a lot about EvoLab here.).
I don't have a problem with EvoLab in terms of the information it gives, but I do have a problem with the information it uses. Let me explain: as a triathlete myself, my workouts consist of swimming, running and cycling. However for the EvoLab workout load only the running workouts are used, and not in general but only the asphalt ones.
If I decide to use swimming, cycling or even Trail Running profiles they will not count for our load. If you are a runner you will have no problem, but with this detail it makes it difficult to recommend a COROS to cyclists or triathletes. Not because it doesn't record those sports correctly (for which it has no problem), but because the competition does take the other sports into account in the training load calculations.
When COROS launched EvoLab it said that in the future it would make versions for cycling or trail running, but so far we have seen no progress on that front.
COROS APEX 2 and APEX 2 Pro Autonomy
COROS and battery life have always gone hand in hand, it is well known to all that it is something that has always concerned the brand and what they have usually bragged about. Naturally it is still one of the important things in the COROS APEX 2 and COROS APEX 2 Pro, with a significant increase in autonomy. Here is the data provided by COROS.
The autonomy has always been good in the use of GPS, which is now greater. Although undoubtedly what has always stood out more with respect to the competition is in the use as a smart watch. Here it is usually superior to the competition.
Yes, it achieves this by lowering the heart rate recording frequency in sleep mode. Other manufacturers have the sensor always on, in COROS it is every 10 minutes by default (can be changed), which to me is perfectly valid. But there is also a lot of work in processor management and operating system operation.
With normal use with GPS workouts, notifications, etc. I will be charging the COROS APEX 2 Pro every 15-20 days or so.
In any case, in terms of battery with GPS use podemos reach up to 45 hours on COROS APEX 2 and 75 hours on COROS APEX 2 Pro with GPS every second, which is a very good figure given the size of the watches. Autonomy enough for users 99%, and if you do not have the VERTIX 2 that reaches 140 hours in GPS use.
GPS and optical heart rate sensor
Among the differences of the APEX 2 and APEX 2 Pro is the support for multiband. Perhaps it is the difference that catches your attention initially, but you must remember that it is not a radical change and that, as we have seen in other models, multi-band support will be useful in some very specific scenarios, but if the conditions are good we will not notice too much difference between the tracks of one or another model.
That is what 1TP7We will be able to check in the analysis below. But before that, the usual "disclaimer" of this section in all reviews (I proceed to copy and paste).
Like the optical sensor tests, the GPS comparisons are done in the same way: with the watches accompanying me on my regular workouts. Wearing both the COROS APEX 2 and APEX 2 Pro as well as other models, and checking where the problems appear.
I do not have any defined path to establish a score for the simple reason that there are other external factors that we should never forget. Things like clouds, leaves on the trees or simply the position of the satellite can alter the GPS results from one day to the next.
This is why I prefer to make this type of comparison instead of having a predefined route and assess it from this one.
As for the optical sensor, you should keep in mind that a wrist heart rate monitor does not work the same way on every body. We are all different, and if we add into the equation things like skin tone, tattoos, body hair... the difference from person to person can be quite large.
In my tests it is not that the spectrum of users is very broad: it is me, myself and I. So what works well for me might not do it for someone else, or it might be better.
But the most important thing to keep in mind is that you have to follow some guidelines to wear the sensor. It should be tight (but not cut off your circulation), enough to keep the watch from moving freely on your wrist, leaving a separation of approximately one finger from the wrist bone. By following these details you will ensure that you get the best results that your conditions can offer.
Having remembered all this let's go with the tests. Taking advantage that this end of the year is being prolific in new watches I have podido combine them to poder make joint comparisons, which allows me to reuse between the different analysis of these dates. An advantage because I avoid duplicating a rather arduous work.
I begin with this huge comparison in which, in addition to the COROS APEX 2 and COROS APEX 2 Pro, I am accompanied by the Suunto 9 Peak ProThe Garmin Enduro 2 and the Garmin Forerunner 955.
You can see at the top of the image the different modes configured in each of the watches. Enduro 2 and APEX 2 Pro with multiband, FR955 in Autoselect and APEX 2 and Suunto 9 Peak Pro -which do not have multiband- in the most accurate mode.
As for the conditions, it was a rather cloudy day and although it is not an area with too many trees, there are areas where they become a little more lush. So starting from such a cloudy day is already a difficulty for the reception, although the first impression is that all behaved quite well.
Zooming 1TP7We can see some differences and some departure from the route, but overall good performance given the conditions. Here for example we have a small slip on the part of the COROS APEX 2 Pro, moving a little to the left of the actual route.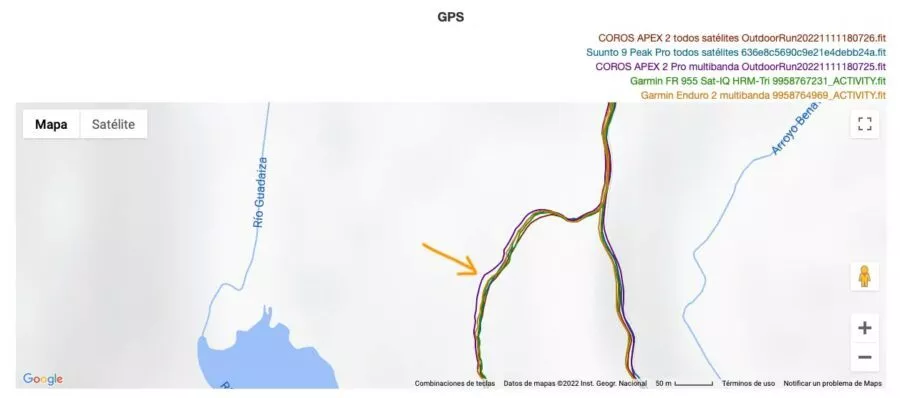 The same happens in this other point, once again it is the COROS APEX 2 Pro that once again separates itself from the rest of its peers in the comparison.
And at this point it is repeated at the turn of the top, although earlier it has been the Forerunner 955 that has had the small failure.
So far there is something that catches my attention, and that is that the APEX 2 Pro is the one that has been "out of the pot" more times. It is not something that worries me because they are minor deviations and do not affect too much, but it does seem strange that it happens in that watch that has the multiband activated, when the APEX 2 is in the mode of all satellites and I have not had to name it at any time. Curious at least.
This is probably the most complicated place of the whole training. The pace is very slow and the climb is quite steep, so the tracks are less straight. Here there is more separation as the 1 or 2 meter faults stand out more to the eye.
Here we see that the Enduro 2 has had some drifting problems, with the rest not being totally accurate either but more or less coinciding throughout.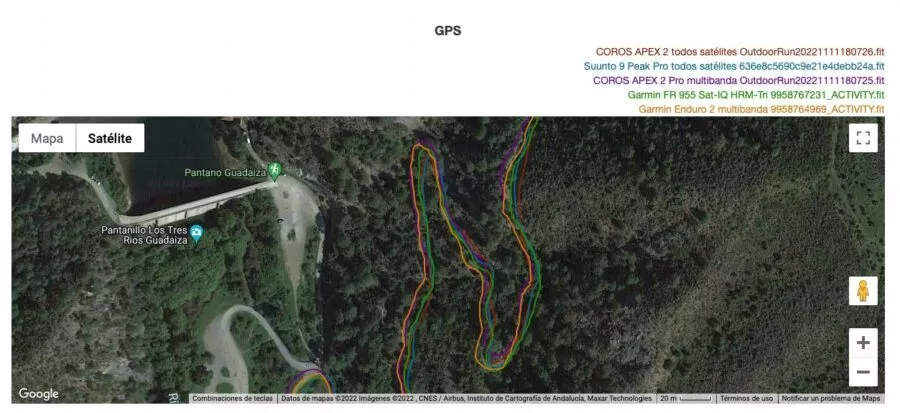 I repeat, it is a complicated test because of the conditions and the pace, which is quite slow at all times.
As for the heart rate data of this training, quite stable at all times except for that moment that I point out with the circle. What happened there? Well, a moment of having chosen a path that I should not have chosen, trying to find a way out of where I had gotten myself ... and ending up taking a leap with a fall of more than a meter high to return to the route.
I guess when you saw this chart you thought...if it only has 2 wrists...how come there are so many HR charts? I wear the Enduro 2 on one wrist, the 9 Peak Pro on the other, the Verity Sense on one forearm and the 955 on the other paired with the HRM-Tri. Both CHOROS are simply worn on the hand to provide GPS data, the sensor was placed on the top of the hand in a place where I would never expect to have a good performance.
However they have been perfect almost all the time (except for the aforementioned jump). Obviously it's a constant intensity and it's the easiest part, but still the sensor location is very bad for recording data and they've done it perfectly.
That's a fairly steady pace workout, but let's look at an interval workout at tempo paces. Again with no issues whatsoever from the optical sensors on any of the watches I had on me.
Here are two devices that have done things a little weird. Firstly the COROS APEX 2 which has some occasional drop, but I'm not worried because I'm holding it in my hand and what it's reading is the top of the palm. Given the conditions, outstanding result for the APEX 2.
Then the Enduro 2 has had a moment of not recording anything, because the clock reset and I had to continue the activity again after it turned on.
I am going to focus now a little more on the APEX 2 and APEX 2 Pro, and see again the GPS performance. Remember that the configuration of the APEX 2 and the Suunto 9 Peak Pro is the same (all satellite systems) while in the case of the COROS APEX 2 Pro I have the multiband option activated.
Already from a distance, a strange failure of the Suunto 9 Peak Pro can be seen.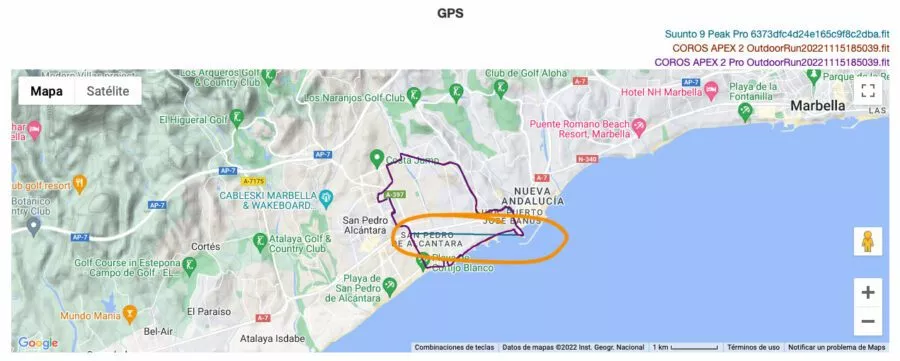 The source of the problem? The watch lost the signal while passing under a bridge, and didn't recover it until about 3 or 4 kilometers later. It is as if it had opened a space-time door and traveled through a black hole.
Further on you can see that exactly the same thing has happened also passing under another bridge, although here it has taken much less time to recover the signal.
The reason is a bug in the initial firmware of the Suunto 9 Peak Pro, but this has now been resolved after the latest update.
Regarding the rest of the training, little more to say. Perhaps to emphasize that there has been hardly any difference between the tracks of the COROS APEX 2 Pro with multiband with respect to the APEX 2 and Suunto 9 Peak Pro and its modes of all satellite systems.
Regarding the optical pulse sensor, nothing to add either. Good performance by all members (the watches plus the Polar Verity Sense).
Again the COROS APEX 2 goes in the palm of my hand, but since the sensor is exactly the same as the APEX 2 Pro I prefer to reserve the other wrist for comparison with a different watch. But I insist, for the very unsuitable place I wear it, outstanding performance.
Back to the mountain, this outing lasted about three hours through areas of easy reception and others quite more complicated (lush forest, mountain, etc.).

The COROS APEX 2 here has slipped up a bit. This section is shared there and back, so I understand that the error has occurred just at the beginning of the activity. It is an error that is there, but it has simply meant a small shift to one side with no major significance.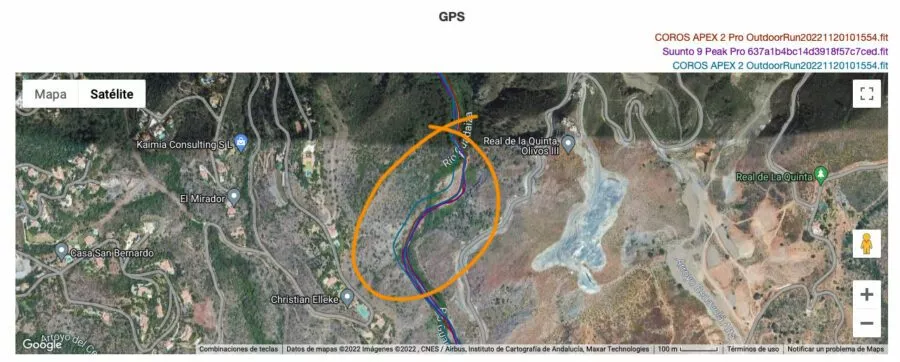 This is the most complicated point of the entire route. We turn off the road to go down to a stream, tucked between fairly lush forest and stuck next to a vertical wall. The classic point that can complicate a lot the satellite reception.
The Suunto 9 Peak Pro has had a slightly worse time, but nothing particularly bad. The points marked with arrows correspond to times when I have stopped, and there is a bit of "ghosting" movement on the part of the Peak Pro. In the meantime both CHORUSes have had a very good response.
Now another series training, but repeating constantly over the same area in a "round-trip" format. Here I don't wear the COROS APEX 2, because instead I wear the Polar Ignite 3, which also has multiband. Only the Suunto 9 Peak Pro does not, but it uses all constellations.
This is always a complicated point, because I make 180º turns in a very small space. It is a footbridge over the highway, so the speed is not too high either.
The red track on the Ignite 3 gets quite lost, it looks more like it's signing a mortgage than recording where I'm going. The COROS APEX 2 Pro makes the correct ascent and descent, but at the top it is quite offset. Meanwhile the Suunto 9 Peak Pro shows a near perfect track at that point.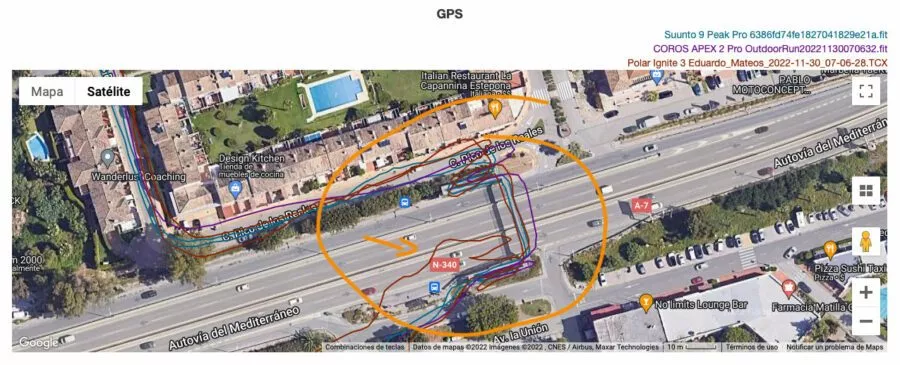 Later I finish the warm up and start with the series that played in that training (what you see on the left side). Until I get there, the three watches are generally good, taking into account that the Polar Ignite 3 goes on the right wrist and the other two on the left arm, so the separation is logical.
During the intervals the performance is correct for all. Except for two of the repeats where the Polar Ignite 3 goes off the correct track, but both COROS APEX 2 Pro and Suunto 9 Peak Pro are quite reliable repeating the same track over and over again.
Let's look at another day when the two APEX 2 CHOROS are back out on the road, again along with the Polar Ignite 3 which is still configured in multiband mode.
Let's look for those tricky areas. In the stretch that I have been running along the road, completely open, of course there has been no problem. But entering Puerto Banus and trees and buildings begin to appear. When running next to one of them you can already see the problems.
Here you can see how all three have dithering, but it is the Polar Ignite 3 that does get lost going over those buildings. The APEX 2 Pro, which is set to multiband, also has a slip and interestingly, the COROS APEX 2 which only has all-satellite mode is the best behaved.
But later on, the tables turn. Here it was the COROS APEX 2 that behaved erratically (I didn't go on that sidewalk) while the Ignite 3 is slightly off, but not excessively so. It is the COROS APEX 2 Pro that shows the graph perfectly, also taking into account that in the left turn I am running under a canopy, so I have no direct view of the sky (only a slice to my right).
Leaving the building area the situation improves, although here I'm running under some trees and it's the APEX 2 that deviates slightly. But it's these deviations that don't worry me too much because, in the end, it doesn't add distance or change the pace indicated by the watch.
And finally a brief review of the barometric altimeter of both models. As I always tell you, don't focus on whether or not they mark the same altitude, as I don't do initial calibrations before starting training. Look more at the graph and how it plots.
In this case, I'm comparing both COROS with the Suunto 9 Peak Pro. At the start there is a clear separation between the three watches, which narrows as I ascend to mark practically the same data when I reach the highest point (496m Suunto, 492m APEX 2 and 497m APEX 2 Pro).

When descending the graphs separate again, although both Suunto 9 Peak Pro and COORS APEX 2 Pro have almost complete overlap.
Graphically it may seem like a lot of difference, but the total accumulation of distance climbed has been this:
Suunto 9 Peak Pro: 624 meters
COROS APEX 2: 617 meters
COROS APEX 2 Pro: 611 meters
That is to say, in a 3-hour activity, a maximum difference of 13 meters between the most and the least. A good result.
And now for comparison, this is how a watch that does not have a barometric altimeter and obtains altitude data via GPS usually behaves. Polar Ignite 3 in this case.
The graphics of the Polar Ignite 3 has nothing to do with that of the COROS. But it is a common thing, the satellite reception is designed for two dimensional plane location and not 3d. That's why we need an additional sensor like barometer for poder to measure altitude quite accurately.
The satellite performance of both COROS APEX 2 and COROS APEX 2 Pro has been generally good. And if you recall, at the beginning I indicated that perhaps having multi-band on the APEX 2 Pro was not going to be as decisive. You can see why, the COROS APEX 2 with its choice of all GNSS systems has been just as reliable as the COROS APEX 2 Pro.
There have been points where the multiband has performed better, usually running next to buildings, but these have been very specific times. That is, I do not consider that the multiband is going to be an element that decides your purchase between the APEX 2 and the APEX 2 Pro, but you should focus on the other features that differentiate them (mainly size and autonomy).
With respect to the optical pulse sensor I have not had any surprises from any watch for a long time now. In my case the COROS have worked as well as any other watch that has recently arrived on the market. But remember, this is my experience with my conditions, maybe it will be different for another user profile.
Want to help the web? Buy COROS APEX 2
I hope that this in-depth review has helped you to decide if it is a valid device for you or not. All the work I do you can consult it without any cost, but if you want to support the page and by doing so the work I do, the best way to do that is to buy your new device through the links I provide .
And if you don't buy it today, remember to stop by when you do! Through these links you will not only get a competitive price and the best customer care, but also I will receive a small percentage at no additional cost to you. That's what allows me to keep offering you reviews like the one on this page.
Buy COROS APEX 2 Pro
Buy COROS APEX 2
COROS APEX 2 / APEX 2 Pro opinion
The new generation of APEX 2 (which includes the COROS APEX 2 and COROS APEX 2 Pro) is a moderate renewal with respect to the previous models. More important in the "basic" model (the APEX) than in the Pro version.
But it is a platform upgrade, allowing them to be on par with the VERTIX 2, which remains an option in the range if you are looking for a larger screen or more autonomy than the APEX 2 Pro can give you.
This is important for future updates and to make life a little easier for COROS developers, which is important for this brand since is well known by their users that their best advertising is to bring as many features as possible to the watches they have been selling for a long time.
With respect to the watches I have to be somewhat critical of how COROS is implementing new features and functions. I'm sure you will read other tests and reviews highlighting new features, but you have to consider what they are offering.
I think COROS is erring on the side of wanting to add features to check boxes and to some extent have an extensive list of features, but not really delving into some of them. Take maps for example. Yes, both watches have maps, but they are not routable and the navigation is very simple (no turn warning, just a route departure warning). There is an update planned for the navigation, but it is initially for the app and I don't know if it will add turn warnings.
It's the same with music. COROS may claim to have music compatible watches, but the experience is inferior to what the competition offers. Manually adding files to watches is tedious and totally contrary to what the market is guiding. But again, it's another box that COROS has checked.
And 1TP7I would follow that with other branded features like EvoLab which is only good for asphalt running and not for other sports. My wish for those updates is that, before adding new features, COROS could be polishing those things they already offer and they should be better than they are now.
Finally, there is the price. In Europe COROS has a problem with its "no offer/no discount" policy, while the rest of its competition does. It's not that the COROS APEX 2 are expensive watches (don't forget that they have titanium or sapphire crystal, for example), but for functions they often have to live in the shadow of other devices. Garmin has done a lot of damage with the Forerunner 955, which the COROS APEX 2 Pro surpasses in materials but is somewhat distant in performance.
In summary, both versions of the COROS APEX 2 range are good watches. Good construction, good materials, good sensors ... everything that has to work from the beginning works perfectly. But there are things to polish at the level of software and possibilities of the functions they have right now to poderse compare better with the competition.
The first of those scheduled updates will be later this year, with the inclusion of route creation and management directly in their app and perhaps some other functionality within the watch's navigation. Now that they have the foundation laid with these top three models (COROS APEX 2 Pro, COROS APEX 2 and COROS VERTIX 2), they need to build on them.
Do you have any other questions? Well, you know, there you have the comments. Thanks for reading!