Ayer terminó el plazo para participar en el sorteo del chaleco de hidratación de Camelbak. Por tanto, lo único que queda pendiente es saber quién ha sido el ganador del sorteo.
Saco un momento de pausa mientras estoy preparando todo el contenido que llegará la próxima semana (viene cargada) y procedo a meter todos los números en el bombo.
Como sabréis, el sorteo se organizaba a través de Instagram. He ido añadiendo todas las participaciones válidas en una tabla (seguirnos a Jose, to Camelbak and a mí, y etiquetar a uno o varios amigos en la publicación), lo cual me ha dejado un total de 117 líneas.
Y con eso me he dirigido a la web Random.org como mano inocente y, teniendo en cuenta que la línea 1 corresponde a la descripción de la tabla, ésta es la bolita extraída.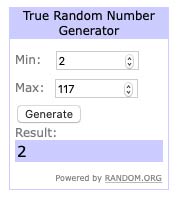 ¡Para el primer comentario! Para que veáis que ser madrugador siempre tiene su lado positivo. En la tabla ese comentario corresponde con…
¡Enhorabuena Lu! Ahora te toca elegir premio.
Y al resto, muchísimas gracias por participar y os deseo suerte para la próxima vez.