Any runner worth his salt has had a Brooks in his closet at one time or another. And the probability that it was a Ghost is very high, because it has always been a durable, reliable, resistant and safe shoe. And the Brooks Ghost 15 continues on the same path.
These Ghost 15 from Brooks are a classic daily training shoe. In fact, they are so classic that they have a 12mm drop, few shoes are left with that register. But it remains because its target audience demands it, and it is a shoe widely used not only for running, but also for walking and standing for many hours.
The Ghost has never been a shoe that has particularly caught the eye, and this fifteenth version... well, it's not going to either.
Buy Brooks Ghost 15
It has yet to get on the bus of new foams, soft and bouncy midsoles, compromised stability or new inventions. And don't think it's because Brooks doesn't have the capacity to innovate or to design crazy things in its labs, just take a look at its catalog in the Hyperion section or pull from the past and look at some Aurora-BL.
But in the Ghost Brooks wants to continue to offer a classic cut shoe to all its users. Those who have used the 10, 11, 12... and are satisfied with them and are not willing to come to the store and find that now their shoe is totally different.
The fifteenth version is more of the same, but with some changes in the upper and especially in the midsole foam. But it's still a shoe built to last. A durable and well-built upper, a firm and reliable midsole and an outsole that will last for many miles.
The upper of the Brooks Ghost 15
As soon as you put the shoe on, you understand what the story is about. It is comfortable and cozy, maybe a little warm when the heat arrives, but it is usual in this type of shoe.
The collar area is very soft, not only at the top but also on the inside and the entire heel area.
It has a lot of structure, the mesh upper does not collapse or squeeze the foot as can happen with sock-type shoes.
The heel holds very well because it has a large rigid piece, which gives support to the ankle and a lot of stability for those who go heel to toe.
In short, it is an upper of high quality and without stridency. But within that lack of stridency comes my main criticism that I have to make to these Brooks.
The upper colors are not very risky. At least those corresponding to their normal versions, because if we look at the limited editions it is the opposite. The basic design is maintained, but they use much more striking decorations.
There is something for everyone.
Now with DNA Loft V2 in the midsole
The mediaseula uses DNA Loft V2 foam, which is basically a less dense EVA that is injected with air. Don't expect big bounces or energy returns because that's not what the shoe is about.
Instead what we have is firm-feeling cushioning. It's not uncomfortable, but it doesn't follow the current trend of extremely soft shoes.
This foam is the main novelty in this new version. It has a rear stack of 35mm (the height of foam under the heel), and as the drop is 12mm it leaves us a height under the midfoot of 23mm.
Maybe those 23mm of cushioning in the forefoot area are not enough if you are a midfoot or forefoot runner.
The midsole has nothing flashy, but it does the job perfectly. It has a good compromise between comfort and stability, it doesn't shine in anything, but it has no flaws to blame it.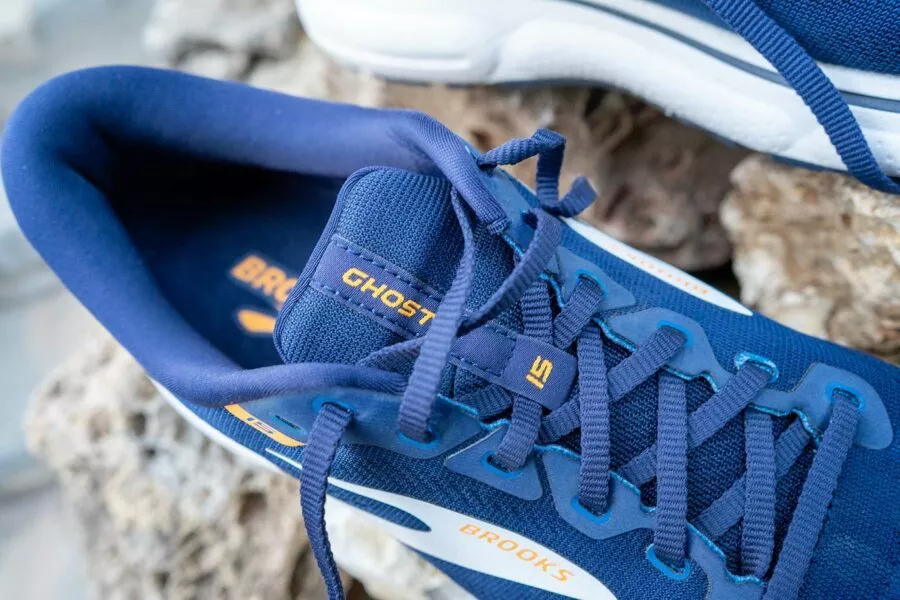 It is not a shoe to ask for speed, and if you accelerate the pace it will not accompany you. Which is normal, because the shoe is not designed for that at any time. It's a shoe to go at comfortable paces, to be durable and not to make your head hurt thinking about what you're going to wear to go out.
A sole for many kilometers
The outsole offers good traction, but beyond that I want to highlight the amount of rubber we have under there. This is built to last, put miles and miles on it and could very well be your everyday shoe for an entire year. Or more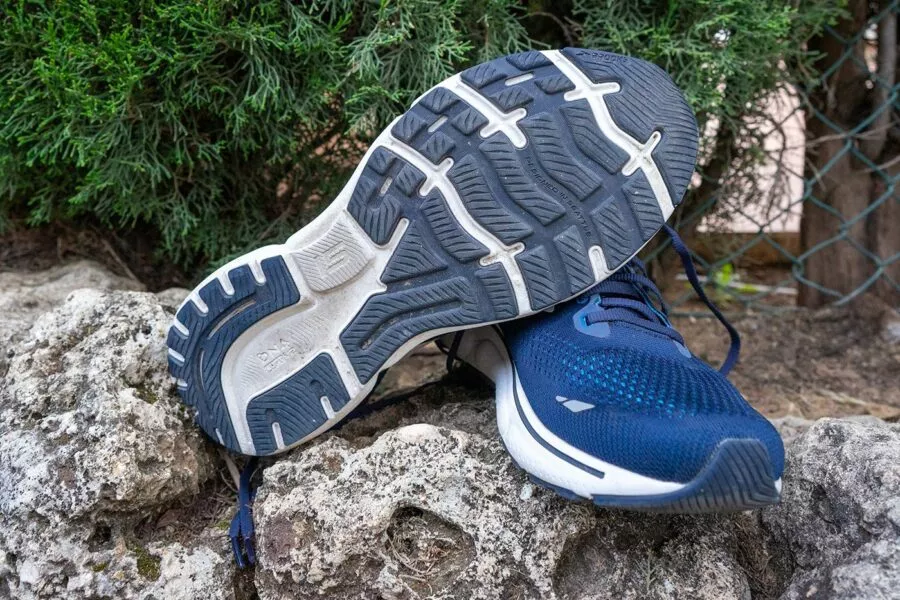 There is a lot of rubber, with very good thickness and excellent durability. Not only because of the amount of material but also because we are not going to have high traction demands.
Brooks also uses different densities of rubber, with a slightly harder rubber in the rear under the heel and softer rubber in the rest of the shoe. Again showing that this is a very heel oriented shoe.
Want to help the web? Buy here your Brooks Ghost 15
I hope this full review has helped you decide if these shoes will fit your wear. All the work I do is without any cost to you, but if you want to

support the page and

by doing so

the work I do

, the best way to do that is

to buy these shoes through the links that I provide

.
And if you don't buy them today, remember to stop by when you're going to! Through these links you will not only get a competitive price and the best customer care, but also I will receive a small percentage at no additional cost to you. That's what allows me to keep offering you reviews like the one on this page.
If you have any questions, remember that you have the comments section at the bottom, where I will try to answer all your questions.
Review Brooks Ghost 15
The Brooks Ghost 15 gives you what you can expect from a daily training shoe. It will be best suited for beginners or people who run at slower paces. Especially if you have a heel strike (and at slower paces this is more likely due to the dynamics of your stride), where you will find a good fit in the 12mm drop.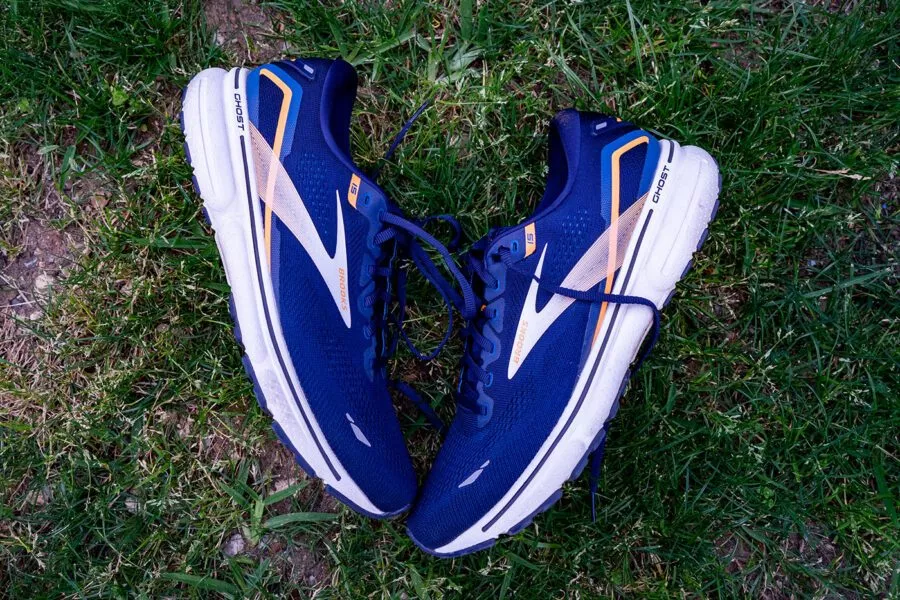 The Ghost 15 simply does what Brooks says it does: a daily training shoe with a reasonable weight, reasonable comfort, reasonable range of use and a reasonable price. Perhaps its problem is that it tries to be so correct in all aspects that it ends up being bland. You're not going to be singing the praises of the shoe, but it will do its job reliably and efficiently for many miles.
And sometimes that's simply what we want, whether you're someone who just started running 6 months ago or you're a runner with years of experience who wants a shoe in your rotation that won't give you headaches.
And with that... thanks for reading!