Update 28 november 08:42 - Alphafly sizes are still available.
So as not to mess up the Black Friday main article I created this independent article where I can include the different offers of this week in which you can save a good amount.
It will be a quick way to gather the best deals available from all the Internet sellers so you can save some money to spend on other things.
And remember, if you are not a subscriber to the Telegram channel do it now because it's the best way to make sure you don't miss a single offer.
Discounts in general
Nike: Discount code 25%
Finally the Nike Black Friday. I have prepared for you a selection of shoes and deals (watch out for the Alphafly!!!) in an article on the website.
---
Top4Running: Up to 35% off sneakers
Top4Running has been changing its Black Friday promotion with different products. Today the one that has come in is "up to 35% on running shoes", and there are a lot of very interesting things.
---
New Balance: Up to 40% discount in most of the store
New Balance has just started its Black Friday with high discounts on both sneakers and clothing. At the moment the link is exclusive and not visible from the web, so it is a good opportunity to get sizes.
---
Adidas: Up to 50% discount on thousands of products
Huge Adidas Black Friday with more than 7,000 discounted items. They are up to 50% in multiple categories, both running and any other sport.
---
Decathlon: Discounts and gift certificates
In addition to the discounts they offer on the web, they give you free shipping and gift vouchers of 10€ for purchases over 40€.
---
El Corte Inglés: Up to 50% in textiles and footwear
A lot of discounts on the website of El Corte Ingles with sales of 30% and 50% in footwear and textile. Brands like Nike, Asics, Adidas, etc.
---
Black Friday SportShoes: Discounts from 30% to 80%
Different offers every day with discounts up to 80%. Here are some examples
---
Black Friday Ekoi: ALL web to 50%
The famous cycling clothing brand has very good products of clothing, helmets, shoes or glasses. If you need to equip yourself for the winter (or summer) take a look at all the offers. But you can also get a head start for the spring-summer 2022 campaign.
Everything, everything, everything on the web at 50% discount. Well, except Ekoi Racing
---
Wiggle: Thousands of cycling items
Deals up to 50% off thousands of products at Wiggle. You know, it's a cyclist's paradise.
---
Shoes and footwear
Nike Air Zoom Alphafly NEXT%: Historic low price, code GAME21
It's a bargain for this shoe. It has never ever been so cheap. I think if you don't buy it and they run out of sizes you will regret it....
---
Nike Air Zoom Pegasus 38: Up to 25% discount
It is the training shoe by antonomasia within Nike's offer. In fact it is already 38 years of the model, so they must have something good... The new model focuses the changes in the upper, with a better fit.
Perfect for medium or slightly faster runs or long series work. Even for racing if you have a medium-high weight. You can see all the details in the text analysis and in video.
---
Nike ZoomX Invincible Run: Up to 30% discount
It is the latest model, which I analyzed you here (y here in video). They have a redesigned upper with a better fit than the original model.
The rest is the same as the first Infinity Run that hit the market and that, in fact, are the shoes that I liked the most from 2020. The Nike Infinity Run are maximalist shoes, designed to train for miles and miles without any leg or foot discomfort.
They use React foam to offer a very cushioned, but also very stable shoe. Along with the Invincible, probably the best Nike shoe to ride easy on those long weekend runs. And in my opinion they leave the Vomero completely out of the running game.
---
Hoka One One: 30% discount
A brand in which discounts are conspicuous by their absence... you have to look for sellers who have them at reduced prices. Today you can benefit from the 30% that El Corte Inglés gives them.
---
Nike Air Zoom Tempo NEXT%: up to 50% discount
50% discount for the women's model and 30% for the men's model. It's a shoe that I personally love for days of fast runs or series. It's a comfortable shoe that begs to be pushed hard.
If you haven't tried them... you should
---
New Balance 1080 v11: 40% discount
The classic New Balance 1080, the top of the range with maximum cushioning, in its latest version (version 11).
See offer in Street Pro Running
---
Adidas Adizero Pro: 30% discount
Adidas LightStrike foam, carbon plate and Continental outsole in a shoe that costs only 128€.
---
Hoka One One Cavu 3: Only 75€.
For only 75€, a cushioned and lightweight shoe for light paces.
---
Puma Smash v2 casual leather sneakers: Only 24€.
Leather sneakers lifestyle sneakers, for only 24 € is a very good bargain for the day to day. Available in white or black
---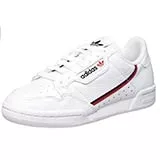 Adidas Continental 80: 67% discount
Adidas classic sneakers 80's style, made in leather.
---
Textile
Kiprun Windbreaker: Cold weather running jacket
Decathlon windbreaker jacket for cold outings (from 0 to 10º). With integrated mittens and protection against wind and rain.
---
New Balance Windbreaker: 40% discount
Sweatshirt type, made of nylon fabric.
---
Remember that this page will be updated with the new offers that the different sellers will be publishing. Every day there will be new opportunities, so check back here to find the best offers.
This is the article for the Black Friday of shoes and textiles, you can see the sports electronics one here with a lot more opportunities.