Looking for the latest information? I just published the
guide for 2019
with a lot of new recommendations.
As I did last year, I publish a complete article making recommendations of devices. There are many questions that you send me in reference to which clock is better or worse, so having this article with all of them together is the most appropriate; both for your consultation and to be able to send those kind of questions here.
The date I choose is not trivial. Firstly because it is published a few days after practically all the new features for 2016 have already been announced (although there is still some way to go this year). Generally I would wait a little longer to have some more time to go through some of the recommended models that I have not yet analysed in detail, either because of lack of time to publish the test or because of lack of device. But they are listed here either because they are unique in their category (new for this year) or because they are a small evolution from last year, sharing the base and adding some features that make them interesting.
In other words, I make these recommendations in full knowledge of the facts and because I sincerely believe that this is the best choice for each of the categories. Obviously this is my particular opinion and yours may be different, but what I want to make clear (and I think that if you read my tests and articles regularly it is quite evident) is that the choices I make here are a personal choice and at no time is there a prize for certain brands to sell more units of the recommended product or, on the contrary, to punish others for not doing so.
Like everything I write here, I'm free to write whatever I want and in a totally independent way, since I don't depend on the advertising that those brands may be doing (because I would never allow one of their ads on the page). It's something that other media do but that you will never see around here.
And as you will also know if you are a regular, if you want to collaborate with the page and help cover the associated costs (much higher than it might seem), you will be able to do so by buying through the links I put here. Doing so will not only support the page, but also the work I do which is undoubtedly the most important part.
Once that's all cleared up, what do you say we get down to business?
GPS running clock
If you are looking for a watch for running there is a lot to choose from. It is the most extensive category and where we can find the most competition. A lot of models and very different ranges, because whatever is multi sport will also be perfectly valid for running. But here I focus on watches that are designed specifically for running, if not exclusively so, then mainly.
Best GPS Watch
There are no changes from what I recommended a little over six months ago. Garmin Forerunner 230 continues to be the best option for runners looking for a complete clock and without spending too much money either.
Just because it's called the best GPS watch doesn't mean it's the most complete. Forerunner 630 But with the specifications of the 230 I'm sure that the 90% of you will be more than satisfied, and I would leave the 630 for the remaining 10% who are data lovers and are willing to pay that price difference.
Of course, if you want it with an optical sensor you have the Garmin Forerunner 235But of course, this isn't the best GPS watch section with an optical pulse sensor, is it?
[table id=94 /]
Best cheap running GPS watch
It is becoming increasingly difficult to choose a winner in this category: firstly because the models destined for the lower end of the market are becoming more and more complete and are almost no longer in the low range despite their price; and secondly because those that were recently in the middle range have gradually fallen in price, until they are now practically rivals in the low range.
But the announcement of the new TomTom Runner 3 The reason for this is simple: in addition to a watch that was already a good choice last year because of its price and its good relationship between performance and simplicity, it also offers the possibility of route navigation.
TomTom has popularised this function that was previously only present in top-of-the-range models. The Dutch offer it from their most economical model and also with a magnetic compass. Of course then there is the rest of the range if you are interested in its superior features (such as the optical pulse sensor or music playback).
[table id=95 /]
Best GPS clock are optical pulse sensor
Of course, if Forerunner 230 is the best GPS running watch (or at least the best value for money), its optical sensor cousin, the Garmin Forerunner 235If you ask me about a watch that includes the optical sensor, it's my choice.
However, I won't lie to you. Garmin's Elevate sensor is still going through a period of development, although Olathe's is still polishing the algorithm and every time I try a new model with this sensor I can appreciate slight improvements (that come to the previous models as an update, since the hardware is the same).
Apart from these specific objections with the sensor, which you can read in the corresponding part of the testThe 235 shares the same features with the 230, but with some differences in favour of the 235 thanks to the optical sensor. The market also supports it, as it is the best-selling model with an optical sensor at the moment.
If you want a superior model (like the 630 in the initial example) but with an optical pulse sensor, you have the Forerunner 735XT which is also a very interesting option, although perhaps more focused on triathletes. But this does not mean that those who only run cannot benefit from everything this model has to offer.
[table id=97 /]
Best trail running GPS watch
The new route-tracking screen for ascents and descents that was introduced with the Suunto Ambit3 Vertical has totally changed this category. Soon Garmin copied this feature for the Phoenix 3And the truth is, when I run a trail, all the information I need is on this screen: Remaining distance, profile of the route ahead (both uphill and downhill) and the amount of positive meters remaining. With that and what I collect at the refreshment posts I have enough to reach the finish line.
I don't care about everything else, I don't care about the pace I'm going (I may be going up at 15 min/km or going down at 3 min/km, but who cares) or the remaining distance (total, what matters is whether we're going up or down, I prefer 10km flat rather than 2km with an average gradient of 12%), at least during the competition, because during the training sessions both offer all the information you would expect from a watch of this type.
So if you are a trail runner, my recommendation is to choose between the Suunto Ambit3 Vertical or the Garmin Fenix 3. Both offer this display on the trails and during workouts will perform flawlessly. Although the Vertical does a better job of "stinging" you with the constant recording of accumulated vertical meters.
With the Vertical, you have to take into account the battery life. If you are an ultra trail runner, the 10 hours of run time of the Ambit3 Vertical can be a bit short. The Fenix 3 offers more battery life, but you can also take a look at the Ambit3 Peak with twice the run time of the Vertical, although it's a pity that Suunto doesn't include the display with the route profile on this model. But it does have the barometric altimeter, plus a storm warning and sunrise/sunset time.
You may miss in this section the new Suunto Spartan UltraWithout any doubt it is a watch that is called to be present in this category. Not in vain the base is impressive, but today it still has quite a lot of work ahead at the software level, because at the moment the training possibilities it offers are very limited. I hope and desire that when the time comes to make the next listing its software will be at the level of the rest of the team, offering at least everything that we can find in the Ambit3 Peak.
[table id=98 /]
Best running smartwatch
If you're looking for a smart watch that can run in the right way sporadic (or even not so sporadic) then forget all of the above.
Here are two options, depending on which phone you use. If you have an Android phone the best option is the Polar M600If you are an Apple user, the new Apple Watch series 2 (with GPS) is the one that will give you the best service.
The reason is simple, all the models I've been talking about so far are training watches that have more or less some intelligent function. Even some like the Garmin allow you to install applications or change the watch face.
But both the Polar M600 and the new Apple Watch go further. They are not a sports watch with some smart clocking. They are smart watches with a complete operating system (with all that that entails) that also has GPS reception, optical pulse monitor of acceptable quality (nothing like what other brands like Motorola or Samsung have incorporated so far) and, in the case of Polar, the analysis software itself both in the watch and in the online platform of Polar Flow.
The Apple Watch S2 test For the M600, we will have to wait a little longer, until the arrival of Android Wear 2.0 which will develop its full potential.
[table id=96 /]
GPS watch for triathlon or multi sport
A triathlon watch is not only designed for triathlon, its main advantage is that you can create activities that combine several sports in a row. Duathlon, aquathlon or even if you only compete in road races, you will most likely do cross training in other sports.
These watches allow you to switch from one sports profile to another and also support specific swimming metrics, both in the pool and in open water.
Best GPS triathlon watch
Although in your test I objected to the autonomy of the Forerunner 735XT -could be insufficient to finish an Ironman- or the lack of a barometric altimeter, the Garmin Forerunner 735XT is the most complete triathlon watch available right now. And it comes to the market without a prohibitive price.
There's another little snag to keep in mind, though, and that is that there is no quick mount kit that allows you to move the watch from your wrist to the handlebars of your bike in an instant. If it's non-negotiable for you, you should think about Garmin Forerunner 920XT or in the Garmin Fenix 3 (not the HR version), both have that kit.
Those are its two shortcomings. But it's brilliant in everything else. In racing it offers the same features as the Forerunner 630 (plus the optical pulse sensor), in cycling it's almost like an Edge computer, including turn-by-turn navigation, FTP calculation, support for Various Radar and Varia VisionAnd in swimming, not only is it compatible with HRM-Tri and HRM-SwimThe quality of the tracks in open water is one of the best among the competition, or at least it is with the watch that I have obtained the best results.
[table id=99 /]
GPS clock for everything, but nothing in particular
New category, but very much in demand in the comments. Looking for a watch to do a lot of sports but without emphasizing any particular sport? Then the best option is the Garmin Vivoactive HR.
This watch with optical pulse sensor is the best option for those who run, bike or cross country, that is, someone who has an active life but is not focused on any particular competitive sport (you run, but do not compete). And its barometric altimeter is the same for counting positive meters as for counting how many floors you have climbed during the day.
The main difference with the Forerunner family is that the Vivoactive HR has no support for advanced training. Instead it has a greater number of sports profiles, such as rowing, skiing, paddle surfing or golfing. It is a true all-rounder.
[table id=109 /]
Swimming clock
It is a category that is losing importance within the ranges of the different manufacturers, mainly because the sales of specific products are somewhat more complicated as it is a function that is already being integrated into many models. In addition, the traditional competitive swimmer tends to dispense with devices in the pool, being guided by the wall clock when marking their intervals and counting distance or series by moving the buoys at the end of the street. For their part, triathletes are looking for watches that are not only for swimming but also for multisports.
It is a category that is getting less and less interest from the market and that for the moment can offer few novelties, beyond offering pulse measurement. The only possibility to keep it alive is to be able to register the pulse through an optical sensor, but this has not been achieved yet.
0Still, here are some ideas if you want a watch to use mainly in the pool.
Best swimming pool clock
For those of you who mainly swim in pools, there is not much to choose from. As specific equipment there is practically only the Garmin Swimbut it has been asking for a replacement for quite some time (although no one pays attention to it). But I find it hard to recommend a device that is already quite "old" with a screen quality that is from the last century. There are other options on the market (for example Finis offers something), but it is practically testimonial.
Any multi-sport watch that has a swimming pool profile, such as the TomTom Runner 3Although Garmin models offer more information after synchronization and there is not much difference in price.
The Vivoactive and the Vivoactive HR are the two options you would consider when choosing a watch to train for hours and hours in the pool. In addition, they are also useful for strength training in the gym, walking, cycling, etc. The case of the Vivoactive is especially noteworthy because it is the thinnest of all and the one that will give less problems when sliding in the pool.
Unfortunately, none of the three can record the heart rate in swimming. This would require jumping to the next block.
[table id=100 /]
Best GPS watch for swimming in pool and open water
Since there is no specific watch for swimming in open water, you must choose models that are initially intended for multi-sport or triathlon. If you are a triathlete, I refer you to the corresponding section. If you are more of a cross-country runner, then you are in the appropriate section.
The first thing you have to take into account is that, in open water, the work for the GPS is very complicated. Every time the watch enters the water it loses the GPS signal, so the watch must try to join all the points it manages to collect (and without the location accuracy being remarkable). It does all this thanks to a specific algorithm, and it is not at all easy.
For open water my choice would be any multi-sport watch, and in particular the one that is the cheapest at the time. Right now those would be the Polar V800 or the Suunto Ambit3 SportMoreover, in both cases, its pulse sensors allow to record the heart rate during swimming.
[table id=101 /]
Cycle computer and cycling
There are fewer options to choose from in this category than in the GPS watch segment. The number of manufacturers of such devices is smaller, a segment that is clearly led by Garmin. Still, there are two new additions that promise to be quite interesting, at least shaking up the market a bit.
On Wahoo's side is the ELEMNTUnfortunately, its distribution in Spain is quite limited. it is possible to buy it directly through their website without shipping costs.
Stages has just presented the Dash, another option that for the moment in paper seems interesting, and then there is Polar, but while Garmin has 9 or 10 products in the catalogue the Finns only have 2, so the easiest way is to see products from the Americans in this section.
Hopefully the people of Wahoo will in the near future put some more interest in the Spanish market, and in the meantime be able to offer a complete proof of it.
Best cyclocomputer
Here I have no doubt, the Garmin Edge 520 The only reason I would tell you that the Garmin Edge 520 isn't the perfect unit for you is if you're too dependent on navigation, in which case you might want to take a look at the new Edge 820 with more memory for maps and with full route navigation (you indicate that you want to go to the pizzeria on X Street and it shows you the way, instead of having to prepare the route in advance).
Otherwise it's small and light, but with a good display; perfect for training and competition. With ANT+ FE-C to control smart rollers, Strava sectors and the ability to install applications and data fields via Connect IQ, your possibilities go through the roof.
The 820 offers some additional features, but the main difference is the navigation. If you don't find it interesting, I think you'll be more than satisfied with the 520.
[table id=102 /]
Best Cheap Cyclocomputer
And again it's the Polar M450 which remains my choice as an affordable cycling computer. It offers everything you might need in a cycle computer for very little money. If you don't need power training (which is quite limited), navigation or connecting to ANT+ devices (only Bluetooth Smart compatible), there's nothing that gives you more performance for your money.
The M450 isn't the best at anything, but it's pretty good at just about everything. That's what makes it shine. Its price/performance ratio is indisputably the best in the segment. No one gives so much for so little.
[table id=103 /]
Best rear light
I'm in love with the Garmin Varia radarConsidered by many to be an unhelpful device, a very expensive bicycle light, it's much more than that to me. In fact, it's the device I liked best in 2015 for how well it worked and how easy it was to use. Because at the end of the day, the most important thing is your safety.
It is not an accident insurance nor does it guarantee that you will not be hit by any vehicle, but it provides vital information depending on the circumstances and increases your visibility with respect to other vehicles. In my opinion it is something indispensable as soon as you leave the city and something that I cannot forget every time I go out for a bike training session.
[table id=104 /]
Sensors

Best optical pulse sensor
If you are not yet ready to make the leap to a watch with an optical sensor (although it will be more and more complicated), a good option is to keep your current watch and look for a pulse sensor that uses this type of technology. There are two that I can recommend: the Mio Link and the Scosche RHYTHM+.
Both are equally reliable in all circumstances (for the moment, better than those that manufacturers are starting to integrate into their watches) and are capable of simultaneously broadcasting heart rate data via ANT+ and Bluetooth.
If I have to choose one of the two, lately I'm leaning towards the Scosche over the Mio, for several reasons, but mainly because it offers more possibilities to wear it on the body (the Mio must be worn on the wrist) and because the emission power is higher. Anyway, in the RHYTHM+ test The differences between the two are well detailed. I recommend that you take a look at it as I make a pretty good summary that will help you in your choice.
And if after reading that you don't decide, I'll put it another way. Buy the cheapest one.
[table id=105 /]
Best speed and cadence sensor
It is not a product that has a lot of renovation, simply because it is very simple. My main concern continues to be that the connection is dual ANT+ and Bluetooth Smart. You never know where the future will take you and, frankly, a sensor of this type is something that will last you almost a lifetime.
The Wahoo BlueSC There are no compatibility problems and it's easy to install. And that's really all we can ask from such a simple device. Operation is thanks to magnets, so the data will always be real.
Now what starts to move more in the market are devices based on internal accelerometers that estimate the speed and cadence (although they do it very well). Wahoo has also of these sensorsalthough they're usually a little more expensive. I haven't tried them, though.
I wouldn't choose any other option sold by Garmin or Polar, as they only transmit via ANT+ or Bluetooth and their price is the same. Much better to have simultaneous transmission (you never know what you'll end up connecting to).
[table id=106 /]
Power meters
Best cycling power meter
Although I still have to publish the test -it's there, among the drafts, but there's always something that ends up slipping through the cracks and there's no way to finish it-, I have no doubt that right now the best power meter for your money is Favero's bePRO.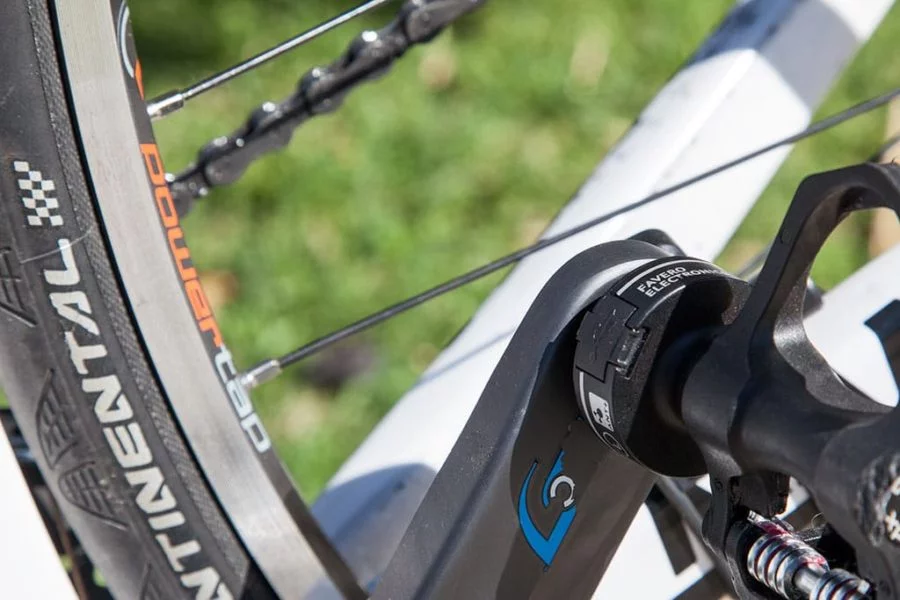 It's not the most complete option (they only have ANT+ connectivity) nor the easiest to install (Powertap P1's are a little easier to install), but at 749 ? you won't find another power meter that measures both sides separately. And if you don't want to spend that much, for 499 ? you can buy the bePRO S version that measures power on the left leg and multiplies it by two.
I have been using them regularly all year and they have become not only my regular power meter, but also one of the main comparison devices.
As for where to buy it, directly through your websiteI don't have any kind of relationship with them, so there is no compensation of any kind from them. I could recommend any other product that I would get a commission from, but I would be lying to you (and I will never do that).
Best Running Power Meter
Last year we already had Stryd, but for this year renews its format and becomes much more completeIn addition to measuring power while running it will provide additional metrics that will help you see progression and improve as a runner.
Stryd is not the only race power meter (there are a few more projects) but it is certainly the most advanced, and at least it is already on the market, which is more than others can say.
Again, as with the bePRO, you can buy it directly from their websiteThe relationship between the two parties is not good (apart from good communication).
Activity monitor
Best Activity Monitor
To say which is the best activity monitor without knowing the uses and habits of any person is difficult, if not impossible. Firstly because there are many options on the market and secondly because among those options there are many differences. With or without pulse sensor. With or without GPS. With or without notifications. More expensive or cheaper. Watch or wrist format. It is therefore a purely personal choice.
That doesn't mean I can't give you some advice. First of all, if you already have friends or family using this type of device, ask what they use and buy something that is on the same platform. The social and competitive factor between friends is what can make you not only measure your daily activity, but also increase it exponentially.
So if you have three friends in the Garmin universe, don't go "modern" and buy a Fitbit wristband. The logical thing to do would be to opt for one of the Garmin options so that you can poder with your friends and see who reaches their goals first or who walks the most each day. This is what will really make you not only stay active, but also increase your activity, which is ultimately what this type of device is all about.
In my case I tend to opt for simple activity monitors that don't even look like what they are (Withings Activité Pop or Garmin Vivomove) or by models with display, optical pulse sensor and smartphone notifications.
In the second case, the one I consider most interesting is the Garmin Vivosmart HRI would like to thank you for the combination of services you offer and the price I consider appropriate.
From Fitbit there are two options that catch my eye. The Fitbit Blaze because of its quality of construction is a very interesting device and, after the recent update to show all the notifications on the phone, even more so. Also the Fitbit Charge 2I hope that Fitbit will realise the importance of notifications before it is too late.
[table id=108 /]
Intelligent Scale
Best Intelligent Scale
Even though new models have come on the market, my choice remains the same: Fitbit AriaIt is not the one with the most connection possibilities or the one with the most extensive data sheet (that would be the Garmin Index) But its platform is of good quality and thanks to the synchronization with MyFitnessPal you can synchronize the weight to practically any other service. Compared to the other options I think it is the one that offers more for less.
Despite the above, if you are mainly a user of one platform, another option to think about is to opt directly for the one that offers more integration with that platform you use. So, if you have a Garmin clock and a Garmin cycle computer, the most logical thing to do is to buy the Garmin Index and have it all focused on the same service. And if you're at Polar the same, Polar Balance.
[table id=107 /]
–
As always, I appreciate that you spent 5 minutes of your time reading all this and, of course, thank you for contributing to the site by purchasing through the links I provide.