Looking for the latest information? I just published the
guide for 2019
with a lot of new recommendations.
The end of the year arrives, and with it the Christmas dates. Celebrations, gifts and above all auto-gifts; that we are going to recognize, in the end are the best. And what better time than now to update the list of recommendations for GPS watches and other sports devices and gadgets. Above all trying to get ahead of the buying window that normally exists in these dates, before Christmas Eve and Three Kings Day.
This article may be a couple of weeks late (past Black Friday), but many new features have been released in the past and I was hoping to have at least some time for testing and use, even if the corresponding tests are not published.
The list below is what I recommend to my friends when they ask me what they should buy. It is what I consider to be the best option within its range and price, or that fits best in the use it is going to be given. It is not about giving a prize to certain brands to encourage their sale or punishing others for not doing so.
This time I will organize the list a little differently from the last one, mainly because the market has changed and there are new models that jump between different categories.
Remember that if you buy it through the links I provide you will help to maintain the page, not only to host it, but also to cover the cost of testing and some of my work.
GPS running clock
This is the category where you have the most choice, the differences between models in the same range are minimal and the competition is fierce. These are mature products, so you will have to pay attention to small details when choosing.
Best GPS Watch - Garmin Forerunner 230
This year's Best GPS Racing Watch title is undoubtedly in the new Garmin Forerunner 230. I'd recommend it even over its big brother, the Forerunner 630. Both have pretty much the same features, adding in the case of the FR630 a lot more advanced features that your 90% probably won't take advantage of. I'd only recommend the latter to true data lovers who are willing to pay for that extra something.
The new FR230 takes the Forerunner 620 off the throne. It offers almost everything the FR620 had to offer and also improves it in many areas such as screen size and quality, connectivity and functionality. Considering the price, I also think that in the case of the FR230 it's quite reasonable, there's a lot of clock for that £249 that the basic version costs.
If the traditional chest pulse sensor bothers you, you can opt for the FR235, with an optical pulse sensor. What it offers is the same in both cases, the difference being that you will not need to wear the traditional chest sensor.
Best Value GPS Watch - Polar M400 or TomTom Runner
If your budget is tight, don't worry, because there are good options for you too. In this category there are several options, and the choice will depend on the specific offer available.
The best option in the 100-200 euro section is the Polar M400. Besides running, you can also use it with other sport profiles, such as cycling or gym. By sales volume it is the star product of Polar, and they continue their pace of updates. It also has activity monitor and mobile notifications for iOS and Android.
The TomTom Runner is always going to be a solid option at a fairly modest price. It is a GPS watch that will work very well for the occasional runner who has two or three runs a week and does not need to schedule advanced training or require a lot of post-training data, but I would only choose it if the price difference is significant compared to the Polar. If the difference is less than £30 at the time of purchase I consider the Polar to be the best choice.
Best Single GPS Watch - Garmin Forerunner 25
Many times it's not a question of price (or just price), but of simplicity. Maybe you don't want a watch full of options, and you're just looking for something basic and easy to use.
The Garmin Forerunner 25 is not the cheapest option, but it is a very easy to use watch with smart notifications and activity monitor. If you don't need a watch with lots of menu options, you'll find the FR25 your ideal training partner.
Best Optical Sensor GPS Watch - Garmin Forerunner 235
The reason for this is simple: my time with the 235 has been quite limited for the moment. It's possible that in a few weeks I'll come back here and change my mind, but first I'd have to get a unit of the new TomTom Runner 2/ Spark, because despite being several months behind one, it hasn't been possible yet. That's going to be its main rival, although I think it's going to have a hard time, even though it has a version that allows you to play music.
Both models include new optical sensors, so checking the data is very important before you can give an informed opinion. I tested the FR235 and can give the sensor a score of 7.5.
Best Trail/Ultra trail watch - Garmin Fenix 3
My personal choice in this field is the Garmin Fenix 3. It is one of the most complete options for any sports profile, not only for running, but also for cycling or swimming, among others. It is really a multi-sport watch that is perfectly valid for practicing triathlon, but also with quite advanced features in terms of navigation. To all this we add an outstanding autonomy and, above all, it is the most classic looking watch of all current models and we have a clear winner.
Many of you will miss the Ambit3 Peak, and consider that the GPS reception is much better than that of the Garmin. This may sometimes be the case (in places with coverage problems, such as lush forests), but the truth is that it rarely happens. In many of the tests that I do I use both models (Fenix 3 and Ambit3) to compare data and the results obtained are always very similar. And the chances that one of the two gets lost are the same, because it is not always the Ambit3 that behaves best of the two, there are times when it also messes up and loses the route.
[table id=87 /]
GPS watch for triathlon / multi sport
Even if you don't practice triathlon, you might be interested in a multisport watch, and even if you only compete in road races, it's quite likely that you'll include other sports routines in your training.
They allow you to quickly change from one sports profile to another and also support specific swimming metrics for your pool training.
Best GPS Triathlon Watch - Garmin Forerunner 920xt or Garmin Fenix 3
Last year, the Garmin Fenix 3 did not qualify for this category because it did not have a quick release kit. This year, Garmin has listened to many of us and it is already available, so it is a very interesting option for triathletes as well. Besides serving you in your training and competitions, it also fits perfectly on your wrist, being the most classic option of sports watches.
The Fenix 3 shares features with the Forerunner 920xt, but the Fenix 3 has better mountain performance if you're also a trail blazer and mountaineer, so it's up to you to decide between the more traditional round dial of the Fenix 3 or the more square screen of the Forerunner.
Best Value Triathlon GPS Watch - Garmin Forerunner 310xt, or Garmin Forerunner 910xt on sale
The Garmin FR310xt is big, ugly and has been around for years. But if you want an affordable triathlon watch that will save you the ticket with more than enough performance. So if you have to invest in wetsuit, jumpsuit and GPS and you're on a tight budget, Forerunner 310xt can get you out of trouble. But keep in mind that it doesn't have pool metrics.
The second option is the Garmin Forerunner 910xt. Lately it is being seen sporadically at prices close to 310xt, and this one does support pool metrics. If they are at similar prices opt for the 910xt. If this one is at a normal price it is better to opt directly for the 920xt or, why not, an Ambit3 Sport.
[table id=88 /]
Cycling computer
In this section there is not much to choose from, mainly Garmin, then Garmin, in third place Garmin... and I think they have left some market to Polar or Wahoo, but in a rather marginal way. While in Garmin you can find 8 different cycling computers in Polar there are two. Wahoo has just launched a new unit, but they are more focused on the North American market and it is not going to be frequent to see it around here, at least for the time being.
Best Cycling Computer - Garmin Edge 520
The only reason I would say that the Garmin Edge 52o is not the perfect unit for you is if you depend too much on navigation, and even then it wouldn't be a reason, because even though the memory space is not very large, it is more than enough to include cartography of two or three complete provinces and that you have too much space for the rest of the files.
Otherwise it's small, light, but with a good display; perfect for training and competition, with ANT+ FE-C for smart roller control, with Strava sectors and soon with the possibility of installing applications through Connect IQ.
Best Value Cycling Computer - Polar M450
Following in the footsteps of the successful M400, Polar introduced the M450 cycling unit. The recipe is the same as with the M400, the Finns have been able to offer almost the same performance as the equivalent Garmin but at a much tighter price.
The only problem is that it does not support ANT+ connectivity, so if you have sensors of this type on your bike (especially power meter) you would have to replace it with Bluetooth sensors. And to be honest, it is quite rare to find sensors that incorporate Bluetooth connectivity.
Best Single-Cycle Computer - Garmin Edge 20 / 25
It's the same as with watches. Many users want to get away from complex devices and want something simple to use. The Edge 25 is surprising because despite being a very small unit it is perfectly valid for many of you to use. Compatible with speed and cadence sensors, it records routes with GPS and automatically shares them to Strava as soon as it connects to your mobile. And if all that were not enough, it also allows navigation routes.
The Edge 20 offers almost the same, but it does not have the option of Bluetooth or ANT+ connectivity. In my opinion it is less interesting, but if you are not going to use those options it is not logical to pay for them either.
Special mention - Garmin Varia Radar
Considered by many to be an expensive and unhelpful device. A very expensive bicycle light.
For me, it's much more than that. In fact, it's the device I've liked most about this 2015. Because at the end of the day, the most important thing is your safety.
It is not accident insurance nor does it guarantee that you won't be hit by a vehicle, but it provides vital information depending on the circumstances and increases your visibility with respect to other vehicles. In my opinion, it is indispensable as soon as you leave the city.
[table id=89 /]
Sensors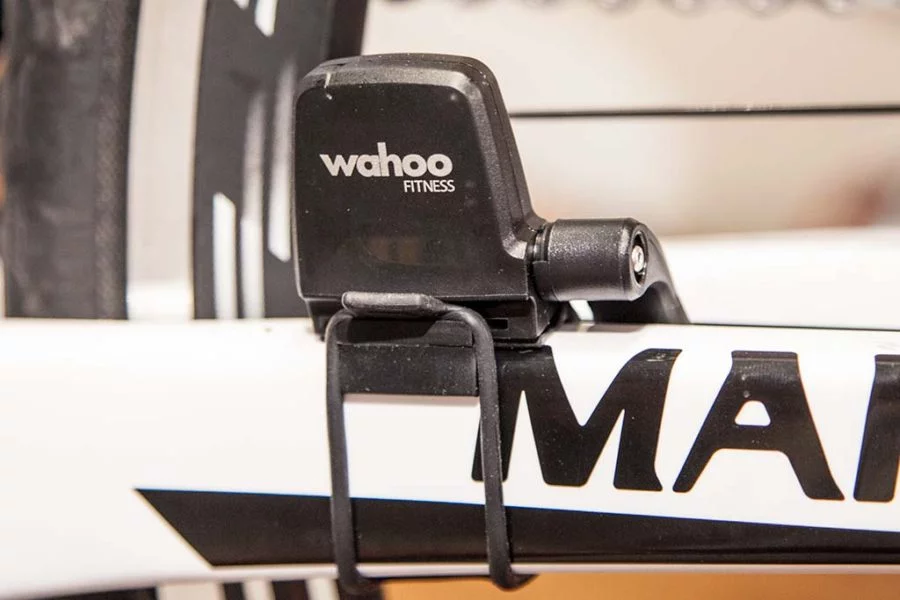 What would a GPS watch be without external sensors? The interesting thing is to be able to track data, the more the better. In this section everything remains the same, my recommendations remain the same as a few months ago.
Best Optical Pulse Sensor - Mio Link
I admit, I'm in love with this little bracelet. If you've ever had scratches caused by your watch's chest sensor and you're thinking of making the leap to optical measurement, then the Mio Link is the way to go.
And you don't have to worry about compatibility because it emits ANT+ and Bluetooth Smart signals simultaneously, so you can use it with the vast majority of devices on the market, both for running and cycling.
Best speed and cadence sensor - Wahoo BlueSC
Easy to install and compatible with many watches and cycling computers as it has ANT+ and Bluetooth connectivity. Personally I wouldn't bother looking at exclusive cadence sensors to save 10 Euros, you never know what you will need tomorrow and with Wahoo BlueSC you cover all the possibilities of present and future use.
But buy the one I indicate in the link, because the first version only had Bluetooth connectivity, is the new one that offers dual connectivity.
[table id=90 /]
Activity monitor
Honestly, here it is already very complicated to recommend any particular product. Each brand has its own model (some even several models) and they all start from the same base. And from there, as in the cars, you can add options: heart rate monitoring, receiving notifications, screen to display information, etc.
In the end the most important thing when choosing the device will be that it meets the following requirements:
You are comfortable with the platform (because you already have a device of that brand or because your friends who want to compete in activity have it)
It offers the benefits you need
Aesthetically you like
From here, the step and calorie estimates for all devices are very similar, so whatever you choose, you will get good results. I still like the Withings Activité Pop for being so much more special than the rest.
Intelligent Scale
Best Intelligent Scale - Fitbit Aria
It is not the only one in the market, nor the one with more possibilities of connection with third parties, nor the one that offers more features, nor is it the cheapest. But I think it is in that sweet spot of offering the right features, with the connectivity to the necessary services and at a reasonable price. Compared to the rest of the rivals, it is the one that I consider to offer more for less, thus becoming the most interesting option.
[table id=91 /]
That's all. Thank you for reading me (and for supporting the site!), and I really hope that with these tips you will be fully successful in your purchases.