It might seem that the activity bracelets (also known as smart bracelet, smartband or sports bracelet) are already an element of the past, something that the public used to demand but had been relegated to the drawer. Well, how wrong we are... They have become not only a substitute for the traditional watch, but also a more fashionable element.
We don't just want an activity bracelet to monitor our active life and keep track of many aspects of our daily lives; we also want to be able to see application notifications, heart rate alerts, etc. And all this while wearing what suits us.
That's why fitness bracelets are no longer just an accessory you wear when you're walk or you go to the gymis now an accessory that you wear all the time - hence its name, "...".wearable"- and that it has a lot more to do. This is where its role as a smartband becomes important.
I don't want to just give you a list of models of what's on the market, I also want to clarify what they are for, what you can do with them and if it's really something you're going to take advantage of.
What is an activity bracelet?
Let's start at the beginning. An activity bracelet or smart bracelet is a device that goes on your wrist and whose main task is to monitor your physical activity. From here its function can vary a lot.
From the simplest activity wristbands that simply measure how many steps you've taken throughout the day to the smartest wristbands (also called smartband), capable of quantifying your stress level, counting repetitions of exercises in the gym or even with support for wireless NFC payments.
Within the activity bracelets you will find many types: with display, in the shape of a bracelet, integrated in analogue watches... There are many options from which you can choose and which will allow you to opt for a device that is perfectly adapted to you, both in terms of functions and aesthetics.
What are activity bracelets for?
The quick answer is "to measure your activity". It is the most logical answer to that question, but the truth is that its possibilities go far beyond that.
Measuring your activity is not what they are designed for, that is the consequence. The idea is that wearing this sports bracelet will encourage you to be more active, and the bracelet will simply accompany you to record that activity and know if you have moved more or less today than the day before.
You can be sure that an activity bracelet will help you burn more calories by the simple fact of having a daily goal to meet and be accountable for. And if you can make it a "social game" on top of that, all the better.
On top of this, almost all models now have intelligent smartband functions, which greatly expands their possibilities of use.
How to choose a smart bracelet
When it comes to choosing a smartband or smart bracelet, there are several questions you should answer to make sure you get your choice right. Are you ready for this little test?
Do you have family or friends who already have an activity bracelet?
The motivation you can get from measuring your activity and competing against your friends is not going to come from anywhere else. So if you have several friends and they use Fitbit, that's the smartband you need to buy. Does your partner have Garmin? Same thing, you want to be on the same platform, so what you need is a Garmin sports bracelet.
If your friends all have Garmin activity wristbands, you can't compete with them with a Fitbit smartband. Motivation is the key to success when it comes to staying active.
Choose format
Within the activity bracelets there are variants with screen and without a screenAnd although we always talk about bracelets, there are also other options, such as clips that can be placed on the belt or carried in the pocket.
While the choice of smartband seemed to be limited to simply choosing to have a screen and what color strap to choose, there are now analog watches that expand the choice.
By integrating the intelligent part of the activity bracelet inside an analogue watch you can have all the advantages of a sports bracelet without having to change your style.
Wrist pump?
The vast majority of smartbands include an optical pulse sensor. In fact, it is desirable, since the calorie consumption calculation will be much more accurate when you have pulse data and know the intensity of the exercise.
But beware, not all activity bracelets have a reliable wrist heart rate monitorThis is where Chinese activity bracelets sin. In fact, if I have to choose between not having an optical pulse sensor or having one that measures poorly, I prefer the former.
Float or swim?
Sports wristbands don't always get along well with water - I'm not just talking about immersion resistance, but also monitoring water activities.
If you do some kind of exercise in the pool (I don't mean just swimming, but also things like aquagym) you will need a smartband that is waterproofAnd if you swim frequently, you'll need not only to be splashproof, but also to be able to withstand the dive.
Basic data or to the last metric
Any activity wristband will provide you with the most basic data: steps, distance traveled and sleep time, but there are other activity monitors that allow you to track your gym workouts, specifically measure a walk or run, a swim workout or even track by GPS.
So you have to decide to what extent you need to have data, and how many you are going to check, because if you go to a device that measures everything but in the end you are only going to look at a certain number of steps, you will be killing flies with your guns.
Apps for all
The bracelet is only one part of the application. Exactly half. What's the other half? application where the data is synchronized.
That app is the brain of your activity bracelet, don't forget, so you want to have a quality application, easy to use, fast in synchronization and that doesn't cause failures.
You can go to the app store on duty and look at other users' opinions to see what problems you may have, if there are devices that don't get along with the sync (something too common in Android) or problems with functions that are announced but at the moment of truth give failures like receiving notifications.
Activity bracelets. Which one to choose?
If you're here to get me to tell you which activity bracelet to buy... sorry, there's no straight answer. As you've seen so far there are plenty of possibilities for you to decide from.
But perhaps the most important variable is the Price. Logically you don't want to spend a lot of money on one; but be careful, you can't go for the cheapest option either because it might not be what you need. And you know the saying: "the poor man's money goes to the market twice".
But I'll give you an overview of the most interesting thing that the market offers in 2020 so that you can make the right decision yourself.

Fitbit Charge 3 activity bracelet
The best application for activity monitoring
Finally waterproof and compatible with all notifications
Interchangeable belts
When it comes to sports, it is not as complete as Garmin's proposals
Fitbit is the brand that reigns among the activity braceletsThey have been on the market for many years and know exactly what their customers are looking for.
This bracelet is the last proposal of the brand and finally includes things that users have been asking for a long time. waterproofingThis is one of the criticisms that have always been made of this manufacturer's previous devices.
Not only does the bracelet resist immersion, but it can also be used for swimming, recording distances and number of lengths (which can be seen later in the application).
It also works perfectly as smart braceletas it is now capable of displaying all Notifications from your cell phone.
Fitbit now includes specific functions for women as it allows complete monitoring of the women's healthThe application allows you to monitor your periods and predict ovulation and fertile days.
In the technical section Fitbit has equipped the Charge 3 with a SpO2 sensor that, although not yet active, will allow the wristband to record sleep apnea and display warnings through the application. Oxygen saturation will not be displayed on the wristband or anywhere else, but its data will be used for medical functions that the wristband is capable of recording.
---
Xiaomi Mi Band 3 activity bracelet
Autonomy up to 20 days
Probably the best price/performance ratio
Poor quality wrist heart rate monitor
It doesn't stand out for having a design fashion
There cannot be an article on activity bracelets without mentioning Xiaomi's Mi Band, now in its third edition. It is undoubtedly one of the most sought-after devices in its own right. Its qualities are a groundbreaking price, a OLED touch screen and an impressive autonomy up to 20 days to be a smartband.
It has a wrist pulsometer, but this is its biggest defect. The measurement it makes of pulses is quite poor when we are doing some activity -at rest it is not usually something problematic.
It is a good entry point to activity measurement because of its low price and the possibilities it has in terms of notifications, but you must be undemanding if you want this smartband to leave you satisfied.
---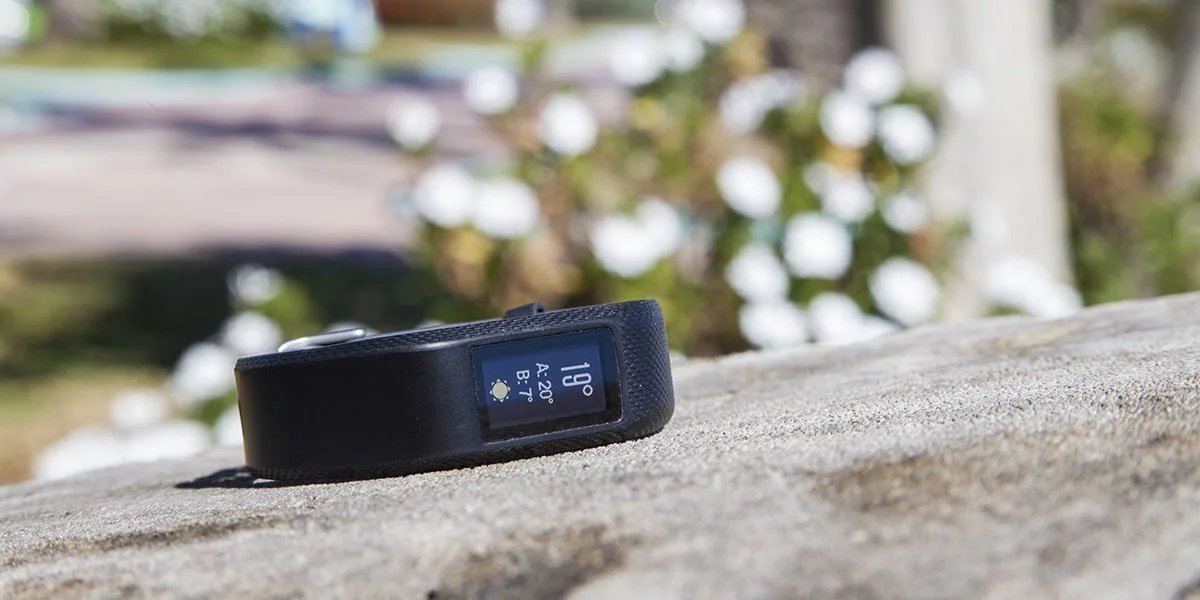 Garmin Vivosport GPS activity bracelet
Includes GPS
Colour touch screen
Reliable Wrist Heart Rate Monitor
Cannot change the strap
I design something bland
What makes the Garmin Vivosport stand out from other activity wristbands is that it is a smartband with GPS. GPSBoth Garmin and other manufacturers have already had such an activity bracelet (for example Microsoft with its Band quite a few years ago).
It is not common as the more modern bracelets are opting for the GPS connectedBut you have to carry your phone with you, and if it's in your pocket, it won't be too accurate.
Nor is it the only fitness wristband that has GPS, for example the Huawei Band 2 Pro also has it and it is much cheaper; but it has problems with water, an application that is not very successful and countless finishing problems.
All this is not a problem in the Garmin Vivosport. It is an activity bracelet from low priceOne of the best applications, Notifications of any kind, autonomy more than acceptable for their performance and a good wrist pulse monitorAlthough it does not track swimming, the Garmin Vivosport is an excellent device for any other type of sport such as gymnastics, running or cycling.
If there is one thing that can be criticized, it is that the strap is not interchangeable.
---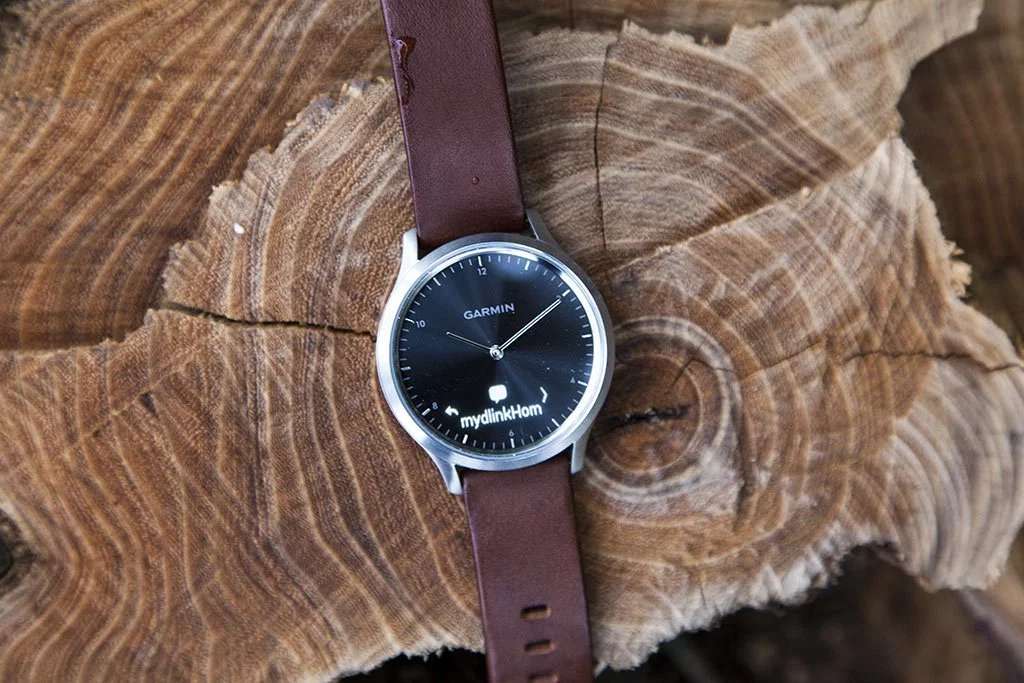 Garmin Vivomove HR intelligent analogue clock
Hidden screen to display information and notifications
Everything a good activity bracelet offers but packaged in a traditional design
The screen doesn't look good in broad daylight
Price
You don't like the aesthetics of traditional activity bracelets and you're not ready to leave the analog clock? Well, there are options for you too
The Vivomove HR from Garmin is an analogue watch that does not attract attention at all in everyday life. Anyone who does not have full knowledge of the market will not know that a complete smartband is hidden inside.
When you lift your wrist (or touch the glass twice) a screen will light up that remains hidden, showing all the interesting data of your day to day. It also does the functions of smart braceletbecause all the notifications from your mobile phone will appear on that same screen.
What you'll really find inside is a sports bracelet Garmin Vivosmart 3 with absolutely all its functions.
But it's not a cheap watch, you have to pay for the design, especially for that screen that if you don't turn it on remains completely hidden under its face.
---

Withings Move analog clock
Price
Many configuration possibilities
Up to 18 months of autonomy
No screen
In swimming it only records exercise time, but not distance or lengths
If you liked the concept of the Garmin Vivomove HR but your budget is not that big (or you simply won't be able to take advantage of all its features), keep an eye on the proposal that Withings will launch in the coming weeks.
The Withings Move is a clock completely analogical that equips in its interior a activity braceletThere is a dial that will tell you how you are doing with your activity goal, which you can specify manually.
It has a fresh design, although it lacks an information screen beyond the dial indicated above. All the information will be available through the mobile application, which is of quite good quality.
Perhaps what stands out most about this watch is its fantastic autonomyYes, you read correctly, a year and a half in which you don't have to worry about whether the watch is charged or not. This does not affect its function as a fitness bracelet or the constant synchronisation with the phone. Of course, this autonomy does not allow you to enjoy smartband features like the rest of colleagues from this list.
This model does not have a wrist pulse monitor, but Withings is launching a version that will allow you to monitor your EKG (like the Apple Watch Series 4). It is the Withings Move ECG.
---

Fitbit Flex 2 activity wristband
Small and discreet
Vibration to notify you of calls
The Fitbit Flex 2 is the most popular activity wristband thin and discreet And it is because more than a sports bracelet is a pill that is placed inside the belt.
It is able to record the different exercises automatically, even when we are swimming by recording number of lengths and distance travelled.
Its best feature is that it synchronizes with Fitbit's platform, the most complete and user-friendly of all available in this type of sports wristbands.
If you're looking for a simple bracelet to measure your activity and combine it with your traditional watch, the Fitbit Flex 2 is an option you shouldn't rule out.
---

Garmin Vivosmart Smart Bracelet 4
Better screen than the model it replaces, the Vivosmart 3
Add a pulse oximeter
GPS function on
Still not allowed to change the strap
The Garmin Vivosmart 4 is the evolution of the smart bracelet Vivosmart 3It offers the same features as this one, but with some new features.
What you'll notice at first glance is that the screen is significantly improved. It's now a OLED display with much better visibility since it's not hidden on the strap of the device itself.
But internally there are more developments, starting with a oxygen saturation meter (pulse oximeter, which Garmin calls Pulse OxThanks to this sensor, the intelligent bracelet Garmin Vivosmart 4 will better identify the different phases of sleep.
And there's a new algorithm, Body BatteryIt's a way to quickly represent how much energy you have and how it has impacted your day.
In addition, in September 2019 Garmin has added the connected GPS feature to not only record the routes you take while walking or running, but also to show real rhythms and distances.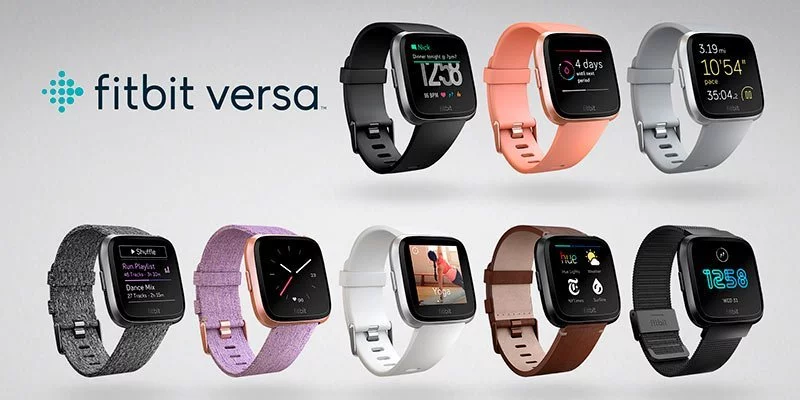 Fitbit Versa smart watch
High quality colour display
Applications and Music Playback
The strap leaves something to be desired (although it can be easily changed)
Too flat design
Fitbit Versa is more than an activity bracelet, it's more a smart watchIn fact, it is simply a cheaper version of the Fitbit IonicThe only thing it does not have in relation to Fitbit is GPS.
In the case of Fitbit Versa they use what the mark calls GPS connected. The watch uses the GPS data from the mobile phone to which it is synchronized to provide all the rhythm and distance data when we are playing sports outdoors.
It also has NFC and thanks to Fitbit Pay you can make wireless payments, as long as your credit card is from some supported bankThis is not the only function of smartband that it offers, as it can also show all the Notifications of your mobile phone, it allows you to install applications (or programming your own) and even supports the music playback via headphones Bluetooth.
It's true that its price is somewhat higher than the rest of the proposals I've included here, but it's no less true that in terms of features Fitbit Versa is much more capable.
---
Other models?
These are just some of the fitness bracelets or activity bracelets that are on the market, but they are not the only ones. There are many more proposals from many manufacturers, but I do consider these to be the most interesting offers for the reasons indicated at the beginning of the article.
Outside are, for example, Willful's activity bracelets, by far sales success at AmazonThe application works somewhat erratically on both Android and iPhone, there is no data synchronization with the cloud (if you change your phone or uninstall the application you lose all your previous data) and it is only able to display notifications for selected applications.
Willful is just the name of a reseller, these same bracelets are sold under different names: Homscam, Banlvs, Yamay, Hetp, Naixues... They are all the same product and even if there are several models their basic operation is similar.
My recommendation is that you choose other models. In this list I have included different propositions that are similar in Price and offer better functionalityAnd if you want an extra product quality you're gonna get it by investing a little more money.
Do you have any questions regarding the activity wristbands? Do you think there are any fitness wristbands missing that I haven't mentioned? Which are the smart wristband or smartband functions that you use the most? Well, for all that and much more you can use the comments. Leave yours and tell us what you think about these wristbands or the one you are using right now.
And with that... thanks for reading!