We are already quite within 2021, with a very stabilized market in the absence of some of the new launches that will be coming this year, but I think it is a good time to update the best GPS running watch guide for 2021.
We are still in a COVID-19 era that makes everything difficult and slow, and logically it has also disrupted the arrival of new models to the market. Not only because the sport in general has been slowed down in the absence of competitions, but also because manufacturing processes have been affected by the lack of components with which to manufacture.
Something as trivial as the absence of a small component, that you are going to put on your device and that is manufactured in a country affected by total or partial confinement, can cause a chain of events that lead to a product's manufacturing being severely affected. But luckily we are slowly poking our head out and it's something we will soon leave behind us.
As I always like to clarify every time I post a new buying guide, the models chosen in this article are the result of my experience after testing and reviewing all GPS watches on the market. It's the same advice I could give to a friend if he/she asked for my help.
I don't give general recommendations based on someone else's feature sheet or opinions. In each section you can find the link to the full review, so I encourage you to read it carefully once you have chosen which model best suits your use.
This listing is not made to satisfy any particular manufacturer. Neither of them has ever asked to be on this list or to change my impressions or ratings. Like all the work I do on this page, I try to be as objective as possible.
And if you want to read and see the reviews I do on other kinds of sports equipment, follow me on Instagram, is the platform I'm using to publish those other tests that have no place on this website.
I am looking to provide a generic answer that will serve the vast majority of users. Would you like to have a personalised consultation and discuss your particular case? It is possible, simply subscribe to Correr una Maratón VIP and you will be able to access the ticket system where we will talk at length about what you need and which is the best option for your particular case.
Remember that if you buy through the links I provide you will be supporting this page with a small commission. Covering my work and the costs of the website are only possible because of this, so...Thank you so much for helping Correr una Maratón!
When you see a review, look for original images. If what you see are images from the manufacturer then it's a fake analysis.

Whoever typed the text has not used the watch so they will not be able to give you information firsthand.

Please reward websites that offer real information. We don't have a salary and depend on your purchases through our partner stores.

Keep this in mind when making a purchase. Doing real reviews requires A LOT of work time. Professional advice
Running GPS watches
It's the most populated category and where we have the most to choose from, because basically any running watch starts from this.
This is the most basic function for any GPS watch (even for non-sport-specific smartwatches) and from there, it will be oriented towards other, more specific uses.
In 2021 there are changes in chosen models, not because new products have arrived to market but because of the price drop of models that were already on the market last year.
When these new models were announced they did so with a greater number of features that were previously focused on the mid-range, and now have also reached the most basic range.
This means that what yesterday was mid-range, today is almost an access model, which is not bad for the consumer.
As a general rule, the recommendation is, if you are a beginner, opt for a cheaper, basic model , because you probably still don't know where you will want to go.
It is better to buy something cheap and simple and, once you decide which discipline you like best (trail, marathon, ultras, triathlon, etc.), then buy the model that will satisfy your real needs.
So if you are looking to buy your first watch I would try to run away from 600 or 800 euros models, no matter how appetizing it appears, if you still don't know what's going to be the sport to which you are going to dedicate your training hours.
That doesn't mean that if you have been infatuated with a model by its aesthetics or because you want some of its features you should not buy it. But you simply should not be guided by the "more is better" mantra, but what you are really going to use and need.
With this brief introduction we'll go through the different categories I have prepared for you.
Best GPS Watch
COROS PACE 2, Garmin Forerunner 245 / 245 Music
If we look at the price/performance ratio, the new COROS PACE 2 is the undisputed king. Having a low price is not synonymous with no performance and this COROS PACE 2 is a clear example of this.
It offers running power estimation without using external sensors, it downloads your workouts from TrainingPeaks, it has a barometric altimeter, it's extremely light... practically everything, it's even a multi-sport watch so it would allow you to use it in triathlons.
What can we miss in the COROS PACE 2? Training load metrics, route navigation or more specific smartwatch features such as music playback.
Or even better build quality, because obviously you get what you pay for. The COROS PACE 2 is a cheap watch that, consequently, does not provide any noble material. If you are looking for a watch that has some premium feeling for 24/7 use (and around the office), then the PACE 2 might not the best option.
But as could not be otherwise the Garmin Forerunner 245, announced in 2019, is still the other king of this category. Because in addition to being a great option by itself, there is a version capable of music playback straight from the watch, including syncing with platforms like Spotify and Amazon Prime Music.
Is the Garmin 245 superior to the Garmin Forerunner 645? Well, in some aspects it is: battery life and a new optical heart rate sensor with PulseOx measurement. But there's something that could make you still choose the FR645, mainly the barometric altimeter; but also wireless paymentsor more sports profiles. You can see all the differences between both models in the Garmin FR245 review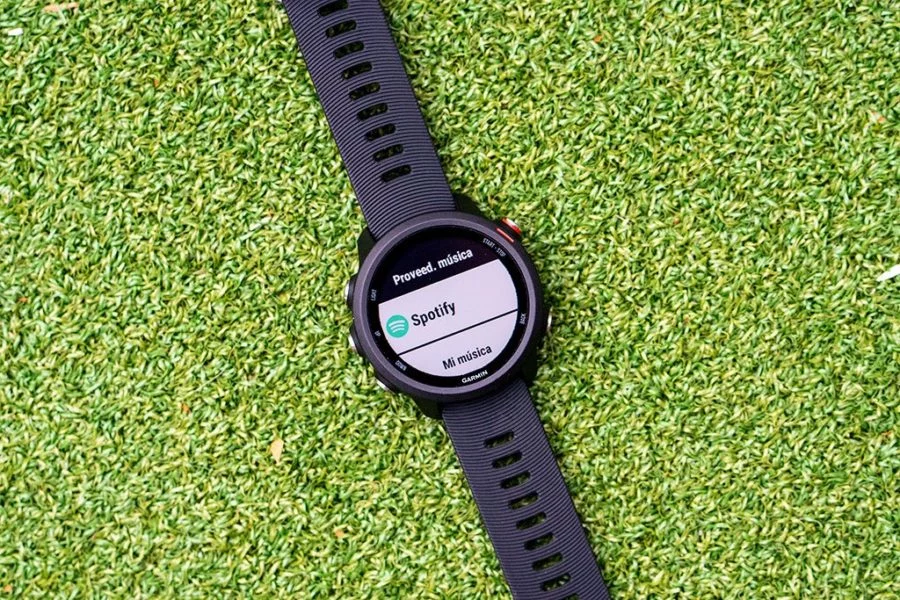 Along with the COROS PACE 2 that we have seen above, I think it is the best choice for the road racer, also considering that it is reasonably priced. I would even prefer it over top models such as the Garmin 945, Garmin Fenix 6 or Suunto 9, at least if what you're going to do is mainly run.
The Garmin 245 is designed for road running and has no additional features that, if you are not going to use... why do you want them for? And above all, why pay for them?
As for running, the features it offers are the same as on the Fenix 5, but the 245 is a smaller and lighter GPS watch and also comes with the same training metrics as the Fenix 5 (and Fenix 5 Plus, Fenix 6, 945, etc); or the possibility of music playback in 245M.
It also has route navigation , so if you're afraid you won't be able to make a getaway to the mountains or schedule a trail race during the season, don't worry; but I remind you that the altitude data you have will be exclusive to GPS, so you'll have to wait to synchronize the activity to see real altitude details.
Garmin Forerunner 245
Garmin Forerunner 245 Music
---
Best cheap running GPS watch
Garmin Forerunner 45
In the category of best cheap GPS watch there's a new addition: the Garmin Forerunner 45. Garmin has lowered its real retail price. When I posted the full review I liked almost everything from this watch, except for the price tag.
It seems that Garmin heard what many of us said at the time and it is no longer difficult to find it inside the fork between 130€ and 150€, which is the fringe that I choose for a cheap GPS running watch. Cheap GPS running.
Although it is no longer a simple model as the Forerunner 35 was, it keeps being an easy-to-use watch. Now the display is full color, the optical heart rate sensor is better, it has the Sony GNSS chipset for greater autonomy, supports training programs, has incident detection...
There are two different models versions as well, with a smaller Garmin Forerunner 45S (40mm) for those who have narrower wrist and don't want a watch that big.
Bottomline, it's a better watch in everything, and now finally with a competitive price tag.
---
Other GPS watches to consider
Garmin Vivoactive 4, Polar Vantage M
Another good option is the Garmin Vivoactive 4 (also available in two sizes: Vivoactive 4 and Vivoactive 4S). It looks a lot like its sibling the Garmin FR245, although there are small differences between them, so you can choose the one that best suits you.
The price for both is quite similar and even the Vivoactive 4 offers features that the Garmin Forerunner 245 doesn't have: barometric altimeter, sweating and hydration metrics, breathing rate, Garmin Pay, video-guided exercises or music without having to opt for a specific version (all Vivoactive 4 have this feature).
Why have I not then chose the Vivoactive 4 instead of the FR245? Because of the features we do find in the 245 and which, in theory, will adapt better to the road runner wanting to improve or be competitive in races: advanced training metrics, training status, Training Effect, etc.
And of course the FR245 hasroute navigation, which will allow you to make small outdoor trips.
Which one should fit you better? You have to decide what's more important for you:
If you prefer training metrics, training load and features focused on racing and training, then go for the Garmin Forerunner 245.
If you're doing sports for fun and you're not looking for maximum performance, and you prefer to lose those metrics in exchange for having Garmin Pay and a somewhat more careful design, the Garmin Vivoactive 4 will be a better option.
The Polar Vantage M can be an interesting option, but only when it is on sale. At equal price I find the COROS PACE 2 more interesting for everything it offers, even despite the update received with sleep and rest metrics.
I find TrainingLoad Pro a very interesting metric to help you plan your workouts and, in addition to Sleep Plus Stages and Nightly Recharge, allows the Vantage M to benefit from the best workout oriented platform right now.
The Polar Vantage M is also a multi-sport watch, so if you plan to do a triathlon in the near future is another factor to consider. Of course, it does not have route navigation (which the FR245 has), running power or barometric altimeter (which are present on the COROS PACE 2).
---
Trail running GPS watches
In this section I include all the aspects of mountain enjoyment: trail, ultratrail, climbing, hiking... "outdoor lifestyle".
What should you look for in a good trail running watch? Two things.
First and foremost is battery life. The duration of activities in the great outdoors or trail running is much longer than when road running. And I'm not even mentioning hiking, where you can spend a whole day walking.
Secondly we have route navigation. Although here you have to consider whether you are going to entrust everything to a single device (in this case the GPS watch) or have a handheld navigator (such as the Garmin eTrex Touch 35).
If you just want to wear the minimum, which is usually the case on trail running, we practically limit ourselves to being able to choose a Garmin watch thanks to the inclusion of maps. Beyond being able to see your route on a map, it allows you to see in detail all the intersections; and perhaps more importantly, it opens up a world of possibilities when navigating the route itself.
Those are not the only watches with maps, also the Suunto 7 has maps. However, its problem is its limited battery life, something inherent to being a full legit smartwatch with Wear OS operating system.
Best trail running GPS watch
Garmin Fenix 6 Pro
Once again the Garmin Fenix 6 is still the most recommended option for trail running, in any of its options: normal, pro, solar, bigger, smaller... there are countless models to choose from.
If you want maps to navigate, then you should opt for the Garmin Fenix 6 Pro (or 6S Pro/6X Pro), as the base version does not have them.
The only issue with the Fenix 6 range is its price, but I don't think this has surprised you. It is an expensive watch, mainly because none of its rivals can offer something similar.
Extended battery life, music playback, wireless NFC payments, larger screen reducing the edge of the watch... pretty much anything you can think of, you're going to find in the Fenix 6 Pro one way or another.
Do you want solar charge? Well, it's no longer exclusive to the Fenix 6X Pro Solar, now it's all over the range. You want something cheaper and you're not going to use maps on the watch? The base Garmin Fenix 6 or Fenix 6S have a more affordable price in case you are not going to use them.
In short, the Fenix range has become practically a brand by itself, and within that brand there are many options to select your ideal adventure companion depending on the level of performance you are willing to pay.
Garmin Fenix 6 Pro
Garmin Fenix 6S Pro
Garmin Fenix 6 (unmapped version)
Other GPS watches to consider
Suunto 9
If the Garmin Fenix 6 price (even in its base version without maps) is too high, then another good option is the Suunto 9. But beware, I mean the Suunto 9 without barometric altimeter.
Yes, I know that being in the mountains the Suunto 9 Baro barometric altimeter would be very important (both for altitude data and storm alerts), but the nice price is found in the base Suunto 9 version.
The Suunto 9 keeps standing out for its navigation. It is frankly good and has a quality performance. Although it does not have maps like the Garmin, it stands quite a few steps above what Polar offers in their Grit X.
It may be a rival to consider above the Garmin or Polar mainly for its price. Just remember that the interesting prices are always found in the model that does not have barometric altimeter.
---
Triathlon GPS watches
Here we will find GPS watches that allow us to do multisport activities. That is, it allows us to chain one sport after another without having to stop the recording at any time. For example, move from swimming to cycling and then to running.
When we think of a multi-sport watch we do so with triathlon in mind, but it is not only that. There are many other sports that combine several disciplines in a consecutive way, such as duathlon or aquathlon.
So a multi-sport GPS watch should allow us to switch between sport profiles and also support specific metrics for swimming, both in the pool and in open water. And by the way, if you are looking for a swimming watch , any triathlon watch will perfectly fulfill what you are looking for.
Best triathlon GPS watch
Garmin Forerunner 945
With the Garmin Forerunner 945, Garmin continues to lead the triathlon market. If you think of a triathlon watch you think of a Garmin watch. The dominance of the American brand in this segment is simply overwhelming, just take a look at any race transition to realize that Garmin is the most widely used brand in the sport.
At the performance level, it is the maximum available today, very close to the Fenix 6 Pro range (although the Fenix range has some additional navigation features). The main difference with respect to these is the weight as the Garmin FR945 is made entirely of plastic. The look is obviously inferior in quality, but it is more comfortable on the wrist and improves the performance of the optical heart rate sensor.
It could perfectly be another of the recommendations as a best GPS watch for trail running, and if I didn't include it is because you might prefer the somewhat more "rugged" and sturdy design of the Fenix or Suunto.
Garmin Forerunner 945
Garmin Forerunner 945 triathlon pack
---
Best cheap triathlon GPS watch
PACE 2 CHORUS
The COROS PACE 2 repeats again in this guide, also being listed as a recommendation if you are looking for a cheap triathlon GPS watch.
It's easy to recommend it in this section because the reasons are the same why I recommend it for road running, but you also have to take into account several aspects: it is fully compatible with cycling power meters, it has a barometric altimeter to record the climbing on your bike rides and it allows you to download workouts that your coach prepared you in TrainingPeaks (and of course re-upload after completing them).
For basic triathlon use (and not so basic), it will tick all the boxes regardless of your level as a triathlete. Nor should we forget that with the 30 hours of maximum battery life you have more than enough time to complete an Ironman.
The main lack you're going to find is that I find the training load metric quite limited, but if you work with TrainingPeaks it's something that won't affect you at all.
---
Swimming watch
Garmin Swim 2
The Garmin Swim 2 There are no longer any models that are primarily focused on swimmers, since pure swimmers are not usually watch lovers.
But of course, swimming in the pool is one thing and open water swimming is quite another. In the pool you can be guided by the clock on the wall, in open water you have no other choice than to look at your wrist.
The Garmin Swim 2 is basically a Garmin Forerunner 45 with software adapted to swimming and with some different features that are not present in any other Garmin watch. But being something exclusive comes with a price. I'm not going to lie to you, the Swim 2 is an expensive watch for what it offers.
Find the best offer

And precisely because of that high price I never forget the other options. Basically you can use any of those that are multisport, including the Garmin Vivoactive 3.
But keep in mind that the Vivoactive 3 does not have an open water swimming profile. If you need it, I refer you back to the previous section of triathlon watches, they are the ones that usually have an open water profile with a slightly more lucid GPS management, but don't expect wonders, the performance in these conditions is quite limited by how the technology works.
---
So there it is, there have been a few categories I have reviewed. If you think I'm leaving something just leave your comment below and I'll add it. And remember that you can expand the information of all the models I have included in their individual reviews. Click on any of the links to access them.
Don't forget to share this post in your social media, I'm sure it can be a great help to many of your friends, too.
Thank you so much for reading and especially for supporting the site by using the links!