Once again it is up to you to choose which was the best training device this year, although for this time I will change the dynamics a little and I will select the finalists, among which you will have to vote your candidate. In this way the votes will be somewhat more centralized.
This prize is offered thanks to Camelbak, so in addition to being able to cast your vote and contribute your bit when choosing the winner, you will have the possibility to win a fantastic prize... best impossible!
What can you win? Well, among all those who participate leaving your vote a winner will be chosen, and you will have the possibility to choose one of these prizes:
When will the winner be chosen? The vote starts today and will be open until January 5, so I will choose the winner on the 6th.
I'll make you a quick list of everything that has been presented this 2020:
Fitbit Charge 4
Wahoo TICKR and TICKR X
Yeah, it's been a weird year, but we still had a lot of news. Do you want to give a quick look at all of them? That's what I did on the last podcast episode.
How to choose the best GPS watch of 2020
The idea behind this award is not that you should choose the one with the most features or the most expensive one. I would like you to select the one that has attracted your attention the most for its novelty, price/quality ratio, training and post-training features, etc.
Therefore, do not focus the choice to the most capable of all exclusively (although you can perfectly consider it the winner), but to what you find most interesting for the reasons you deem appropriate.
As I said earlier, it's my turn to choose a list of finalists first.
Finalists for best training device 2020
Suunto 7
This year we started with a surprise from Suunto. They entered a whole new segment for them, but where they could find a good niche market.
Initially the start was complicated, as the watch came with limitations in many respects, but that has been polished with the updates that Suunto has been releasing to both its mobile application and the training app itself on the watch.
The possibility of charging all kinds of routes that are drawn on the heat maps (magnificent, on the other hand) of the watch has already arrived, it is possible to customize sport profiles, we have low consumption screen during training... and all with a smartwatch that during the rest of the day allows us to make wireless payments thanks to Google Play or respond to notifications with both keyboard and voice.
Polar Grit X
Polar's first specific outdoor model. The Grit X brought us features like Hill Splitter, Polar's automatic hill detection.
Thanks to this feature, the watch will automatically separate all hills, so you can analyze them later and see your performance. I especially like it when it comes to making hill intervals, because it allows me to review all those separately.
It also included FuelWise, Polar's hydration and nutrition assistant. You say what your workout looks like and the size of your gels, and the watch tells you how many to wear and when to take them.
Of course, with all the functions of previous models. Although my main objection is that navigation is somewhat limited.
Garmin Instinct Solar
The solar charging technology that Garmin introduced with the Garmin Fenix 6X Solar has made appearance in other models in the range.
And it's probably the Garmin Instinct Solar that best represents the benefits of solar charging due to its huge increase in battery life.
It is true that this increase is not solely due to the use of PowerGlass glass, internal changes are also quite blamed (although externally it looks the same, inside it is completely new).
And beyond the increase in the battery, Garmin can say that they have a watch that can always remain on simply relaying in solar charging, even if it is simply in battery saving mode.
Garmin Fenix 6 Solar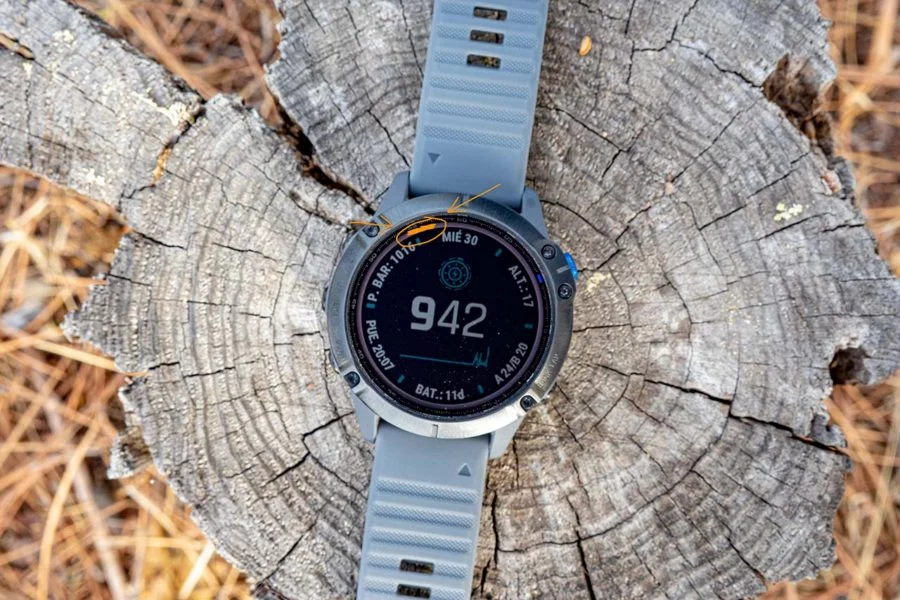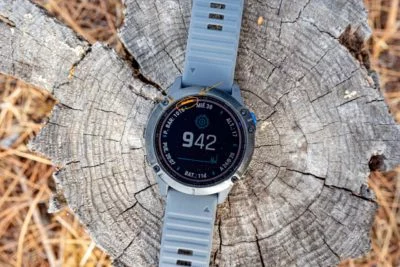 In the case of Fenix 6, the increase in autonomy is not so great, nor does it imply so much within the total autonomy.
That is, it's almost the same as the rest of the Fenix 6 range that we already knew from previous years.
But I didn't think it was right to leave it out of the elections for the best watch of 2020 for the simple reason that if it was already the most complete watch, now we add the possibility of solar charging and the new features that were released with the Forerunner 745 (training suggestions and specific profile for track among others), how would I leave it out?
Today it is the watch that has the most pure performance, although it is weighted by a price that is not everyone can pay and which is considered by many as excessive.
See Garmin Fenix 6 Solar review
PACE 2 CHORUS
It was presented at the end of August, but with the acceptance and demand that this model has had that until now I have not been able to receive a test unit.
And it has many reasons to be such a demanded model. Contrary to what happens with the Fenix 6, the COROS PACE 2 offers a lot for very little money.
For 199€ COROS has been able to offer a model that gives us running power without needing any external accessories (such as a Polar Vantage V that doubles it price), 30 hours of battery life in use of GPS, barometric altimeter, thermometer, download training programs from TrainingPeaks...
A brutal price/performance ratio, there is no other model on the market that can offer so many things for so little money. Against it something pending polishing and logically some materials that are not premium.
It will certainly be on several of my lists as best GPS watch.
Polar Vantage V2
One of the latest news of this conflicting year. Polar's new Vantage V2 is a small update to the first Vantage V which, in addition to including the news of the Polar Grit X, has also received a series of tests focused on providing more information about our workouts.
The first of these is the Running Test that we can do in two versions: the soft and the "deadly". Performing this test over time we can see our evolution, as it will give you an estimate of VO2max, your maximum FC and mainly VAM and PAM (Maximum Aerobic Speed and Maximum Aerobic Power), from which you can modify your training zones.
The Cycling Test is in the background, as it is simply a guided FTP test. But the last feature, Leg Recovery Test, is quite interesting to be able to offer an assessment of your recovery simply by jumping.
Soon the winner