It is time to recover this section that has been abandoned for a few months. A lot of work with product analysis and presentations.
So far I've told you about fun marathons, classic marathons or major marathonsIt is time to give a little love to a marathon on national soil. Among the different 42,195m races we have in Spain, Barcelona is probably the most international of all. And the fact is that Barcelona is an incomparable setting in which, in addition to enjoying the race, you will enjoy its cultural offerings even within the race itself.
The departure, from the Plaza de España, is a clear example. But before going into detail, the first thing you should know is when it takes place: every year, in March. For the next edition, in 2016, it will be on March 13.
As I said, the race starts at the imposing Plaza de España, at the foot of Montjuic. During its course you will be able to see key points of the city, such as the Camp Nou, or great works by Gaudí such as the Sagrada Familia and La Pedrera or the Hospital de Sant Pau. In fact, it is not the first time that a marathon runner stops in front of the Sagrada Familia to take a photo, to the amazement of the thousands of tourists surprised by the large number of people running there.
Despite looking like an easy marathon, there are some crucial points, partly because of the false plains that can undermine your faith in finishing the race and partly because of the Mediterranean breeze that can welcome you into the harbour area.
Perhaps the worst part can be found in how it ends. From just over kilometre 39, a long straight is all you have left until you enter the Plaza de España again. Also, as you move away from the coast the slope increases slightly, so if you start squeezing too soon thinking the finish line is already there, you may be hit with the mallet when you go a kilometre straight and feel that you have not moved from the spot.
Luckily in this area it is common for people to crowd around you to shout, cheer and give you strength, so even if you are exhausted and looking forward to arriving, you will surely remember these last two kilometres the most, because they will taste of glory.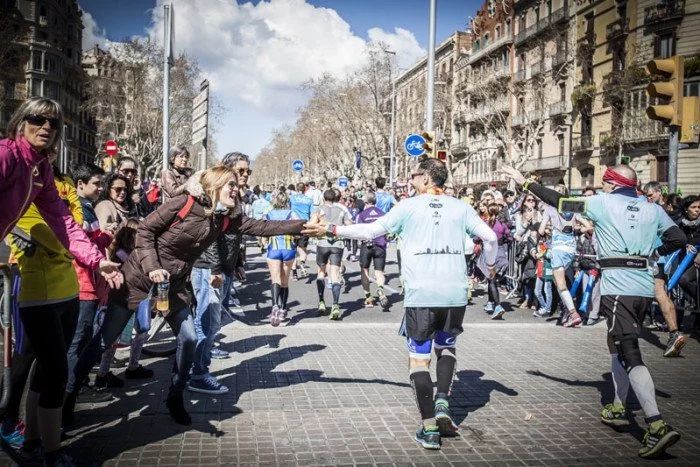 Barcelona Marathon, official website
To register and have complete information, please go to http://www.zurichmaratobarcelona.esBut if you want to have the best information, I recommend Barcelona Marathon guide from Blog Maldito.