With the Nimbus 25 Asics has finally decided to make a radical change to its classic best-selling range. The one consisting of the Nimbus, Cumulus and Kayano trio. The Nimbus 25 represents a break with the past and the entry into what the market demands in 2023 in terms of materials and technologies.
In a way the Nimbus (and its other sisters) had already become a bit boring, at least from the point of view of those of us who analyze and review this kind of products. Few changes between models, same general tone and a cushioning always based on the gel in the heel area.
In fact there were some generations in which there was no change beyond the colors chosen for the model, everything else remained the same from one edition to the next.
At some point Asics had to dare to break with the past, and it is now that they have finally modernized the shoe completely. I'm sure there will be reluctance on the part of the most classic customers, those who have been renewing their Nimbus every one or two years going through all the models without major changes. Now they will come to the store and say "those are not Nimbus, where are my shoes".
If you are one of these users... rejoice, because your old Nimbus are a thing of the past and now we have new Nimbus that are better in every way. Go ahead, take a chance on them because you'll find that they're better than your memories of the past.
Goodbye gel, hello PureGEL
If there is no visible gel... is it still a Nimbus? Is it even an Asics shoe? Without a doubt the visible gel in the heel area has been a hallmark of most Asics models. That gel has disappeared and now the heel area shows nothing but foam.
But no, the gel has not disappeared, it has simply evolved. It is now placed inside the shoe and changes its formulation and shape, being now hexagonal in shape.
I have had the opportunity to see the Nimbus 25's exploded view and touch this PureGEL and it has nothing to do with the Gel we had until now, neither for feel nor for absorption. It improves on the previous Gel in those aspects, although Asics says it is much more expensive to manufacture.
A "premium" upper as usual for the Nimbus
The upper of the Nimbus 25 is practically new. Soft and stretchy mesh, especially in the tongue area. You can put the shoe on by pulling on the tongue and it will go a long way, because it stretches a lot. It also did it in the Nimbus 24, but here it is less strange because it goes with the rest of the material of the shoe.
The tongue is attached on the sides and I quite like it for feel and support. And I applaud Asics' decision not to use a fat and very fluffy tongue as is usual in soft running shoes.
At the back, the pull tab, also made of elastic knitted fabric, helps to put on the shoe and gives it an eye-catching and different look from what you usually have in mind of the classic Nimbus.
There are only three lacing eyelets, two traditional ones and one additional one for the "marathon knot". The start of the laces is done through nylon laces through which it is very easy to slide the shoe's own laces, so putting on and adjusting the Nimbus 25 is very simple.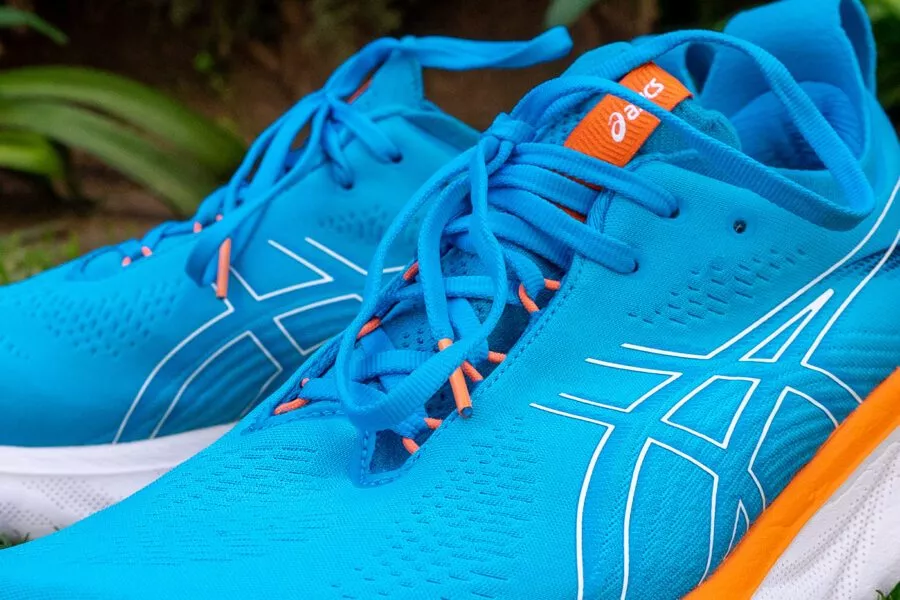 As for the mesh, it is single-layer but quite closed. That makes it a durable material but it does not stand out for ventilation. Perhaps the most negative aspect I can find in these Nimbus. But I'll talk about that a little later.
Midsole
A clean slate. The previous Nimbus did not "abuse" the midsole height, they had always been rather low for a running shoe.
Asics has planted some "balloons" on the Nimbus 25. So much so that they even exceed the 40mm profile, so we would be dealing with "illegal" shoes. In theory, because the elites are not going to use them to compete and they are not going to worry about those of you who are not elite and are going to take 4 hours in a marathon.
Heel height is 41mm. The drop has been lowered to 8mm (in the past it was 10mm), giving us a forefoot height of 33mm.
Asics uses foam FF Blast+which in this model is called Eco.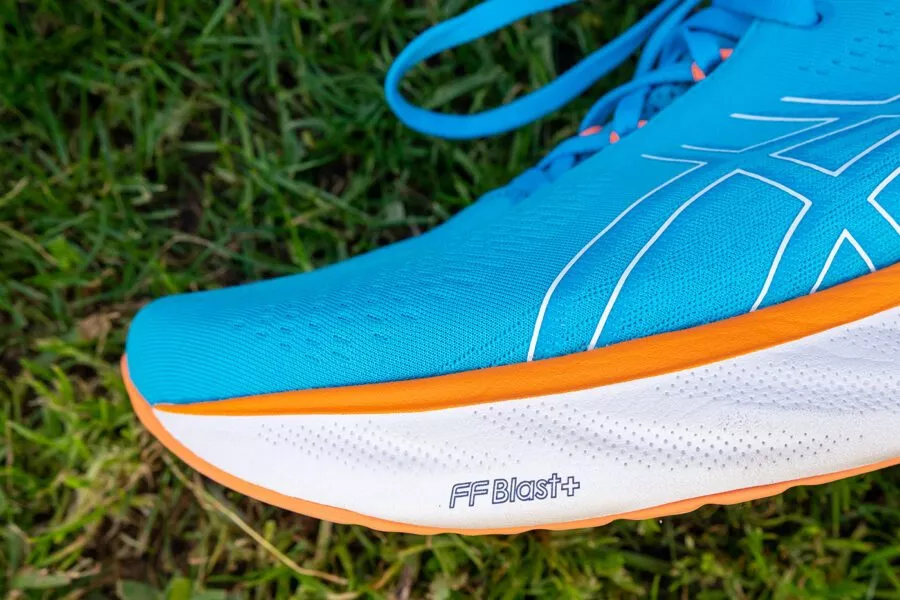 Ecology and the use of recycled materials has also been a goal of the Nimbus 25, despite the fact that it is something they say but do not advertise on every corner. For example, the upper is made from a 75% recycled material.
And despite being such a tall shoe it is not unstable at all. That is firstly due to the width and design of the shoe, as we have -in my size 46,5- a heel width of 105mm and 124mm in the forefoot.
But it is also because it is not an exaggeratedly soft foam. That is, there is a lot of foam that cushions everything, but it has a rather firm feel.
Surely after reading about the height and width of the shoe you come to think about the weight. Obviously it's not going to be a light shoe, but it's not exaggerated: 350 grams in my size 12US - 46,5 EU, something normal for shoes intended for this use.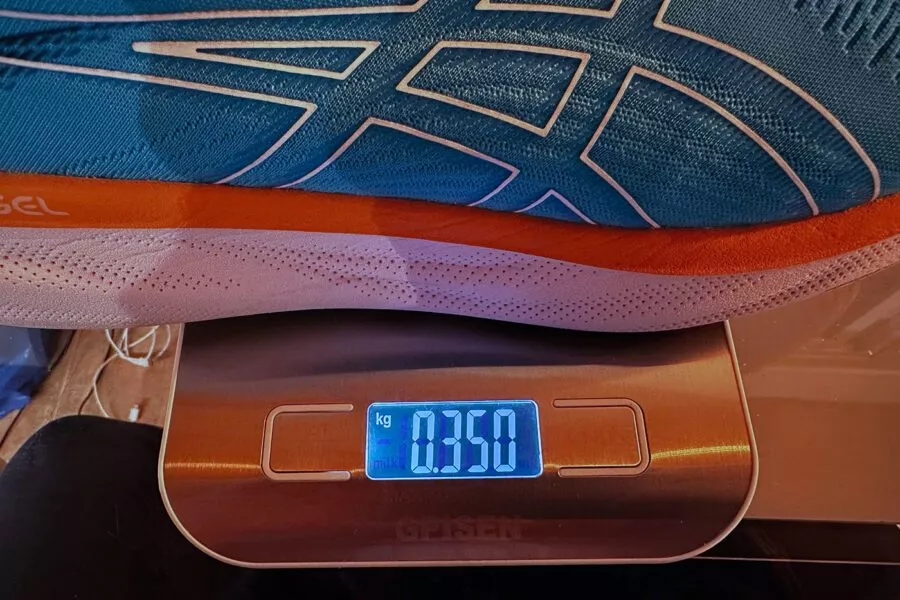 Dynamically it is normal that this weight is a disadvantage, although the rocker that Asics has given to the Nimbus 25 helps it to be a bit more agile than its big size suggests. It's not a fast shoe, but if at some point you want to pick up the pace a bit it's going to be responsive enough. But the use is clearly as a comfortable rolling shoe.
Those who will be most comfortable with this shoe will be the heelers, because it is in the heel area where there is more foam and where the heel piece is located. PureGEL.
I have a midfoot footprint -at least as long as fatigue is not present, then everything goes down the drain-, but forcing the heel first the cushioning is superb. The landing is soft, protected and there is no impact at all.
Ortholite X-55 insole
As I said before I only have one problem with the Asics Nimbus 25: temperature. It is a doubt that I have raised directly to Asics, because it has not been something exclusive of these Nimbus, it has also happened to me with the Kayano 29 (with the difference that I was testing the Kayano in August).
A temperature problem that has even led to a burning sensation in the sole of the foot, not only during training but in the following days. Like when you burn your feet on the sand at the beach.
The first day I put it down to perhaps too thick socks. The second day, with the coolness of the morning and thin socks, I had the same problem again. In fact after 45 minutes I had to stop and take off my shoes because I had a burning sensation in the sole of my foot.
My first doubt was with the FFBlast+ foam, maybe a foam that is too soft which, together with my weight, makes it work too hard and raises the temperature? But it hasn't happened to me with other models that use this foam, such as the Asics Novablast 3. And while the upper is not the most ventilated on the market, with the Asics Cumulus 24 has not happened to me either (although the foam is different).
For the following outings, I simply considered a change in the template, opting to "steal" the one from the Craft PRO Endurance with hexagonal perforations and very ventilated. With the new insole the problem is over, I've been running for an hour and a half at 25º without the slightest problem.
After consulting with the people at Asics, they confirmed that, although it is not a common problem, it has happened with some users. The origin of my problem is the insole Ortholite X-55.
It is not Asics' own insole but is made by Ortholite, a manufacturer that sells both the Japanese brand and to other brands known to all. Soft, comfortable, with energy return... but incompatible with my footprint and characteristics.
I would not rule out the purchase of the Nimbus 25 because of this fact, it is as simple as using the insole of any other shoe as I have done, but it is something you should keep in mind in case you have bought the shoe and have this temperature problem.
Sole
If everything else has changed, we would expect no less from the sole of the Nimbus 25, which is also different from previous models.
It does not cover the entire midsole but leaves a lot of foam uncovered, but as long as you run on asphalt or not very rocky trails you will not have any problems.
It is composed of three pieces of rubber, a large one in the forefoot area and two smaller ones in the heel area. All of them have perforations, which help not only to reduce weight but also to make the tread more silent.
Grip on asphalt is good, and can be improved if it is wet. This is not exclusive to the Nimbus 25, it is common to the vast majority of shoes on the market.
If you're going to use them off-road, they'll do reasonably well as long as it's a trail in good conditions. But it's obviously not a TR by a long shot (there will be a Nimbus 25 TR later on). I've run them on dirt and compact, rock-free trails without any problems, but I wouldn't go beyond that.
Want to help the web? Buy here your Asics Nimbus 25
I hope this full review has helped you decide if these shoes will fit your wear. All the work I do is without any cost to you, but if you want to

support the page and

by doing so

the work I do

, the best way to do that is

to buy these shoes through the links that I provide

.
And if you don't buy them today, remember to stop by when you're going to! Through these links you will not only get a competitive price and the best customer care, but also I will receive a small percentage at no additional cost to you. That's what allows me to keep offering you reviews like the one on this page.
By the way, you have a additional discount on Top4Running using the exclusive code C1M5.
If you have any questions, remember that you have the comments section at the bottom, where I will try to answer all your questions.
Review Asics Nimbus 25
The Nimbus 25 is a total renovation of the shoe, a complete revolution. Has Asics' work been satisfactory? Yes, in my opinion they have created an excellent shoe.
Very cushioned, comfortable, with good feel and excellent materials. Dynamically does what is expected of them and it is a wonder to put miles with them on your feet.
My only complaint is about the insole and the temperature it causes inside the shoe, but it is not something common and it is as easy to solve as using the insoles of any other shoe you already have at home.
If you are a lifelong Nimbus user and you are reluctant to change, go ahead, as soon as you try the new Nimbus you will wonder why it has taken Asics so long to evolve its shoe.
And with that... thanks for reading!