Apple today unveiled the new Apple Watch Series 7 with modest new features compared to last year's Series 6. In addition to presenting the new model, Apple has announced that its Fitness+ service will be available in more countries in autumn, including Spain at last.
The new Apple Watch model runs under the WatchOS 8 operating system that was already announced a few months ago, so the new features in terms of software are those we already knew.
The main new features are mainly in the design of the watch (with a larger screen), fast charging and a more resistant and durable design.
Mind you, there is no cheaper Apple Watch SE this year, but last year's Apple Watch SE (and also the Apple Watch 3) is still being retained.
But let's get down to all the details regarding the Apple Watch and also what's new with Fitness+.
Apple Watch Series 7
At this year's event Apple has only presented one new watch, keeping two of the models available last year (and even much more):
Apple Watch Series 7 - Starting at 429€.
Apple Watch SE - Introduced last year, maintaining its price from 299€.
Apple Watch Series 3 - It has been on the market since 2017 (!) and serves as the entry model to the range from 219€.
The first thing that stands out is that Apple keeps the Apple Watch Series 3 on sale, making it a smartwatch that has been on the market for more than 4 years... and that is going to be at least 5 years in total.
With respect to the new Apple Watch Series 7, the new features are quite modest and focus mainly on the aesthetics of the watch. Which is not a bad thing, because it involves an increase of the screen up to 20% more according to the specifications provided by Apple.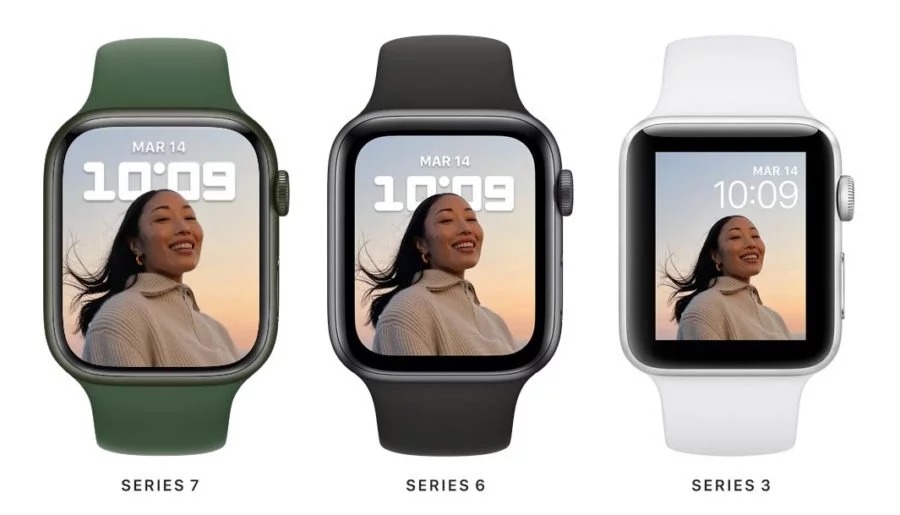 The screen also brings more brightness in standby mode indoors, with up to 70% more. It is also more durable, according to Apple it is the most resistant Apple Watch screen so far both by treatment and by the new design of the watch, with rounder corners.
The Apple Watch Series 7 meets the IP6X standard for dust protection.
The autonomy of the Apple Watch remains the same, basically enough for a day of use. But what does change is the charging, which is now faster. According to the indications offered by Apple in the presentation is able to charge the watch from 0% to 80% in just 45 minutes. Or with a charge of 8 minutes, enough energy for 8 hours of sleep with its corresponding analysis. Perhaps one of the most complicated aspects of its low autonomy.
On the software side, only one cycling-specific feature has been added to what we already knew from WatchOS8. Now the watch is able to automatically detect if we are cycling and suggest that we start the log (in case we have forgotten to start the activity). It does this by detecting the specific movements found in cycling, very different from walking or running which is what we used to podía see in other watches. In addition to suggesting the start, it is also able to automatically pause and resume training, which is to be expected.
All of this is in addition to the new features that were introduced last year with the Apple Watch Series 6The new optical pulse sensor that allowed taking blood oxygen saturation (SPO2) records, as well as adding functions such as VO2Max estimation and sleep tracking as part of the new features of WatchOS7.
It also included changes in the barometric altimeterremaining active throughout the day providing altitude information at all times.
There are more colors available than we had so far with five new colors in aluminum: green, blue, red, white and midnight blue.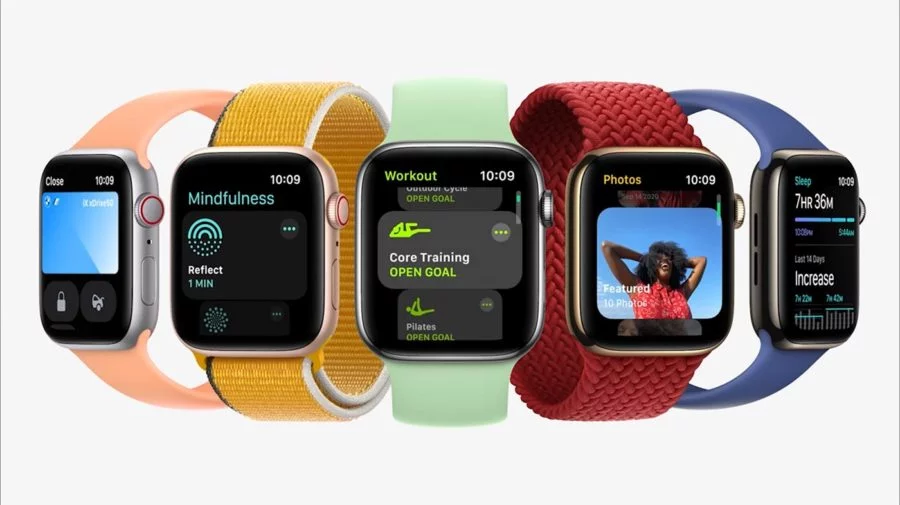 The price is the same as the Series 6 until now: from 429€ for the smallest model with GPS+WiFi. As you know, there is still a version with GPS+LTE at a higher price. As for availability, it will arrive in stores in autumn.
Fitness+ reaches more countries, including Spain
Fitness+ is the virtual training service that Apple introduced last year. It is a subscription service (with monthly or annual payment) that includes workouts guided by an instructor through videos. The novelty this year is that finally more countries have been added where the service can be contracted, including Spain and Mexico.
These videos continue to be exclusively in English, but subtitles will be available for other languages. It is foreseeable that we will see videos in other languages in the future as the service expands.
What is the advantage of Fitness+? The integration that Apple allows between its entire ecosystem. Using an iPhone, iPad or Apple TV we will have videos with different types of workouts and 1TP10We will be able to use an Apple Watch as an external sensor, seeing all the activity data on the screen of the device we are using.
To the list of 10 sports or activities that were included until now, two more have been added this year: pilates and meditation. And also specific training to prepare for the snow season.
Finally, group workouts are coming to Fitness+. You will be able to follow the same workout with friends as a videoconference along with the video of the activity itself, and 1TP10You will also be able to see in real time the data of the other members of the group.
Summary
Well, here it is, a quick look at what the new Apple Watch Series 7 brings. Probably less than you expected at first because there were many rumors about blood glucose measurement, more autonomy, specific straps ... but in the end they were just that, rumors without much foundation.
Are there enough changes with respect to the Series 6 to incite to change the watch? Beyond the larger screen there are interesting things, such as a more resistant design or fast charging, but I think that for the vast majority it will not be a decisive change to renew their Apple Watch.
What do you think? There's a comments section below for you to let us know what you think of the new Apple Watch. And without further ado... thanks for reading!