Apple has just unveiled its new watch, the Apple Watch Series 4. I'm sure that by the time you click the "publish" button for this post there will already be hundreds of articles from other publications. But how many of those posts are going to focus on the sports part of the new Apple Watch? Well, that's what I'm here for, so let's find out what new features the new Apple Watch brings and what they mean for sports.
Apple Watch Series 4, New
Despite Apple's good words in the presentation of the watch and how it represents a revolution... the truth is that it is rather a slight evolution. With novelties, of course, but there is no notable jump in its characteristics.
But to make it easy, here's all the news:
Slightly modified design, with a larger screen.
New watch faces with more possibilities in terms of complications
The crown now has haptic vibration
Speaker enhancements, now more powerful
Ceramic and sapphire glass back
Of course, new, more powerful Apple S4 processor
Enhanced accelerometer and gyroscope
Optical pulse sensor now with electrodes
Autonomy of 18 hours in the day to day and 6 hours with use of GPS
As you can see there is no revolution in any aspect, except in the optical sensor with electrodes. At Apple they have been quick to claim that they are the first device to incorporate this technology, and it is true. In fact right now it is the only one... at least until tomorrow.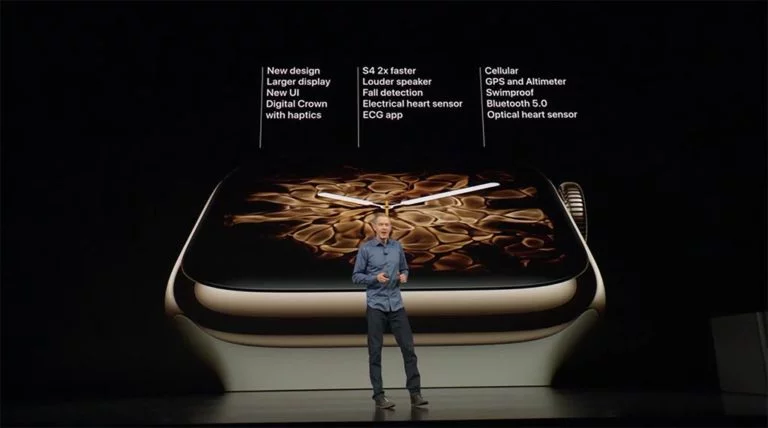 These changes in hardware have allowed for some new developments in the software aspect.
Fall detection
Thanks to the new accelerometer and gyroscope, which are capable of recording movement more accurately, Apple has now added a fall detection feature. So if you fall, the watch will be able to detect it and automatically trigger an alarm. And if there's no movement within a minute (for example, if you've split your head open), it will alert the emergency phone directly, including your position.
Although Apple focuses this function mainly on everyday life, it is clear that it is also quite useful in sporting activity. It may not make much sense for the asphalt runner, but for the mountain runner or cyclist it is something else.
Obviously, the alert will depend on the device being able to communicate. Therefore, in the 4 Series without 4G connectivity, you will need to take your phone with you (as is the case with Garmin Edge devices that incorporate a similar function), while the 4G - which will finally be available in Spain - will be able to communicate autonomously... as long as you do not run out of battery.
HR and pulse variability
Apple had already included heart rate alerts in iOS Watch 4, but they were for high HR. Now alerts are included when the heart rate is abnormally low as well.
The sensor is now also capable of tracking pulse variability, but only at rest. At the moment there is no optical sensor capable of doing this during activity. By reading the variability the Apple Watch will focus on detecting atrial fibrillation, but not on sport-specific functions such as the ability to measure post-training recovery.
Electrodes
Yes, the Apple Watch Series 4 now features electrodes - as with the pulse variability log, these will be used specifically for health, not sport (we'll see what Polar has to say about that tomorrow).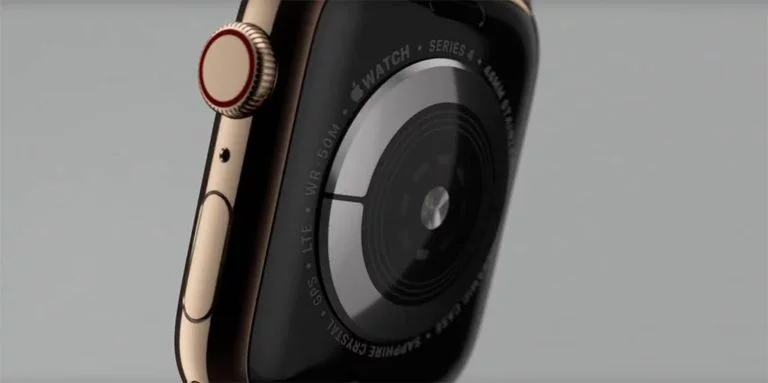 It is still a function that can be of vital importance for patients who have heart problems, as they can take an electrocardiogram at any time to check if they are having any problems with their heart and it will even be stored on the clock (and then on the phone) so that they can create reports to share with their doctor.
Both features are medically validated by the FDA, so Apple is pretty confident in their capabilities.
However, to be taken into account and very important detail. At the moment both functions will only be available in the United StatesFor some reason I don't know (and I guess it's related to medical certifications) the rest of the world will have to wait.
It remains to be seen whether these new sensors will be open to developers and whether, although Apple does not give them a sporting focus, others will be able to offer it.
So... what about sport?
So if you have an Apple Watch Series 3 and were looking for an excuse to trade it in for the new model, I'm sorry to say you'll have to look elsewhere for the excuse.
Well... we can consider the increased autonomy. But the developments have focused more on other aspects of the clock.
My opinion on the Apple Watch as a training watch remains the same, despite the new model: It is a great choice for the casual athlete, but not for the competitive athlete.
Obviously Apple knows that the first profile is much broader than the second, so they don't want to alter their goal too much either, it wouldn't make sense. The truth is that adding more sport-focused features could confuse the less demanding user, who prefers something simple and straightforward rather than a multitude of data such as recovery, VO2Max, oxygen consumption, etc.
But as a smart watch I have no doubt, the Apple Watch continues to be the best option available today, far ahead of the rest of the competitors.
And with that... thanks for reading!