Yesterday was held the Apple WWDC, the event of the American company where they announce what are the software innovations that will come to their products in the coming months.
As part of those presentations there was of course also the Apple Watch, whose new firmware version will arrive in autumn under the name Watch OS 9 (intended for Apple Watch Series 4 or higher).
Usually Apple has been focusing mainly on the health and activity tracking functions, not because they are easier or simpler than sport, but because they are functions that interest the vast majority of users while the sport functions are a large minority.
What's New Apple Watch OS 9
However, in this edition they have turned the tables completely. Yes, they have also made some announcements concerning health functions, but the strongest part has come on the sports side with several highly relevant announcements in their training application:
Running power estimation directly on the watch, without the need for external sensors
New running efficiency metrics (associated with power estimation): vertical oscillation, ground contact time and stride length.
Complete triathlon support, also including automatic sport changeover detection
Support for heart rate zones
Alerts for heart rate zones, cadence and more to be added
Ability to compete against past activities and see if you are running faster or slower than before
Support for creation of complex time- or distance-based workouts
These are the most important new features at the level of the native training application (of course we must not forget that 1TP11We can use third-party applications). And they are important because they already enter the realm of more specific products for sports practice, beyond the occasional run.
Of course it is just an announcement and it remains to be seen "how deep" all these features are, but I am already hearing the concern in the offices of Garmin, Polar, Suunto or COROS following this announcement.
Power to run on Apple Watch OS 9
Undoubtedly the most important feature is the native inclusion of running power. This metric is far from new, but lately it is gaining quite a lot of traction because just a week ago Garmin also announced it for its new Garmin FR255 and Garmin FR955although this time Apple has done a much better job than Garmin.
In the case of Garmin the adaptation they have done has been quite poor, after many years in which users were demanding it, since they are the only manufacturers that still rely on external sensors to display it (and also only theirs, there is no native compatibility with race potentiometers). Apple, like COROS or Polar, performs all calculations with data from the watch and without relying on external sensors.
Perhaps the important thing about this announcement is not that the Apple Watch is able to show power (it already had for example application for Stryd), but that after its adoption and that of Garmin to a lesser extent -because it needs sensors- it will finally become "mainstream".
However, one thing you must be clear about is that nowadays absolutely all manufacturers give power data through an algorithm, and we always talk about estimated power and not real power. Therefore the data between different devices are not the same since each manufacturer weights the values of its algorithm in a different way. There is no real value, as it can happen in cycling, so there is not a racing potentiometer that is "the most accurate". What 1TP11We can ask at least is that it has consistency and that the data is comparable between different workouts.
Career efficiency metrics
Related to the running power estimation we also have the performance and efficiency metrics: stride length, vertical oscillation and ground contact time. These are data that necessarily have to be in the algorithm to calculate the power and, since they are being calculated, they will also be displayed by the clock.
The doubt will be in how Apple will be measuring, since it does not rely on an external sensor to measure the movements of the torso but everything will be done based on the movements of the wrist.
Although in this case it will be possible to compare it with other devices that do use these external sensors to see how Apple's estimate works.
Triathlon on Apple Watch
Along with running power, the other major announcement is that Apple has added a triathlon profile for its watch. And not in a simple way where it simply allows you to switch from one sport to another, but supports automatic sport identification.
This is something that Wahoo introduced in its ELEMNT RIVAL just over a year ago and that no other manufacturer had yet picked up the baton. Apple has now done so by adding it to the Apple Watch.
What does automatic detection mean? The watch will go straight from swimming to cycling to running without you having to touch anything on the watch, it will detect everything automatically.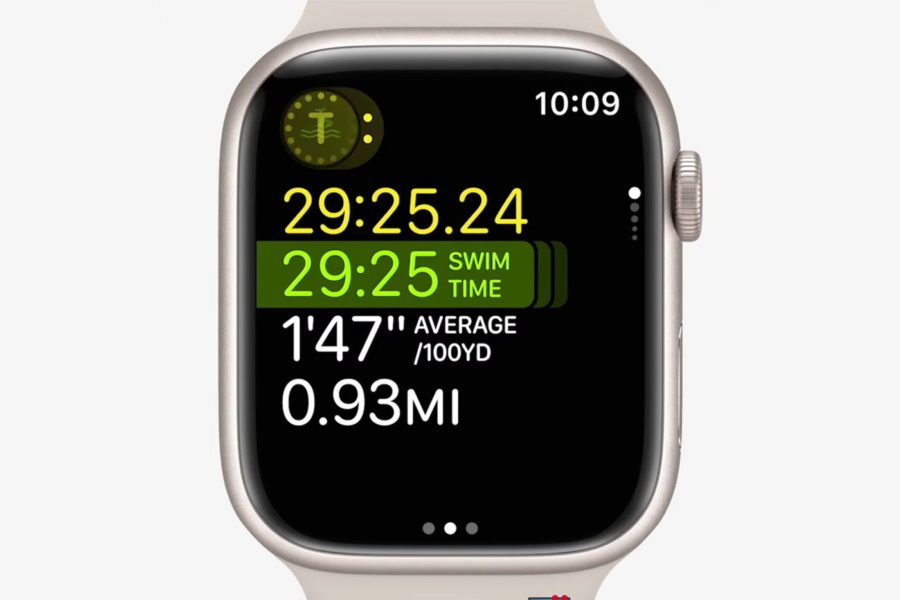 It will be interesting to see how well Apple integrates the feature. In the Wahoo case the performance was frankly good, which is not to say that the detection was absolutely accurate in detecting each and every line of mounting, dismounting, exiting the water, etc.
However the app gives absolute control to move the time bar and set it at the exact point to have total precision, exactly as if you had pressed the button (better, because we always forget to press the button in some transition). I recommend you take a look at the test of the Wahoo ELEMNT RIVAL to see how this option works.
A statement of intent
Undoubtedly this new version of Watch OS is the one that brings more new features focused on running and sport. Until now the Apple Watch was the best smartwatch, possibly the one with the best health monitoring, but in terms of sport the proposal it had was for the occasional and less demanding user.
This announcement shakes the foundations of the offices of the Garmin / Polar / Suunto / COROS / Wahoo of turn, because they are novelties that are focused directly to rival them. So far they were not worried about Apple, but if I were them I would start to worry.
Not only for adding these features, but because they demonstrate what Apple's focus is for its future and the trend it is going to follow later on. And after laying the foundation of health it seems that the next target is sports.
And with that... thanks for reading!