Massage guns are the latest trend in recovery. These instruments that look like power tools or blenders are intended to help with muscle recovery, reduce overloads and increase blood flow in the area.
En esencia es como un «foam roller», pero mucho más fácil de aplicar y sin tener que coger posturas complicadas para masajear según qué zonas del cuerpo.
A muscle massage gun is not a simple vibrator, they perform quite powerful percussion therapies. They are, in essence, a form of deep soft tissues massage. That is, they not only massage large muscle groups but also allow to treat deeper musculature.
The first guns came to the market around 2016, by the hand of the brand Theragun. Since then there are more and more manufacturers on the market that are more or less renown (Hypervolt, Addsfit, Kraftgun, TimTam and many Asian brands) selling products that may look the same, but they are very different when you are going to use them.
After a few years in the market, recovery guns look less and less like a niche item and are becoming a real solution for treating muscle discomfort or recovering after strong workouts.
Llevo un tiempo observando este mercado con curiosidad, pero nunca había dado el salto a probar alguno de estos «inventos del demonio». Esta prueba nace después de que el fabricante Addsfit me contactara por si me interesaba realizar una prueba de su producto. No tiene GPS… pero sin duda se trata de tecnología aplicada al entrenamiento, así que dije ¿por qué no?
So I told them my conditions, which is basically that once I tried the product I was going to write about it to tell you all the good it offers, but of course also any ugliness I might find.
But after receiving the Addsfit massage gun, if I had only tried that gun... how would I know if it is a good or bad option? For this I needed to form some criteria and thus be able to rigorously analyze the product.
The solution therefore involves going to the market and buying similar products. After studying what was available for sale, those chosen to complete this analysis together with the Addsfit gun were as follows:
Abox massage gun: Simply because it's the most sold on Amazon
Theragun G3 massage gun: For being the reference brand, and without having a crazy price compared to the other models
So before going into detail with each of them, let's clarify what are the points you need to consider when choosing a muscle massage gun.
Do massage gun actually work?
Certainly that is the main question I received when in previous days I announced this comparison on different social networks. It's not just a good question, it's THE question.
It is important to understand that at this moment there is no specific study in massage guns, but there are studies about the benefits of percussion or vibration therapy to treat and prevent DOMS (Delayed Onset Muscle Soreness), for example here and here .
De hecho hay una técnica de masaje sueco llamada «tapotement» que emplea el mismo principio de percusión con las manos.
The first massage gun (Theragun) was designed by Jason Wersland, a chiropractor who was looking for a tool to help his own rehabilitation after a motorcycle accident.
Therefore there is no specific study, but it can be considered that there is some science and study behind this type of device. It may seem that it is a new product that comes from Asia without having been given too much thought, but there is some indication of effectiveness.
That's everything related to studies and science. My opinion? Here it comes.
It all depends on what kind of discomfort or injury you have. The hands of a good experienced physiotherapist are irreplaceable. No massage therapy, no electrical therapy (Compex) or anything like that. If you have a serious injury or a major overload, forget about appliances and go to a professional. That professional will then use different tools (which can even be a massage gun), but there is a knowledge behind what he is doing. I emphasize it, if it is a serious and repetitive nuisance, go to a professional.
But day-to-day and post-workout relaxation is something totally different. Unless you are a professional, you will not have a physio at your disposal after each workout. If you just want to relieve your muscles after daily training then the massage gun is a great ally.
The massage gun has the same operating principle as a foam roller.
With the roller we use the myofascial self-release technique. This technique can help relieve tension, inflammation and pain in the muscles and increase the range of motion of the joints.
The massage gun will do the same for you, but it's quicker and more comfortable. When I do run workouts it is quite frequent that I end up with calfs overload. My deplorable running technique probably has something to do with it, but the fact is that it is quite common for me to end with tension in the area.
Calf stretches relieve discomfort slightly, and the use of the roller is not entirely useful because it is not comfortable to apply and because we can not apply too much strength.
Estos días he estado aplicando masajes con las diferentes pistolas en la zona con la molestia y puedo decir que me ha ayudado a relajar el músculo. De hecho si la sesión es larga y con un cabezal bastante incisivo, la sensación tras terminar el masaje es del típico hormigueo que tenemos en los músculos después de que un fisio nos dé «una paliza» en una sesión de descarga.
We can also use the massage gun to activate the muscles before starting worktous. With a wide, low speed head, a short massage can trigger blood flow and thus avoid that feeling of heaviness of legs so typical on days when you are somewhat fatigued.
Bottom line? I certainly believe that the massage gun can be an element that helps in the mild discomfort of the day to day, to unload after demanding workouts or as a simple relaxing massage. But if it is a major nuisance or breakage of some kind, you must always consult with a professional.
Massage guns, what you need to know
Although many of the massage guns may look the same, the truth is that you only appreciate the differences when you use them and hold them in your hand. And even if they are very similar, it takes 10 seconds using both simultaneously to clearly appreciate the differences.
These are the points I will assess for each of the 3 massage guns I have included in the comparison, and I detail them in order of importance.
Percussion depth
I certainly think that is the fundamental aspect. The main mission is to be able to apply a percussion massage and not a slight vibration. By percussion depth I mean the amplitude of the displacement of the coupled attachment. The greater that amplitude, the better the massage we receive.
Speed and regulation
After the depth of percussion, the second important aspect to look for in a massage gun is the speed of the strike and its regulation.
First of all you need to take into account minimum and maximum speed. And besides that, the possibilities of regulation between both of them.
The reason is simple. Large muscle groups will need higher speeds, and ailments in smaller muscles will need to be treated more carefully. It is not the same massage that you should receive in a fatigued quadriceps as in an overloaded calf. In the same way, if you want a back massage, you probably want a more intense massage that is perfectly noticeable.
Heads or accessories
Beyond the massage gun, you have to consider what we are going to use to get that massage. How many are included, the shape they have, the material they are made with...
These accessories are just as important as the gun itself. There is little use to have a powerful gun if what we use to give the massage is not suitable.
Noise
It may sound silly, but remember that you will normally apply this percussion massage when you are relaxing at home and surely surrounded by your family. And let's face it, your partner have to bear enough with your absence during the hours you're training, so when you're back they surely don't want to relax next to you with a deafening hum in the background.
Overall construction quality
When the price fork is so wide, the finishing quality of the product will also be wide. Obviously we can't expect the same feeling and presentation in a 100€ massage gun as in 600€ massage gun. If you spend 600€ in a massage gun it's not only for the quality of its motor, you also want it to have a presentation and feeling according to its price.
Convenience of use
This is rather subjective point because it is possible that what is comfortable for one is not comfortable for another. However, I want to remind you that massage guns are meant so you are the one applying the unloading massage to yourself, so ergonomics are very important.
Really these products are designed so that you can massage practically the whole body by yourself, so the weight has to be well distributed and be enough so that it does not vibrate excessively. It cannot be a light device because with each percussion it would be unbalanced in the hand. But it can't be too heavy because in more complicated positions we can get tired quickly.
Well, once we have clear what I should (and should) value in a product of this type, let's go with the massage guns chosen for this comparison.
Addsfit massage gun
Percussion depth - 8
Speed and regulation - 9
Power - 8
Heads or accesories - 9
Noise - 10
Construction quality - 8
8.6
TOTAL
The Addsfit massage gun complys in every way. It may not be the best in percussion depth or it may be uncomfortable to have to assemble and disassemble the accessory every time we want to store it, but it reaches a good score in all respects and offers a really satisfying compromise.
User Rating:

Be the first one !
---
The good
The heads included are the best among the devices reviewed
It's very quiet
Various levels of speed regulation
The bad
The head adapter is not convenient to mount, and needs to be removed for storage
It doesn't offer the 16mm percusión depth as the Theragun
Addsfit massage gun in-depth review
The Addsfit massage gun comes in a cardboard box without too many frills.
Not that is necessary, because inside we find the case where you can store the gun and it will be the same as you use to carry it.
The gun is stored inside completely disassembled. Every time we are going to use it, you have to place the battery, the heads adapter and the correspondingThe gun is stored inside completely disassembled. Every time we are going to use it, you have to place the battery, the adapter of the heads and the head you are going to use.
I have no problem disassembling the battery in every use, however I consider it uncomfortable to have to disassemble the adapter from the heads each time we use it. This is the little adapter we have to remove.
El adaptador de cabezales se introduce simplemente a presión y no tiene un «click» claro que confirme que ya está introducido correctamente. Y de la misma manera, extraerlo puede costar algo de trabajo. Realmente no aprecio ningún motivo por el que el maletín no pudiera albergar la cabeza de la pistola con dicho accesorio montado.
As for the accessories, they are presented inside a small sachet. They are made entirely of silicone and are very easy to attach to the adapter. They also have very varied shapes that adapt well to different parts of the body and depending on the type of massage we want to perform.
Not only are they easy to assemble, when it comes to receiving the massage they are also extremely comfortable because they have the right hardness without being excessively crusher. It is not a hard plastic but has a certain adaptive capacity.
The manual is quite explanatory about what each accessory is for. Indicates in which muscle groups are appropriate and the recommended speed for treatment.
And speaking of speed, the range we can select is between 1,700 and 3,300 percussions per minute, with a percussion force of 35 pounds. We have 9 modes that we can select from the rear control of the gun, which is quite descriptive.
Addsfit runs away from LED screens (which I personally don't like) and uses indicator LEDs. At the top are the LEDs that indicate which speed mode we have selected, while the ones below mark the battery level.
The control is simple because we only have the power button together with the +/- buttons to adjust the speed
According to Addsfit specifications, the massage depth is 12mm. Theoretically it is the same depth that the Abox massage gun offers (which I'll talk about later), but the truth is that when it comes to using both the impression it offers is that the depth of massage is lower in the case of Abox.
Or maybe the percussion force is less, but the truth is that the pulsations are more noticeable at any speed level for the Addsfit gun than for the Abox gun, even though they both advertise the same percussion depth.
As for noise, it's quite quiet. It ranges from 30dB at the lowest level to 50dB at maximum power.
Handling is done by holding the battery, which is covered by a layer of silicone.
The battery can be removed and would allow it to be replaced in case of a breakdown, although you should contact the manufacturer as it cannot be purchased separately, at least directly.
This battery has 2,500mAh capacity and offers a battery life of up to 6 hours. Logically this will depend a lot on the speed of use selected, but it is more than sufficient battery life for regular use.
Theragun G3 massage gun
Percussion depth - 10
Speed and regulation - 6
Power - 9
Heads or accessories - 7
Noise - 6
Construction quality - 7
7.5
TOTAL
Although the Theragun G3 massage gun offers the greatest percussion depth (with good power), that does not mean it gives best massage. Depending on the treatment area, sometimes its depth and power may be uncomfortable. Its operation is also very noisy, something unworthy of its price range.
User Rating:

Be the first one !
---
The good
It's the one that offers more percussion depth
The presentation of the product is of high quality
Ease of mounting the heads
The bad
It only offers two different speeds
Very noisy
Fewer heads than the competition and some of them could offer better quality
Theragun G3 in-depth review
The Theragun G3 massage gun is a superior model and can be seen from the moment we have the box in hand.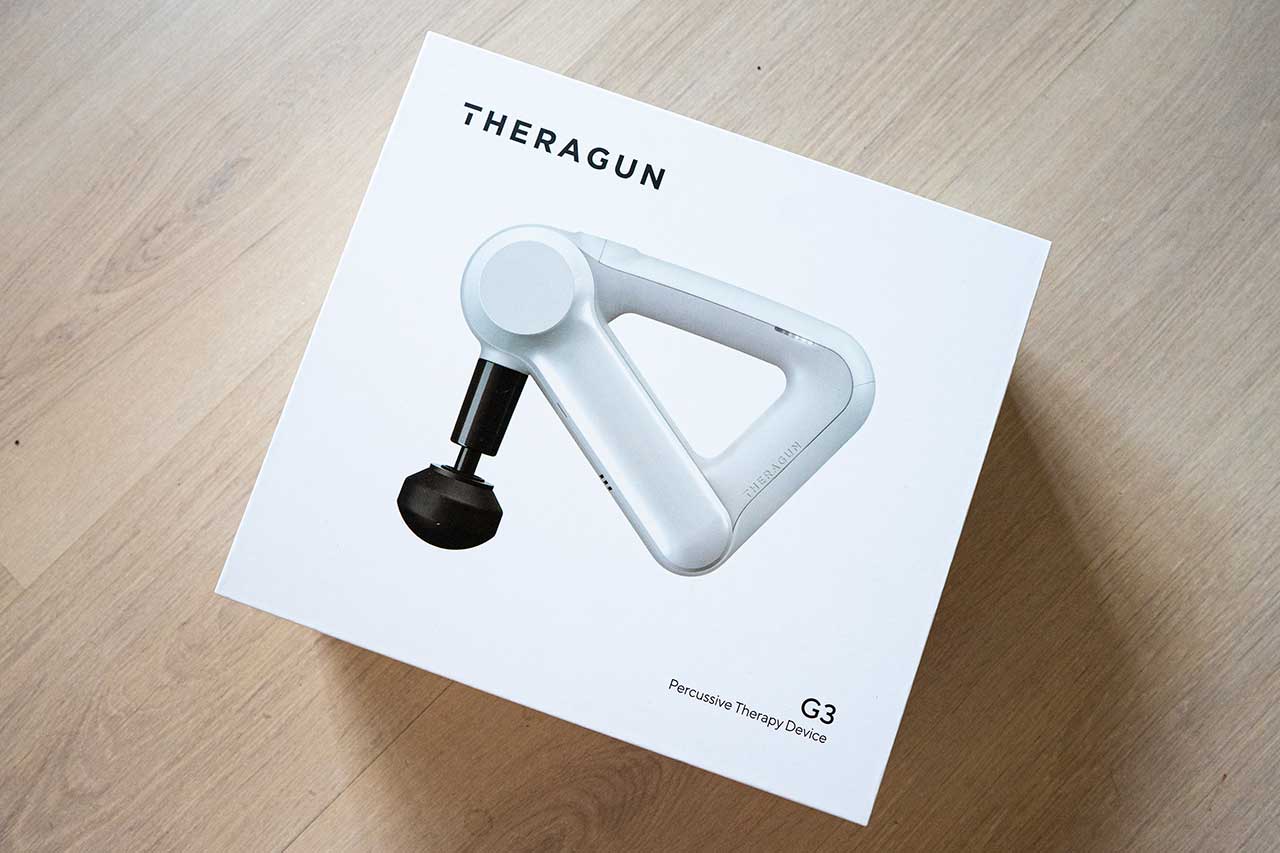 Something similar happens with the carrying case, it is easy to see that the manufacturer has put a lot of effort into providing quality packaging to the whole set.
Aesthetically it is different from the rest of the massage guns in this comparison. The truth is that between the white color and the design of it, when you have it in your hand you do not know if you are going to give yourself a massage or what you want is to make yourself some muffins.
The system for attaching the heads is very well worked out. Much better than in the case of the Addsfit. Switching from one to the other is quick and easy, and we can keep the gun away with any of them without any problems. There is no need to assemble and disassemble every time we use it.
The quality of the accessories is generally good, although the feel of the Addsfit head seems more pleasant for massaging. Theragun can be a bit rigid at some point.
The motor of the Theragun G3 is better than that of the Addsfit, both by percussion depth (16mm versus 12mm of the other two models) and by power (up to 40 lbs). However, this does not always translate into better treatments.
Depending on the area to be treated, excess power can become uncomfortable and even painful. Perhaps the hardness of their heads also does not facilitate operation, since it does not help to dampen the blow.
The depth and power it has is perfect for treating large muscles or large areas, but there are some points where even if we use the head intended for painful areas, the impact can cause some pain.
It's also bad that it only offers two different speeds. You can select the slow mode at 1,740 strokes per minute or go to 2,400 strokes per minute, but nothing else.
There is no indicator in which speed we are using, we will simply know by the noise the gun is making. As for the battery (which is not removable), there are LEDs on the side of the gun to indicate the remaining charge.
It is internal and it only offers 60 minutes of battery life.
But without a doubt the worst part of it is the noise. It is not up to the price tag of the gun and it is much louder than either of the other two models reviewed.
Theragun does not provide a manual with its massage gun, instead we can download an app from the app stores of Google Play or App Store. Its name is Therabody.
In this app we find different therapy routines we can do, depending on our discomfort. It tells you areas to treat, speed, which accessory to use...
And while you are performing it, you will be guided through the exercise along with a timer: which accessory to use, how to hold the massage gun, etc.
But of course, this same app could also be used with any other gun...
In short, it is a good product that is very conditioned by the fact of having superior range models (for double the price) that include things that the Theragun G3 would need to stand out in this comparison.
Abox massage gun
Percussion depth - 7
Speed and regulation - 9
Power - 5
Heads or accesories - 6
Noise - 10
Construction quality - 7
7.3
TOTAL
The main problem I find with Abox's massage gun is that it lacks strength. This is easy to see when testing it together with either of the other two models. Although the manufacturer announces 12mm of percussion depth, the feeling is that it is somewhat less. In addition, some of the accessories are made of hard plastic, not too comfortable.
User Rating:

Be the first one !
---
The good
Large number of heads
It's very quiet
The speed is fully adjustable
The bad
Compared to the other two guns it lacks strength and depth
Some of the heads are too hard
Abox massage gun in-depth review
Finally, we have the Abox massage gun, whose main virtue and reason why I have included it in the comparison is simply because it is the best-selling model on Amazon.
The presentation you have is of higher quality than that of Addsfit, as the box allows you to view photos and details of the product.
Inside we find the transport case. The difference is that Abox does not customize it and it is completely black.
Inside we have another fundamental difference with the Addsfit (which has a very similar design), as it's possible to store the massage gun without disassembling the battery. In addition, each accessory fits directly onto the gun without any additional attachments, so as with the Theragun G3, starting a massage with the Abox is faster than with the Addsfit.
This gun includes a total of 8 massage accessories, thus offering more possibilities than the previous two. However, its quality is inferior, being composed in almost all cases of hard plastic.
As for the depth of massage, the Abox also offers 12mm as well as the Addsfit (which are 4mm less than the case of the Theragun gun), but when comparing it with either of the other two models it shows that it lacks power.
According to specifications, the Abox gun offers up to 40 pounds of force. However, when it comes to using it, it is clear that it has less power than either of the other two models. If you only try the Abox it's something you will not notice, but as soon as you apply a massage with either of the other two you can perfectly perceive that it has less power.
In terms of speed, it has 30 levels to regulate between 1,200 and 3,300 hits per minute. Adjustment can be made on the back of the gun, where we find a few touch buttons and two small screens indicating the selected speed on the left, and the remaining battery on the right.
Its battery is 2,600mAh and offers a battery life of 6 to 10 hours according to the manufacturer's data.
It is also a very quiet gun, producing almost the same noise in both the slowest and fastest modes.
The manual could be better, especially in terms of translation because it is simply made with Google translator. But at least it is translated, the one included with the Addsfit is exclusively in English.
As for its construction quality it's perhaps slightly lower than the Addsfit, but there is no big difference between the two. However where there are differences, as I said above, is in the quality of the accessories and the power of the motor.
Conclusion and opinion
After making this particular comparison, I have reached two conclusions. First as to the type of product itself and its usefulness. As I wrote above, its actual usefulness will depend on what you want to get with its use.
The truth is that I did not know them, and until this moment when I had some overload I had always used manual massage, foam roller and Compex. Muscle massage guns offers an additional possibility of applying therapy to oneself.
Is it a magical product that serves to treat any ailment? Not at all, it will never be able to replace the treatment that a physiotherapist can offer you. Their knowledge and experience are irreplaceable. But as a tool to help relax muscles in post-workout (and activate muscles before training), I think it may be useful.
En segundo lugar, tengo claro que si tuviese que quedarme con una sola pistola de masaje de las tres que forman la comparativa, la elegida sería la pistola de masaje de Addsfit. Puede que el motor no sea tan potente como el de la pistola Theragun, pero tiene una potencia más que suficiente y nunca llega a resultar molesta, como sí ocurre con la «amasadora» de Theragun.
The advantage of this review was that I was able to contrast different opinions with different family members. Apart from kidnapping the different models of guns for several days for their own use, their impressions have been the same in terms of the excessive percussion of the Theragun.
In addition, the Addsfit offers the most pleasant accessories in terms of materials, with the right hardness point but at the same time with some cushioning capacity.
The main negative points are those already noted. It is uncomfortable to have to completely disassemble the gun to store it in the case, and the anchoring of the accessory adapter is also not well solved.
And with that... thanks for reading!