This past Sunday the Malaga Half Marathon was held, and once again I was registered to participate in it. Compared to last year it was run a little later, still it is a very well chosen date because it is not yet very hot and the time of intense winds has passed, but it does not guarantee to run without a breath of air.
Runner's Fair and bib collection
The collection of bibs and the runner's fair is located at the same point of departure and arrival of the race: the Ciudad de Málaga Stadium. This point would therefore become the absolute nerve centre for the whole weekend. Around 7,500 souls would pass by there to collect their bibs together with the runner's bag
The stadium was accessed through the same door we would use on Sunday at the end of the race, located on one of the complex sides.
But instead of entering the track, the runner's fair was located on the ground floor of the stadium.
Obviously, the fair is not yet on a par with those offering larger races (marathons or half marathons in capitals such as Madrid, Barcelona, Valencia or Seville), but the truth is that it has improved compared to other years. In all respects: exhibition, atmosphere, services, etc.
La ventaja de ser de los primeros en acudir es que aún no hay aglomeraciones, por lo que el proceso es mucho más rápido y tranquilo. El servicio por parte de los voluntarios en la zona de recogida de dorsales era rápido y efectivo, situado en la «calle» paralela a los puestos de la feria. En primer lugar se recogía el dorsal, clasificados por el tiempo objetivo en el que estimas terminar, correctamente ordenados para que el voluntario lo pudiese encontrar rápidamente.
Tras la recogida del dorsal se debía pasar a la segunda zona que, dependiendo de si la camiseta a recoger era talla L/XL o S/M, sería a izquierda o derecha. Yo recogía cuatro dorsales, así que me tocaba visitar ambos lados. Tras hacerte entrega de una «bolsa de la compra», ibas pasando por los diferentes puntos para ir recogiendo todo hasta completar la bolsa del corredor: camiseta, una torta de aceite, una barrida de cereales, un brick de caldo, un par de cremas promocionales y algo de «papelería» publicitaria. Es decir, hice la compra. Por último todos salíamos por la zona de comprobación de los chips, donde se revisaba en la pantalla que los nombres que estaban grabados en cada chip correspondían con el número del dorsal.
There were also the points where they could take pictures with the bib, very typical among the runners, although the lighting leaves much to be desired, more than a stadium looks like a cave. Of course, the threat of rain did not allow the device to be placed outside, which would be the most desirable.
This year the route varied slightly, with less of a promenade and more of a race through the centre of Malaga, and the number of refreshment posts increased.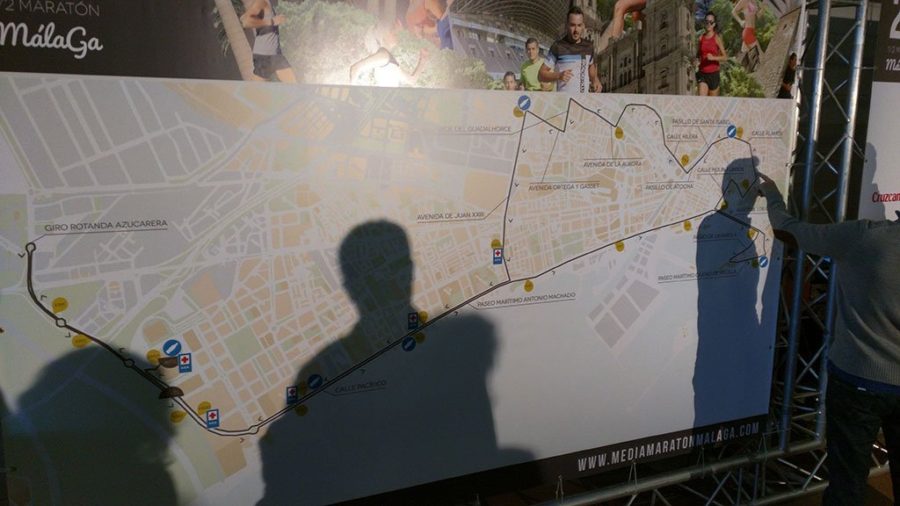 It looks regular, right? I mean, the lighting, which was more oriented to Altamira. Wait till I take a picture with a flash...
Better now. And after taking a look at the different stands they were displaying (and being able to hold the wallet in your pocket), back to the car to fill the trunk.
All set for Sunday!
The race
If you've been following the training I've been putting into weekly summaries You'll know that some preparation was lacking. Just recovered from an overload in the area of the twin and soleus of the left leg and quite short of kilometers. In fact, I think I can count on the fingers of one hand the throws of more than 12 kilometers I've done so far this year. And if this wasn't enough, here is a picture of what I had for dinner on Saturday.
Brainwashed omelette. Nothing out of the ordinary, we all know that we runners arrive at the starting line of every race loaded with excuses 😉.
So on Sunday, after a good early start and a 50-minute journey, we were in the starting area. It was already starting to get colourful and full of runners, each one of us with a goal and an illusion in our hands. And all of them equally important, both those who were going with the intention of fighting for the victory and those who were looking to finish their first average in the maximum time of 2h30m.
After the obligatory warm-up, we went to the starting pens, first the federated and the sub 1:15, and from there the others, which in theory should enter in order of bib colour, but there were people with bibs of all colours. I won't tell you anything you don't know...
The race started as soon as the clock struck 9:30, with British punctuality. My race would begin 30 seconds later, which took the river of people from where I had placed myself in the box to the start line, where the first blanket was reading the chip and thus marking the beginning of your particular chronometer.
In Malaga the start is always complicated. The race starts from a very wide avenue with a lot of space to run with up to 4 lanes and a sidewalk available. But after a few meters we have a roundabout that although it is quite wide, everybody prefers to run through the interior. About 300 meters later there is another roundabout before accessing the bridge that crosses the old N-340, which creates a second funnel. And after crossing that bridge comes a third roundabout where to finish the job there is a 180º turn. Of course, when we go around the same roundabouts again, and 7,500 runners between so many roundabouts creates traffic jams yes or yes, especially if the separation of rhythms and location of hares is not well organized (I will talk about this later, because it needs improvement MANY). Up to 6 roundabouts in the initial 4 kilometers. Too many difficulties.
Returning to my race, the goal I set was a time of 1h35m, which was equivalent to trying a constant pace of 4:30. Well, with the crowds of the first kilometer I lost almost 20 seconds, to which I added another 10 seconds of the next kilometer. After passing back in front of the stadium the race had already opened enough to start running comfortably and try to find a steady pace, but here I had already 40 seconds that I had to seek to recover later. Or so I thought ...
It was still early, but I already started to notice that it was not my day. I was not running comfortably, I lacked fluency and above all I was bothered by my throat, which was quite irritated from the cold of the previous day. In spite of this, the times set were already around 4:30, the second up or down. This lack of fluency was due to the fact that I was somewhat cold and lacked rhythm, but at that moment I already ruled out the possibility of going below 1h35m.
The second refreshment station, at kilometre 10, I choked. After taking a gel and drinking some water, I made use of the salt tablets I was carrying in a small zipper bag. With wet hands and holding the water bottle, I tried to open the bag while I kept running trying not to lose too much of the rhythm, but I couldn't open the damn bag. One hand, the other, drying the palm... In the end I had to choose to take a bite and rip the bag in half to take the damn tablet. More seconds I was carrying in the bag.
Around the 12th kilometre we entered the centre of Málaga and here began the new route for this year, going up Molina Lario Street and leaving the cathedral on the right. In this area there was a little more atmosphere from the public but, even so, a very cold race. At least the new route is more entertaining, as there is a greater variety of streets, but the whole area in the centre is a false flat. That typical street that when you are walking seems to be totally flat but when you are running you realise that it isn't. And between turns and slopes, a few seconds kept falling into the debit, which was already taking on a considerable size. It didn't matter any more, I knew that I wasn't going to achieve the objective I had set, but there was still a lot of room to give my personal mark a good bite in half a marathon.
When I left the Plaza de la Merced, I had the first feeling that it was definitely not going to be a good day. I felt cold. Yes, I was running on the 10th of April in Malaga at 170 beats per minute. And I was cold. I said it was because we were in the shade.
After finishing the slide up the central streets of Malaga, they played a few negative meters until they reached the Bridge of Hope. I took advantage to recover some sensations in the sun, like the lizards. But at that point another area began that stung slightly upwards until I ended up at the Bridge of the Americas, which I crossed without pain or glory. Kilometer 15 and little race was ahead, it was time to decide the strategy from there to the end.
I decided to wait to go out again to the promenade to slow down a bit and see how many seconds I could get out of my backpack, squeezing moderately, because the inactivity of the injury was already starting to take its toll and I noticed that my legs were running out of gas.
After a last slide I arrived at Avenida de Juan XXIII, where I was cold again, but this time followed by a bad feeling in general, of weakness. Added to the exhaustion in the quads I knew that it did not augur well. I took advantage of this moment to take a second gel and a piece of fruit, and also to decide that instead of squeezing the rhythm a little, it would be better to relax it until 4:45 with the intention of finishing the race comfortably.
But I didn't count on the fact that when we went out to the promenade we would find the wind in our faces. It wasn't a gale, far from it, but demoralized, tired and with bad feelings, any breath will undermine your morale. And it broke me in two.
Kilometer 18, still 3 miles ahead on a downwind straight. I was being overtaken on the left and right in an area where I was flying past hundreds of runners last year. I still had 3 miles of suffering ahead of me, and my pace was slipping into a spiral: 4:47, 4:57, until I reached 5:09 at kilometer 20. I looked at my total time and started to do some calculations, I was still in range of improving my mark by scratching a few seconds, so far from sprinting, at least I tried to stop the time drain I was taking on the last stretch.
The straight until we reached the stadium was not as long as the previous kilometers, but seeing it in the distance and taking so long to get close is eternal. Finally I manage to face the curve at the entrance to the stadium, here with a lot more people cheering. I take out the little that was left in the tank and cross the finish line as worthily as possible.
And from the finish line collecting medals to a long line to replenish some liquid. And after doing so, I repeat the lizard technique.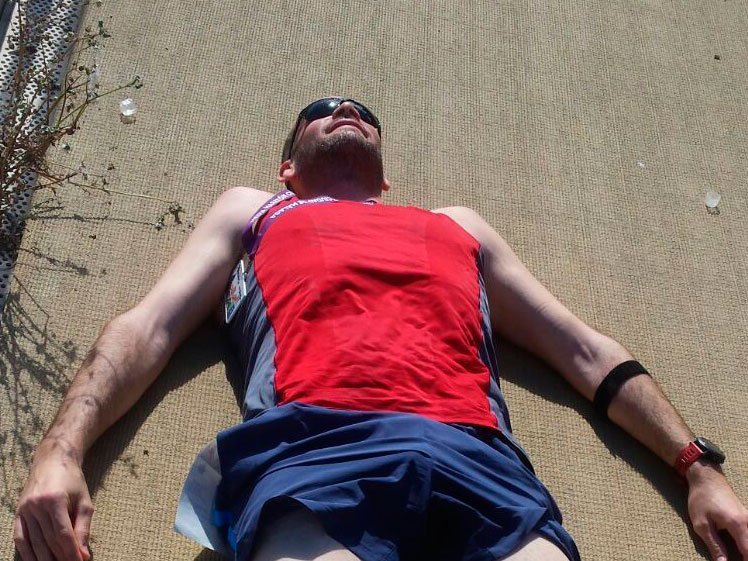 Final time in 1:39:54, which is 16 seconds above my best half-marathon time. You have to be positive, so despite having a bad day overall, I'll stick with the following:
No discomfort in the twin affected by the injury, neither during the race nor mainly days after (beyond minor aches and pains).
Despite having a pretty bad day in general, having lost time at the start and especially in the last 4 kilometers where I already had the feeling of crawling, I was 16 seconds away from lowering my mark.
On a bad day I was able to keep up a pace in line with the goal for about 15 kilometers, without having done more than one or two long runs in recent months and coming from an injury that has kept me from running for a while.
So I'll have to make a positive assessment in spite of everything, because considering all the details it wasn't that bad either. We always kept the sensations of the moment, but seen in perspective it wasn't such a bad performance under the circumstances.
However, these experiences leave you wanting to get revenge. Next on the calendar? A sprint triathlon in May and an Olympic one without drafting (and with a lot of slope) for June. Let's train!
Malaga Half Marathon, things to improve
In general, the Malaga Half Marathon is a test that works very well, both from an organizational point of view and at the institutional level. And that's despite having increased almost a 50% participation from one year to another. Many volunteers who selflessly help in each refreshment station, many police and civil protection, several medical points, bicycles with assistance ...
The runners are always supported by the organization and I think that the vast majority of us did not lack anything. I do not know how the refreshment posts would go at the pace of the last runners, but except for the fruit refreshment posts I have not read any negative comments about it.
Even so, there are things that I think should be reviewed for future editions, especially if the intention is that the event continues to grow in size and importance in the half marathon calendar in Spain.
Exit
The first thing to check is the start. And I think that's the most important thing, because not doing so will make it very difficult for the race to continue to grow. Too many roundabouts, turns and narrows at the start of the race.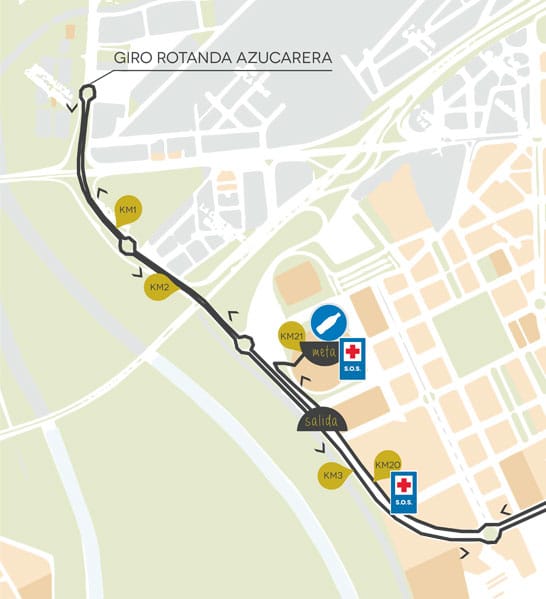 I know that it is not easy to find another solution, especially if you want to keep the finish line in the athletics stadium, and I will not deny that the image of the bridge covered with runners is very shocking, but it is very difficult to channel so many people through the continuous funnels.
Drawer organization
This year, if I remember correctly, the starting boxes have been extended to order the different runners according to their time. The problem is the usual one, that in the end people don't pay attention. Yes, the access to the starting boxes is fenced, but only from one side. Like me, many other runners were warming up on the road parallel to the start (in the area of the marker of the third kilometer in the image above) and, when entering the starting area, we simply accessed the box by jumping the median. And here there was no access control of any kind.
Yo me coloqué en el cajón correspondiente al color de mi dorsal (sub 1h35m). Pero a mi alrededor veía gente que llevaba dorsales de otros colores que estaban allí bien por desconocimiento o bien porque simplemente «se habían colado». Recuerdo, da igual cuánto tardes en pasar la línea de salida, tu tiempo oficial comienza cuando tu chip pasa por ella.
Wave departure
If we put the two previous points together, I think it's time to think about going out in waves, for example a first outing for the sub 1h45m and five minutes later the rest. Less initial crowding, more space to run, easier for the volunteers at the first refreshment post. All these are advantages.
Hares
The work of the hares is commendable. They sacrifice their race to help other runners achieve their objectives. They set the pace (and set the time), and give indications to the less experienced, knowing perfectly well when they should or should not push. They warn of refreshment posts and, in short, are key to the organisation of the competition of many runners.
If they go out as they did this year (which was also the case last year), not only will they not serve their purpose, but they will become a hindrance to the rest of the runners. If you are sorting out runners in the start boxes, why do all the hares go out together? What does the 2h hare do starting from the under 1h15m box? How does it help the runners who have positioned themselves correctly in their box that between them and the hare in their target time there are 4,000 runners?
In short, why do the hares come out in groups and from the under 1h15m box? These are things that I will never understand, and as these images show, you can see that even the 1h45m hare is ahead of the 1h30m (!!!).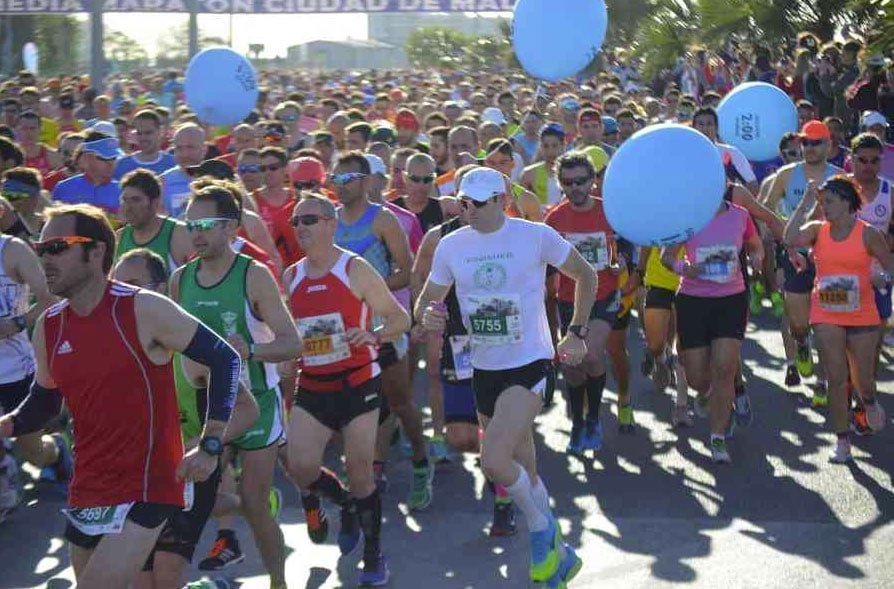 Putting each hare in its place is very simple, and in doing so you will also correctly order all those absent-minded runners who have come as close as possible to the start line to be near their hare and not lose sight of it, simply because they want to do the race guided by them. What is not normal is that at kilometre 4 you are overtaking the 1h50m hare.
Departure from the stadium
Those of us who have gone to see a basketball game on one occasion know what it is like to get out of there... A mousetrap, as soon as the cars begin to arrive at the different roundabouts, traffic lights and other traffic traps collapses completely. And that's why this year the local runners were able to use the metro for free. I had no problem getting out from under the bridge, but if you chose to turn on the racket from the Cádiz Road itself, it could take 30 to 40 minutes to escape from there.
Public
Malaga's average is a race cold, y no precisamente por la temperatura de la ciudad. Apenas hay ambientación por la calle, ni siquiera en el centro. Y si por allí se veía algo más de trasiego era porque había un crucero atracado en el puerto y había «guiris» turisteando, pero nada más. Falta sacar gente a la calle, ambientar la ciudad para que los que no corren sí tengan interés para acercarse a animar e involucrarse con las diferentes carreras, o al menos las más grandes y que más turismo son susceptibles de atraer (media maratón y maratón).
I remember with envy how Valencia is overturned with its marathon, with more than 40 bands and with people in the street in each and every one of the neighborhoods through which the route passes. How that same public is crowded from kilometer 35 to the finish line, taking you in flight. That last kilometer seems more like the climb to the Tourmalet than the end of a marathon.
The public in Malaga is not like that. How did they manage to do this in Valencia? No idea, but in Malaga something has to be done to make the city turn around with its sporting events. Not only for those of us who run, but because if you can get a race that is welcoming to tourists and grows in importance and number of runners, there are many thousands of runners who have to be fed, watered, housed and entertained. It is not just 2 or 3 hours of colour in the streets, it is an enormous amount of money that can be made. And that has to be exploited.
And with that... thanks for reading!
* Header photo: Sur Newspaper