Black Friday is finally here. Yes, this time for real, it's no longer "the week of", nor "in the month of". It is now Black Friday for real.
Were you waiting for this day to take advantage of buying a new Garmin device? Well, here are 8 offers you shouldn't miss on this discount day.
1.- Garmin Fenix 5 Plus / Garmin 5S Plus
These are probably the two biggest exhibits on this Black Friday, the main reason being their mapping functionality integrated into the device itself, which makes them a fantastic tool for route navigation.
The only difference between the two is the range, which is logical because the 5S is smaller, but the screen of both is the same, which means that the 5S Plus has slightly thinner frames.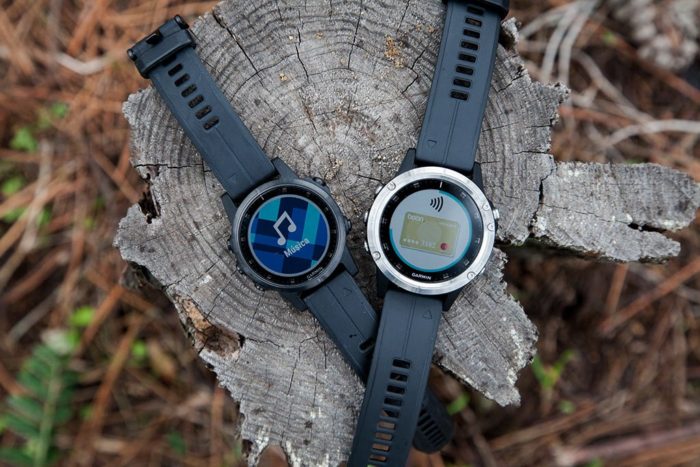 In terms of functionality they are up to date with the main features of the high-end Garmin. Because in addition to the maps both offer the possibility of playing music directly from the clock, being compatible with streaming platforms such as Spotify and Amazon Music.
You create your playlist and the clock downloads it, no more selecting songs one by one and transferring them manually. And when you update the list, the clock downloads the new songs.
They also have Garmin Pay, so if your bank is compatible you can add your card to make wireless payments. It may seem silly, but when you're out running or cycling and want to buy anything (e.g. water), not having to go out with your wallet is a huge advantage.
In short, if you're looking for a high-end, either one is a great option.
View Garmin Fenix 5 Plus offer on Amazon
See Garmin Fenix 5 Plus offer at RunnerInn
View Garmin Fenix 5S Plus offer on Amazon
View Garmin Fenix 5S Plus offer at Amazon Italy
---
2.- Garmin Forerunner 735XT
No longer available (wait for Cyber Monday)
For its price, the Forerunner 735XT has been another top seller this year. In fact, their offer began earlier this week and both Amazon and RunnerInn sold all units.
However, when all seemed lost, a new offer came in Amazon Germany.
The Forerunner 735XT is Garmin's most basic triathlon model, so if you're looking for an inexpensive watch, it does a lot of the trick.
But we do have other things like route navigation or Strava segments. Also compatibility with potentiometers or Garmin Varia lights.
Don't be fooled by its main focus on triathlon, it is also an ideal model even if you are only a runner or a cyclist.
➡ Garmin Forerunner 735XT review  
---
Garmin Vivoactive 3 / Garmin Vivoactive 3 Music
The Garmin Vivoactive 3 has something similar to the 735XT before, the output of the new (the Vivoactive 4) model slightly overshadows it, but the truth is that it is a very capable watch.
You will find it most comfortable on the wrists of people who practice sports in general, whether running or in the gym, but who are not eager to go racing or to constantly improve their times.
The Vivoactive 3 is at a minimum price, as is the Vivoactive 3 Music (the only difference being that it includes music playback). For what it's worth you take a lot, like Garmin Pay or barometric altimeter, things that for example are not even in the Forerunner 245.
View Garmin Vivoactive 3 offer on RunnerInn
View Garmin Vivoactive 3 Music offer on Amazon Germany
---
4.- Garmin Forerunner 245
Without being a Black Friday "bargain", its price is low enough to be included in these offers. Not because it's unbeatable, but because it's a highly sought-after new model that's not going to get any offers. But I know the choice is not easy (because of the Forerunner 645 music you'll see below).
You have two options, first the normal version and second the Music version. The difference, apart from the obvious music playback of the second, is that it also has WiFi.
Forerunner 245 is one of the most sought after and tops the list of recommendations in the shopping guide which I just updated a week ago.
I think it's the best mid-range running watch they've ever made, pressing all the right keys, and don't forget that most of the functions it has are the same as those found in a top-of-the-range Forerunner 935, with the price being much lower than that.
➡ Garmin Forerunner Analysis 245
View Garmin Forerunner 245 offer on RunnerInn
View Garmin Forerunner 245 Music offer on RunnerInn
---
5.- Garmin Forerunner 645 Music
Remember I told you I was going to make it difficult for you? Here's why.
You can get Forerunner 645 Music for virtually the same price as Forerunner 245 Music (euro up or euro down).
The first impression may be that the choice of the top model is clearer, right? Well, no, because each one has its attractions.
On the one hand, Forerunner 645 Music has things that 245 lacks, such as a steel bezel, Garmin Pay or barometric altimeter. You mean... that's it, then the 645 upside down.
But don't go too fast, because the 245 also offers its charms... It has the new Sony GNSS chipset that gives it extra range and uses the latest Garmin Elevate pulse sensor, which is slightly superior and has extra benefits such as estimating blood oxygenation at night or being able to use it in swimming. It is also more susceptible to receiving updates (for example, it just received the PacePro).
If I still haven't cleared it up... (which I know I haven't), you're gonna have to draw lots. Find a coin and flip a coin.
➡ Garmin Forerunner 645 Music review 
---
6.- Garmin Pulse Sensors
Only available the HRM-Dual, the offer of the other two expired (wait for Cyber Monday)
It's not all going to be watches or bike computers. Garmin has also launched different offers on sensors, all of them interesting.
First of all there is the HRM-Tri, which allows advanced stroke metrics to be recorded to compatible watches. It has an internal accelerometer for these functions. It also allows the use of the Connect IQ application for running power for watches with barometric altimeter. In this sense it is equal to the HRM-Run.
But what makes it different is that it has an internal memory that you can use for your workouts or competitions that include swimming. When you finish the activity the watch will "ask" the sensor if it has heart rate data for it, download it and add it to the activity file.
Therefore, the HRM-Run is exactly the same without the swimming memory part, but offers the rest of the additional metrics and Garmin Running Power.
Finally there is the HRM-Dual, which is the latest addition to Garmin's full range. It is a basic sensor (it has no accelerometer so there are no race metrics), but offers dual communication via ANT+ and Bluetooth, being able to receive the pulse data in devices that use both technologies.
For example, you can train on the bike trainer by sending the data to Zwift and to your watch. Or train in the gym in the same way.
View Garmin HRM-Tri offer on Amazon France
View Garmin HRM-Run offer on Amazon France
View Garmin HRM-Dual offer on Amazon
---
7.- Garmin Edge 530
Along with the Fenix 6 Pro, the Garmin Edge 530 is another Black Friday object of desire. There are no bargains in the sense of lowering the price substantially, but the offer at £250 is quite competitive.
Later on you will have the Edge 520 Plus offer, but my recommendation if your use of the bike is moderately high (especially in route navigation) is to opt for this Edge 530.
The user experience is simply beastly compared to the previous model, not only because of the extra features available but mainly because of the processor speed.
In fact, I think Garmin sells this computer too cheap. It could perfectly have a higher price and still be interesting.
What's new? Many things, for example ClimbPro, a feature that helps you a lot when you're dealing with one hill after another. Or dynamic performance metrics, just like what we have in higher-end watches like the Garmin MARQ, Garmin Fenix 6 or Garmin Forerunner 945. And then nutrition and hydration alerts, anti-theft alarm, a lot of new MTB features... It's a VERY complete device.
---
8.- Garmin Edge 1030 pack
The Garmin Edge 1030 has received all the new features of the Edge 530 and Edge 830.
The Edge 1030 offer is interesting for two reasons. It is the complete sensor pack, being the cheapest price it has ever been. These sensors are the pulse, speed and cadence. In fact I bought my Edge 1030 on sale at a higher price... and without the additional sensors.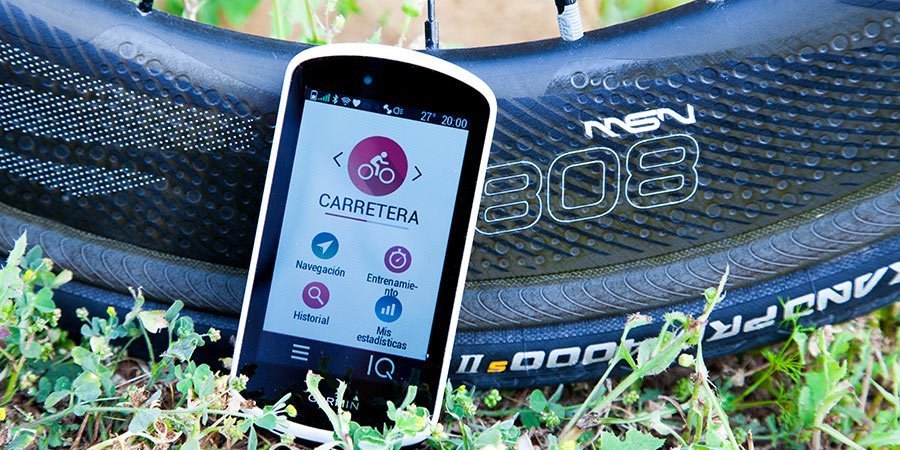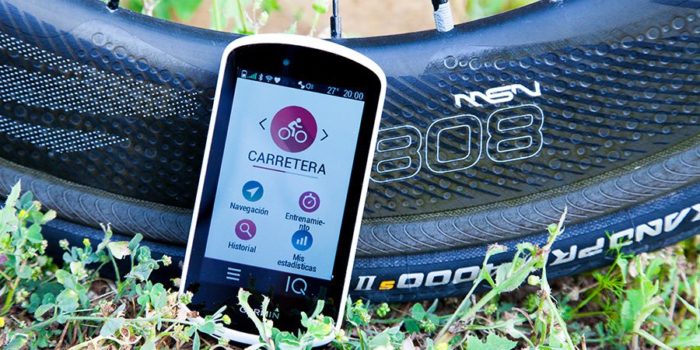 Another reason it's interesting is its huge screen, especially interesting for route navigation (or because you simply want to see everything in a larger size.
But if the big screen (and touch screen) isn't a major factor for you, then the Edge 530 is a better choice with a much lower price tag.
➡ Garmin Edge 1030 full review   
---
9.- Garmin Edge Explore
No longer on sale (wait for Cyber Monday)
If training isn't your thing or you don't need power meter support but still want a large screen, then this Garmin Edge Explore is your choice.
It stands out primarily for its route navigation, just like the top-of-the-line models. And of course, it also allows you to record routes and share them later in Strava, just like any other Garmin cycle computer.
Perhaps its only major shortcoming is the absence of a barometric altimeter, but this is only one aspect of importance during the route, since after the synchronization of the activity you will have the altitude data corrected by mapping.
---
Garmin Edge 520 Plus
No longer on sale (wait for Cyber Monday)
Finally, we have the Edge 520 Plus. For many, this is the most interesting option, but I think there are better options, even if you have to spend a little more.
The main problem with Edge 520 Plus is that its processor is slow for the demands required to make efficient navigation. Calculating a route (or finding an alternate route) can take too long, which is not the case with Edge Explore and certainly not with Edge 530.
That doesn't mean it's not an interesting option. If you're looking for a cheap bike computer for your workouts and you don't care about navigation, then the Edge 520 Plus is an interesting option if only because it's like the Edge 520, a model that's a great choice for training.
---
These are the most important offers you will find for Garmin today, but they are not the only ones. And of course it is not the only manufacturer that has wild offers, both Polar and Suunto have not been left behind. You can see them all here, constantly updated.
All Black Friday sports electronics offers
And if you want to see the best opportunities in running shoes and textiles, you have this other article.
All running shoes and textile offers from Black Friday
And with that... thanks for reading!